SPAC Intelligence
SPAC Analytics, Data, and Monitoring
Comprehensive research and analytics on every SPAC, person, sponsor, and underwriter
Quickly screen to find the best SPACs and avoid the worst
Stay ahead with Boardroom Alpha's always up-to-date database of SPACs
Sign-up: Free Daily Newsletter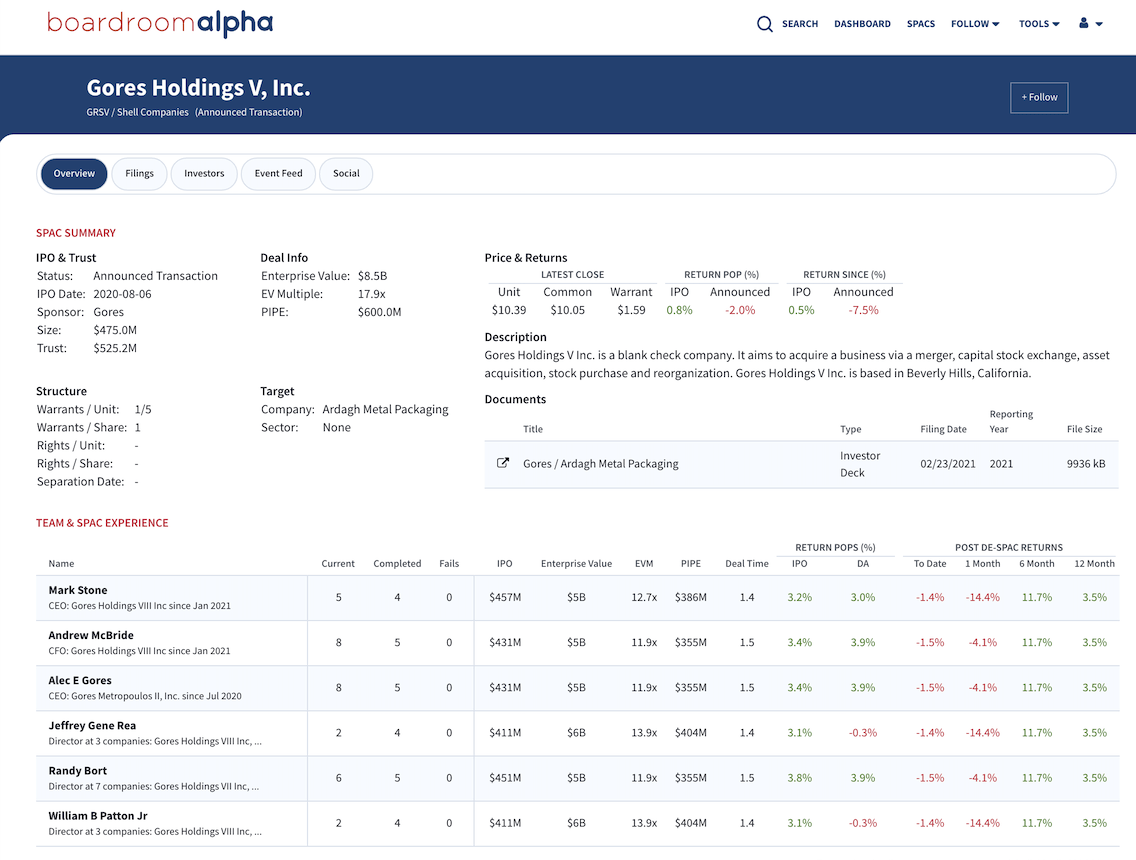 SPAC Platform
Boardroom Alpha's SPAC platform provides everything you need to understand, track, and analyze the SPAC market and the individual SPACs within it.
SPAC Profiles
Full detail, SPAC track record, and public company track record for  every director, CEO, and CFO
SPAC target focus
Latest prices and returns
SPAC Sponsor analytics
Investors holding each SPAC
Real-time filing feed and full-text search
Potential Red Flags
Press releases
Underwriters
Alerts & Daily Briefs
Morning brief on latest SPAC activity (filings, IPOs, deals, and more)
Deal announcement alerts
SPAC Market Summary
Daily SPAC movers — common, units, and warrants
SPAC Discount/Premium Index
SPAC IPO volume tracking
Recent SPAC IPO performance
Recent SPAC Merger performance
SPAC Calendar
Key SPAC date tracking and calendar
SPAC Yield Analysis
YTM calculations for every SPAC
SPAC Team Performance Tracking
Full SPAC track record — deals they've done, time to deal, returns and more.

Full public company track record— ratings, analytics and context on every CEO, CFO and director.

Full biographies including age, gender, education, and race/ethnicity

SPAC Sponsor analytics
Relationship analytics — who do they know and when did they work together?
History of insider buying and selling
Ties to activist firms
History of M&A
SPAC Database
Power your internal models, research systems, and BI tools with Boardroom Alpha's comprehensive SPAC database. tracking every SPAC from pre-IPO through post de-SPAC. Includes all key data points including: IPO date, vote date, size, redemptions, team members, performance analytics, deal metrics and more.
The SPAC REST API delivers BA's comprehensive SPAC database directly into internal systems, BI tools, and more.
Full details on the SPAC database below.
Daily SPAC Research
Boardroom Alpha is an exclusive partner of theStreet.com and writes daily SPAC research that covers the market open, close, and the latest news.
Free SPAC Listing
Boardroom Alpha makes a basic SPAC listing available to non-subscribers.
SPAC Database Details
The Boardroom Alpha SPAC platform is backed by the industry's best SPAC (Special Purpose Acquisition Company) database. Investors, banks, SPAC sponsors, all use the SPAC database to generate alpha. With a RESTful API quants and modelers can quickly and easily integrate the constantly updated SPAC data into their existing processes and data teams can support delivering SPAC data into internal systems.
SPAC Profile
Tickers
Status
IPO Date
Target Focus
Deadline Date
Sponsor
Size
Trust
Underwriters
SPAC Deal Info
Deal Target Company
Announced Date
Merger Vote Date
Enterprise Value
EV Multiple
PIPE
PIPE participants
Redemptions
Structure
Warrants / Unit
Warrants / Share
Rights / Unit
Rights / Share
Separation Date
SPAC Team
CEO
CFO
Board of Directors
Price & Performance
Latest close
IPO Pop
Deal Announcement Pop
Return since deal announcement
De-SPAC Returns
Yield-to-Maturity
Trust at maturity
Filings
8-K Current Reports

Prospectuses

Registrations
SPAC Investors
Detailed investor information
Media and news
Press releases
People moves
Stock alerts
Filing alerts
Insider alerts
Deal alerts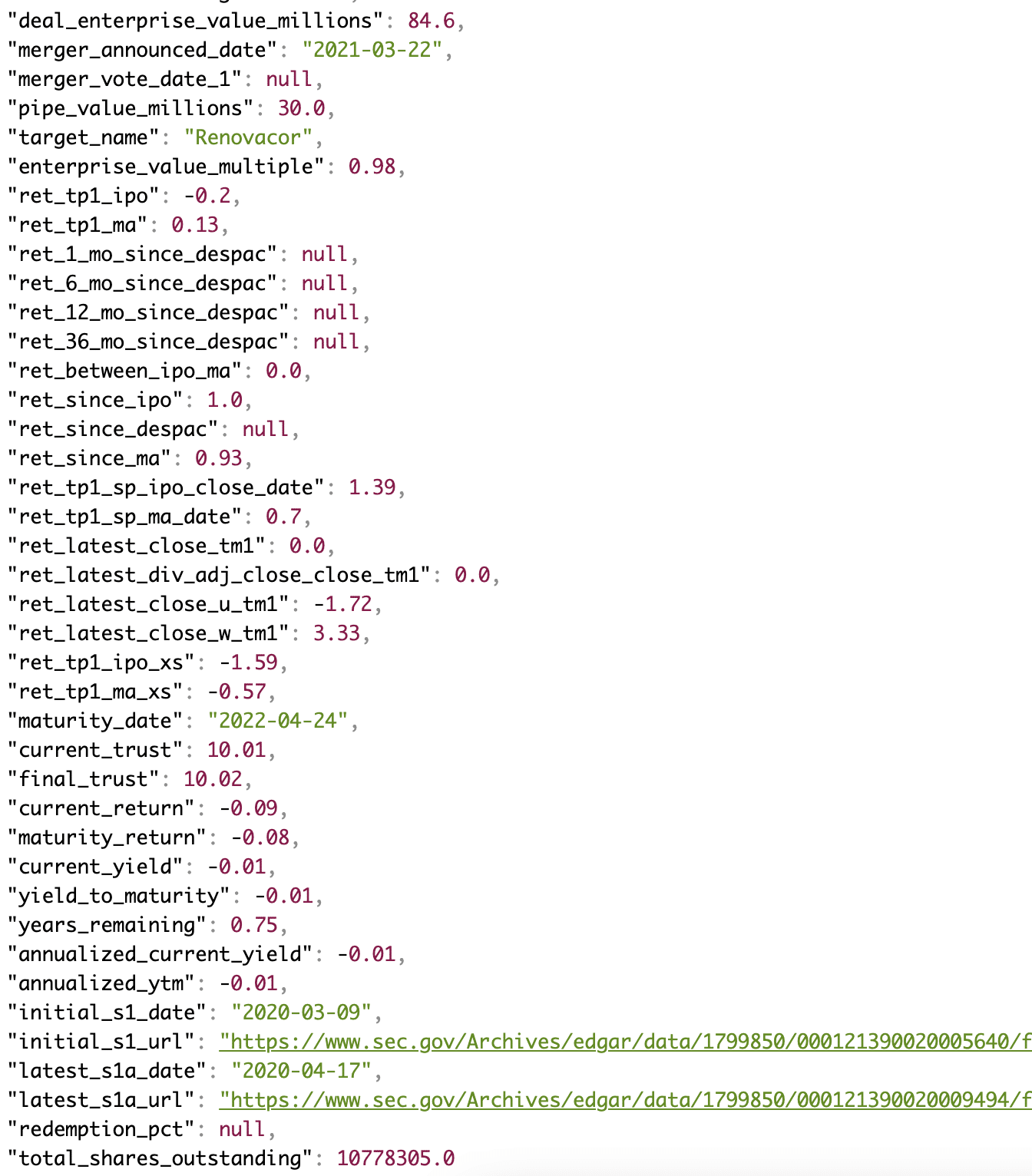 Leverage the RESTful API to easily integrate comprehensive SPAC data and analytics into your internal systems.