SPAC Intelligence
SPAC Analytics, Data, and Monitoring
Comprehensive research and analytics on every SPAC, person, sponsor, and underwriter
Quickly screen to find the best SPACs and avoid the worst
Stay ahead with Boardroom Alpha's always up-to-date database of SPACs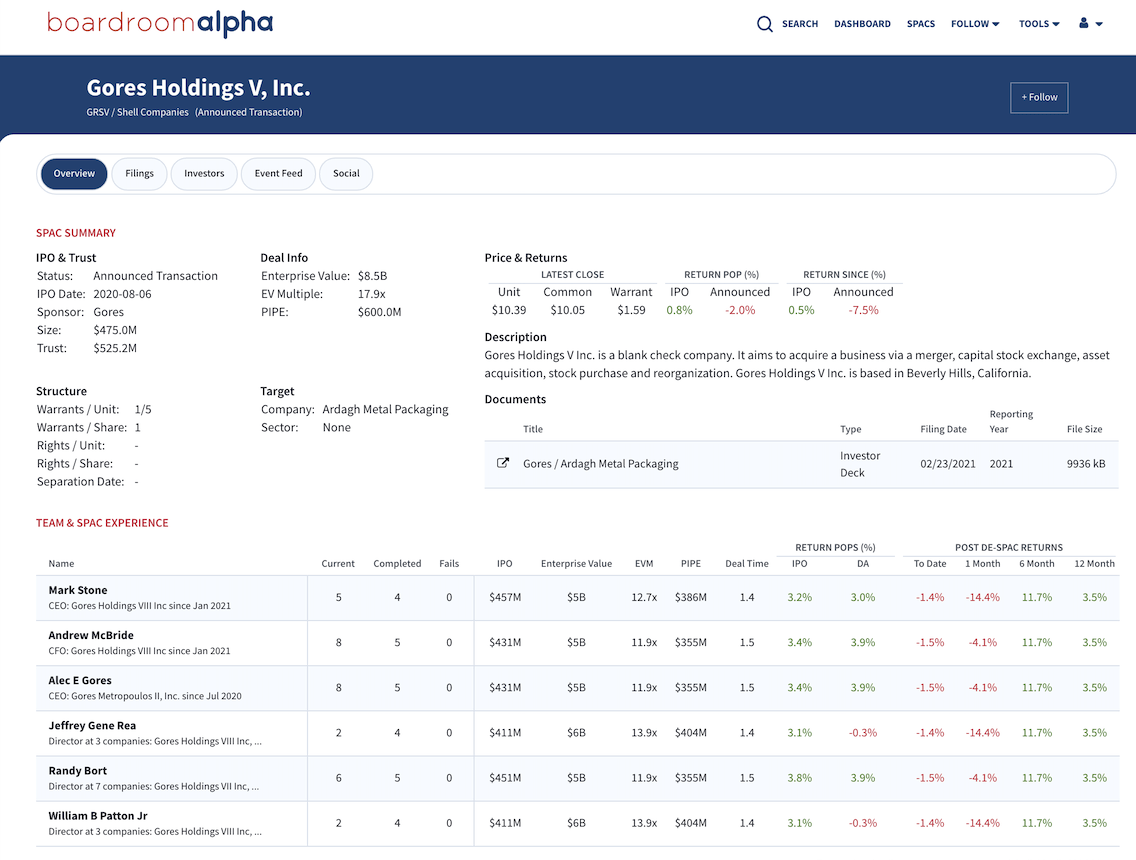 Trusted by SPAC Investors, Sponsors, Banks and more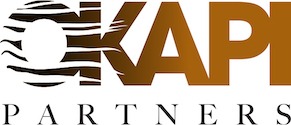 Complete SPAC Investor Toolkit
Comprehensive Coverage
Complete SPAC Profiles
Target focus
Latest prices and returns
SPAC Sponsor analytics
Investors holding each SPAC
Real-time filing feed and full-text search
Press releases
Daily & Real-Time Alerts
Morning brief on latest SPAC activity
Deal announcement alerts
Daily SPAC analysis
SPAC Calendar
Key SPAC date tracking and calendar
Yield-to-Maturity
YTM calculations for every SPAC
Sponsor & Person Analytics
Full SPAC track record — deals they've done, time to deal, returns and more.

Full public company track record— ratings, analytics and context on every CEO, CFO and director.

Full biographies including age, gender, education, and race/ethnicity

SPAC Sponsor analytics
Relationship analytics — who do they know and when did they work together?
History of insider buying and selling
Ties to activist firms
History of M&A
SPAC Database
Power your internal models, research systems, and BI tools with Boardroom Alpha's comprehensive SPAC database. tracking every SPAC from pre-IPO through post de-SPAC. Includes all key data points including: IPO date, vote date, size, redemptions, team members, performance analytics, deal metrics and more.
The SPAC REST API delivers BA's comprehensive SPAC database directly into internal systems, BI tools, and more.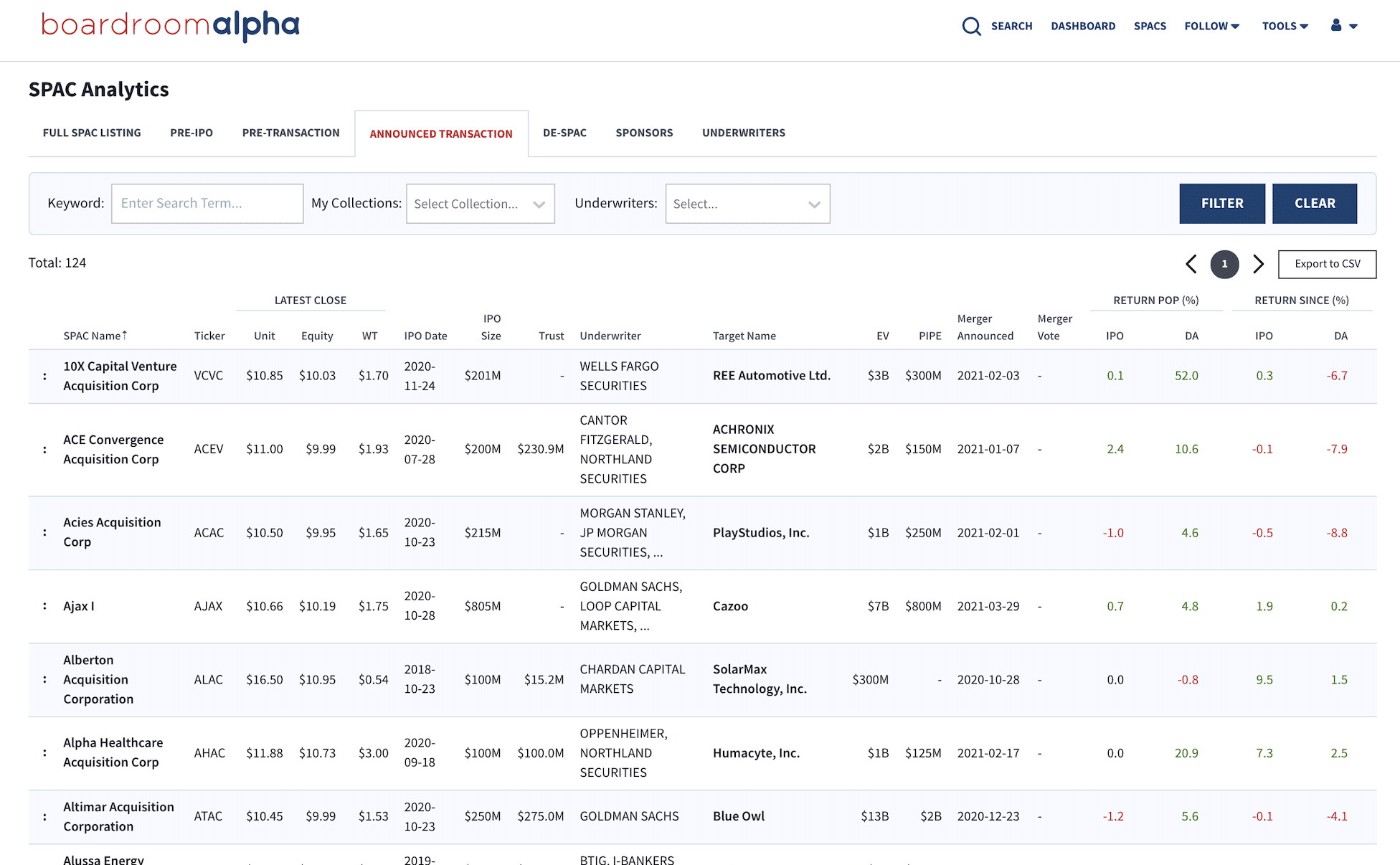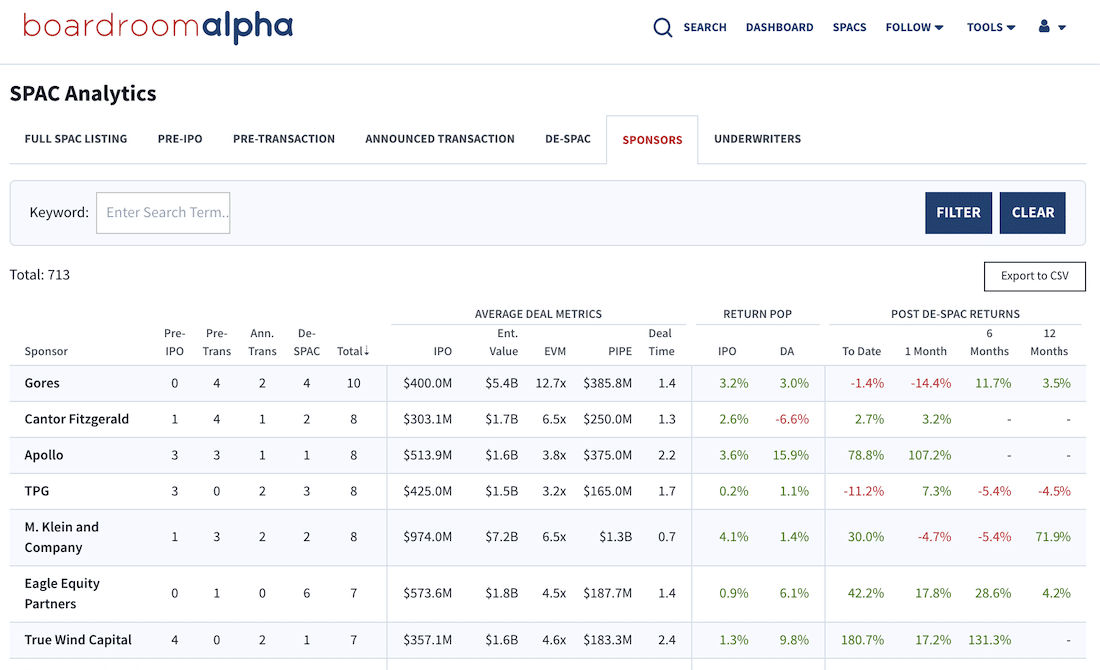 Daily SPAC Research
Boardroom Alpha is an exclusive partner of theStreet.com and writes daily SPAC research that covers the market open, close, and the latest news.