GOVERNANCE DATABASE & API
BOARD COMPOSITION & DIVERSITY DATA
US PUBLIC COMPANY BOARD COMPOSITION AND DIVERSITY DATA COVERING EVERY US PUBLIC BACK TO 2000
BOARD COMPOSITION & DIVERSITY DATABASE & API
Boardroom Alpha's board composition and diversity database covers every US public company company back to 2000 and provides the following data:
Company Identifiers
CIK assigned by the SEC to the reporting company
Ticker of the reporting company
Company name
CUSIPs for the reporting company (for licensed CUSIP customers)
Board Composition & Diversity Data
Month of assessment
Gender Diversity: # of males
Gender Diversity: # of female
Age Diversity: # 60+
Age Diversity: # 50-59
Age Diversity: # 40-49
Age Diversity: # 30-39
Age Diversity: # less than 30
Tenure Length: 10+ years
Tenure Length: 6-9 years
Tenure Length: 2-5 years
Tenure Length: less than 2 years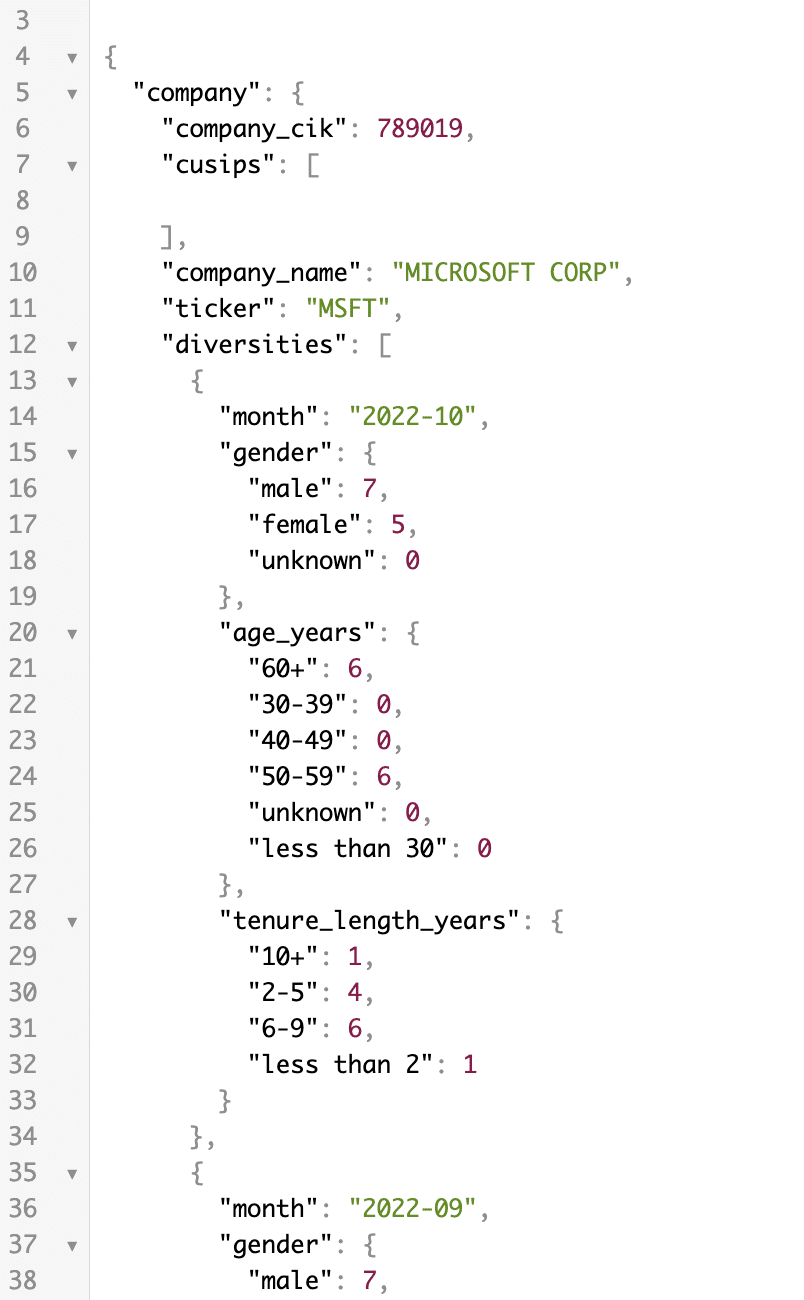 Boardroom Alpha's comprehensive governance and SPAC databases provide insight into the governance of all US publicly traded companies and the executives and directors behind them. Use our robust RESTful API, take data feeds, or integrate directly into Excel.
Governance
Data
Insider buying and selling (all Form 3, 4, 5) data
Fund voting (from N-PX Filings)
Board Independence
Director Overboarding
Governance
Analytics
Board performance analytics (TSR, ratings, and more)
CEO performance analytics (TSR, ratings, and more)
Diversity analytics
Insider buying/selling analysis
SPAC Database


(Special Purpose Acquisition Companies)
Power your internal SPAC models and research systems with Boardroom Alpha's comprehensive SPAC Database.
Includes all key data points including: IPO date, vote date, size, redemptions, team members, performance analytics, deal metrics and more.
Easily integrate using the RESTful database API.