GOVERNANCE DATABASE & API
CORPORATE RED FLAGS
ACCELERATE DILIGENCE AND SURFACE HIDDEN RISKS ACROSS PERFORMANCE, GOVERNANCE AND INSIDER TRADING POTENTIAL RED FLAGS 
CORPORATE RED FLAGS DATABASE & API
Boardroom Alpha's corporate red flags database covers every US public company and identifies those performance, governance and insider trading red flags that might otherwise be hidden.
Company Identifiers
CIK assigned by the SEC to the reporting company
Ticker of the reporting company
Company name
CUSIPs for the reporting company (for licensed CUSIP customers)
Corporate Red Flags Include
Note: the corporate red flags database expands continually, contact us for the full listing.
Entrenched boards
Staggered boards
Boards lacking public company experience
Proxy fights / contested proxies
Overboarding of directors / officers
No lead independent director
Non-independent Chairman
Share pledging
Multi-class shares
SEC enforcements
Class action filings
Listing rule violations
Shareholder return underperformance
All-time & 52-week stock lows
Bankruptcies
Bankruptcy history for directors / officers
Immediate resignations
Involuntary leave
Short CEO / CFO tenures
Say-on-Pay failures & negative votes
Pay-for-Performance concerns
SEC correspondence (w/ annotations for notable risks/issues)
SEC investigations
Accountant dismissals
Accountant resignations
"Going Concern" risks
Internal Control weakness
Settlement agreements
Form 144 and 10b5-1 filings/announcements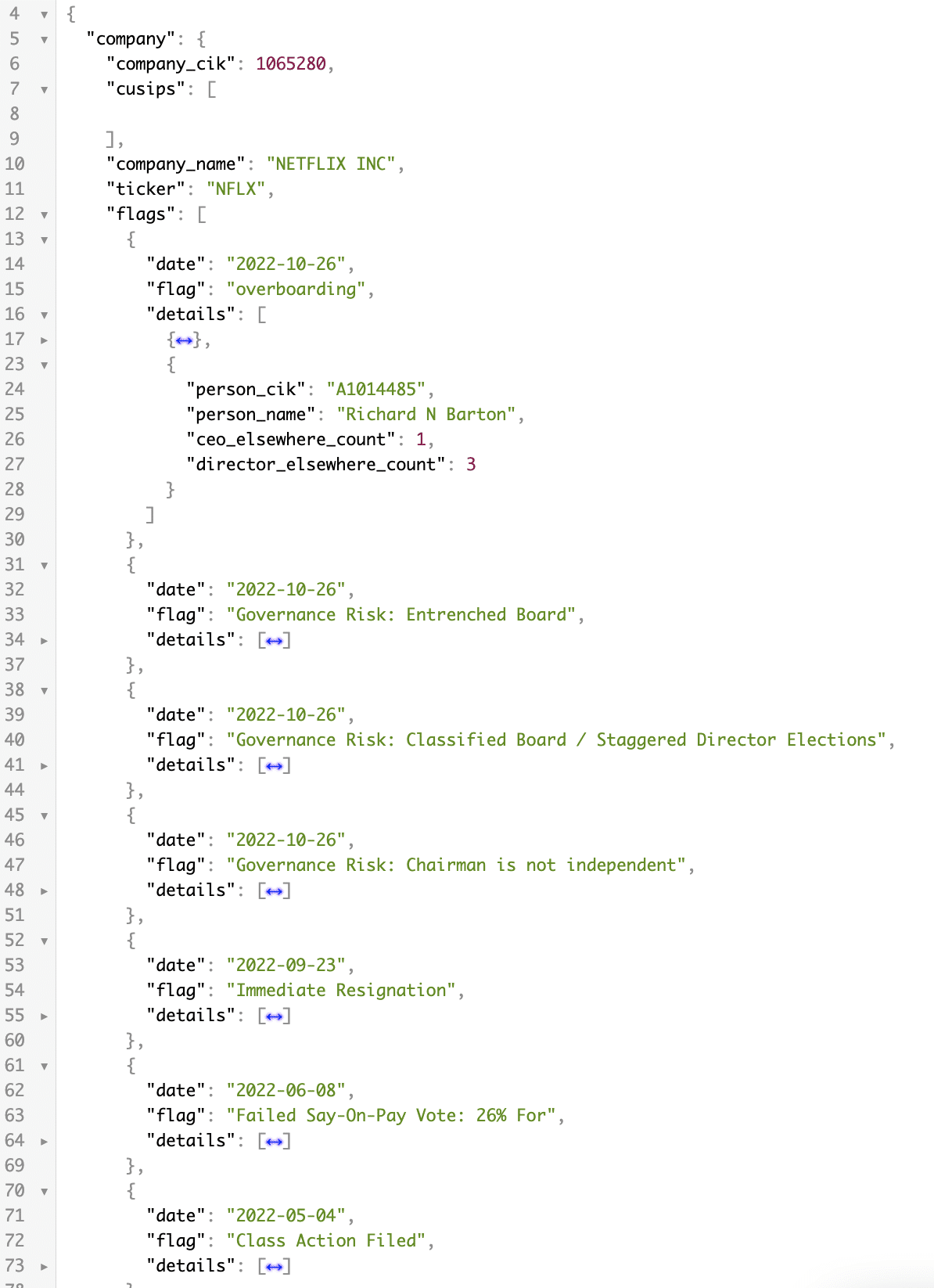 Boardroom Alpha's comprehensive governance and SPAC databases provide insight into the governance of all US publicly traded companies and the executives and directors behind them. Use our robust RESTful API, take data feeds, or integrate directly into Excel.
Governance
Data
Insider buying and selling (all Form 3, 4, 5) data
Fund voting (from N-PX Filings)
Board Independence
Director Overboarding
Governance
Analytics
Board performance analytics (TSR, ratings, and more)
CEO performance analytics (TSR, ratings, and more)
Diversity analytics
Insider buying/selling analysis
SPAC Database


(Special Purpose Acquisition Companies)
Power your internal SPAC models and research systems with Boardroom Alpha's comprehensive SPAC Database.
Includes all key data points including: IPO date, vote date, size, redemptions, team members, performance analytics, deal metrics and more.
Easily integrate using the RESTful database API.