For those looking for signs of life in the SPAC market, April turned out to be another quiet and disappointing month. With only 1 new issue, 1 deSPAC, and 14 new business combinations announced, the market simply continues to churn through the existing backlog. At this point we don't see any meaningful triggers that would shift the narrative in May. So, SPAC plays that worked in April likely will hold true in May.
Below we recap April's SPAC activity, leading off with Ares' $500M SPAC offering.
Return of the Mega IPO?
One of the main narratives in the post SPAC euphoria world has been the evaporation of new issues, particularly large new issues. Deal sizes have been much smaller and the bulge bracket banks have all but abandoned underwriting SPAC IPOs. That has left the likes of EF Hutton, B Riley, and Westpark Capital as the most active banks in 2023 underwriting. EF Hutton has been on 9 deals total with an average new issue size of just ~$79M.
SMALL BANKS LEAD LEAGUE TABLES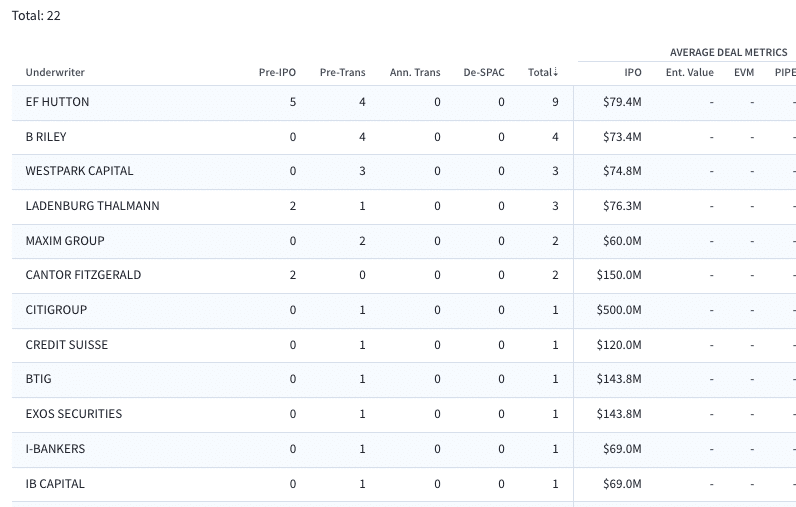 The big banks continue to largely avoid SPACs
On the surface, April was another desolate month for SPAC IPOs. Count it – there was a grand total of 1 new issue, the lowest since July 2022's goose egg. However, that 1 new issue was a massive $500M offering from PE giant Ares. Ares Acquisition Corp. II (AACT) $500M deal (1/2 W) was the biggest SPAC IPO since Gores Holdings IX priced $525M way back in January 2022.
In addition, with Citigroup on the left and UBS also participating in the deal, it was the first major bulge bracket to underwrite an IPO in some time. Encouraging? Yes, slightly. However, don't expect AACT shares to pop like 2021 days. At least not until any more positivity returns to the market.
April total capital raised exceeded March in just 1 deal

SPAC IPO issuance was almost non-existent in April 2023
SPAC Mergers
Merger activity ticked slightly down from March with 14 new deals announced vs. 15 in March. This pace has held steady from the start of the year, averaging ~15 new business combinations per month.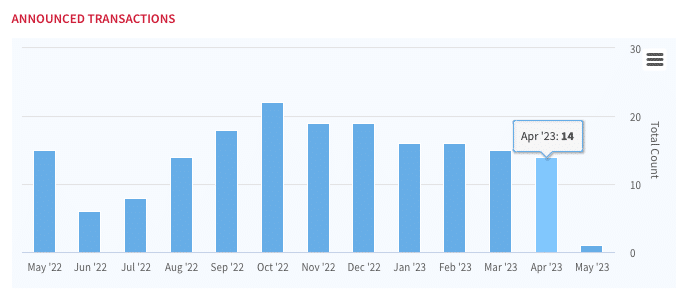 Deal sizes continue to trend down as just one business combination in April was over $1B in value, coming with Arrowroot Acquisition's (ARRW) pact with iLearningEngines. Average deal size for April came out to ~$387M. However, while deals are still getting announced, the financing market remains extremely challenging. The majority of deals are not able to secure traditional PIPE financing, though many have commented that they intend or will attempt to raise a PIPE post announcement.
April 2023 Announced SPAC Business Combinations

DeSPAC'ing
DeSPAC activity remains both slow and painful, and just 1 SPAC was able to officially close and DeSPAC in April with CIIG II and Zapp (ZAPP) closing their combination. However, several DeSPACs were in the news for less celebratory reasons: bankruptcy.
We've previously written about former DeSPAC bankruptcies, and two more filed in April with both Boxed and Virgin Orbit. According to Boardroom Alpha data that counts at least 14 former DeSPACs to have filed for bankruptcy protection over the last few of years.
DeSPAcs with Bankruptcy Filings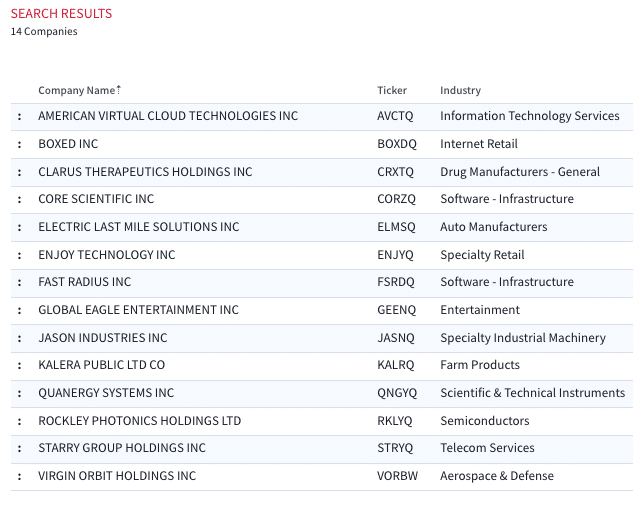 Who could be next? There are currently ~30 deSPACs trading below $2. This list doesn't even include the likes of BuzzFeed (BZFD) who this month announced layoffs and that it will be shuttering its news division.
Lowest Traded DeSPACs (for last 12 months)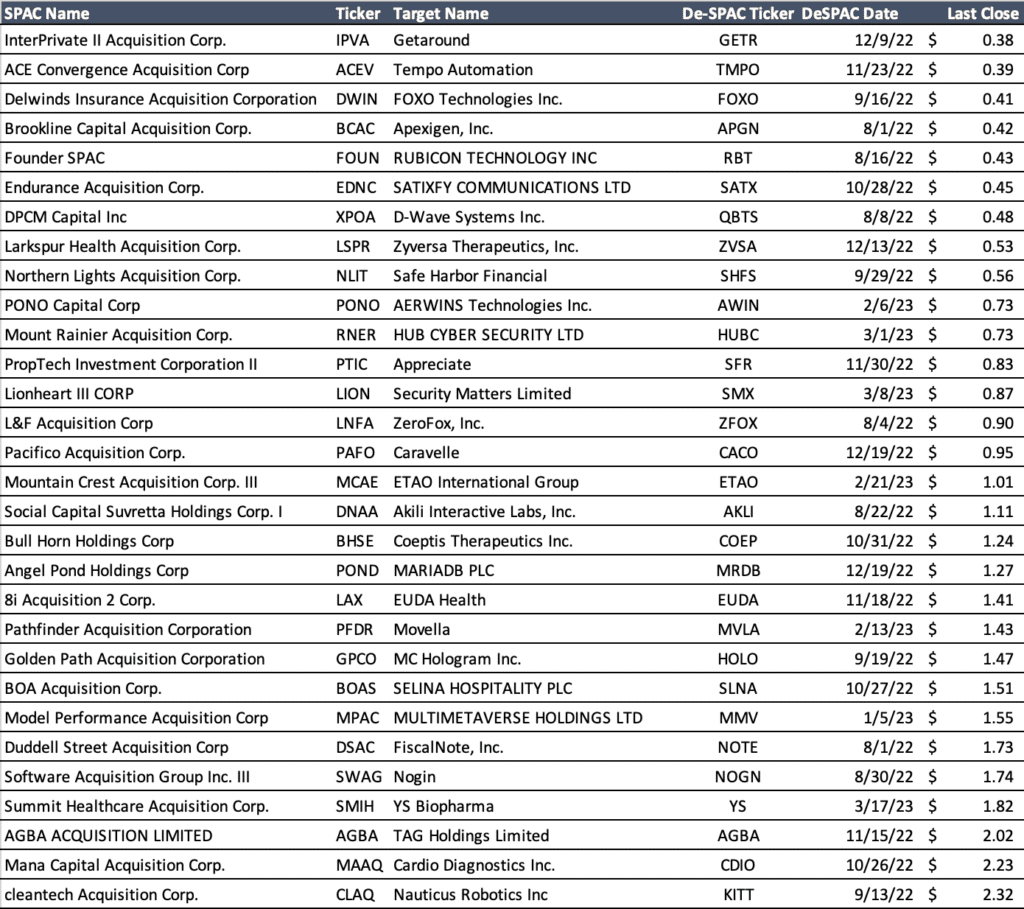 What's Next?
And in the near term SPAC extension votes and liquidations keep on coming. 35 SPAC extensions were completed in April. There are at least 20+ scheduled for the upcoming month.