SPAC Sponsors are Looking to Skirt Extension Costs
Sponsors want to extend their SPAC lives, but they no longer want to pay up for it. Cleantech Acquisition Corp. (CLAQ), who has a pending deal with Nauticus Robotics, set a vote for July-18 to give the company six 1-month options to extend their deadline and deposit $100k to its trust per month. The company's original charter called for 2 3-month extension options which would've cost them $1.725M each. If passed, and the SPAC takes 6 more months to close, it saves ~$3M for the sponsor.
In addition, International Media Acquisition Corp. (IMAQ), filed for a vote to simply reduce their extension payment from $2.3M for each 3-month extension down to $350K each. IMAQ currently has no target and a deadline if January if it extends twice.
While these moves are not shareholder friendly, they are also not surprising from the sponsors' point of view. With redemption levels still very high, many are not considering the cash in trust as merger consideration, therefore why not cut your dollar costs and save some money? CLAQ and IMAQ shareholders both have the right to redeem at current levels.
Redemptions Remain Historically Elevated


Elsewhere in SPACs
KludeIn I Acquisition Corp. (INKA) shareholders approved its six 1-month extensions to January, ~40% redeemed
Kingswood Acquisition Corp. (KWAC) announced a $208M enterprise value SPAC merger with personal wealth management acquirer / manager Wentworth Management Services
Waldencast Acquisition Corp. (WALD) set a vote date of 7/25 for its Obagi Holdings merger
Upcoming SPAC Calendar
Full calendar and SPAC database access here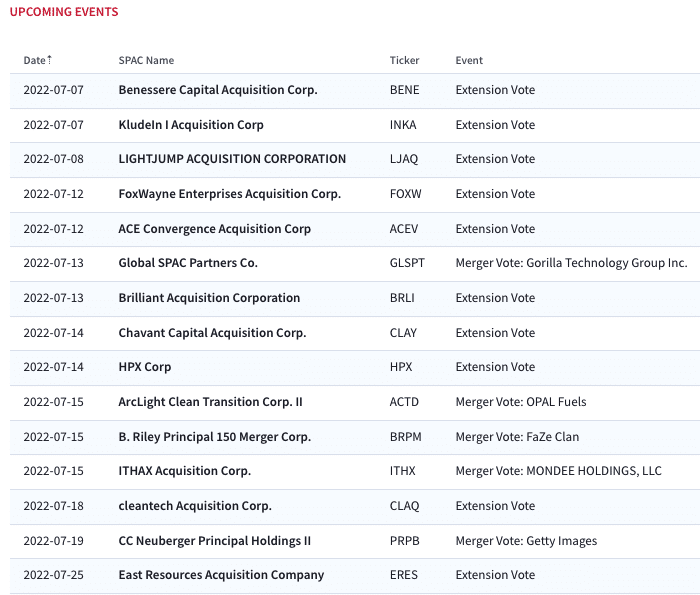 Today's Price Action
Biggest Gainers
DNAC surged back to NAV as they adjourned their meeting yesterday to vote on its ProKidney vote, assuming the NAV floor remains intact.
13.01% ~ $ 9.99 | DNAC – Social Capital Suvretta Holdings Corp. III (Announced)
3.91% ~ $ 10.64 | NLIT – Northern Lights Acquisition Corp. (Announced)
1.69% ~ $ 24.12 | DWAC – Digital World Acquisition Corp. (Announced)
1.63% ~ $ 9.95 | NHIC – NewHold Investment Corp. II (Pre-Deal)
1.52% ~ $ 10.02 | MEKA – MELI Kaszek Pioneer Corp (Pre-Deal)
.59% ~ $ 10.05 | INKA – KludeIn I Acquisition Corp (Announced)
.55% ~ $ 10.06 | ACAQ – Athena Consumer Acquisition Corp. (Pre-Deal)
.51% ~ $ 9.85 | EVOJ – Evo Acquisition Corp. (Pre-Deal)
.50% ~ $ 9.97 | SMAP – Sportsmap Tech Acquisition Corp. (Pre-Deal)
.50% ~ $ 10.04 | AFAC – Arena Fortify Acquisition Corp. (Pre-Deal)
.50% ~ $ 10.07 | GOGN – GoGreen Investments Corp (Pre-Deal)
.49% ~ $ 10.20 | FST – FAST ACQ CP (Pre-Deal)
.45% ~ $ 9.95 | WALD – Waldencast Acquisition Corp. (Announced)
.45% ~ $ 9.80 | NDAC – NightDragon Acquisition Corp (Pre-Deal)
.41% ~ $ 9.68 | GHIX – Gores Holdings IX, Inc. (Pre-Deal)
.41% ~ $ 9.82 | KYCH – Keyarch Acquisition Corp (Pre-Deal)
.40% ~ $ 9.96 | DECA – Denali Capital Acquisition Corp. (Pre-Deal)
.40% ~ $ 9.98 | WINV – WinVest Acquisition Corp. (Pre-Deal)
.40% ~ $ 9.99 | CFVI – CF Acquisition Corp. VI (Announced)
.40% ~ $ 10.04 | UPTD – TradeUP Acquisition Corp (Pre-Deal)
Biggest Losers
-1.93% ~ $ 9.94 | LAAA – Lakeshore Acquisition I Corp. (Announced)
-1.19% ~ $ 10.00 | CBRG – Chain Bridge I (Pre-Deal)
-.61% ~ $ 9.76 | GLHA – Glass Houses Acquisition Corp. (Pre-Deal)
-.60% ~ $ 9.86 | GSRM – GSR II Meteora Acquisition Corp. (Pre-Deal)
-.56% ~ $ 9.89 | AFAR – Aura Fat Projects Acquisition Corp (Pre-Deal)
-.51% ~ $ 9.84 | PAQC – Provident Acquisition Corp. (Announced)
-.50% ~ $ 9.99 | HCMA – HCM Acquisition Corp (Pre-Deal)
-.41% ~ $ 9.67 | AFTR – AfterNext HealthTech Acquisition Corp. (Pre-Deal)
-.41% ~ $ 9.70 | CORS – Corsair Partnering Corporation (Pre-Deal)
-.41% ~ $ 9.74 | FWAC – Fifth Wall Acquisition Corp. III (Pre-Deal)
-.41% ~ $ 9.79 | IPVI – InterPrivate IV InfraTech Partners Inc. (Pre-Deal)
-.40% ~ $ 9.86 | JGGC – Jaguar Global Growth Corp I (Pre-Deal)
-.40% ~ $ 9.92 | BRKH – BurTech Acquisition Corp. (Pre-Deal)
-.36% ~ $ 9.76 | PTOC – Pine Technology Acquisition Corp. (Pre-Deal)
-.35% ~ $ 9.88 | ASPC – Alpha Capital Acquisition Company (Announced)
-.31% ~ $ 9.61 | NFYS – Enphys Acquisition Corp. (Pre-Deal)
-.31% ~ $ 9.66 | HWEL – Healthwell Acquisition Corp. I (Pre-Deal)
-.31% ~ $ 9.74 | OSI – Osiris Acquisition Corp. (Pre-Deal)
-.31% ~ $ 9.77 | MBAC – M3-Brigade Acquisition II Corp (Pre-Deal)
-.31% ~ $ 9.78 | MSAC – Medicus Sciences Acquisition Corp. (Pre-Deal)