This morning Lionheart III (LION) announced a unique SPAC deal to take Australian listed Securities Matters Limited (ASMX) public in the US by virtue of a transfer that would see the company be listed on NASDAQ. The company was trading at a valuation of ~$28M and, at the current merger agreement, would value that enterprise ~$244M. The agreement doesn't seem to include any additional financing (aside from trust).
Head scratcher, to say the least. However it is not necessarily unsurprising from the Lionheart Capital team, the same SPAC sponsors that brought the (infamous) MSP Recovery Deal to the market. MSPR have seen a precipitous fall in value following some of the "creative" financing maneuvers seen by the team.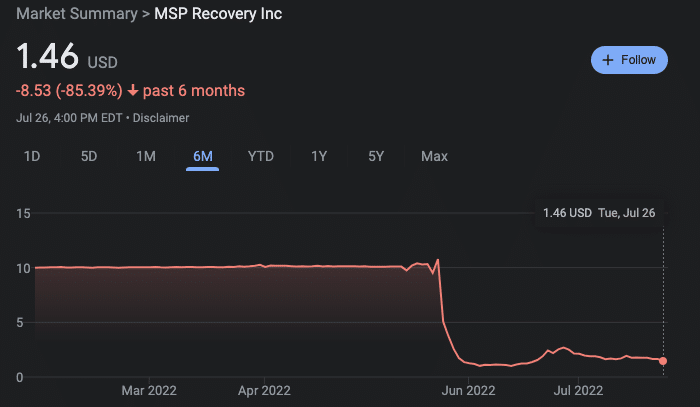 Safe to say that the investing community wasn't exactly jazzed about this deal either, making for an entertaining morning. The market agrees, as LION commons didn't move and the warrants actually fell 1c to close at just 17c. At least, unlike a deal yesterday, they were able to produce an investor deck during the "Summer Holiday" 😉
Elsewhere in SPACs
International Media Acquisition Corp. (IMAQ) successfully amended its trust charter to lower its cost for 2 3month extensions to just $350k per. However, over 20M shares redeemed and just ~$20M remains in its trust
Ventoux CCM (VTAQ) and Presto Automation announced a $100M private raise consisting of $60M equity and $40M from "other sources." In addition the two parties reduced the target valuation down to $525M.
East Resources Acquisition Corp. (ERES) shareholders approved its extension, yet 72% of the SPAC redeemed as part of the vote.
Upcoming SPAC Calendar
Full calendar and SPAC database access here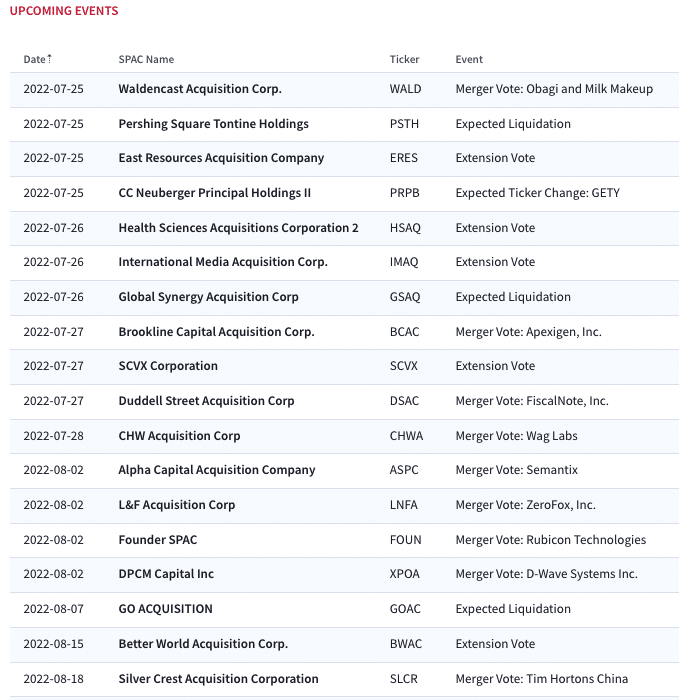 Today's SPAC Market Movers
Biggest SPAC Gainers
4.35% ~ $ 9.83 | CHWA – CHW Acquisition Corp (Announced)
3.52% ~ $ 10.30 | BCAC – Brookline Capital Acquisition Corp. (Pre-Deal)
2.49% ~ $ 10.29 | TRON – Corner Growth Acquisition Corp. 2 (Pre-Deal)
1.79% ~ $ 10.25 | NOVV – Nova Vision Acquisition Corp (Pre-Deal)
.90% ~ $ 10.10 | IMAQ – International Media Acquisition Corp. (Pre-Deal)
.79% ~ $ 10.25 | ACEV – ACE Convergence Acquisition Corp (Announced)
.71% ~ $ 9.91 | TRIS – Tristar Acquisition I Corp. (Pre-Deal)
.61% ~ $ 9.91 | VBOC – Viscogliosi Brothers Acquisition Corp (Pre-Deal)
.60% ~ $ 10.05 | SHAP – Spree Acquisition Corp. 1 Ltd (Pre-Deal)
.60% ~ $ 10.08 | SPK – SPK Acquisition Corp. (Announced)
.52% ~ $ 9.75 | IPAX – Inflection Point Acquisition Corp. (Pre-Deal)
.50% ~ $ 9.99 | SUAC – ShoulderUP Technology Acquisition Corp. (Pre-Deal)
.50% ~ $ 10.14 | TOAC – Talon 1 Acquisition Corp (Pre-Deal)
.41% ~ $ 9.70 | JAQC – Jupiter Acquisition Corporation (Pre-Deal)
.41% ~ $ 10.19 | LNFA – L&F Acquisition Corp (Announced)
.41% ~ $ 9.74 | DALS – DA32 Life Science Tech Acquisition Corp. (Pre-Deal)
.41% ~ $ 9.76 | FICV – Frontier Investment Corp (Pre-Deal)
.41% ~ $ 9.79 | GFGD – Growth for Good Acquisition Corp (Pre-Deal)
.40% ~ $ 9.92 | MCAC – Monterey Capital Acquisition Corp (Pre-Deal)
.40% ~ $ 9.95 | MEKA – MELI Kaszek Pioneer Corp (Pre-Deal)
Biggest SPAC Losers
-5.29% ~ $ 8.78 | WALD – Waldencast Acquisition Corp. (Announced)
-4.18% ~ $ 9.63 | DSAC – Duddell Street Acquisition Corp (Announced)
-3.06% ~ $ 9.19 | NLIT – Northern Lights Acquisition Corp. (Announced)
-2.68% ~ $ 30.17 | DWAC – Digital World Acquisition Corp. (Announced)
-1.06% ~ $ 10.26 | FOXW – FoxWayne Enterprises Acquisition Corp. (Pre-Deal)
-.60% ~ $ 9.87 | LCW – Learn CW Investment Corp (Pre-Deal)
-.51% ~ $ 9.77 | FWAC – Fifth Wall Acquisition Corp. III (Pre-Deal)
-.41% ~ $ 9.71 | ALCC – AltC Acquisition Corp. (Pre-Deal)
-.41% ~ $ 9.83 | LCAA – L Catterton Asia Acquisition Corp (Pre-Deal)
-.40% ~ $ 9.93 | EVE – EVe Mobility Acquisition Corp (Pre-Deal)
-.40% ~ $ 9.93 | SIER – Sierra Lake Acquisition Corp. (Pre-Deal)
-.40% ~ $ 9.98 | PHYT – Pyrophyte Acquisition Corp. (Pre-Deal)
-.40% ~ $ 9.99 | ROC – ROC Energy Acquisition Corp. (Pre-Deal)
-.31% ~ $ 9.79 | LCA – Landcadia Holdings IV, Inc. (Pre-Deal)
-.31% ~ $ 9.79 | AMCI – AMCI Acquisition Corp. II (Announced)
-.30% ~ $ 9.81 | RACB – Research Alliance Corp. II (Pre-Deal)
-.30% ~ $ 9.85 | SSAA – Science Strategic Acquisition Corp. Alpha (Pre-Deal)
-.30% ~ $ 9.85 | YOTA – Yotta Acquisition Corp (Pre-Deal)
-.30% ~ $ 9.85 | CLAA – Colonnade Acquisition Corp. II (Pre-Deal)
-.30% ~ $ 9.86 | PACX – Pioneer Merger Corp. (Pre-Deal)