For the first time in recent memory, we had a fairly active SPAC merger Monday with 3 (yes!) 3 new DAs:
Frazier Life Sciences Acquisition Corp. (FLAC) and NewAmsterdam Pharma, $326M
DUET Acquisition Corp. (DUET) and AnyTech 365, $287M
DHC Acquisition Corp. (DHCA) and GloriFi, $1.7B
However, that brings us to GloriFi. Not taking a view on the deal yet (tough to with little information released), though a $1.7B valuation is a bit of head scratcher for a company that feels as if is in a very WIP mode. To boot, this was at the bottom of their Press Release: "Given the Summer Holiday Season, GloriFi intends to Post its Full Investor Presentation After Labor Day"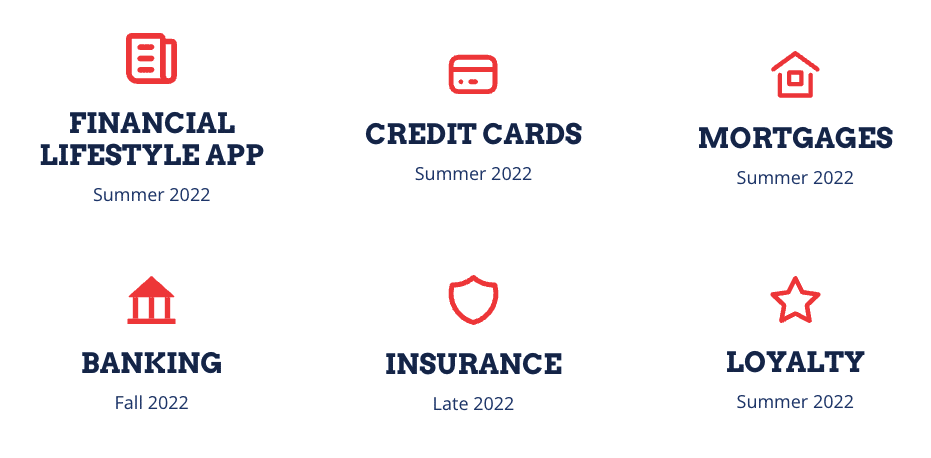 That's definitely a first and doesn't exactly scream, hey we're working hard for you. If you can't even bother to work on a presentation until after Labor Day, what is the point of rushing to announce in July? Watch out high redemptions!
Elsewhere in SPACs
Better World Acquisition Corp. (BWAC) set a date for another extension. vote 8/15, out till feb. 44% redeemed in last vote.
Abri SPAC (ASPA) and blockchain co Apifiny terminated their previously announced deal. ASPA will look for another target.
Upcoming SPAC Calendar
Full calendar and SPAC database access here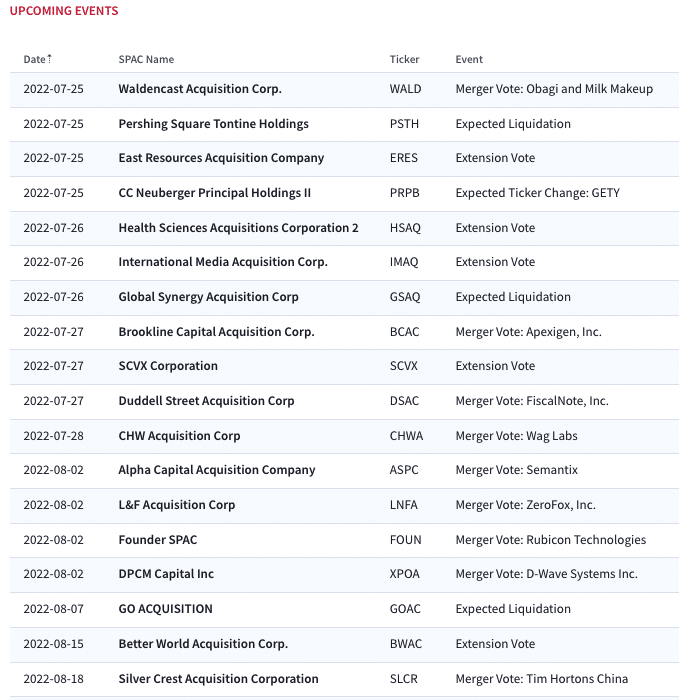 Today's Price Action
Biggest Gainers
4.16% ~ $ 9.27 | WALD – Waldencast Acquisition Corp. (Announced)
2.49% ~ $ 10.29 | TRON – Corner Growth Acquisition Corp. 2 (Pre-Deal)
.81% ~ $ 9.95 | BCAC – Brookline Capital Acquisition Corp. (Pre-Deal)
.80% ~ $ 10.10 | VMCA – Valuence Merger Corp. I (Pre-Deal)
.71% ~ $ 9.88 | CLAA – Colonnade Acquisition Corp. II (Pre-Deal)
.62% ~ $ 9.73 | HWEL – Healthwell Acquisition Corp. I (Pre-Deal)
.61% ~ $ 9.91 | VBOC – Viscogliosi Brothers Acquisition Corp (Pre-Deal)
.52% ~ $ 9.75 | ALCC – AltC Acquisition Corp. (Pre-Deal)
.52% ~ $ 9.75 | IPAX – Inflection Point Acquisition Corp. (Pre-Deal)
.51% ~ $ 9.83 | GAQ – Generation Asia I Acquisition Ltd (Pre-Deal)
.51% ~ $ 9.90 | IVCP – Swiftmerge Acquisition Corp. (Pre-Deal)
.51% ~ $ 9.94 | FCAX – Fortress Capital Acquisition Corp (Pre-Deal)
.50% ~ $ 10.14 | TOAC – Talon 1 Acquisition Corp (Pre-Deal)
.45% ~ $ 9.99 | DCRD – Decarbonization Plus Acquisition Corp IV (Pre-Deal)
.41% ~ $ 9.70 | JAQC – Jupiter Acquisition Corporation (Pre-Deal)
.41% ~ $ 9.74 | DALS – DA32 Life Science Tech Acquisition Corp. (Pre-Deal)
.41% ~ $ 9.76 | FICV – Frontier Investment Corp (Pre-Deal)
.41% ~ $ 9.76 | DUNE – Dune Acquisition Corporation (Announced)
.41% ~ $ 9.76 | CLBR – Colombier Acquisition Corp. (Pre-Deal)
.41% ~ $ 9.89 | ITQ – Itiquira Acquisition Corp. (Pre-Deal)
Biggest Losers
-5.61% ~ $ 9.42 | CHWA – CHW Acquisition Corp (Announced)
-1.87% ~ $ 31.00 | DWAC – Digital World Acquisition Corp. (Announced)
-1.25% ~ $ 9.48 | NLIT – Northern Lights Acquisition Corp. (Announced)
-1.00% ~ $ 9.91 | GLTA – Galata Acquisition Corp (Pre-Deal)
-.60% ~ $ 9.87 | LCW – Learn CW Investment Corp (Pre-Deal)
-.50% ~ $ 10.00 | PWUP – PowerUp Acquisition Corp. (Pre-Deal)
-.49% ~ $ 10.17 | ACEV – ACE Convergence Acquisition Corp (Announced)
-.44% ~ $ 10.07 | CLAY – Chavant Capital Acquisition Corp. (Pre-Deal)
-.40% ~ $ 9.92 | STET – ST Energy Transition I Ltd. (Pre-Deal)
-.40% ~ $ 10.02 | CFVI – CF Acquisition Corp. VI (Announced)
-.31% ~ $ 9.67 | CDAQ – Compass Digital Acquisition Corp. (Pre-Deal)
-.31% ~ $ 9.70 | BWC – Blue Whale Acquisition Corp I (Pre-Deal)
-.30% ~ $ 9.81 | RACB – Research Alliance Corp. II (Pre-Deal)
-.30% ~ $ 9.82 | LVRA – Levere Holdings Corp (Pre-Deal)
-.30% ~ $ 9.84 | TRIS – Tristar Acquisition I Corp. (Pre-Deal)
-.30% ~ $ 9.93 | GDST – Goldenstone Acquisition Ltd. (Announced)
-.30% ~ $ 9.94 | FATP – FAT PROJECTS ACQUISITION CORP (Pre-Deal)
-.30% ~ $ 9.96 | ALSA – Alpha Star Acquisition Corp (Pre-Deal)
-.30% ~ $ 10.01 | LVAC – LAVA Medtech Acquisition Corp. (Pre-Deal)
-.30% ~ $ 10.04 | LFAC – LF Capital Acquisition Corp. II (Pre-Deal)