FAST Acquisition Corp. (FST) investor Special Opportunities Fund (SPE) today announced that they have reached an agreement that FST cannot distribute the $26M to the sponsor until the court decides. If you recall FST was entitled to a $26M breakup fee upon cancellation of the Fertitta deal, but had said they would not distribute that to shareholders and keep for themselves. This appears to be headed to court, and feel like the SPAC shareholders might have a good case on their hands.
Post close yesterday Crown PropTech Acquisitions (CPTK) filed that their deal with smart building company Brivo has been terminated. In the filing Crown states that they believe Brivo breached its Stockholder Support Agreement and that "Crown intends to vigorously pursue its remedies". 😬
To boot, Crown's CFO and an additional member of the board resigned. This one might look like a liquidation (or extension) ahead of its February deadline. A lot has changed in the long time since December 2021 when both sides were jazzed up about the deal.
So, looks like these SPAC court battles are heating up between these two, and we haven't mentioned what will happen with DUNE & TradeZero? Something says more of these are on the way.
Elsewhere in SPACs
Breeze Holdings Acquisition (BREZ) set a vote date of 9/13 for its 6month extension, $0.035 per month to trust
Better World Acquisition Corp. (BWAC) shareholders approved its 6mo extension from August to February, just over 4M shares remain after another 2.8M redeemed. This is their 4th extension, including 2 used at the sponsors option.
Upcoming SPAC Calendar
Full calendar and SPAC database access here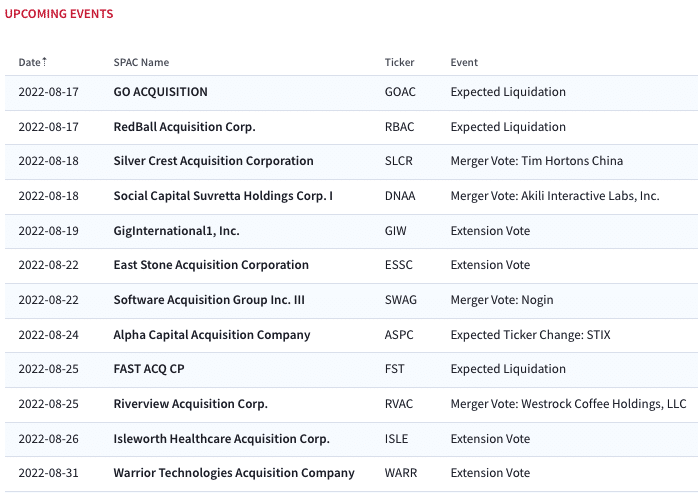 Today's Price Action
Biggest Gainers
1.85% ~ $ 9.92 | TPBA – TPB Acquisition Corporation I (Pre-Deal)
.98% ~ $ 10.35 | FOXW – FoxWayne Enterprises Acquisition Corp. (Pre-Deal)
.50% ~ $ 10.03 | CBRG – Chain Bridge I (Pre-Deal)
.41% ~ $ 9.76 | DALS – DA32 Life Science Tech Acquisition Corp. (Pre-Deal)
.41% ~ $ 9.90 | TRIS – Tristar Acquisition I Corp. (Pre-Deal)
.31% ~ $ 9.98 | BLSA – BCLS Acquisition Corp. (Pre-Deal)
.30% ~ $ 9.89 | KIII – Kismet Acquisition Three Corp. (Pre-Deal)
.30% ~ $ 9.94 | MCAG – Mountain Crest Acquisition Corp. V (Pre-Deal)
.30% ~ $ 9.99 | CREC – Crescera Capital Acquisition Corp. (Pre-Deal)
.30% ~ $ 10.02 | TWND – Tailwind Acquisition Corp (Announced)
.30% ~ $ 10.03 | FGMC – FG Merger Corp. (Pre-Deal)
.30% ~ $ 10.19 | CFVI – CF Acquisition Corp. VI (Announced)
.30% ~ $ 10.19 | PONO – PONO Capital Corp (Pre-Deal)
.29% ~ $ 10.21 | AEHA – Aesther Healthcare Acquisition Corp. (Pre-Deal)
.26% ~ $ 9.74 | SLVR – SILVERspac Inc (Pre-Deal)
.20% ~ $ 9.78 | THCP – Thunder Bridge Capital Partners IV, Inc. (Announced)
.20% ~ $ 9.84 | NGC – Northern Genesis Acquisition Corp. III (Pre-Deal)
.20% ~ $ 9.87 | ACQR – Independence Holdings Corp (Pre-Deal)
.20% ~ $ 9.87 | LVRA – Levere Holdings Corp (Pre-Deal)
.20% ~ $ 9.92 | PAQC – Provident Acquisition Corp. (Announced)
Biggest Losers
-6.63% ~ $ 9.34 | DNAA – Social Capital Suvretta Holdings Corp. I (Announced)
-4.82% ~ $ 10.46 | RAM – Aries I Acquisition Corp (Announced)
-3.64% ~ $ 9.80 | SWAG – Software Acquisition Group Inc. III (Announced)
-2.02% ~ $ 9.70 | SLCR – Silver Crest Acquisition Corporation (Announced)
-1.30% ~ $ 9.90 | RWOD – Redwoods Acquisition Corp. (Pre-Deal)
-1.02% ~ $ 30.50 | DWAC – Digital World Acquisition Corp. (Announced)
-.70% ~ $ 9.95 | GAPA – G&P Acquisition Corp. (Pre-Deal)
-.67% ~ $ 10.38 | ATA – AMERICAS TECHNOLOGY ACQUISITION CORP. (Announced)
-.54% ~ $ 10.05 | TETE – Technology Telecommunication Acquisition Corp (Pre-Deal)
-.50% ~ $ 9.95 | MEKA – MELI Kaszek Pioneer Corp (Pre-Deal)
-.50% ~ $ 10.02 | LVAC – LAVA Medtech Acquisition Corp. (Pre-Deal)
-.49% ~ $ 10.06 | CLAY – Chavant Capital Acquisition Corp. (Pre-Deal)
-.41% ~ $ 9.68 | BWC – Blue Whale Acquisition Corp I (Pre-Deal)
-.41% ~ $ 9.73 | ALCC – AltC Acquisition Corp. (Pre-Deal)
-.41% ~ $ 9.80 | DUNE – Dune Acquisition Corporation (Announced)
-.40% ~ $ 9.93 | UTAA – UTA Acquisition Corporation (Pre-Deal)
-.40% ~ $ 9.99 | RCFA – RCF Acquisition Corp. (Pre-Deal)
-.39% ~ $ 10.09 | SHAP – Spree Acquisition Corp. 1 Ltd (Pre-Deal)
-.36% ~ $ 24.65 | PCPC – Periphas Capital Partnering Corporation (Pre-Deal)
-.31% ~ $ 9.75 | LITT – Logistics Innovation Technologies Corp. (Pre-Deal)