————————————————-
Free Investor Resources from Boardroom Alpha
—————————————————-
** Podcast: Know Who Drives Return
** Daily SPAC Newsletter
** Full SPAC Listing
News of the Day
Management shakeup continues at troubled EV maker Faraday Future
Faraday Future Intelligent Electric (FFIE) is limiting the role of its founder, Jia Yueting, after completing a months-long internal investigation into allegations of fraud. Yueting will continue to serve as the company's "chief product and user ecosystem officer" – a position he has held since relinquishing his role as CEO in 2019 to former BMW executive Carsten Breitfeld. Going forward, Yueting's responsibilities will be limited to the company's "product and mobility ecosystem" and its "internet, artificial intelligence and advanced R&D technology." Yueting will no longer serve as an executive officer.
Matthias Aydt, a board member and senior vice-president of business development and product definition, will be placed on probation for six months. Aydt will maintain his board seat during the probationary period.
Jiawei Wang, Faraday's vice-president of global capital markets, is also resigning. Wang, who is Jia's nephew, has been suspended without pay since January 31.
Faraday Future launched an internal probe last year after a short-selling research firm J Capital published a report claiming the start-up misrepresented the number of pre-orders for its luxury SUV, the FF 91, following its merger with SPAC Property Solutions Acquisition in July of last year.
Electric Dreams: FFIE has been troubled since it's start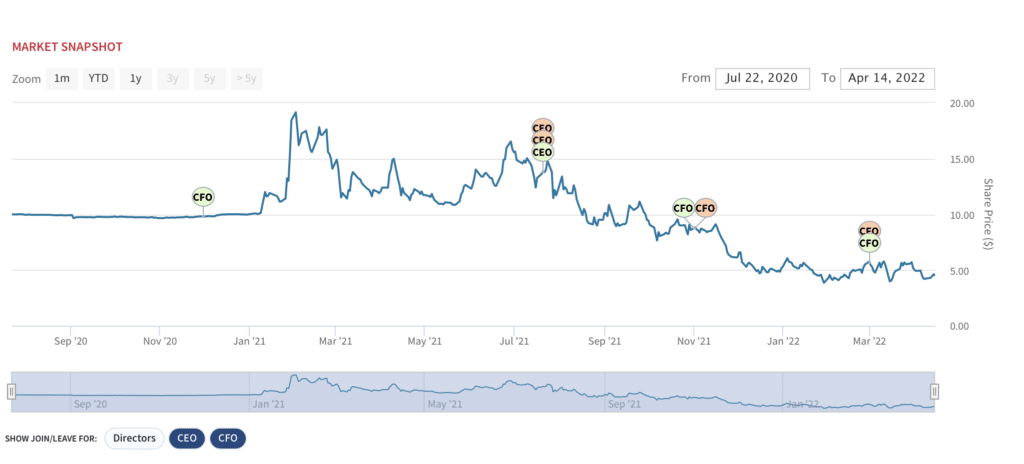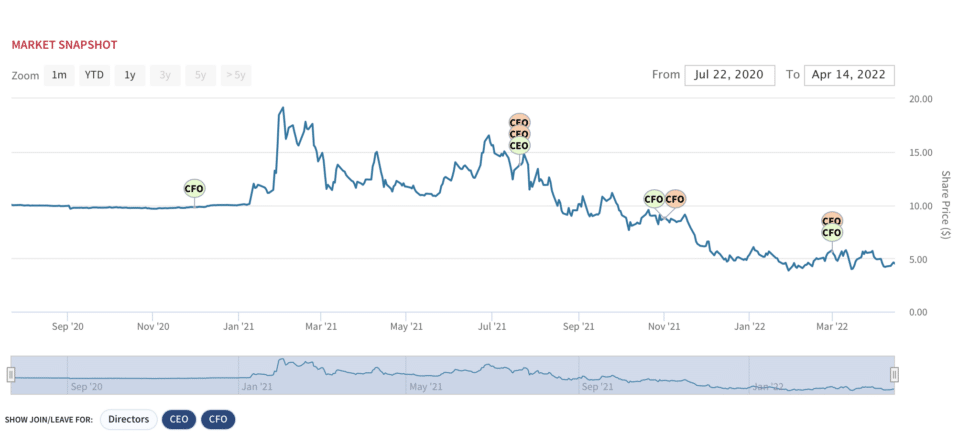 Yueting is said to have invested ~$900 million of his own money, much of it drawn from loans he never repaid in China, into Faraday Future by 2017. He was said to have balked at the idea of relinquishing any control over the company, which made it difficult to find additional investors.
In April 2021, Leshi, the Chinese video streaming provider also founded by Yueting, and Yueting himself, were fined $73.6 million by Chinese regulators for financial fraud committed from 2007 to 2016.
FFIE: Red Flags Everywhere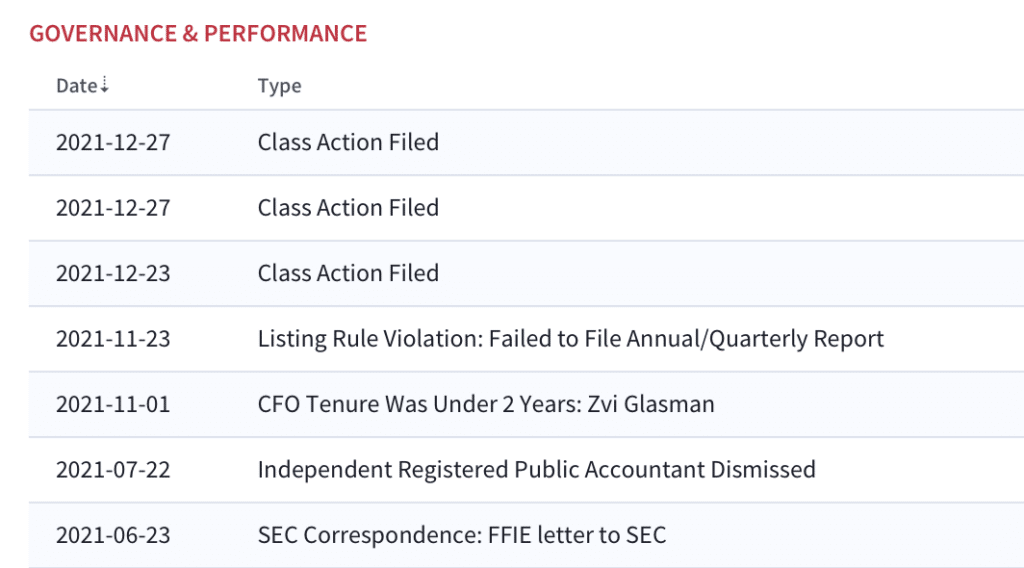 Faraday Future is one of a long list of companies who went public via SPAC IPO and have faced SEC scrutiny– including Lordstown Motors (RIDE), Lucid Motors (LCID), Nikola (NKLA), and Canoo (CNOO).
ESG Investing
Blackrock says 75% of corporate & sovereign investments will be net zero-aligned by 2030
At least three quarters of BlackRock's (BLK) managed assets invested in corporate and sovereign issuers are expected to be invested in issuers with science-based net zero-aligned climate targets by 2030, according to a new report published by the asset manager yesterday.
This is the first time Blackrock, the world's largest asset manager, with $9.6T in assets, has said how its 2030 portfolio would look like with respect to an emissions target. Setting a 2030 goal is a requirement for members of the Net Zero Asset Managers Initiative (NZAMI), a group of money managers whose goal is to get to net-zero emissions across their assets.
Special Situations/ Activism
Elon Musk's Twitter obsession
Elon Musk has lost his position as Twitter's (TWTR) largest shareholder to Vanguard, who now owns a 10.3% stake, according to a recent SEC filing. Musk said yesterday he's "not sure" if his $43 billion takeover bid for Twitter will be successful. The Tesla (TSLA) and SpaceX CEO is still the largest individual shareholder, with Twitter cofounder Jack Dorsey the second largest. Musk indicated he had a "plan B" if his bid was unsuccessful, but did not elaborate on what that might be.
Musk has questioned the value of Twitter as a platform for free speech. "This is not a way to make money," he says. "My strong intuitive sense is that having a public platform that is maximally trusted and broadly inclusive is extremely important to the future of civilization."See our detailed analysis here.
We've commented on the idea of Big Tech censorship in the past– the notion that Big Tech companies have become the gatekeepers and that the political right has become increasingly deprived of access to Internet infrastructure. Given the increasing polarization of political views, we expect to see more disruptive plays on mainstream social media. Other plays on the theme: Digital World Acquisition Corp. (DWAC), CF Acquisition Corp. VI (CFVI)/Rumble and Black Rifle Coffee (BRCC). See our detailed analysis here.
Jana Now Has 3 of 11 Directors at TreeHouse Foods (THS)
Jana Partners Llc filed a 13D/A form with the SEC disclosing ownership of ~9.2% of private-label food company TreeHouse Foods (THS).TreeHouse Foods also appointed Scott Ostfeld, a Jana partner, to its board. Last week THS increased the size of its board to 11 from 10. Ostfeld's appointment comes a year after settling with Jana and appointing two independent directors to the company's board. Last month, TreeHouse said its board determined it would not pursue a sale of the whole company, but that it will continue to explore potential divestitures, including in its meal preparation business.
With Ostfeld's appointment, TreeHouse will now have three of its 11 directors that were appointed following agreements with the activist investor. Ostfeld steps down from the Board at Conagra Brands (CAG), where he served since 2019 and is known for a strong track record and collaborative approach.
TreeHouse, which has grown through more than 40 mergers, has spent the past several years downsizing, including closing plants, cutting jobs and divesting business units. THS stock price has languished, prompting Jana's involvement early last year. We think it's highly likely Jana will agitate once again for a sale of the company.
THS Stock: A Bumpy Ride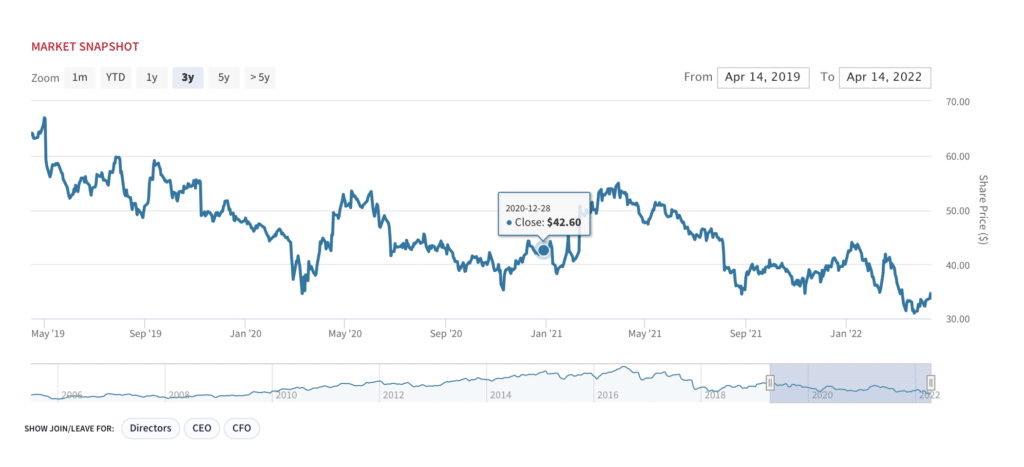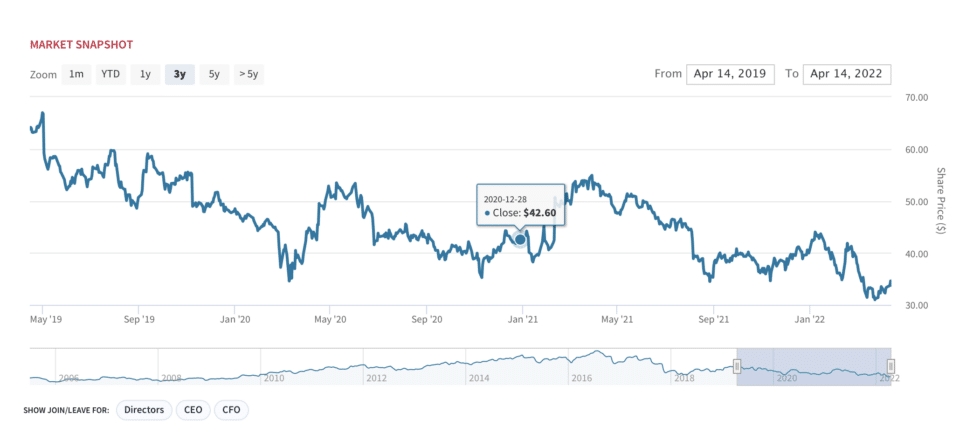 Management Changes
New CFO for Moderna
Biotech Moderna (MRNA) announced the appointment of Jorge Gomez as Chief Financial Officer, effective Monday, May 9, 2022. Gomez joins the company from Dentsply Sirona (XRAY) where he served as Executive Vice President & CFO since August 2019. Former CFO David Meline steps down. The value of his options ($42M) has nearly tripled in less than two years as Moderna has transformed itself into a major player in the industry.
Best of the Rest
Latest Podcast: Yes, Bioplastics are ready for prime time
Looking for investable green tech ideas? Boardroom Alpha talks to Steve Croskrey, CEO of Danimer Scientific (DNMR) on the latest in bioplastics technology. Danimer deSPAC'd from sponsor Live Oak Acquisition Corp. in December 2020. Watch and read our overview on the story here.
More from Boardroom Alpha
For ongoing tracking, analytics, and data on SPACs checkout Boardroom Alpha's SPAC Data and Analytics service.