Steve Croskrey, CEO of Danimer Scientific (DNMR), shares why bioplastics tech is ready for takeoff and how the company is moving the world toward a carbon negative future.
The truth about plastic is that it's cheap and readily available. The problem is that most plastic is single-use and not biodegradable — not good for the environment. For growth investors looking for an emerging technology play on corporate sustainability and the carbon negative movement, our podcast is a great place to start. To get to the bottom of what's happening in next-gen bioplastics, Boardroom Alpha sat down with Steve Croskrey, CEO of Danimer Scientific (DNMR), a company on the cutting edge of this important technology.
Danimer deSPAC'd from its sponsor Live Oak Acquisition Corp. in December 2020. Since coming out of the gate as a pre-revenue pre-earnings hypergrowth company, DNMR stock has experienced a fairly familiar pattern of take-off followed by downward pressure. Shares are down by more than 90% from an all-time high of $64 back in February 2021, making this is a great time to dig in and get into the ground floor of an exciting growth story.
DNMR: Life as a Hypergrowth deSPAC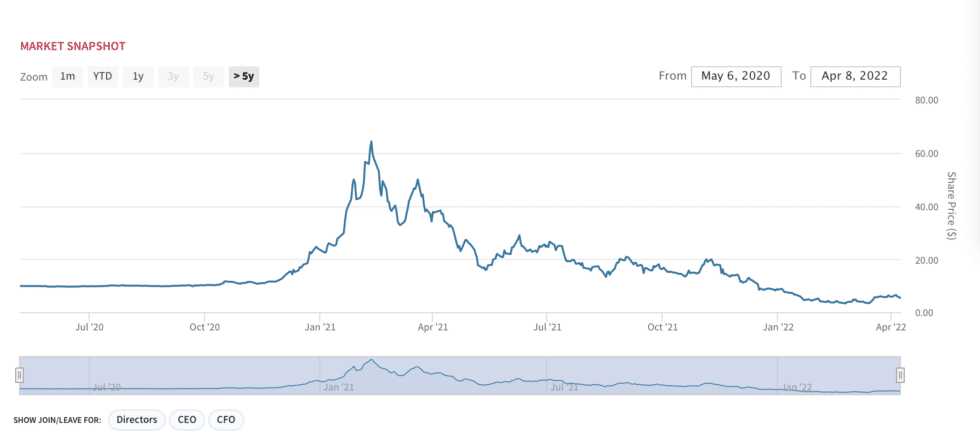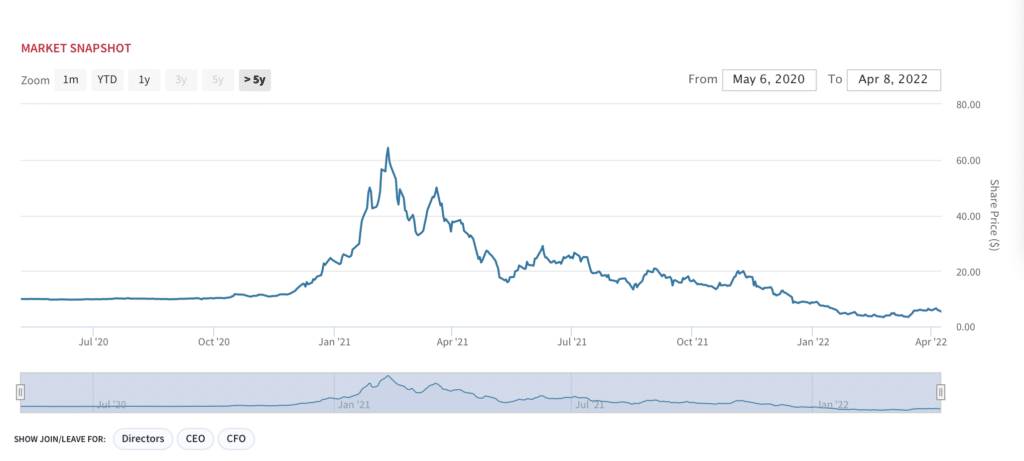 Here's the 10,000 foot view: corporations and investors alike are increasingly looking to reduce their environmental impact and improve their ESG profile. With landfills full of plastics that last hundreds of years and businesses seeking alternatives to fossil fuels, industry tailwinds are clearly converging to support increasing demand for biodegradable plastics.
Let's face it: we haven't done enough as a society to support the adoption of more sustainable packaging and reduce our carbon footprint. Sure, we can recycle. But that's only part of the solution. The reality is this: bioplastics currently comprise only 1% of global plastics. Investors looking at this space will quickly see this is a massive addressable market in its earliest innings. But we're starting to see some positive momentum. Bioplastics technology has advanced exponentially in the past decade and looks like it's finally ready for commercialization and adoption.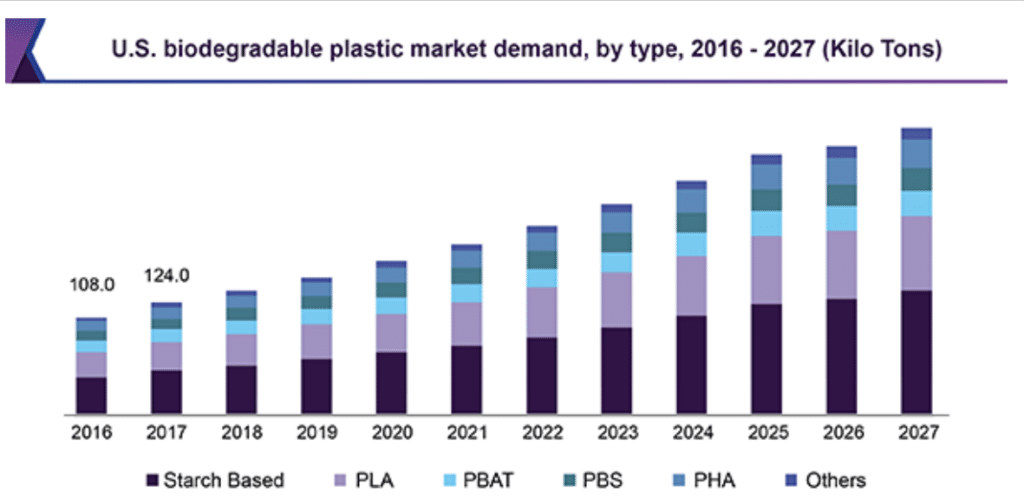 That's where Danimer comes in. Based in Bainbridge, Georgia, Danimer a is bioplastics company focused on the development and production of biodegradable plastics. The company is the largest manufacturer of bioplastics made from PHA (polyhydroxyalkanoate, branded as Nodax). PHA is 100% renewable and uses canola oil rather than the usual fossil fuels used to produce conventional plastics. Danimer also manufactures bioplastics from pre-purchased PLA (polylactic acid) obtained from renewable resources.
Companies in the food and beverage industry, like Pepsi (PEP), Nestle (NSRGY) and Bacardi — are looking to Danimer to manufacture compostable snack food packaging, marine degradable water bottles, and alternatives to plastic straws. Pepsi also announced a second joint collaboration with Danimer to develop biodegradable film resins that meet the company's sustainable flexible-packaging requirements. Right now, roughly 50% of Danimer's current applications for its bioplastics are for straws. That said, over time we expect to see more films and injection molding-type applications which could grow to become more material in 2 to 3 years' time as customers increasingly view PHA as bioplastic which can be used for diverse applications.
The technology is complicated, but a high level, PHA, which Croskrey endearingly calls "bug fat," occurs naturally as energy storage inside microorganisms, similar to the fat cells in animals. Danimer uses bacteria to convert vegetable oil to PHA. A key selling point of Danimer's PHA is that its water soluble. Other bioplastics require industrial composting to break down.
DNMR: Customer Relationships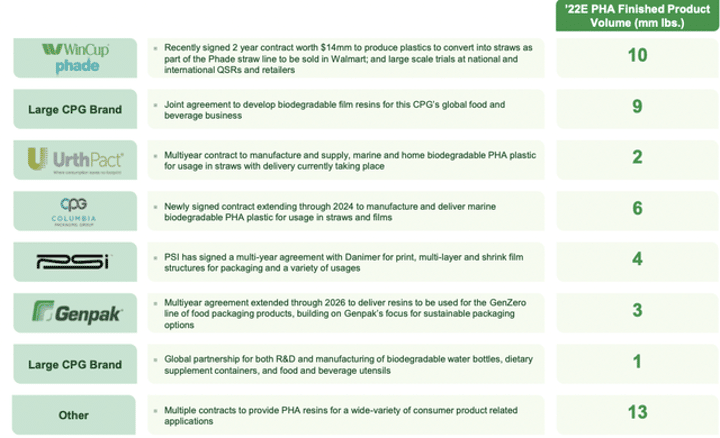 Skeptics say that other biodegradable plastics such as PBS and PBAT are cheaper to produce, but its diffcult to assess any price/manufacturing cost claims given most companies are still in early stages of their manufacturing build. Danimer operates a manufacturing facility in Kentucky, which is a retrofit fermentation plant. The Kentucky facility currently has 20 million lbs of Nodax finished product capacity annually in phase 1 and its phase 2 is expected to be complete this year with 65 million lbs of capacity annually. The entire Kentucky facility is said to be expected to be EBITDA positive in 2022, based on the company's pre-merger slide deck. Danimer's second facility in Georgia will bring an additional 125 million lbs of capacity annually.
Danimer's competition is similarly in early-stage commercialization. These include companies like Origin Materials (ORGN), which makes bioplastics using cellulose (plant based materials), PureCycle (ROCH), and Japanese company Kaneka.
Like many early stage deSPACs, Danimer is mum on its forward financial projections for now. The company's pre-merger slide deck shows a revenue CAGR of 60% from 2020-2025 and an EBITDA margin of 28% in 2022.
Q4 and 2021 Highlights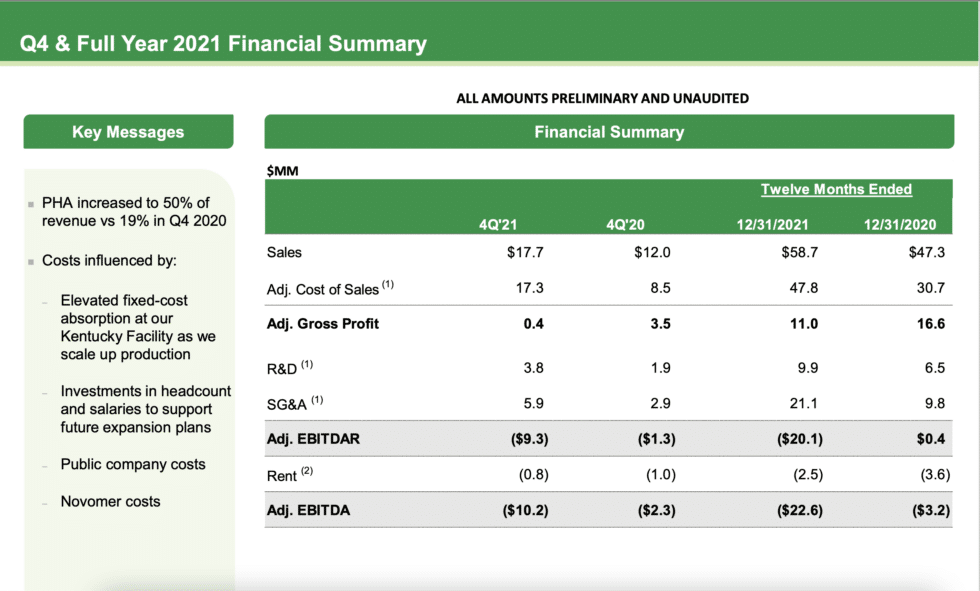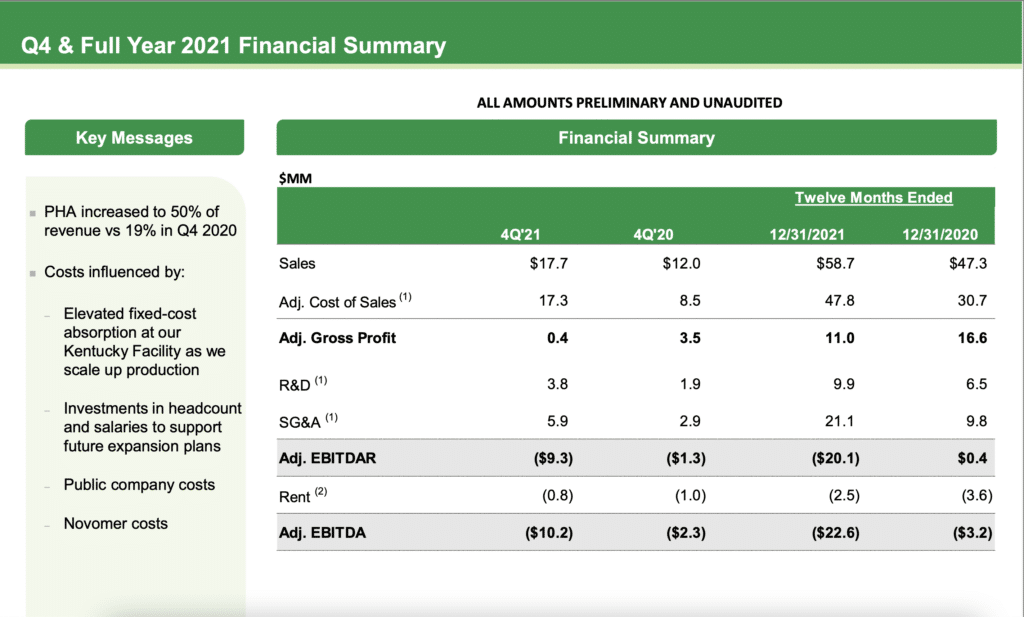 Given the company's ESG orientation, we'd like to see better diversity and inclusion metrics. Also of note: insider selling (insider sales totaling $1.6M of stock over the past 12 months, although these were mostly distributions out of Live Oak to its partners), and overboarding risk. On the recent CFO transition: Michael (Mike) Hajost was appointed CFO in January 2022, succeeding John (Jad) Dowdy, who remains at the company as Senior Vice President, Financial Planning and Analysis.
Diversity and Inclusion Snapshot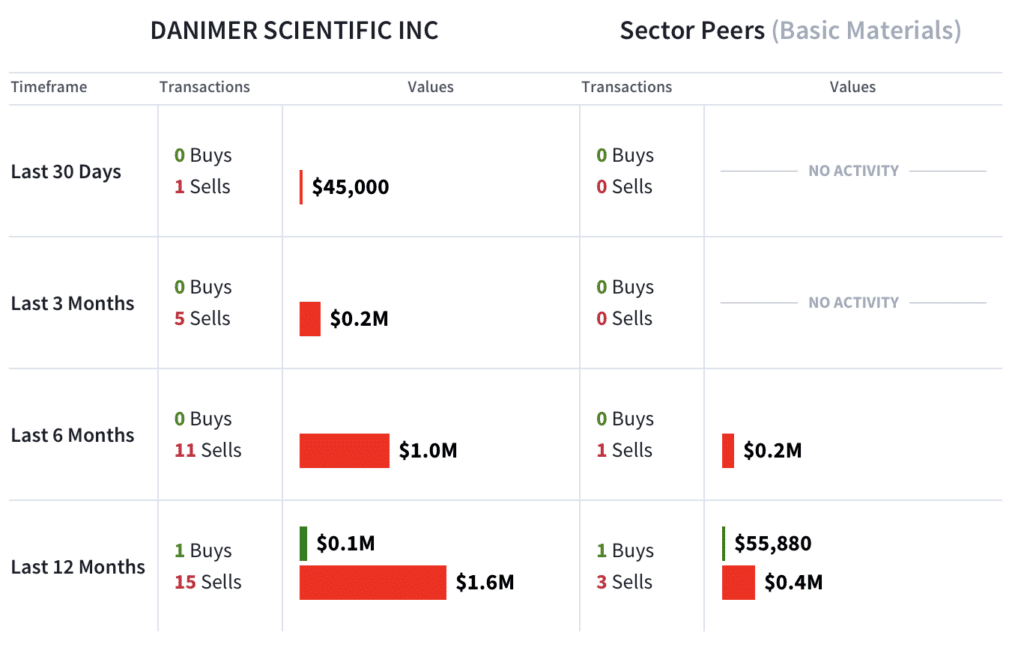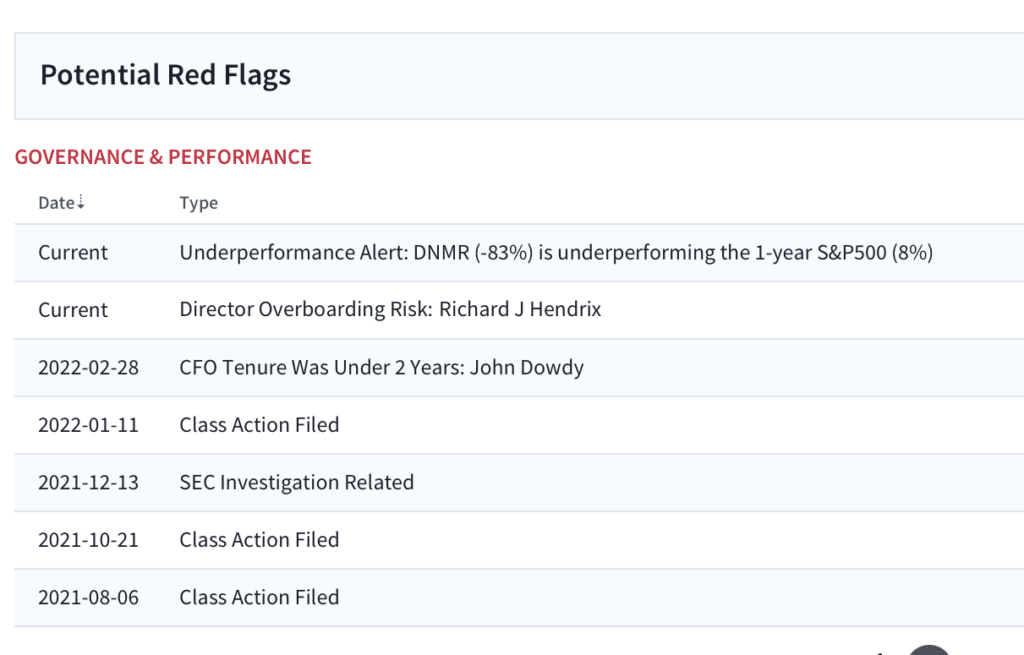 Our take: this is a massive opportunity in the early innings of a multi-decade growth cycle. The main question is whether it's still early to jump in. The primary risk is execution and getting to scale. But with DNMR shares trading at ~$5, the risk/reward looks reasonable here.
Listen to the podcast for more.