What happens when politics and corporate governance collide?
Talk about influence….Musk gets a Board seat at Twitter. Less than 24 hours after revealing his ownership of a 9.2% stake in Twitter (TWTR), Elon Musk has been appointed to the company's board of directors. Twitter founder Jack Dorsey celebrated the move, saying Musk would make for "an incredible team" with Twitter CEO Parag Agrawal. It's nice to see them apparently getting along. In December, Musk compared Agrawal to Josef Stalin. Arguably Musk will carry even more sway than Agrawal. After all, he is now Twitter's largest investor, possesses a board seat, and has a top 10 following on the platform itself, with over 80 million followers (Musk is #8 to be precise, just behind Lady Gaga).
Not passive. SEC can't be happy. Musk acquired his Twitter stake on March 14, according to the disclosure. He began buying the stock in January and indicated the investment was passive. Musk initially filed a 13-G disclosure form (as opposed to a 13-D) that suggests he didn't plan to take control of the company or to influence the people who control it. While accumulating his TWTR stake, Musk's posts to his more than 80 million followers focused on the way the social network moderates speech on its platform. Now, with a board seat, Musk can clearly behave actively. The Tesla CEO subsequently filed a 13-D disclosure on April 4th.
Free speech absolutist. Despite calling himself a "free speech absolutist,"Musk has a history of retaliating against public criticism. Several former employees have reported being fired for disagreeing with the CEO, for reporting racist harassment, or for simply being the subject of 'rage firings.' Musk has denied these allegations. As for Twitter, Musk calls the social media platform "a de facto public square" whose policies "undermine democracy." Followers of the Tesla CEO agree. Over 70% of Musk's pollsters responded that Twitter does not fully comply with the First Amendment. Twitter and other platforms like Meta's Facebook (FB) have struggled to control how their platforms spread false information about important topics like elections and vaccines. At the same time, governments around the world want to regulate how Twitter moderates its users' speech.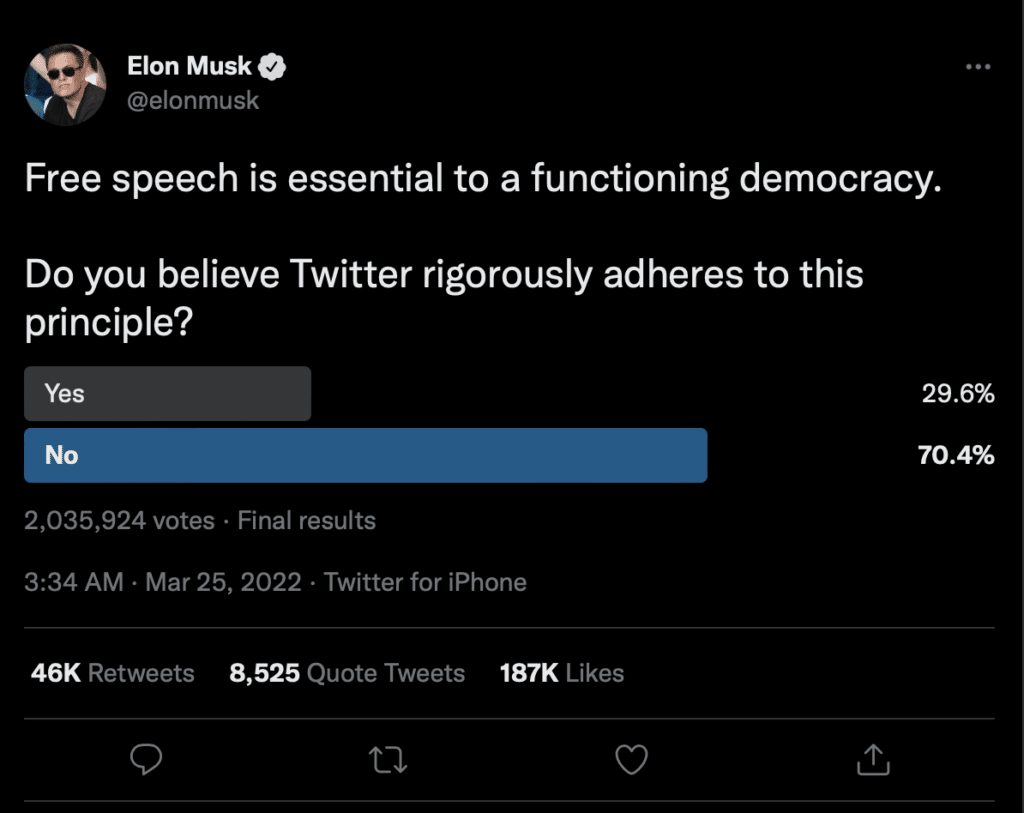 Big Tech as gatekeeper. Musk's comments underscore the growing concern that Big Tech companies have become the gatekeepers and have deprived oppositional views access to Internet infrastructure. In order to reduce the spread of violent and exploitative content, social media companies have begun employing moderators to remove inappropriate material from their platforms. While pornography and hate speech are protected by the first amendment, public sentiment suggests that this type of content—along with content depicting violence or inciting violence—does not belong in social media. Tech companies prohibit this content in their terms of service. However, the line is murky. One person's moderation is another's suppression. At the same time, while other Twitter competitors (e.g. Gab, GETTR, Parler, and Donald Trump's Truth Social) have tried to capitalize on investors' appetite for less social media censorship, these have largely sputtered.
TWTR: The Musk Effect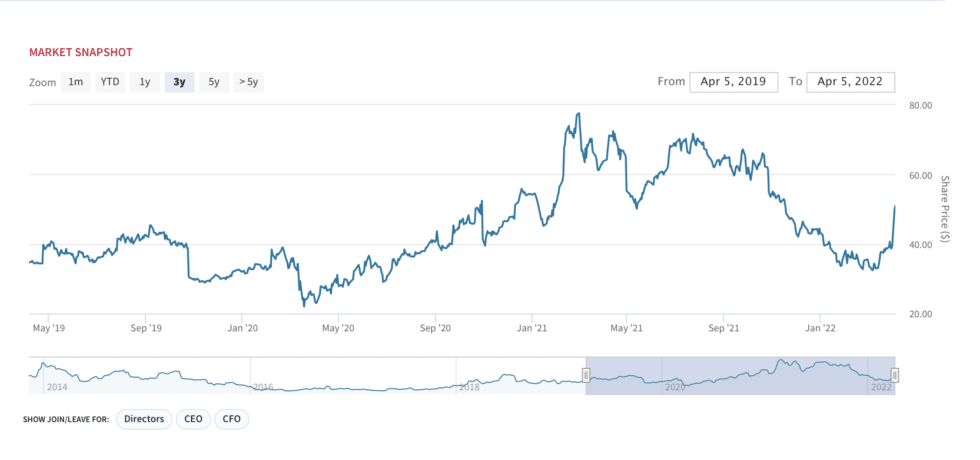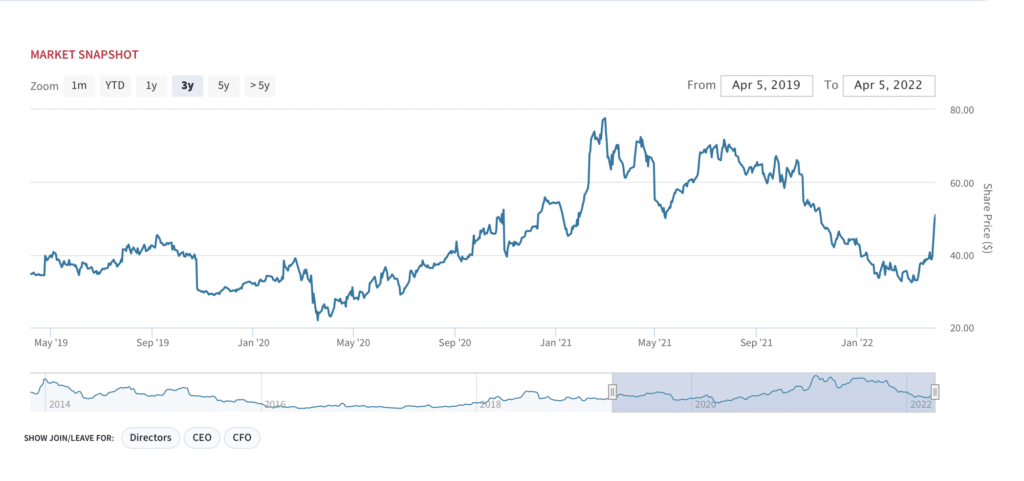 TWTR stock red flags: underperformance, overboarding. The most notable concern is poor shareholder returns, as TWTR stock has underperformed the S&P500 by 53% and 14% over the past year and 3 years, respectively. In addition, three directors are overboarded: David S Rosenblatt, Egon Durban, and of course Elon Musk, who is clearly busy with running Tesla, SpaceX etc, though will be leaving EDR's board in June. In retrospect, Musk's departure from the Board at Endeavor Group Holdings (EDR) in mid-March appears to have dovetailed with his interest in the social media company.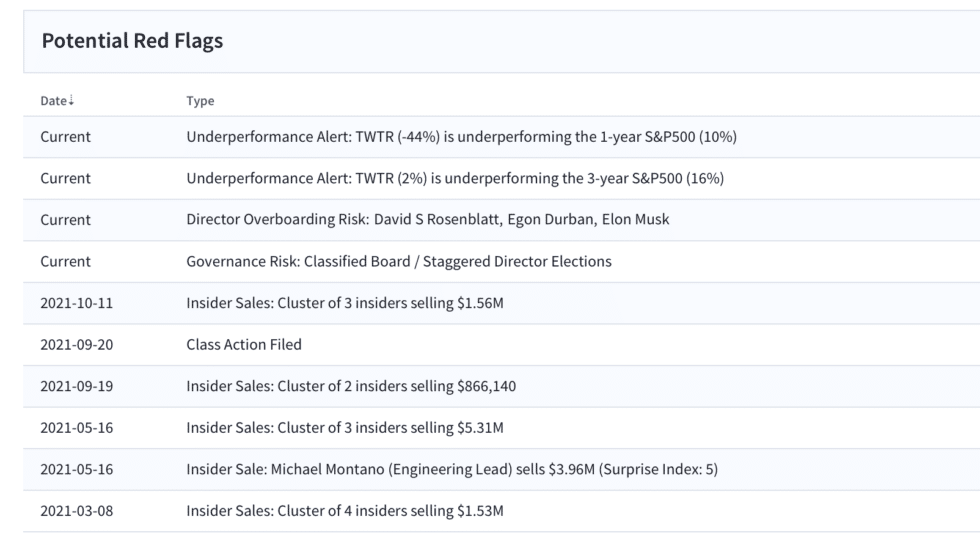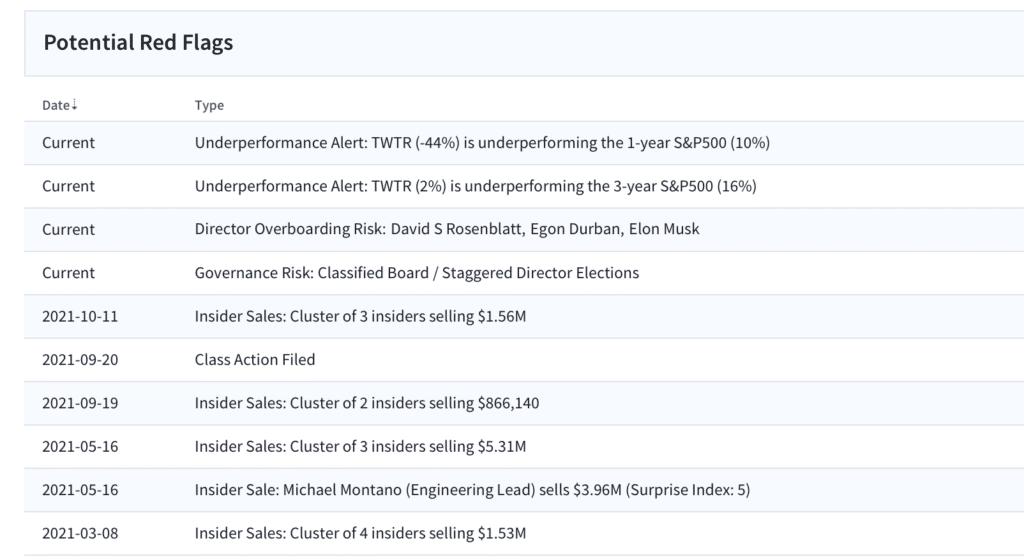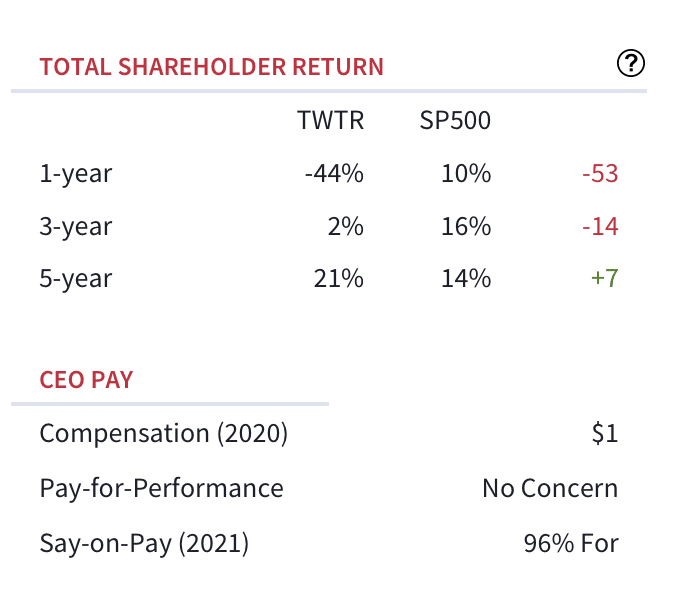 What happens when politics and corporate governance collide? Many of us have lost faith over Twitter's commitment to open discourse. Yet it remains unclear how Musk will want to "fix" the platform and whether his changes will ultimately improve Twitter's business. In addition, issues of economic and social influence are at the forefront here as the world's wealthiest private citizen raises his voice. Another obvious concern is whether Musk pushes Twitter's board to pursue content policies that could provoke government regulators.
TWTR as a meme stock. Shares look overbought, having been caught up in momentum over the past two days. That said, given Musk's penchant for provocation, we expect shares to remain volatile. Note that TWTR also has a more traditional board structure, as opposed to the dual-class structure at companies like Google (GOOG, GOOGL) and Facebook. With his social media currency and 9.2% stake, Musk's ability to successfully launch an activist campaign is readily apparent. In theory, Musk could personally buy Twitter outright– although he did agree not to own more than 14.9% stake. An idealogical battle over free speech between billionaires or other corporate bidders would certainly drive up the stock.
DWAC continues to get hit. With interest in Truth Social floundering, now is the time for Twitter to recapture a broader audience. Digital World Acquisition Corp. (DWAC) shares are down another 9% today and down from ~55% from March highs of ~$100. See our full analysis here.