Comprehensive research and analytics on every SPAC, person, sponsor, and underwriter.
Full SPAC tracking from pre-IPO to beyond deSPAC with supporting performance analytics.
Complete SPAC database updated in real-time and available via API.
Trusted daily by top investors, banks, SPAC sponsors, SPACs and more.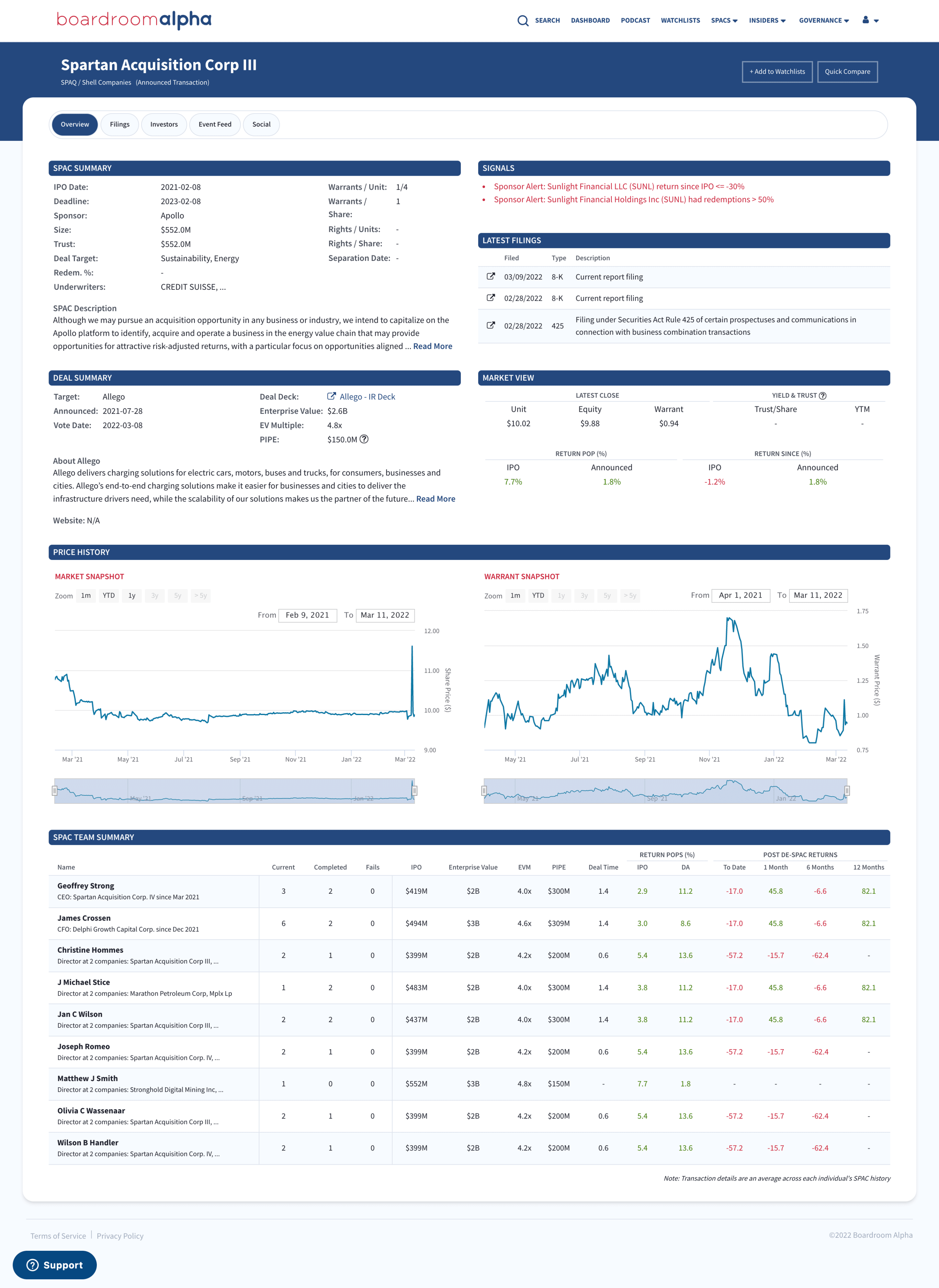 SPAC Research Platform
Everything you need to understand, track, and analyze the SPAC market and the individual SPACs within it.
SPAC Profiles & Tracking
Full detail, SPAC track record, and public company track record for  every director, CEO, and CFO
Unit / Warrant structure
SPAC target focus
Latest prices and returns
Investors holding each SPAC
Real-time SEC filing feed and full-text search
Potential Red Flags
Press releases
Underwriters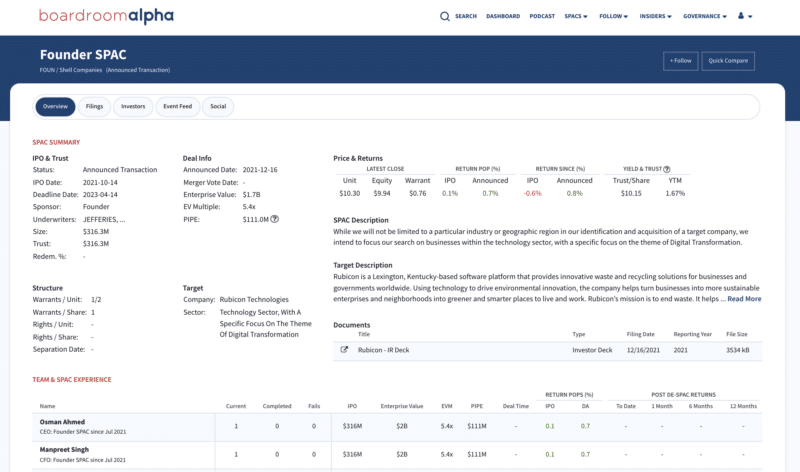 Alerts, Daily Briefs, and News
Morning brief on latest SPAC activity (filings, IPOs, deals, and more)
Deal announcement alerts
All press releases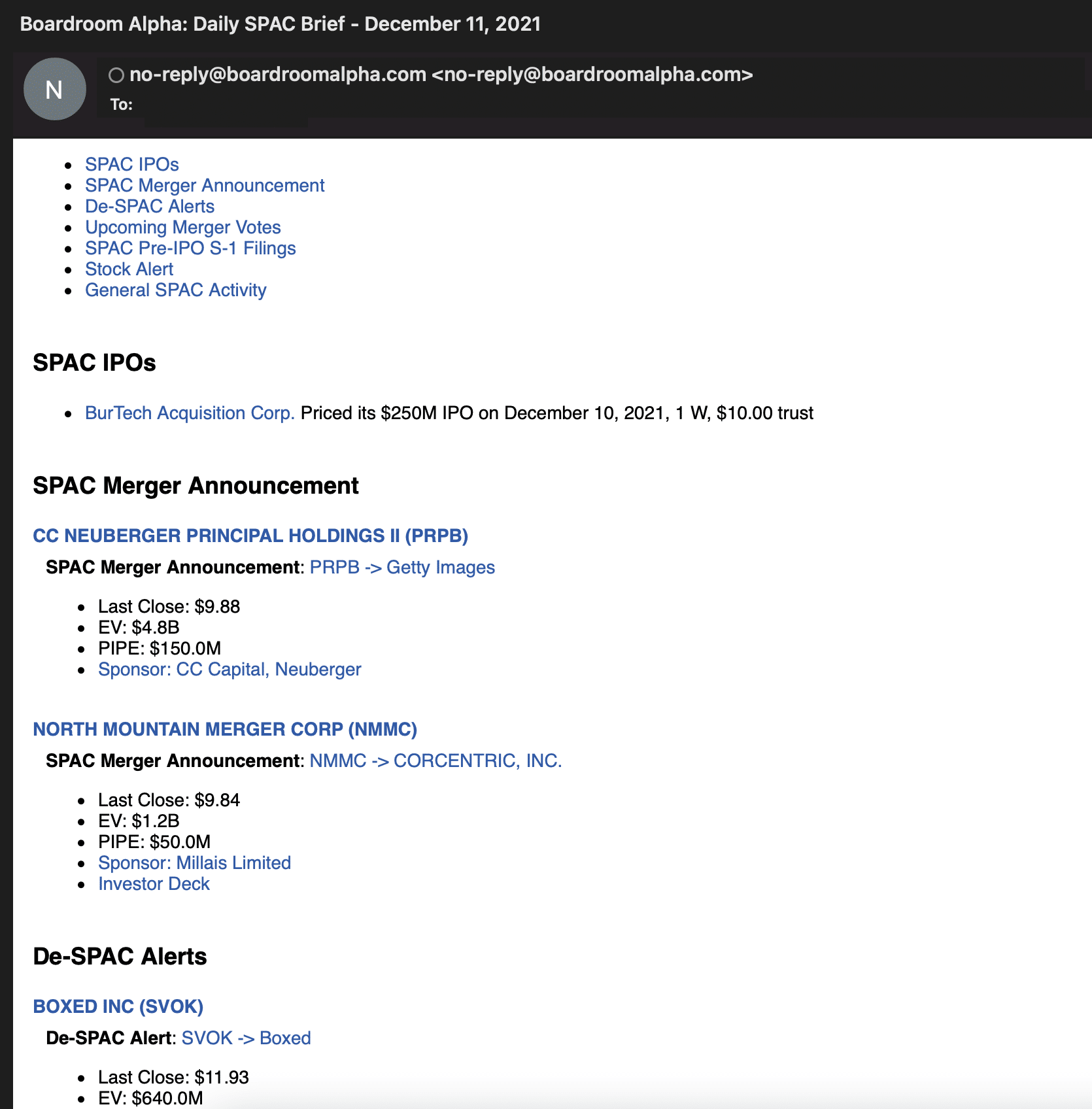 SPAC Market, Warrant, & Redemption Monitors
Daily SPAC movers — common, units, and warrants
SPAC Discount/Premium Index
SPAC IPO volume tracking
Recent SPAC IPO performance
Recent SPAC Merger performance
Redemption monitor & outlook
Warrant monitor with movers, discounts, and more
SPACs at highs / lows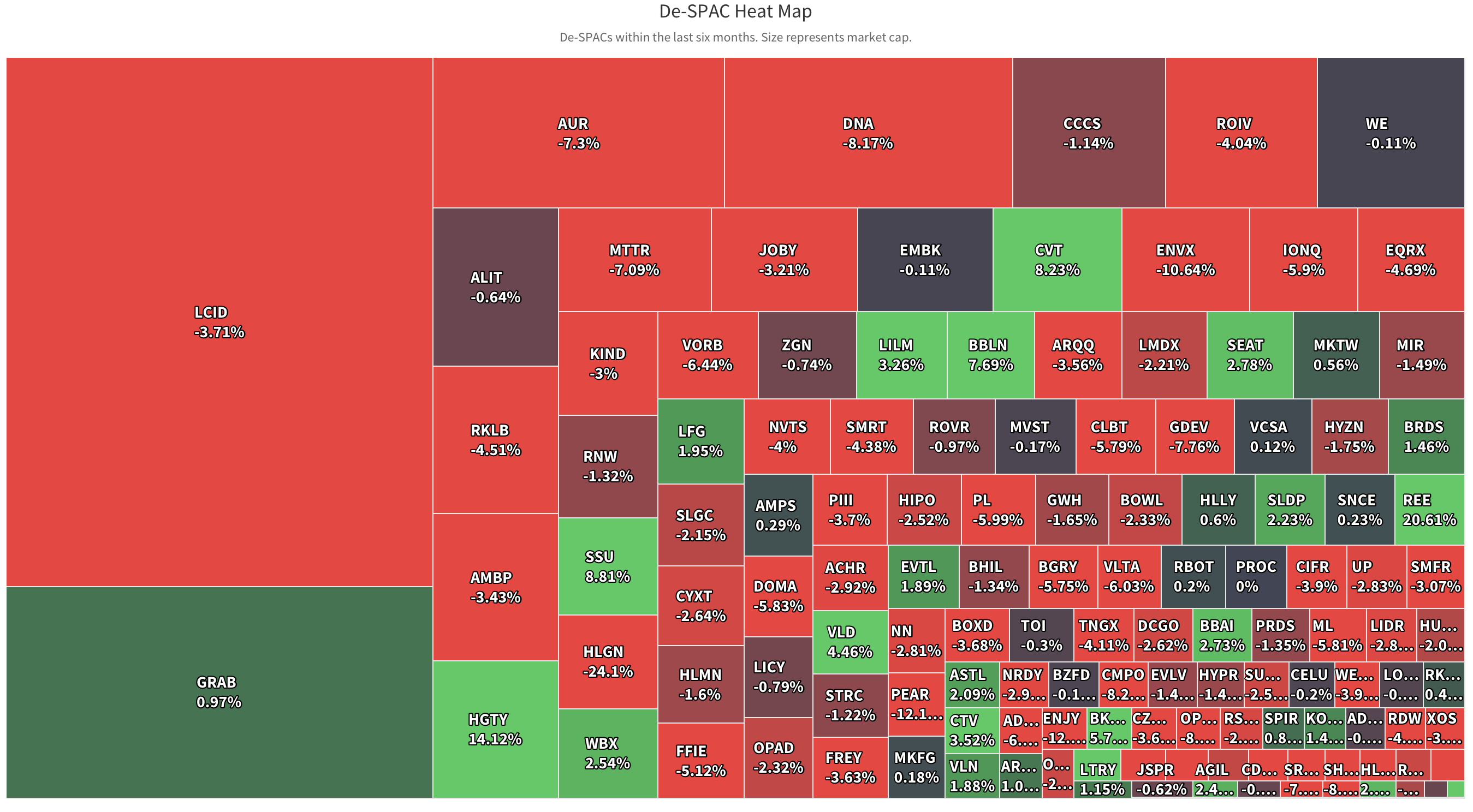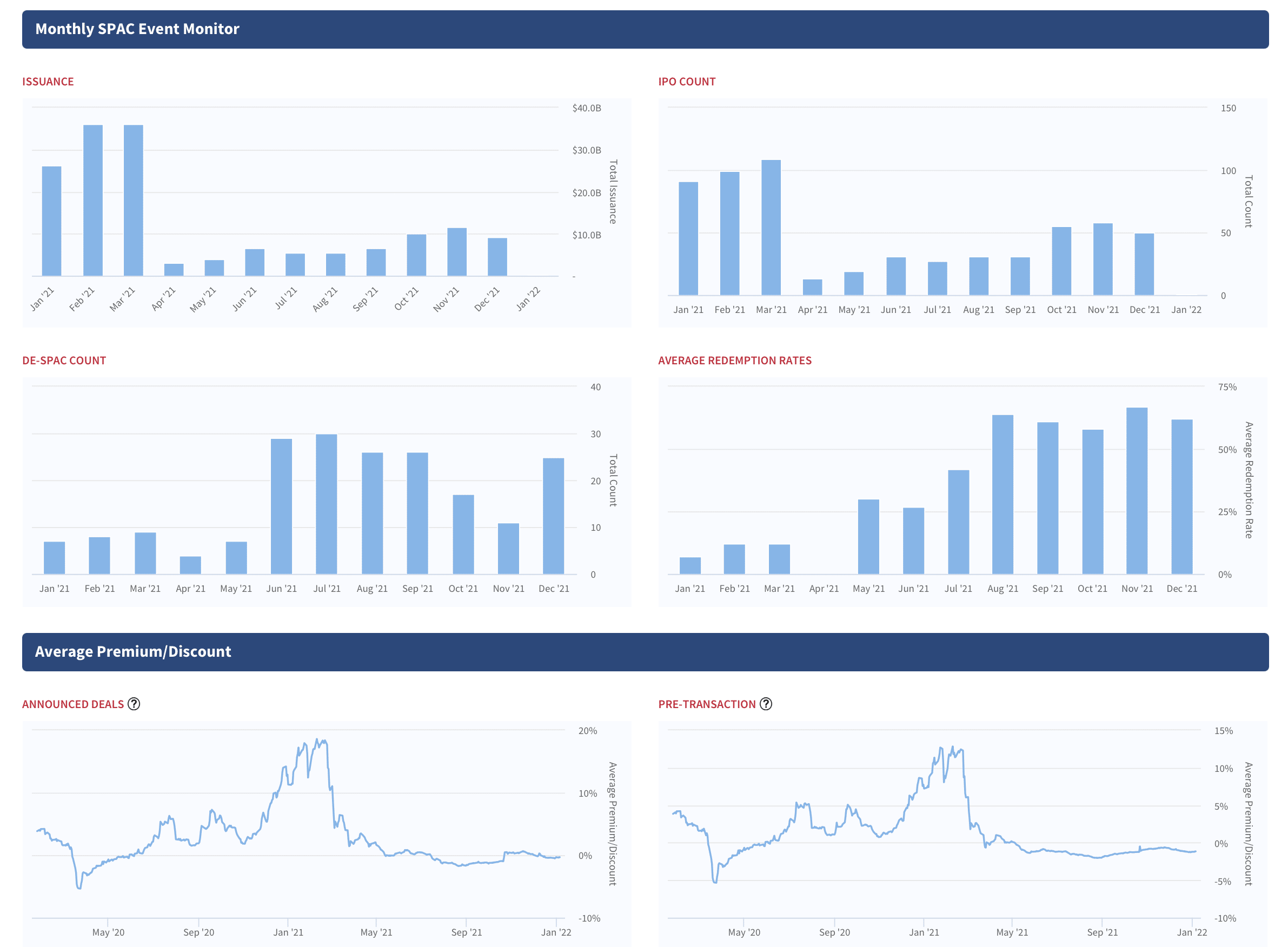 SPAC Calendar
SPAC shareholder deal votes
Unit splits into common & warrants
SPAC extension votes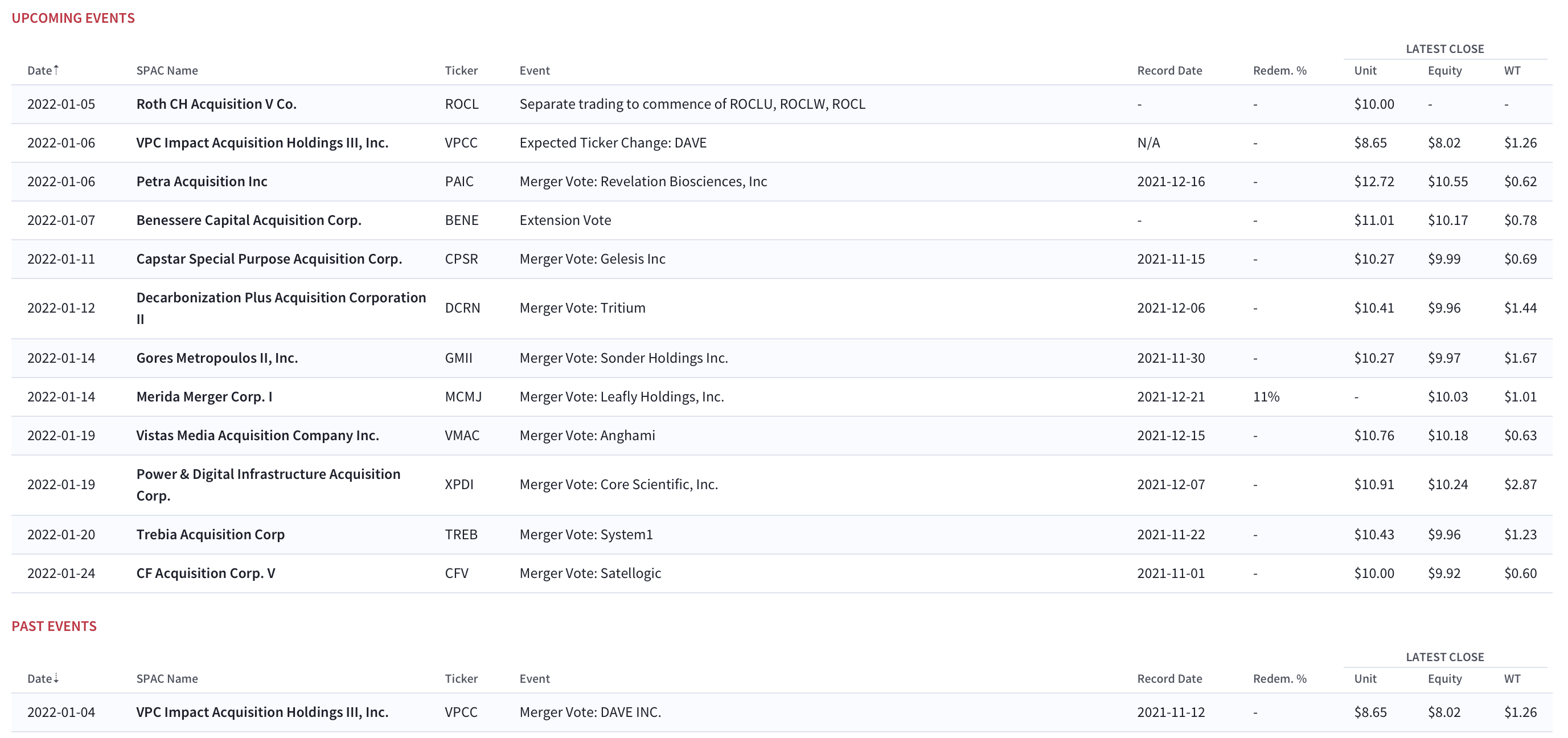 SPAC Sponsor Performance Tracking
Full SPAC performance track record

Deal metrics

Sponsor rankings

SPAC CEO, CFO, and Director Tracking
SPAC track record for every individual CEO, CFO, and SPAC director.

Public company track record— ratings, analytics and context each individual's performance at the top of a public company.

Full biographies including age, gender, education, and race/ethnicity

Relationship analytics
History of insider buying and selling
Ties to activist firms
History of M&A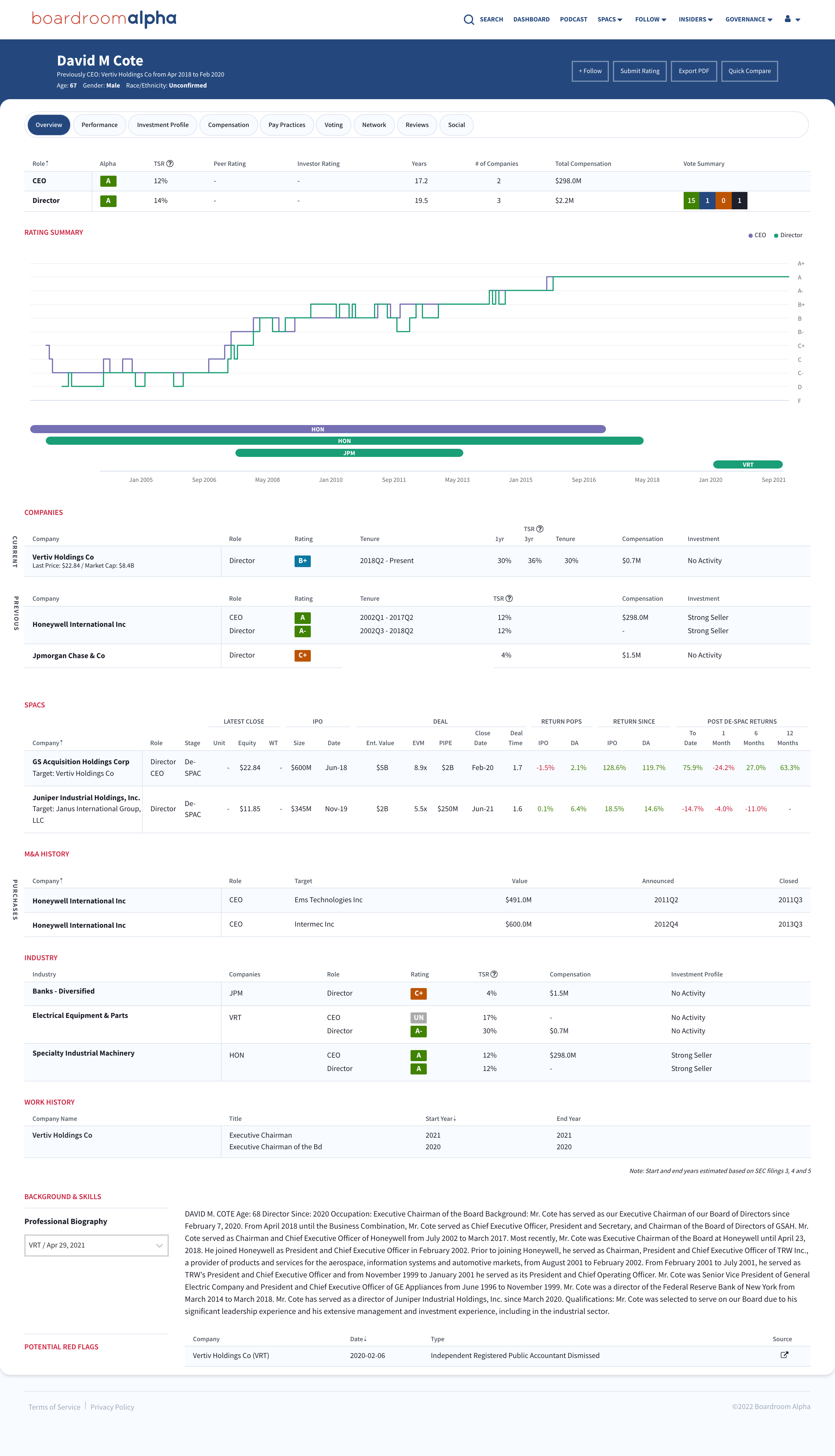 SPAC Insider Buying / Selling Alerts & Tracking
Insider buying / selling alerts

Track insider buying and selling for every SPAC team member
DeSPAC Insider Buying / Selling Tracker

SPAC Database & API
Power your internal models and research systems with Boardroom Alpha's comprehensive SPAC database.
SPAC Profiles
Tickers
Status
IPO Date
Target Focus
Deadline Date
Sponsor
Size
Trust
Underwriters
Price Performance
Latest close
IPO Pop
Deal Announcement Pop
Return since deal announcement
De-SPAC Returns
Yield-to-Maturity
Trust at maturity
SPAC Deal Details
Deal Target Company
Announced Date
Merger Vote Date
Enterprise Value
EV Multiple
PIPE
PIPE participants
Redemptions
SPAC Team
CEO
CFO
Board of Directors
SEC Filings
8-K Current Reports

Prospectuses

Registrations

Insider buying / selling
SPAC Structure
Warrants / Unit
Warrants / Share
Rights / Unit
Rights / Share
Separation Date
Investors
Detailed investor information
News & Events
Press releases
People moves
Stock alerts
Filing alerts
Insider alerts
Deal alerts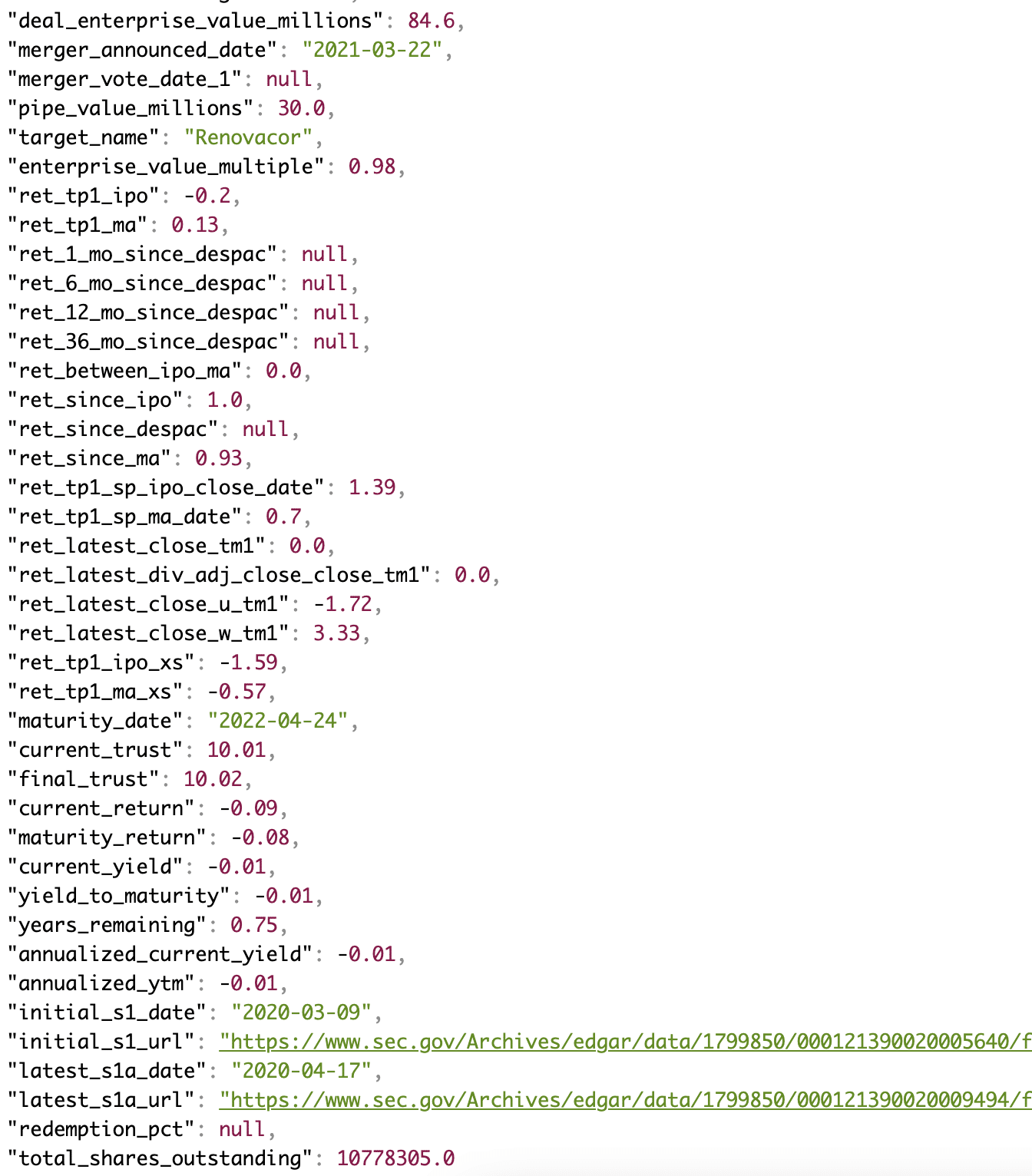 SPAC Research & Resources
More SPAC research, analysis, and data from Boardroom Alpha
Daily SPAC Market Analysis
Know Who Drives Return Podcast
Boardroom Alpha's David Drapkin welcomes Union Acquisition II CEO Kyle Bransfield and Procaps CEO Ruben Minski to the podcast. The deal goes to vote on September 22, 2021 and ex-redemption on September 17, so this will be one of shareholders' last opportunities to hear from the team before deciding to redeem or go long alongside Kyle and Ruben.
of the SPAC sponsor tables, how bad actors are stealing value from everyone else in the SPAC market, and why dMY is "long-term greedy."
Ben Wolff, CEO of Sarcos, talks to Boardroom Alpha's David Drapkin about robots, SPACs, and why investors should be looking at Sarcos as an opportunity to invest.
Monthly SPAC Market Reviews
No Results Found
The page you requested could not be found. Try refining your search, or use the navigation above to locate the post.