A DA for next-gen battery maker Amprius in an otherwise quiet day.
————————————————-
Free Investor Resources from Boardroom Alpha
—————————————————-
** Podcast: Know Who Drives Return
** Daily SPAC Newsletter
** Full SPAC Listing
SPAC Deal: KCAC + Amprius Technologies
Kensington Capital Acquisition IV (KCAC) announces a DA with Amprius Technologies, a silicon-anode battery manufacturer. The transaction values Amprius at an enterprise value of $939M. PIPE is not yet locked in; looking for $200M in additional equity financing. The transaction assumes approximately $430M in gross proceeds– including $230 million of cash in trust and the potential $200 million in additional equity financing. Slide deck here. Amprius batteries use silicon in the battery anode, as opposed to the graphite which is used in most electric vehicle (EV) batteries. These next-gen batteries are supposedly more energy efficient, although most emerging solid state battery players haven't yet scaled to mass production. Notably, Kensington Capital has a successful track record, with two high-profile deSPACs. The SPAC took solid-state battery maker Quantumscape (QS) public in November 2020 and EV charging company Wallbox (WBX) in October 2021.
SPAC Vote: GLAQ / Forafric
Globis Acquisition Corp. (GLAQ) sets June-7 for Forafric merger vote.
Elsewhere in SPACs
Upcoming Events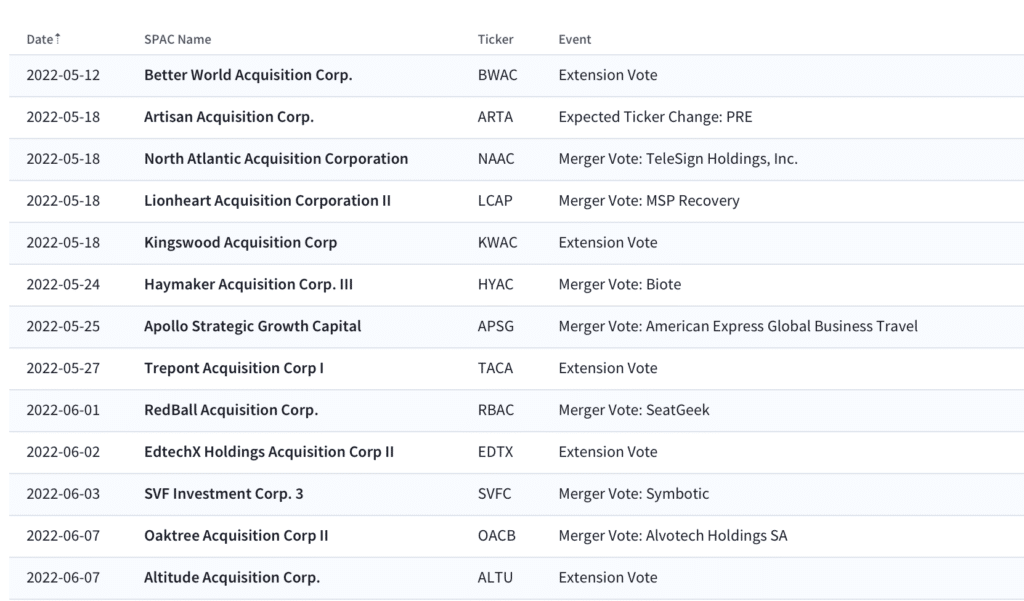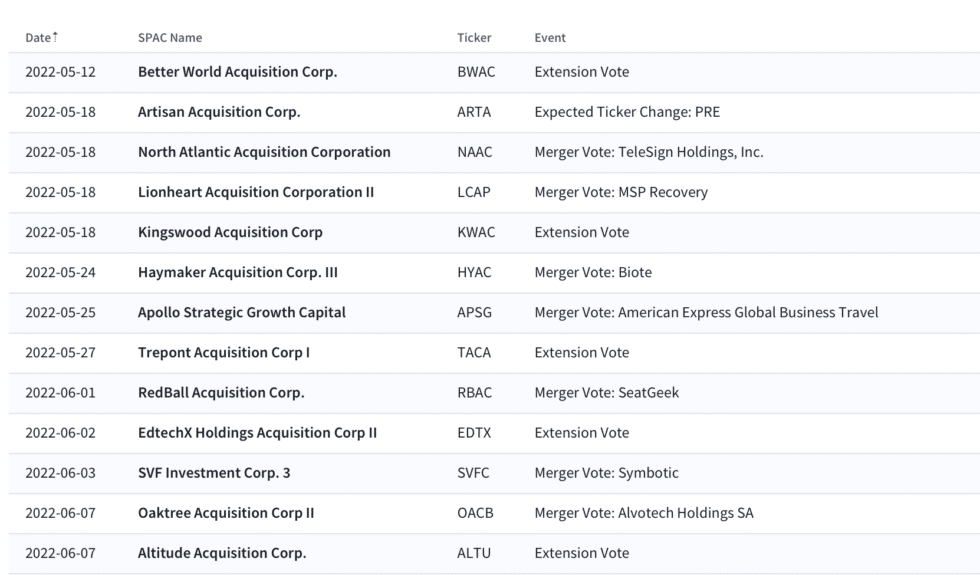 More from Boardroom Alpha
For ongoing tracking, analytics, and data on SPACs checkout Boardroom Alpha's SPAC Data and Analytics service.