Call it the dog days of SPAC summer, as August has been nasty for pending SPAC mergers. No surprise that mergers are facing tons of obstacles today from the lack of financing, uncertainty from regulators, and poor equity performance – making going public not entirely attractive at the moment.
Since Friday afternoon, post close, 4 SPAC mergers have been called off, bringing the total to 6 already thus far in August. Tough sledding at the moment, though merger announcements have been on the rise as well. Give and take.

Elsewhere in SPACs
Founder SPAC (FOUN) closed its merger with Rubicon and will trade as RBT tomorrow, raising $196.8M in proceeds with the combination of PIPE and remaining trust
Cleantech Acquisition Corp. (CLAQ) confirmed it deposited an additional $100k intro trust to extend its deadline to 9/19
EDOC Acquisition Corp. (ADOC) filed its redemption numbers for its latest vote and 646k shares redeemed, leaving ~2M shares left in trust.
Upcoming SPAC Calendar
Full calendar and SPAC database access here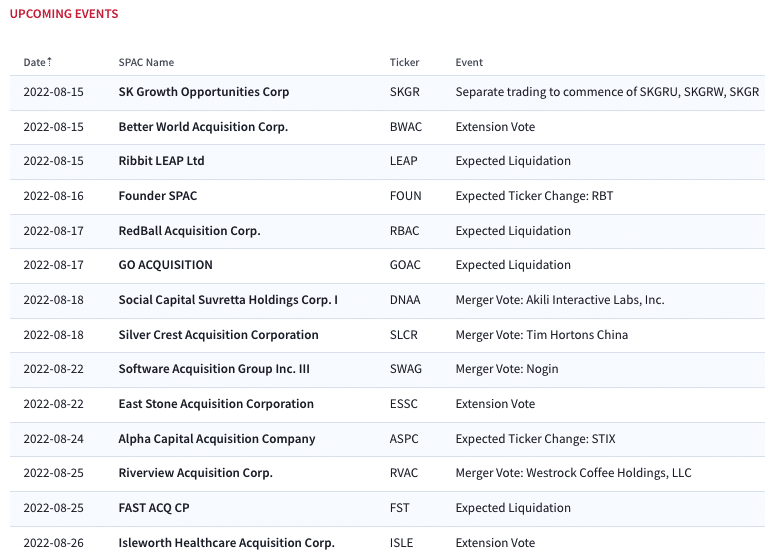 Today's Price Action
Biggest Gainers
3.13% ~ $ 10.21 | NLIT – Northern Lights Acquisition Corp. (Announced)
1.70% ~ $ 10.40 | RAM – Aries I Acquisition Corp (Announced)
.61% ~ $ 9.96 | AFAR – Aura Fat Projects Acquisition Corp (Pre-Deal)
.59% ~ $ 10.25 | FOXW – FoxWayne Enterprises Acquisition Corp. (Pre-Deal)
.50% ~ $ 10.03 | CBRG – Chain Bridge I (Pre-Deal)
.50% ~ $ 10.07 | MURF – Murphy Canyon Acquisition Corp. (Pre-Deal)
.50% ~ $ 10.08 | APN – Apeiron Capital Investment Corp. (Pre-Deal)
.49% ~ $ 10.24 | REVE – Alpine Acquisition Corp. (Announced)
.48% ~ $ 10.45 | ATA – AMERICAS TECHNOLOGY ACQUISITION CORP. (Announced)
.41% ~ $ 9.86 | GLHA – Glass Houses Acquisition Corp. (Pre-Deal)
.41% ~ $ 9.87 | LHAA – Lerer Hippeau Acquisition Corp (Pre-Deal)
.40% ~ $ 9.98 | BFAC – Battery Future Acquisition Corp. (Pre-Deal)
.40% ~ $ 9.99 | FATP – FAT PROJECTS ACQUISITION CORP (Pre-Deal)
.40% ~ $ 10.02 | BNIX – Bannix Acquisition Corp. (Pre-Deal)
.40% ~ $ 10.05 | HCMA – HCM Acquisition Corp (Pre-Deal)
.31% ~ $ 9.72 | CDAQ – Compass Digital Acquisition Corp. (Pre-Deal)
.31% ~ $ 9.78 | HCNE – Jaws Hurricane Acquisition Corporation (Pre-Deal)
.31% ~ $ 9.83 | IACC – ION Acquisition Corp 3 Ltd. (Pre-Deal)
.31% ~ $ 9.86 | IRAA – Tribe Capital Growth Corp I (Pre-Deal)
.30% ~ $ 9.91 | FVT – Fortress Value Acquisition Corp. III (Pre-Deal)
Biggest Losers
-3.77% ~ $ 10.20 | AEHA – Aesther Healthcare Acquisition Corp. (Pre-Deal)
-2.21% ~ $ 9.75 | DNAA – Social Capital Suvretta Holdings Corp. I (Announced)
-1.00% ~ $ 9.90 | SLCR – Silver Crest Acquisition Corporation (Announced)
-.90% ~ $ 9.95 | MLAI – McLaren Technology Acquisition Corp. (Pre-Deal)
-.80% ~ $ 9.91 | ACAX – Alset Capital Acquisition Corp. (Pre-Deal)
-.70% ~ $ 9.87 | ARYD – ARYA Sciences Acquisition Corp IV (Pre-Deal)
-.50% ~ $ 9.99 | ITAQ – Industrial Tech Acquisitions II, Inc. (Pre-Deal)
-.44% ~ $ 29.63 | DWAC – Digital World Acquisition Corp. (Announced)
-.40% ~ $ 9.86 | SCLE – Broadscale Acquisition Corp (Pre-Deal)
-.40% ~ $ 10.00 | SHUA – SHUAA Partners Acquisition Corp I (Pre-Deal)
-.38% ~ $ 10.35 | ADOC – Edoc Acquisition Corp (Pre-Deal)
-.35% ~ $ 9.87 | AMCI – AMCI Acquisition Corp. II (Announced)
-.30% ~ $ 9.81 | DMYS – dMY Technology Group, Inc. VI (Pre-Deal)
-.30% ~ $ 9.85 | GHAC – Gaming & Hospitality Acquisition Corp. (Pre-Deal)
-.30% ~ $ 9.86 | GIIX – GORES HOLDINGS VIII, INC. (Announced)
-.30% ~ $ 9.92 | HPX – HPX Corp (Announced)
-.30% ~ $ 10.03 | ARGU – Argus Capital Corp. (Pre-Deal)
-.30% ~ $ 10.07 | ACAQ – Athena Consumer Acquisition Corp. (Announced)
-.30% ~ $ 10.08 | GOGN – GoGreen Investments Corp (Pre-Deal)
-.30% ~ $ 10.09 | CENQ – CENAQ Energy Corp. (Announced)