Tailwind Acquisition Corp (TWND) kicked off the week by announcing a new definitive agreement with blue laser company NUBURU in a transaction valued at $350M. The deal does not include a PIPE but a commitment of up to $100M in additional financing from Lincoln Park Capital following close. In addition, the SPAC is incentivizing shareholders not to redeem by offering each non-redeeming shareholder an unlisted (senior) preferred share for each share not redeemed.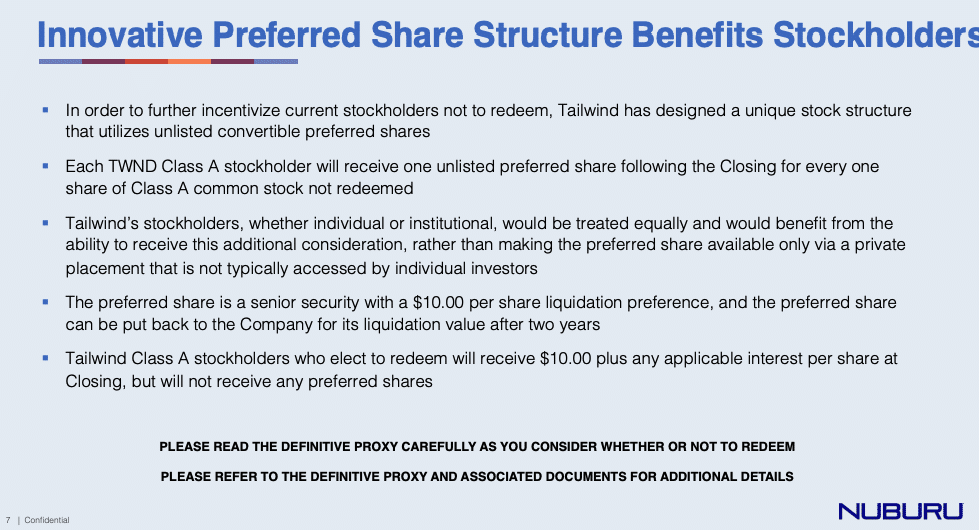 This is the second time around for Tailwind Acquisition Co., who previously cancelled a $1.4B business combination with risk analytics company QOMPLX. TWND is chaired by former Casper Sleep CEO Philip Krim.
Elsewhere in SPACs
First Light Acquisition Group Inc. (FLAG) filed a preliminary proxy to amend its extension provisions having to pay $0.10 per 3-month extension as in their original proxy statement. A continuation of sponsors trying to avoid additional costs in a near 90% average redemption world.
Mobiv Acquisition Corp (MOBV) underwriters exercised the full over-allotment in conjunction with its IPO to bring the total offering size to $100.05M
Digital World Acquisition Corp. (DWAC) set a record date of 8/12 for its preliminary proposed 9/6 extension amendment vote.
Upcoming SPAC Calendar
Full calendar and SPAC database access here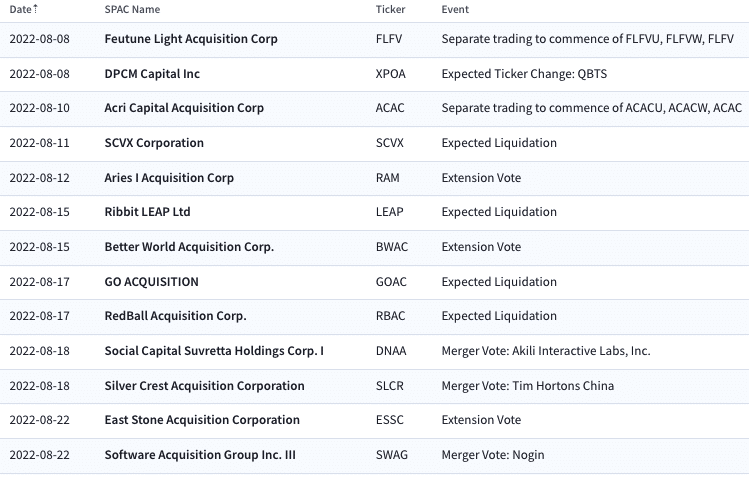 Today's Price Action
Biggest Gainers
14.48% ~ $ 9.33 | FOUN – Founder SPAC (Announced)
1.36% ~ $ 10.45 | NLIT – Northern Lights Acquisition Corp. (Announced)
1.31% ~ $ 10.03 | RWOD – Redwoods Acquisition Corp. (Pre-Deal)
1.20% ~ $ 10.11 | WNNR – Andretti Acquisition Corp. (Pre-Deal)
.82% ~ $ 9.86 | PEGR – Project Energy Reimagined Acquisition Corp. (Pre-Deal)
.80% ~ $ 10.10 | CHEA – Chenghe Acquisition Co. (Pre-Deal)
.71% ~ $ 9.92 | MCAC – Monterey Capital Acquisition Corp (Pre-Deal)
.71% ~ $ 9.96 | AIMA – Aimfinity Investment Corp. I (Pre-Deal)
.68% ~ $ 10.29 | EDTX – EdtechX Holdings Acquisition Corp II (Announced)
.60% ~ $ 10.00 | LGTO – LEGATO MERGER CORP. II (Announced)
.60% ~ $ 10.10 | DMAQ – Deep Medicine Acquisition Corp. (Announced)
.56% ~ $ 9.90 | XPDB – Power Digital Infrastructure Acquisition II Corp. (Pre-Deal)
.51% ~ $ 9.92 | WPCA – Warburg Pincus Capital Corporation I—A (Pre-Deal)
.50% ~ $ 10.02 | BYNO – byNordic Acquisition Corporation (Pre-Deal)
.50% ~ $ 10.05 | FTII – Future Tech II Acquisition Corp. (Pre-Deal)
.41% ~ $ 9.69 | NFYS – Enphys Acquisition Corp. (Pre-Deal)
.41% ~ $ 9.85 | ORIA – Orion Biotech Opportunities Corp. (Pre-Deal)
.41% ~ $ 9.85 | RACB – Research Alliance Corp. II (Pre-Deal)
.41% ~ $ 9.90 | SSAA – Science Strategic Acquisition Corp. Alpha (Pre-Deal)
.40% ~ $ 9.99 | ARTE – Artemis Strategic Investment Corporation (Announced)
Biggest Losers
-2.84% ~ $ 30.80 | DWAC – Digital World Acquisition Corp. (Announced)
-2.58% ~ $ 9.82 | RXRA – RXR Acquisition Corp (Pre-Deal)
-1.40% ~ $ 7.77 | CHWA – CHW Acquisition Corp (Announced)
-.99% ~ $ 10.00 | MEKA – MELI Kaszek Pioneer Corp (Pre-Deal)
-.50% ~ $ 9.91 | AFAR – Aura Fat Projects Acquisition Corp (Pre-Deal)
-.49% ~ $ 10.08 | AMAO – American Acquisition Opportunity Inc (Announced)
-.44% ~ $ 9.85 | GIIX – GORES HOLDINGS VIII, INC. (Announced)
-.41% ~ $ 9.77 | MIT – Mason Industrial Technology, Inc. (Pre-Deal)
-.41% ~ $ 9.77 | BRIV – B. Riley Principal 250 Merger Corp. (Pre-Deal)
-.40% ~ $ 9.92 | KCGI – Kensington Capital Acquisition Corp. V (Pre-Deal)
-.40% ~ $ 10.03 | HNRA – HNR Acquisition Corp (Pre-Deal)
-.39% ~ $ 10.10 | CENQ – CENAQ Energy Corp. (Pre-Deal)
-.35% ~ $ 9.94 | PRLH – Pearl Holdings Acquisition Corp (Pre-Deal)
-.35% ~ $ 10.06 | CLAY – Chavant Capital Acquisition Corp. (Pre-Deal)
-.31% ~ $ 9.72 | AFTR – AfterNext HealthTech Acquisition Corp. (Pre-Deal)
-.31% ~ $ 9.73 | JAQC – Jupiter Acquisition Corporation (Pre-Deal)
-.30% ~ $ 9.92 | AMCI – AMCI Acquisition Corp. II (Announced)
-.30% ~ $ 9.96 | BFAC – Battery Future Acquisition Corp. (Pre-Deal)
-.21% ~ $ 9.70 | CDAQ – Compass Digital Acquisition Corp. (Pre-Deal)
-.21% ~ $ 9.72 | ACRO – Acropolis Infrastructure Acquisition Corp. (Pre-Deal)