SCVX Corporation (SCVCX) was set to vote today on an extension of its SPAC deadline to give them more time to find a deal partner. The terms were for 9 months though they, interestingly, were not providing any compensation (addition to its trust) in order to get the extension. The result? The SPAC is going to liquidate instead.
With SPAC yields still elevated and deals scarce to come by, a simple time value of money lesson would tell you that common shareholders would not stick around for that. The liquidation train is definitely coming…
Recent SPACs to Liquidate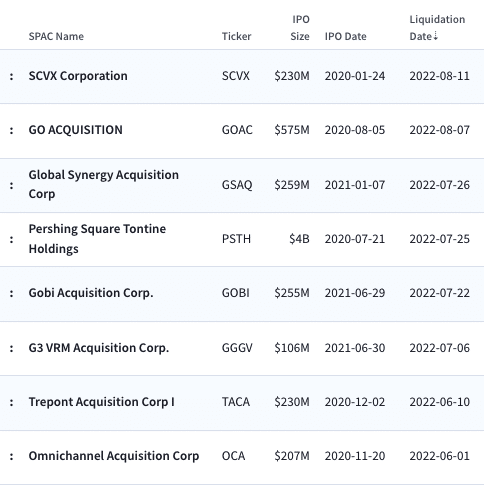 Elsewhere in SPACs
Healthcare Sciences Acquisition Corp. (HSAQ) extension was approved to 11/6/2022. No word on redemptions
Software Acquisition Corp. II (SWAG) set a 8/22 vote date for its Nogin deal.
Maquia Capital Acquisition Corp. (MAQC) confirmed that it added $0.10 to its trust to extend the SPAC for 3 more months until November. They have no more sponsor exemptions left
Waldencast Acquisition Corp. (WALD) announced that its Obagi Skincare & Milk Makeup deal officially closed. The combined company, Waldencast plc, is expected to begin trading on Nasdaq under the ticker WALD tomorrow
Duddell Street Acquisition Corp. (DSAC) and FiscalNote deal was approved by shareholders. It is expected to close on Friday and trade as NOTE on Monday Aug-1.
Upcoming SPAC Calendar
Full calendar and SPAC database access here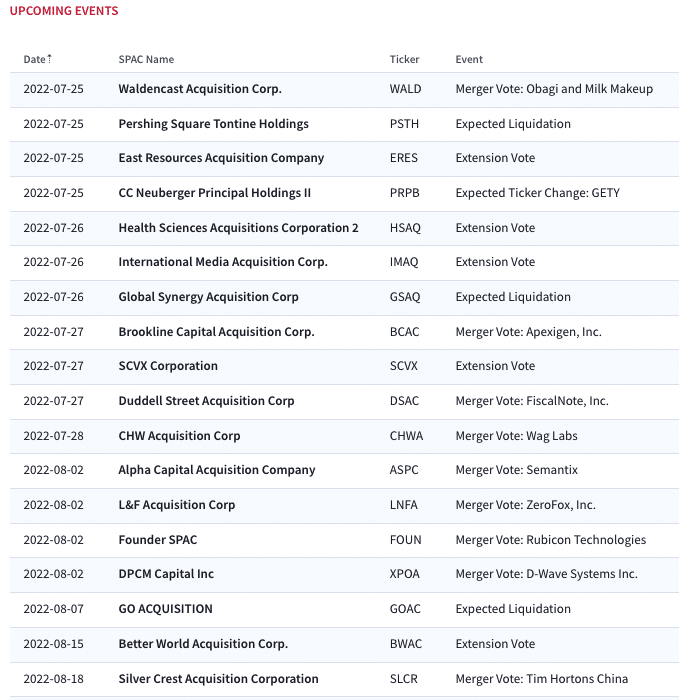 Today's SPAC Market Movers
Biggest SPAC Gainers
11.53% ~ $ 10.25 | NLIT – Northern Lights Acquisition Corp. (Announced)
4.37% ~ $ 10.75 | BCAC – Brookline Capital Acquisition Corp. (Pre-Deal)
.61% ~ $ 9.90 | RCAC – Revelstone Capital Acquisition Corp. (Pre-Deal)
.61% ~ $ 9.91 | VBOC – Viscogliosi Brothers Acquisition Corp (Pre-Deal)
.60% ~ $ 10.06 | HNRA – HNR Acquisition Corp (Pre-Deal)
.56% ~ $ 9.95 | ZING – FTAC Zeus Acquisition Corp. (Pre-Deal)
.52% ~ $ 9.72 | NFYS – Enphys Acquisition Corp. (Pre-Deal)
.52% ~ $ 9.75 | IPAX – Inflection Point Acquisition Corp. (Pre-Deal)
.50% ~ $ 10.07 | NETC – Nabors Energy Transition Corp. (Pre-Deal)
.49% ~ $ 10.26 | FST – FAST ACQ CP (Pre-Deal)
.45% ~ $ 10.10 | SWAG – Software Acquisition Group Inc. III (Announced)
.41% ~ $ 9.86 | EBAC – European Biotech Acquisition Corp. (Pre-Deal)
.40% ~ $ 9.92 | MCAC – Monterey Capital Acquisition Corp (Pre-Deal)
.40% ~ $ 9.97 | DRAY – Macondray Capital Acquisition Corp. I (Pre-Deal)
.40% ~ $ 9.98 | RCFA – RCF Acquisition Corp. (Pre-Deal)
.40% ~ $ 10.02 | LIVB – LIV Capital Acquisition Corp. II (Pre-Deal)
.40% ~ $ 10.05 | ASPC – Alpha Capital Acquisition Company (Announced)
.36% ~ $ 30.28 | DWAC – Digital World Acquisition Corp. (Announced)
.36% ~ $ 9.83 | SCAQ – Stratim Cloud Acquisition Corp. (Pre-Deal)
.31% ~ $ 9.66 | DSAC – Duddell Street Acquisition Corp (Announced)
Biggest SPAC Losers
-2.64% ~ $ 9.57 | CHWA – CHW Acquisition Corp (Announced)
-2.14% ~ $ 10.07 | TRON – Corner Growth Acquisition Corp. 2 (Pre-Deal)
-1.46% ~ $ 10.10 | NOVV – Nova Vision Acquisition Corp (Pre-Deal)
-1.05% ~ $ 9.92 | HSAQ – Health Sciences Acquisitions Corporation 2 (Announced)
-.71% ~ $ 9.76 | CCAI – Cascadia Acquisition Corp. (Pre-Deal)
-.60% ~ $ 9.93 | CFFS – CF Acquisition Corp. VII (Pre-Deal)
-.49% ~ $ 10.20 | ACEV – ACE Convergence Acquisition Corp (Announced)
-.40% ~ $ 9.91 | MEKA – MELI Kaszek Pioneer Corp (Pre-Deal)
-.40% ~ $ 9.95 | JUN – Juniper II Corp. (Pre-Deal)
-.40% ~ $ 9.98 | PHYT – Pyrophyte Acquisition Corp. (Pre-Deal)
-.40% ~ $ 10.06 | LJAQ – LIGHTJUMP ACQUISITION CORPORATION (Announced)
-.30% ~ $ 9.85 | CLAA – Colonnade Acquisition Corp. II (Pre-Deal)
-.30% ~ $ 9.89 | FCAX – Fortress Capital Acquisition Corp (Pre-Deal)
-.30% ~ $ 9.96 | SUAC – ShoulderUP Technology Acquisition Corp. (Pre-Deal)
-.30% ~ $ 9.97 | BCSA – Blockchain Coinvestors Acquisition Corp. I (Pre-Deal)
-.30% ~ $ 9.99 | SCMA – Seaport Calibre Materials Acquisition Corp. (Pre-Deal)
-.30% ~ $ 10.07 | VMCA – Valuence Merger Corp. I (Pre-Deal)
-.29% ~ $ 10.23 | FOXW – FoxWayne Enterprises Acquisition Corp. (Pre-Deal)
-.26% ~ $ 9.77 | GFGD – Growth for Good Acquisition Corp (Pre-Deal)
-.25% ~ $ 9.79 | KVSA – Khosla Ventures Acquisition Co (Pre-Deal)