Last August Mudrick Capital Acquisition II (MUDS) was left at the altar when its original deal for Topps was cancelled upon Major League Baseball losing its 70 year relationship with the trading card company. The loss of such a valuable license cancelled the $1.3B tie up. Topps was ultimately sold to Fanatics, who had won the MLB license.
Mudrick regrouped, and this past June announced that it would take online jewelry retailer Blue Nile public in a deal valuing the company at $683M EV. But yet again, Mudrick had the rug pulled under from them as today Signet Jewelers (SIG) announced that it was buying Blue Nile in an all cash deal at a $360M valuation, just a fraction of what MUDS had value them out just two short months ago.
Tough sledding for the MUDS team who are now up against a September deadline to strike (and complete) a new SPAC deal. Will this be the next liquidation, or will they seek an extension to buy themselves more time?
Mudrick Capital Acquisition II Corp. (MUDSW) Warrants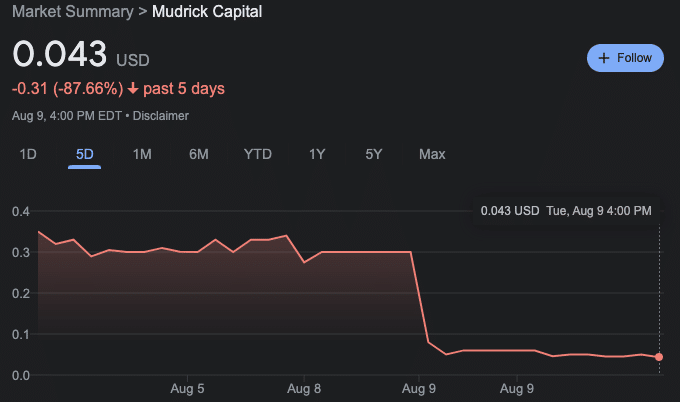 Active times for the Mudrick SPACs, their first DeSPAC is Hycroft Mining (HYMC), who famously took in an investment from AMC Entertainment earlier this year.
Elsewhere in SPACs
CHW Acquisition (CHWA) and Wag Labs closed their merger, and shares will trade as PET tomorrow, 8/10
Sam Zell's Equity Distribution Acquisition Corp (EQD) will call it quits and liquidate its SPAC on 9/19
Nova Vision Acquisition Corp. (NOVV) confirmed it added $0.10 to trust, using its first of 3 sponsor extensions to extend its deadline date from August to November. They have 2 3-month extensions left. Trust should be ~$10.22, shares closed at $10.13 today.
Upcoming SPAC Calendar
Full calendar and SPAC database access here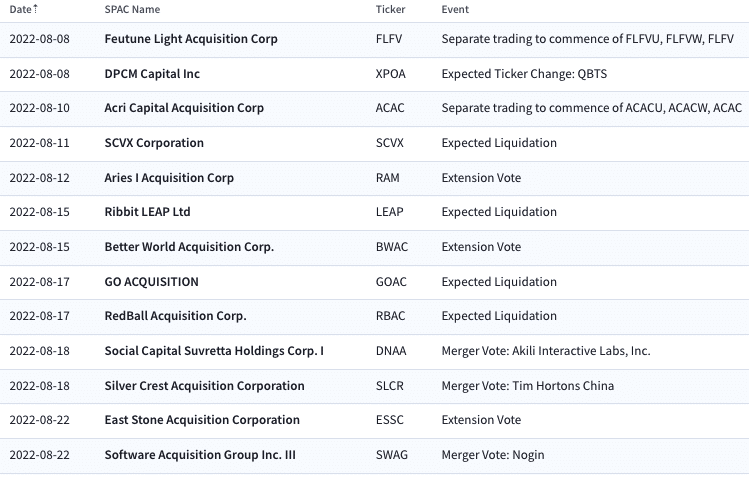 Today's Price Action
Biggest Gainers
2.14% ~ $ 9.53 | FOUN – Founder SPAC (Announced)
1.20% ~ $ 10.11 | WNNR – Andretti Acquisition Corp. (Pre-Deal)
.81% ~ $ 9.99 | ZING – FTAC Zeus Acquisition Corp. (Pre-Deal)
.72% ~ $ 9.79 | ALCC – AltC Acquisition Corp. (Pre-Deal)
.71% ~ $ 9.96 | AIMA – Aimfinity Investment Corp. I (Pre-Deal)
.60% ~ $ 10.10 | DMAQ – Deep Medicine Acquisition Corp. (Announced)
.50% ~ $ 9.96 | AFAR – Aura Fat Projects Acquisition Corp (Pre-Deal)
.50% ~ $ 10.02 | BYNO – byNordic Acquisition Corporation (Pre-Deal)
.50% ~ $ 10.09 | TETE – Technology Telecommunication Acquisition Corp (Pre-Deal)
.41% ~ $ 9.79 | SMIH – Summit Healthcare Acquisition Corp. (Pre-Deal)
.40% ~ $ 10.02 | BNIX – Bannix Acquisition Corp. (Pre-Deal)
.40% ~ $ 10.10 | CLAY – Chavant Capital Acquisition Corp. (Pre-Deal)
.35% ~ $ 10.08 | CITE – Cartica Acquisition Corp (Pre-Deal)
.31% ~ $ 9.75 | WAVC – Waverley Capital Acquisition Corp. 1 (Pre-Deal)
.31% ~ $ 9.76 | CPAA – Conyers Park III Acquisition Corp. (Pre-Deal)
.31% ~ $ 9.80 | DUNE – Dune Acquisition Corporation (Announced)
.30% ~ $ 9.91 | FCAX – Fortress Capital Acquisition Corp (Pre-Deal)
.30% ~ $ 9.93 | ROCL – Roth CH Acquisition V Co. (Pre-Deal)
.30% ~ $ 9.99 | CFFS – CF Acquisition Corp. VII (Pre-Deal)
.30% ~ $ 10.03 | GAPA – G&P Acquisition Corp. (Pre-Deal)
Biggest Losers
-2.60% ~ $ 30.00 | DWAC – Digital World Acquisition Corp. (Announced)
-2.30% ~ $ 10.21 | NLIT – Northern Lights Acquisition Corp. (Announced)
-1.21% ~ $ 9.80 | AMCI – AMCI Acquisition Corp. II (Announced)
-1.19% ~ $ 9.95 | FLFV – Feutune Light Acquisition Corp (Pre-Deal)
-.79% ~ $ 10.02 | CHEA – Chenghe Acquisition Co. (Pre-Deal)
-.60% ~ $ 9.86 | WPCA – Warburg Pincus Capital Corporation I—A (Pre-Deal)
-.51% ~ $ 9.85 | SSAA – Science Strategic Acquisition Corp. Alpha (Pre-Deal)
-.50% ~ $ 9.95 | AOGO – Arogo Capital Acquisition Corp. (Announced)
-.41% ~ $ 9.83 | ATAQ – Altimar Acquisition Corp. III (Pre-Deal)
-.40% ~ $ 9.85 | SDAC – Sustainable Development Acquisition I Corp. (Pre-Deal)
-.40% ~ $ 9.93 | MTVC – Motive Capital Corp II (Pre-Deal)
-.40% ~ $ 9.96 | LGTO – LEGATO MERGER CORP. II (Announced)
-.39% ~ $ 10.13 | BHSE – Bull Horn Holdings Corp (Announced)
-.30% ~ $ 9.81 | EOCW – Elliott Opportunity II Corp. (Pre-Deal)
-.30% ~ $ 9.82 | GTPB – GORES TECHNOLOGY PARTNERS II, INC. (Pre-Deal)
-.30% ~ $ 9.84 | VAQC – Vector Acquisition Corporation II (Pre-Deal)
-.30% ~ $ 9.85 | CLAA – Colonnade Acquisition Corp. II (Announced)
-.30% ~ $ 9.87 | GNAC – GROUP NINE ACQUISITION CORP. (Pre-Deal)
-.30% ~ $ 9.88 | CFIV – CF Acquisition Corp. IV (Pre-Deal)
-.30% ~ $ 9.89 | TRIS – Tristar Acquisition I Corp. (Pre-Deal)