The SPAC liquidations are beginning to come in bunches, with a couple of new ones heading into Tuesday. First we had Ribbit LEAP, Ltd. (LEAP) announce that it was liquidating ahead of its September deadline and wrote a (somewhat) scathing investor letter denouncing the SPAC market. Including:
It turns out that our thesis on the opportunity for LEAP was wrong. Since LEAP's listing, we held conversations with over 100 potential partners that met our initial criteria for growth, quality, and readiness. We discovered in the process either that those companies did not meet our standard for long-term projected value creation or that they viewed the merits of a transaction with LEAP as less compelling than a traditional IPO or, more commonly, staying private.

Source: LEAP Investor letter
Ribbit Capital (sponsor) remains committed to investing in the fintech space, outside of SPACs.
Secondly Fast Acquisition Corp. (FST) buried in their 10Q that they into intend to liquidate. The hairy part here was that the sponsor was paid in excess of $26M when their previously proposed DA with Fertitta Entertainment was cancelled. From the language, it appears that SPAC investors will see none of that settlement money.
Not a great outcome for SPAC investors when the sponsor is able to profit without completing a business combination. Not the positive-type stories that would help out the SPAC markets now. However, at least the supply is starting to trim to a more normal level.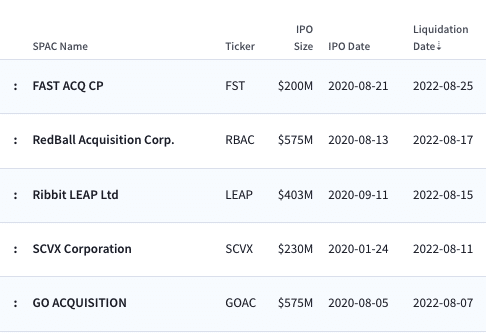 Elsewhere in SPACs
Founder SPAC (FOUN) deal with Rubicon was approved
Chardan Nextech Acquisition Company (CNTQ) added $100k to the amount they intend to deposit following its extension vote on Friday. This is still well below the $1.265M it would've been according their original prospectus
Alpha Capital (ASPC) successfully completed its combination with Semantix and will trade as STIX tomorrow
East Stone Acquisition Corp. (ESSC) sets 8/22 vote date for its 4th extension which is up to 6 months to Feb-23 and up to $700k deposited in trust
IPO! Mobiv Acquisition Corp. (MOBV) priced an $87M SPAC, focused on EV. EF Hutton Books.
Upcoming SPAC Calendar
Full calendar and SPAC database access here