While the narrative hasn't steadily improved for SPACs, it's a good sign to see DeSPACs getting across the finish line, including some of the more high profile names. FaZe Holdings (FAZE) made their public debut today, and Getty Images (GETY) will debut next week. While FAZE fell today (some would say the stock was artificially high), time will ultimately tell on performance.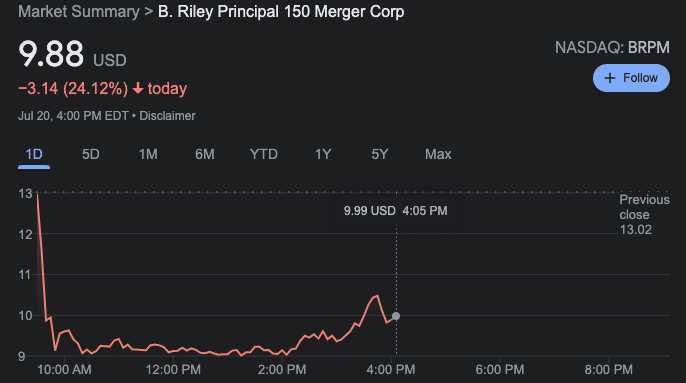 There have been just 4 DeSPACs to begin trading in July, and as such is helpful for the market supply to see some more get across the finish line. There are at least 3 more merger votes teed up for July at this point.
Elsewhere in SPACs
CC Neuberger Principal Holdings II (PRPB) announced that shareholders approved its Getty Images deal and that the stock will trade as GETY following closing on 7/25
Pagaya Technologies (PGY), which despac'ed back in June filed an F-1 which allowed (at long last) to back into its redemption numbers. The numbers make the SPAC one of the lowest floats out there at just over 900k public shares.
Fortune Rise Acquisition Corp. (FRLA) and crypto company VCV Technology became the latest SPAC to terminate their previously agreed upon combination. Just recently announced in May, the deal becomes a quick casualty of the so-called "Crypto Winter." With both SPACs and crypto struggling, it will be tough to get those deals across the line.
Bloomberg is reporting that Turkish mobility company Marti is close to announcing an M&A deal with SPAC Galata Acquisition Corp. (GLTA)
Patrick Orlando's Benessere Capital Acquisition Corp. (BENE) reported 3.4M shares redeemed as part of its latest extension vote.
Upcoming SPAC Calendar
Full calendar and SPAC database access here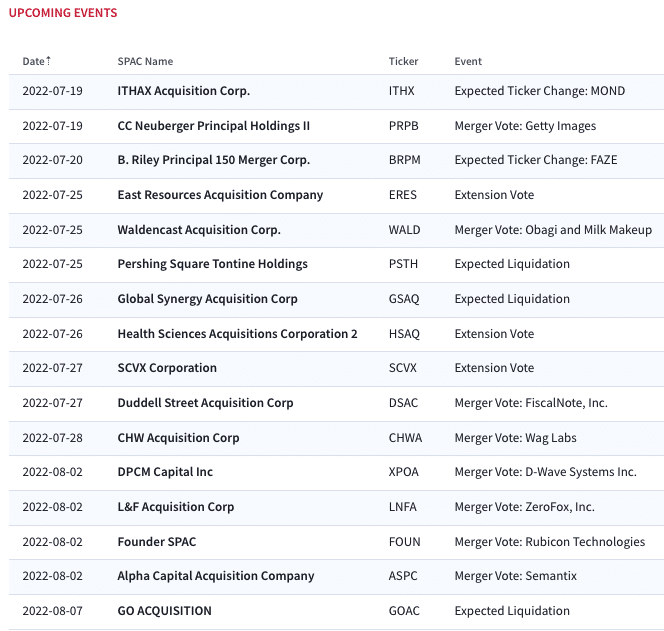 Today's Price Action
Biggest Gainers
4.30% ~ $ 10.43 | CLAY – Chavant Capital Acquisition Corp. (Pre-Deal)
3.10% ~ $ 10.49 | FOXW – FoxWayne Enterprises Acquisition Corp. (Pre-Deal)
1.96% ~ $ 30.15 | DWAC – Digital World Acquisition Corp. (Announced)
.80% ~ $ 10.10 | LJAQ – LIGHTJUMP ACQUISITION CORPORATION (Announced)
.62% ~ $ 9.73 | HWEL – Healthwell Acquisition Corp. I (Pre-Deal)
.61% ~ $ 9.91 | VBOC – Viscogliosi Brothers Acquisition Corp (Pre-Deal)
.60% ~ $ 10.07 | UPTD – TradeUP Acquisition Corp (Pre-Deal)
.51% ~ $ 9.84 | RACB – Research Alliance Corp. II (Pre-Deal)
.51% ~ $ 9.87 | TWNI – Tailwind International Acquisition Corp. (Pre-Deal)
.50% ~ $ 9.98 | SGHL – Signal Hill Acquisition Corp. (Pre-Deal)
.50% ~ $ 9.98 | CIIG – CIIG Capital Partners II, Inc. (Pre-Deal)
.50% ~ $ 9.99 | TGAA – Target Global Acquisition I Corp. (Pre-Deal)
.50% ~ $ 10.05 | SHAP – Spree Acquisition Corp. 1 Ltd (Pre-Deal)
.49% ~ $ 10.28 | ESSC – East Stone Acquisition Corporation (Announced)
.41% ~ $ 9.78 | FWAC – Fifth Wall Acquisition Corp. III (Pre-Deal)
.41% ~ $ 9.84 | CSLM – Consilium Acquisition Corp I, Ltd. (Pre-Deal)
.41% ~ $ 9.88 | MCAC – Monterey Capital Acquisition Corp (Pre-Deal)
.40% ~ $ 9.96 | NPAB – New Providence Acquisition Corp. II (Pre-Deal)
.40% ~ $ 9.98 | RCFA – RCF Acquisition Corp. (Pre-Deal)
.40% ~ $ 10.01 | DSAC – Duddell Street Acquisition Corp (Announced)
Biggest Losers
-22.96% ~ $ 7.82 | ACTD – ArcLight Clean Transition Corp. II (Announced)
-14.15% ~ $ 8.31 | PRPB – CC Neuberger Principal Holdings II (Announced)
-2.76% ~ $ 9.70 | NLIT – Northern Lights Acquisition Corp. (Announced)
-.80% ~ $ 9.94 | WQGA – World Quantum Growth Acquisition Corp (Pre-Deal)
-.60% ~ $ 9.93 | BLSA – BCLS Acquisition Corp. (Pre-Deal)
-.50% ~ $ 10.02 | FRBN – Forbion European Acquisition Corp. (Pre-Deal)
-.50% ~ $ 10.03 | CFVI – CF Acquisition Corp. VI (Announced)
-.40% ~ $ 9.84 | EPWR – Empowerment & Inclusion Capital I Corp (Pre-Deal)
-.40% ~ $ 10.00 | SPK – SPK Acquisition Corp. (Announced)
-.31% ~ $ 9.66 | IPAX – Inflection Point Acquisition Corp. (Pre-Deal)
-.31% ~ $ 9.74 | TCVA – TCV Acquisition Corp. (Pre-Deal)
-.31% ~ $ 9.75 | EGGF – EG Acquisition Corp. (Pre-Deal)
-.31% ~ $ 9.78 | GAQ – Generation Asia I Acquisition Ltd (Pre-Deal)
-.30% ~ $ 9.81 | ATAQ – Altimar Acquisition Corp. III (Pre-Deal)
-.30% ~ $ 9.85 | AKIC – Sports Ventures Acquisition Corp. (Pre-Deal)
-.30% ~ $ 9.86 | RFAC – RF Acquisition Corp. (Pre-Deal)
-.30% ~ $ 9.92 | CFFS – CF Acquisition Corp. VII (Pre-Deal)
-.30% ~ $ 9.98 | BMAC – Black Mountain Acquisition Corp. (Pre-Deal)
-.30% ~ $ 10.01 | ADRT – Ault Disruptive Technologies Corp (Pre-Deal)
-.30% ~ $ 10.03 | GOGN – GoGreen Investments Corp (Pre-Deal)