Relatively quiet day in SPAC land as no new deals were announced nor votes took place. Redditers and fintwit will have to keep patient for the next low-float meme trade as there are currently just 5 merger vote dates set thru September.

However, we did get the 2nd SPAC IPO of the week with Hainan Manaslu Acquisition pricing a $60M IPO. The primary market lives!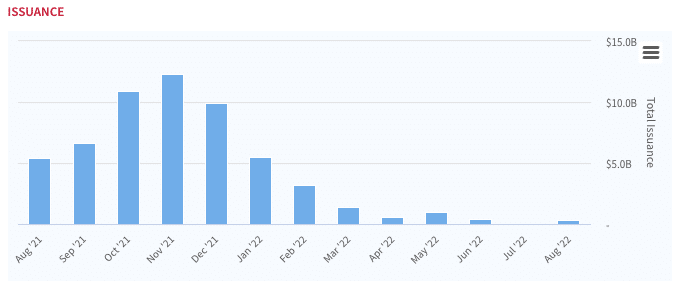 Next up, tomorrow there are two extension votes to close out the week from Edoc Acquisition Corp. (ADOC) and Aries I Acquisition Corp. (RAM).
ADOC: 6mo extension from August to February (Signed DA w/ Calidi)
RAM: 12 monthly extensions till August 2023
Elsewhere in SPACs
BOA Acquisition Co. (BOAS) announced that it filed its public form F-4 for its pending deal with Selina Hotels
Digital Health Acquisition Corp. (DHAC) secured $10M in PIPE financing in the form of convertible notes and warrants
Delwinds Insurance Acquisition Corp. (DWIN) preliminary filed for an additional 3-month extension. ~45% of the original SPAC has already redeemed
Social Capital Hedosophia Holdings Corp. IV (IPOD) and Social Capital Hedosophia Holdings Corp. VI (IPOF) both filed preliminary proxy statements relating to extensions into 2023
Upcoming SPAC Calendar
Full calendar and SPAC database access here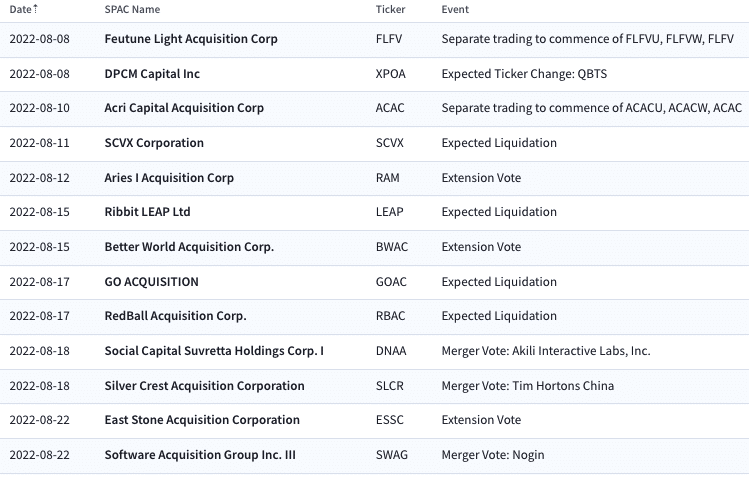 Today's Price Action
Biggest Gainers
1.47% ~ $ 9.67 | FOUN – Founder SPAC (Announced)
.91% ~ $ 9.99 | ACAX – Alset Capital Acquisition Corp. (Pre-Deal)
.90% ~ $ 30.27 | DWAC – Digital World Acquisition Corp. (Announced)
.77% ~ $ 9.81 | ACRO – Acropolis Infrastructure Acquisition Corp. (Pre-Deal)
.71% ~ $ 9.96 | AIMA – Aimfinity Investment Corp. I (Pre-Deal)
.66% ~ $ 9.87 | AMCI – AMCI Acquisition Corp. II (Announced)
.64% ~ $ 10.22 | VTAQ – Ventoux CCM Acquisition Corp. (Announced)
.60% ~ $ 10.09 | AFAC – Arena Fortify Acquisition Corp. (Pre-Deal)
.51% ~ $ 9.84 | MTAL – Metals Acquisition Corp (Pre-Deal)
.51% ~ $ 9.90 | MSDA – MSD Acquisition Corp. (Pre-Deal)
.50% ~ $ 10.01 | LGTO – LEGATO MERGER CORP. II (Announced)
.50% ~ $ 10.04 | ITAQ – Industrial Tech Acquisitions II, Inc. (Pre-Deal)
.41% ~ $ 9.87 | ATAQ – Altimar Acquisition Corp. III (Pre-Deal)
.41% ~ $ 9.87 | NSTC – Northern Star Investment Corp. III (Pre-Deal)
.40% ~ $ 9.96 | IGTA – Inception Growth Acquisition Ltd (Pre-Deal)
.40% ~ $ 10.02 | BNIX – Bannix Acquisition Corp. (Pre-Deal)
.40% ~ $ 10.12 | TGR – Kimbell Tiger Acquisition Corp (Pre-Deal)
.35% ~ $ 10.02 | PPYA – Papaya Growth Opportunity Corp. I (Pre-Deal)
.30% ~ $ 9.87 | POND – Angel Pond Holdings Corp (Announced)
.30% ~ $ 9.89 | ARYD – ARYA Sciences Acquisition Corp IV (Pre-Deal)
Biggest Losers
-.81% ~ $ 9.78 | PEGR – Project Energy Reimagined Acquisition Corp. (Pre-Deal)
-.70% ~ $ 9.92 | ZING – FTAC Zeus Acquisition Corp. (Pre-Deal)
-.61% ~ $ 9.73 | ALCC – AltC Acquisition Corp. (Pre-Deal)
-.60% ~ $ 9.90 | AFAR – Aura Fat Projects Acquisition Corp (Pre-Deal)
-.50% ~ $ 9.93 | BMAQ – Blockchain Moon Acquisition Corp. (Pre-Deal)
-.50% ~ $ 9.97 | BYNO – byNordic Acquisition Corporation (Pre-Deal)
-.50% ~ $ 10.04 | TETE – Technology Telecommunication Acquisition Corp (Pre-Deal)
-.41% ~ $ 9.71 | IPAX – Inflection Point Acquisition Corp. (Pre-Deal)
-.40% ~ $ 9.89 | ROCL – Roth CH Acquisition V Co. (Pre-Deal)
-.40% ~ $ 9.93 | CREC – Crescera Capital Acquisition Corp. (Pre-Deal)
-.40% ~ $ 10.05 | LIBY – Liberty Resources Acquisition Corp. (Announced)
-.40% ~ $ 10.06 | CLAY – Chavant Capital Acquisition Corp. (Pre-Deal)
-.35% ~ $ 9.93 | FATP – FAT PROJECTS ACQUISITION CORP (Pre-Deal)
-.35% ~ $ 9.99 | BYN – Banyan Acquisition Corp (Pre-Deal)
-.31% ~ $ 9.78 | EOCW – Elliott Opportunity II Corp. (Pre-Deal)
-.30% ~ $ 9.82 | RACB – Research Alliance Corp. II (Pre-Deal)
-.30% ~ $ 9.82 | ORIA – Orion Biotech Opportunities Corp. (Pre-Deal)
-.30% ~ $ 9.86 | CHAA – Catcha Investment Corp (Pre-Deal)
-.30% ~ $ 9.88 | FCAX – Fortress Capital Acquisition Corp (Pre-Deal)
-.30% ~ $ 9.89 | GIAC – Gesher I Acquisition Corp. (Announced)