It was another relatively quiet day for SPACs with the biggest news being shareholder approval on several deals and some fun trading activity for ITHX. Oh, and DUNE can't seem to agree with its target TradeZero whether or not their deal has been terminated.
B. Riley Principal 150 Merger Corp (BRPM) officially announced sharedholders approved its business combination with FaZe Clan. It expects to close on July 19 and to start trading as FAZE on July 20 on the Nasdaq.
ITHAX Acquisition Corp. (ITHX) also announced shareholder approvals on their deal with Mondee. It is expected to close on July 18 and will then trade as MOND. The deal included a $70M pipe. ITHX went for a ride during trading hours, surging up 40%, and the ride continued after hours with it trading up 50% as of this writing. The low float lives on.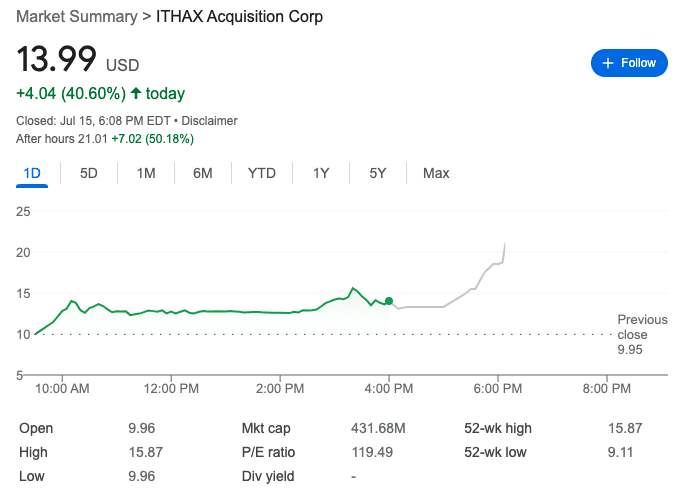 Elsewhere in SPACs
SPAC Dune Acquisition Corporation (DUNE) is contesting a potential deal termination with its target TradeZero (see filing). TradeZero wants out, but DUNE doesn't seem to share that sentiment. The deal was original struck on October 12, 2021 and there have been about 93% of redemptions.
OCA Acquisition Corp. (OCAK) extended until Jan 20, 2023 and contributed $743k ($0.05) to the trust.
Alpine Acquisition Corporation (REVE) was loaned $100k by its sponsor for "working capital purposes" on July 15
TUSCAN HOLDINGS CORP II (THCA) was notified by NASDAQ that it is over the 36 month deadline for listing prior to a business combination (see filing). THCA announced a deal with Surf Air on May 18, but doesn't yet have a vote date.
Upcoming SPAC Calendar
Full calendar and SPAC database access here
Next week will be quieter on SPAC events before a busier last week of July.


Today's Price Action
Biggest Gainers
40.60% ~ $ 13.99 | ITHX – ITHAX Acquisition Corp. (Announced)
7.75% ~ $ 10.57 | NLIT – Northern Lights Acquisition Corp. (Announced)
5.51% ~ $ 9.77 | PRPB – CC Neuberger Principal Holdings II (Announced)
5.01% ~ $ 10.28 | ACTD – ArcLight Clean Transition Corp. II (Announced)
4.27% ~ $ 10.14 | BRPM – B. Riley Principal 150 Merger Corp. (Announced)
1.65% ~ $ 9.85 | SLVR – SILVERspac Inc (Pre-Deal)
1.15% ~ $ 10.20 | CLAQ – cleantech Acquisition Corp. (Announced)
1.11% ~ $ 10.02 | WQGA – World Quantum Growth Acquisition Corp (Pre-Deal)
.87% ~ $ 30.00 | DWAC – Digital World Acquisition Corp. (Announced)
.81% ~ $ 9.94 | LCW – Learn CW Investment Corp (Pre-Deal)
.79% ~ $ 10.15 | AMAO – American Acquisition Opportunity Inc (Announced)
.70% ~ $ 10.00 | RRAC – Rigel Resource Acquisition Corp. (Pre-Deal)
.61% ~ $ 9.94 | ARIZ – Arisz Acquisition Corp. (Announced)
.60% ~ $ 10.04 | LVAC – LAVA Medtech Acquisition Corp. (Pre-Deal)
.60% ~ $ 10.10 | IFIN – InFinT Acquisition Corporation (Pre-Deal)
.56% ~ $ 9.87 | PUCK – Goal Acquisitions Corp. (Pre-Deal)
.50% ~ $ 9.99 | BRKH – BurTech Acquisition Corp. (Pre-Deal)
.50% ~ $ 10.04 | SPK – SPK Acquisition Corp. (Announced)
.41% ~ $ 9.70 | ACRO – Acropolis Infrastructure Acquisition Corp. (Pre-Deal)
.41% ~ $ 9.70 | NFYS – Enphys Acquisition Corp. (Pre-Deal)
Biggest Losers
-1.82% ~ $ 10.01 | CLAY – Chavant Capital Acquisition Corp. (Pre-Deal)
-.99% ~ $ 10.04 | HTAQ – Hunt Companies Acquisition Corp. I (Pre-Deal)
-.86% ~ $ 10.16 | FOXW – FoxWayne Enterprises Acquisition Corp. (Pre-Deal)
-.59% ~ $ 10.06 | CFVI – CF Acquisition Corp. VI (Announced)
-.51% ~ $ 9.80 | NHIC – NewHold Investment Corp. II (Pre-Deal)
-.47% ~ $ 10.50 | BRLI – Brilliant Acquisition Corporation (Announced)
-.41% ~ $ 9.73 | TCVA – TCV Acquisition Corp. (Pre-Deal)
-.40% ~ $ 9.85 | MSSA – Metal Sky Acquisition Corp (Pre-Deal)
-.40% ~ $ 9.93 | BRD – Beard Energy Transition Acquisition Corp. (Pre-Deal)
-.40% ~ $ 9.94 | BYNO – byNordic Acquisition Corporation (Pre-Deal)
-.34% ~ $ 10.13 | VTAQ – Ventoux CCM Acquisition Corp. (Announced)
-.31% ~ $ 9.69 | CPAA – Conyers Park III Acquisition Corp. (Pre-Deal)
-.31% ~ $ 9.72 | CLBR – Colombier Acquisition Corp. (Pre-Deal)
-.31% ~ $ 9.78 | GAQ – Generation Asia I Acquisition Ltd (Pre-Deal)
-.31% ~ $ 9.80 | FSRX – FinServ Acquisition Corp. II (Pre-Deal)
-.31% ~ $ 9.80 | CSLM – Consilium Acquisition Corp I, Ltd. (Pre-Deal)
-.30% ~ $ 9.84 | FVT – Fortress Value Acquisition Corp. III (Pre-Deal)
-.30% ~ $ 9.90 | ASCA – ASPAC I Acquisition Corp. (Pre-Deal)
-.30% ~ $ 9.93 | SGHL – Signal Hill Acquisition Corp. (Pre-Deal)
-.25% ~ $ 9.81 | DHHC – DiamondHead Holdings Corp. (Pre-Deal)