Chalk up another potential SPAC battle in the making, this time between Ackrell SPAC Partners I Co. (ACKIU) and its target company Blackstone (North Atlantic Imports). In June, ACKIU shareholders approved an up to three month extension deadline for the SPAC to complete its deal, giving the SPAC until 9-23 to complete a transaction, contingent upon the deposit of $200k / month into the trust account to compensate shareholders for sticking around.
However, it was announced today that Blackstone is declining to fund the final $200k needed to execute the last extension, and the company is warning that it might not be able to secure the funds elsewhere. Thus if they cannot secure additional funding by next week, they may be forced to liquidate.
Quick change in sentiment surrounding this deal if the target, seemingly trying to get out of the deal, is unwilling to pay the $200k necessary for an extra month. ACKIU now joins the likes of FST, CPTK, and DUNE who may end up in legal battles.
Elsewhere in SPACs
GSR II Meteora Acquisition Corp. (GSRM) struck a deal to take Atlanta-based Bitcoin Depot, an operator of Bitcoin ATMs, at a valuation of $755M EV. Investor Deck
Riverview Acquisition Corp. (RVAC) shareholders approved its deal with Westrock Coffee, yesterday they reported 73.5% in redemptions ($66M in trust) as PIPE shareholders purchased over $20M of shares on the open market to satisfy their subscriptions
Upcoming SPAC Events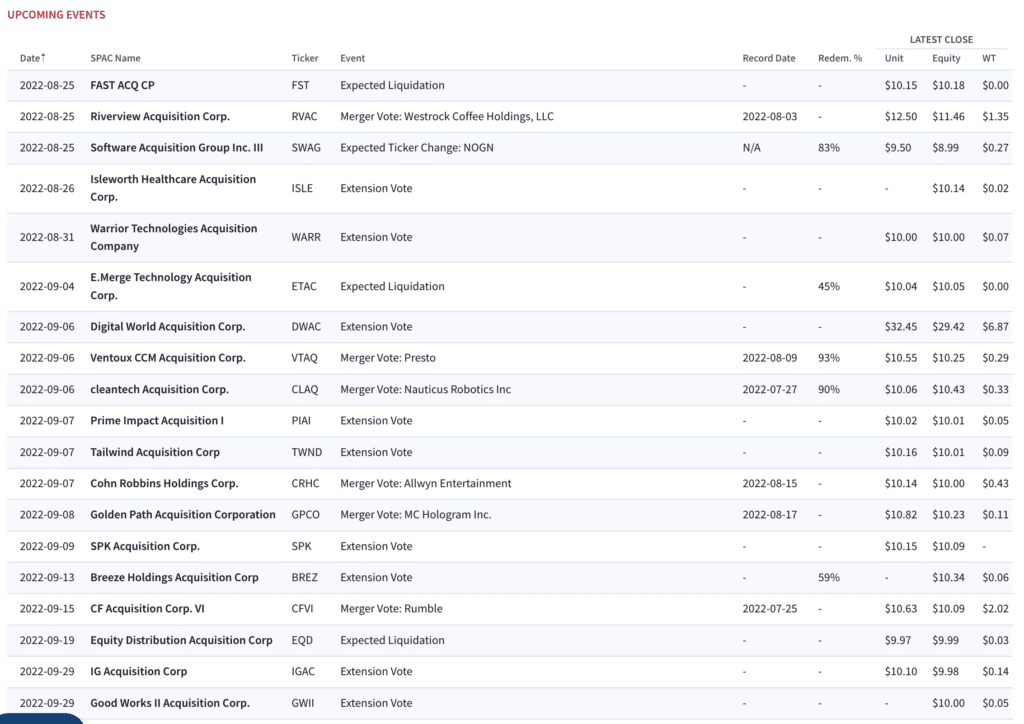 Today's SPAC Movers
Biggest SPAC Gainers
1.81% ~ $ 10.43 | CLAQ – cleantech Acquisition Corp. (Announced)
1.19% ~ $ 10.21 | PCX – Parsec Capital Acquisitions Corp. (Pre-Deal)
1.10% ~ $ 10.85 | RAM – Aries I Acquisition Corp (Announced)
1.02% ~ $ 9.95 | TCOA – Trajectory Alpha Acquisition Corp. (Pre-Deal)
.97% ~ $ 10.45 | FOXW – FoxWayne Enterprises Acquisition Corp. (Pre-Deal)
.90% ~ $ 10.14 | ISLE – Isleworth Healthcare Acquisition Corp. (Pre-Deal)
.80% ~ $ 10.02 | MEAC – Mercury Ecommerce Acquisition Corp (Pre-Deal)
.72% ~ $ 9.84 | PEGR – Project Energy Reimagined Acquisition Corp. (Pre-Deal)
.70% ~ $ 10.00 | GIAC – Gesher I Acquisition Corp. (Announced)
.70% ~ $ 10.01 | RENE – Cartesian Growth Corp II (Pre-Deal)
.70% ~ $ 10.13 | VSAC – VISION SENSING ACQUISITION CORP. (Pre-Deal)
.62% ~ $ 9.72 | NFYS – Enphys Acquisition Corp. (Pre-Deal)
.62% ~ $ 9.73 | CDAQ – Compass Digital Acquisition Corp. (Pre-Deal)
.62% ~ $ 9.79 | SEDA – SDCL EDGE Acquisition Corp (Pre-Deal)
.60% ~ $ 10.01 | PORT – Southport Acquisition Corporation (Pre-Deal)
.60% ~ $ 10.07 | MPRA – Mercato Partners Acquisition Corp (Pre-Deal)
.59% ~ $ 10.16 | SANB – Sanaby Health Acquisition Corp. I (Pre-Deal)
.57% ~ $ 9.78 | PANA – Panacea Acquisition Corp. II (Pre-Deal)
.51% ~ $ 9.88 | FTPA – FTAC Parnassus Acquisition Corp. (Pre-Deal)
.51% ~ $ 9.94 | GSRM – GSR II Meteora Acquisition Corp. (Announced)
Biggest SPAC Losers
-17.26% ~ $ 11.46 | RVAC – Riverview Acquisition Corp. (Announced)
-10.59% ~ $ 8.99 | SWAG – Software Acquisition Group Inc. III (Announced)
-2.42% ~ $ 29.42 | DWAC – Digital World Acquisition Corp. (Announced)
-1.17% ~ $ 10.10 | SPCM – Sound Point Acquisition Corp I, Ltd (Pre-Deal)
-.99% ~ $ 10.11 | CENQ – CENAQ Energy Corp. (Announced)
-.70% ~ $ 9.98 | ROC – ROC Energy Acquisition Corp. (Pre-Deal)
-.61% ~ $ 9.83 | IPVI – InterPrivate IV InfraTech Partners Inc. (Pre-Deal)
-.60% ~ $ 9.92 | FVAM – 501 ACQ CORP (Pre-Deal)
-.60% ~ $ 9.95 | VMGA – VMG Consumer Acquisition Corp. (Pre-Deal)
-.59% ~ $ 10.03 | DMAQ – Deep Medicine Acquisition Corp. (Announced)
-.59% ~ $ 10.04 | TETE – Technology Telecommunication Acquisition Corp (Pre-Deal)
-.58% ~ $ 10.21 | NLIT – Northern Lights Acquisition Corp. (Announced)
-.50% ~ $ 9.98 | SHCA – Spindletop Health Acquisition Corp. (Pre-Deal)
-.50% ~ $ 10.03 | SHUA – SHUAA Partners Acquisition Corp I (Pre-Deal)
-.49% ~ $ 10.09 | CFVI – CF Acquisition Corp. VI (Announced)
-.49% ~ $ 10.10 | ENCP – Energem Corp (Announced)
-.41% ~ $ 9.79 | CORS – Corsair Partnering Corporation (Pre-Deal)
-.40% ~ $ 9.86 | CLAS – Class Acceleration Corp. (Pre-Deal)
-.40% ~ $ 9.86 | KIII – Kismet Acquisition Three Corp. (Pre-Deal)
-.40% ~ $ 9.94 | JGGC – Jaguar Global Growth Corp I (Pre-Deal)