What is this, 2021!? In the current era where SPACs are less EV and techy, Athena Consumer Acquisition (ACAQ) turned back the clock in announcing a $913M enterprise value deal for German EV producer Next.e.GO. They mention 1,000 cars have been produced and on the road, yet provided little detail on the actual financials of the company. As is standard today, there was little movement on the commons, yet ACAQ warrants did jump 50% to $0.18.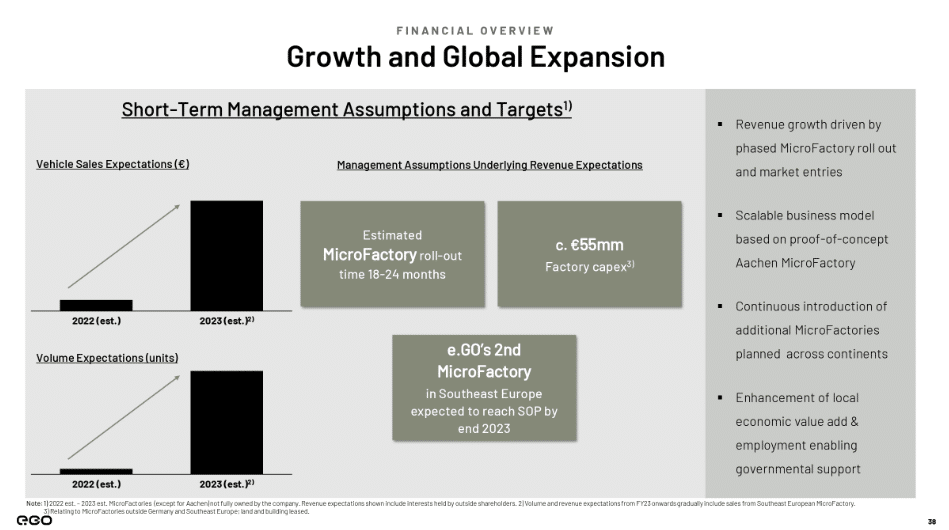 Elsewhere in SPACs
Getty Images (GETY) disclosed its redemption numbers, leaving just over 500k shares of public float. Meme alert.
CHW Acquisition Corp (CHWA) shareholders approved its deal with Wag!, unsurprisingly shareholders redeemed 98% of the SPAC. Perhaps with the early announcement in PR the company (as we've seen a few times before) might get some redemption reversals
Edoc Acquisition Corp. (ADOC) filed for another extension (this will be their second) vote 8/12, seeking 6 months till February and depositing $0.033 monthly.
Upcoming SPAC Calendar
Full calendar and SPAC database access here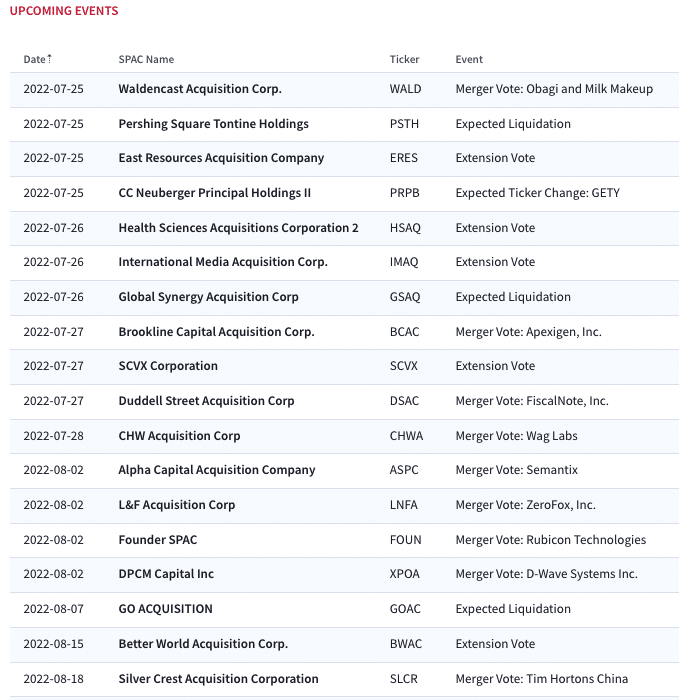 Today's SPAC Market Movers
Biggest SPAC Gainers
1.02% ~ $ 9.86 | CCAI – Cascadia Acquisition Corp. (Pre-Deal)
.90% ~ $ 10.07 | PHYT – Pyrophyte Acquisition Corp. (Pre-Deal)
.69% ~ $ 10.22 | AMAO – American Acquisition Opportunity Inc (Announced)
.61% ~ $ 9.91 | VBOC – Viscogliosi Brothers Acquisition Corp (Pre-Deal)
.52% ~ $ 9.75 | IPAX – Inflection Point Acquisition Corp. (Pre-Deal)
.50% ~ $ 10.04 | AVAC – Avalon Acquisition Inc. (Pre-Deal)
.46% ~ $ 9.92 | LCW – Learn CW Investment Corp (Pre-Deal)
.42% ~ $ 9.88 | RMGC – RMG Acquisition Corp. III (Pre-Deal)
.41% ~ $ 9.80 | GFOR – Graf Acquisition Corp. IV (Pre-Deal)
.41% ~ $ 9.88 | SLAC – Social Leverage Acquisition Corp I (Pre-Deal)
.41% ~ $ 9.89 | BLUA – BlueRiver Acquisition Corp (Pre-Deal)
.41% ~ $ 9.91 | LHC – Leo Holdings Corp. II (Pre-Deal)
.40% ~ $ 9.98 | RCFA – RCF Acquisition Corp. (Pre-Deal)
.40% ~ $ 9.99 | BNIX – Bannix Acquisition Corp. (Pre-Deal)
.40% ~ $ 10.11 | VMCA – Valuence Merger Corp. I (Pre-Deal)
.31% ~ $ 9.84 | FRON – Frontier Acquisition Corp. (Pre-Deal)
.31% ~ $ 9.85 | AGAC – African Gold Acquisition Corporation (Pre-Deal)
.30% ~ $ 9.87 | GSQD – G Squared Ascend I Inc. (Announced)
.30% ~ $ 9.88 | SPGS – Simon Property Group Acquisition Holdings, Inc. (Pre-Deal)
.30% ~ $ 9.89 | RFAC – RF Acquisition Corp. (Pre-Deal)
Biggest SPAC Losers
-12.63% ~ $ 8.72 | XPOA – DPCM Capital Inc (Announced)
-9.54% ~ $ 9.20 | LNFA – L&F Acquisition Corp (Announced)
-8.46% ~ $ 9.20 | ASPC – Alpha Capital Acquisition Company (Announced)
-8.26% ~ $ 9.30 | FOUN – Founder SPAC (Announced)
-7.02% ~ $ 9.53 | NLIT – Northern Lights Acquisition Corp. (Announced)
-6.23% ~ $ 10.08 | BCAC – Brookline Capital Acquisition Corp. (Pre-Deal)
-3.34% ~ $ 9.25 | CHWA – CHW Acquisition Corp (Announced)
-1.55% ~ $ 9.51 | DSAC – Duddell Street Acquisition Corp (Announced)
-1.46% ~ $ 10.10 | NOVV – Nova Vision Acquisition Corp (Pre-Deal)
-.51% ~ $ 9.73 | THCP – Thunder Bridge Capital Partners IV, Inc. (Announced)
-.40% ~ $ 10.04 | DMAQ – Deep Medicine Acquisition Corp. (Announced)
-.39% ~ $ 10.19 | FOXW – FoxWayne Enterprises Acquisition Corp. (Pre-Deal)
-.30% ~ $ 9.82 | ROSS – Ross Acquisition Corp II (Pre-Deal)
-.30% ~ $ 9.84 | VTIQ – VectoIQ Acquisition Corp. II (Pre-Deal)
-.30% ~ $ 9.87 | RCAC – Revelstone Capital Acquisition Corp. (Pre-Deal)
-.30% ~ $ 10.03 | TLGY – TLGY Acquisition Corp (Pre-Deal)
-.30% ~ $ 30.19 | DWAC – Digital World Acquisition Corp. (Announced)
-.24% ~ $ 9.85 | COVA – Crescent Cove Acquisition Corp. (Announced)
-.22% ~ $ 10.04 | HNRA – HNR Acquisition Corp (Pre-Deal)
-.21% ~ $ 9.61 | SCRM – Screaming Eagle Acquisition Corp. (Pre-Deal)