The week starts off slow for SPACs with no major announcements. ITHAX Acquisition Corp. (ITHX) officially closed today and will start trading as MOND tomorrow, July 19. They released redemption numbers and it is another "99% redemption" SPAC and pulls July's average redemptions rate up to 71% (but recall that's held down by an usually low redemption for GRRR/GSLPT). Redemptions and post-close financing remain one of the primary issues for SPACs.
B. Riley Principal 150 Merger Corp (BRPM) is expected to close its business combination with FaZe Clan tomorrow and to start trading as FAZE on the Nasdaq. It traded up today 9% today to $11.03.
Upcoming SPAC Calendar
Full calendar and SPAC database access here
Both ITHX and BRPM close and change tickers this week. We're awaiting CLAQ's extension vote results from today. Next week will be the busier of the weeks. But, it will be new deal announcements that everyone will be watching for.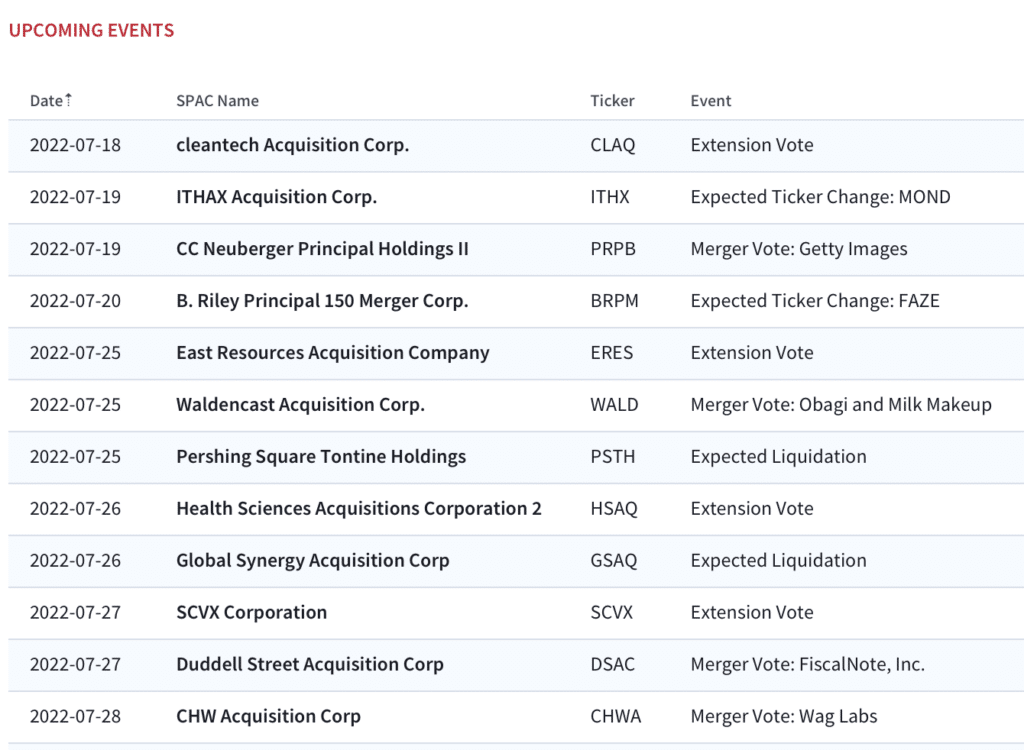 Today's SPAC Stock Movers
Biggest SPAC Gainers
9.03% ~ $ 11.05 | BRPM – B. Riley Principal 150 Merger Corp. (Announced)
3.18% ~ $ 10.52 | CLAQ – cleantech Acquisition Corp. (Announced)
1.01% ~ $ 9.99 | MEKA – MELI Kaszek Pioneer Corp (Pre-Deal)
.71% ~ $ 9.99 | BLSA – BCLS Acquisition Corp. (Pre-Deal)
.62% ~ $ 9.73 | HWEL – Healthwell Acquisition Corp. I (Pre-Deal)
.61% ~ $ 9.83 | TIOA – Tio Tech A (Pre-Deal)
.61% ~ $ 9.85 | MSAC – Medicus Sciences Acquisition Corp. (Pre-Deal)
.61% ~ $ 9.91 | VBOC – Viscogliosi Brothers Acquisition Corp (Pre-Deal)
.51% ~ $ 9.84 | CCAI – Cascadia Acquisition Corp. (Pre-Deal)
.50% ~ $ 9.98 | SMAP – Sportsmap Tech Acquisition Corp. (Pre-Deal)
.50% ~ $ 9.98 | SGHL – Signal Hill Acquisition Corp. (Pre-Deal)
.50% ~ $ 9.99 | BYNO – byNordic Acquisition Corporation (Pre-Deal)
.49% ~ $ 10.19 | FST – FAST ACQ CP (Pre-Deal)
.41% ~ $ 9.77 | TCVA – TCV Acquisition Corp. (Pre-Deal)
.41% ~ $ 9.84 | KYCH – Keyarch Acquisition Corp (Pre-Deal)
.41% ~ $ 9.88 | ASCB – A SPAC II Acquisition Corp. (Pre-Deal)
.41% ~ $ 9.90 | GSRM – GSR II Meteora Acquisition Corp. (Pre-Deal)
.41% ~ $ 9.90 | JGGC – Jaguar Global Growth Corp I (Pre-Deal)
.40% ~ $ 10.00 | ALSA – Alpha Star Acquisition Corp (Pre-Deal)
.40% ~ $ 10.04 | ALOR – ALSP Orchid Acquisition Corp I (Pre-Deal)
Biggest SPAC Losers
-3.89% ~ $ 9.88 | ACTD – ArcLight Clean Transition Corp. II (Announced)
-3.12% ~ $ 10.24 | NLIT – Northern Lights Acquisition Corp. (Announced)
-1.63% ~ $ 29.51 | DWAC – Digital World Acquisition Corp. (Announced)
-1.42% ~ $ 9.71 | SLVR – SILVERspac Inc (Pre-Deal)
-.91% ~ $ 9.85 | LCW – Learn CW Investment Corp (Pre-Deal)
-.62% ~ $ 9.62 | CDAQ – Compass Digital Acquisition Corp. (Pre-Deal)
-.60% ~ $ 9.93 | BRKH – BurTech Acquisition Corp. (Pre-Deal)
-.51% ~ $ 9.72 | PRPB – CC Neuberger Principal Holdings II (Announced)
-.50% ~ $ 9.90 | DUET – DUET Acquisition Corp. (Pre-Deal)
-.40% ~ $ 9.85 | ACAX – Alset Capital Acquisition Corp. (Pre-Deal)
-.40% ~ $ 9.90 | ARIZ – Arisz Acquisition Corp. (Announced)
-.40% ~ $ 9.92 | WTMA – Welsbach Technology Metals Acquisition Corp. (Pre-Deal)
-.40% ~ $ 10.06 | IFIN – InFinT Acquisition Corporation (Pre-Deal)
-.39% ~ $ 10.24 | ADOC – Edoc Acquisition Corp (Announced)
-.31% ~ $ 9.70 | CORS – Corsair Partnering Corporation (Pre-Deal)
-.31% ~ $ 9.72 | LITT – Logistics Innovation Technologies Corp. (Pre-Deal)
-.31% ~ $ 9.78 | GAQ – Generation Asia I Acquisition Ltd (Pre-Deal)
-.31% ~ $ 9.80 | AURC – Aurora Acquisition Corp. (Announced)
-.30% ~ $ 9.84 | PUCK – Goal Acquisitions Corp. (Pre-Deal)
-.30% ~ $ 9.90 | ASCA – ASPAC I Acquisition Corp. (Pre-Deal)