Less than a week after its target Blackstone refused to pay the SPAC the $200k it needed to continue, Ackrell SPAC Partners I Co. (ACKIT) confirmed today that it will liquidate. A continuation of a frustrating time for SPACs and deal partners who are quarreling and not getting deals closed in tough market conditions. 10 deals were called off in August, and no reason not to believe that won't continue as we enter September.
August SPAC Deal Cancellations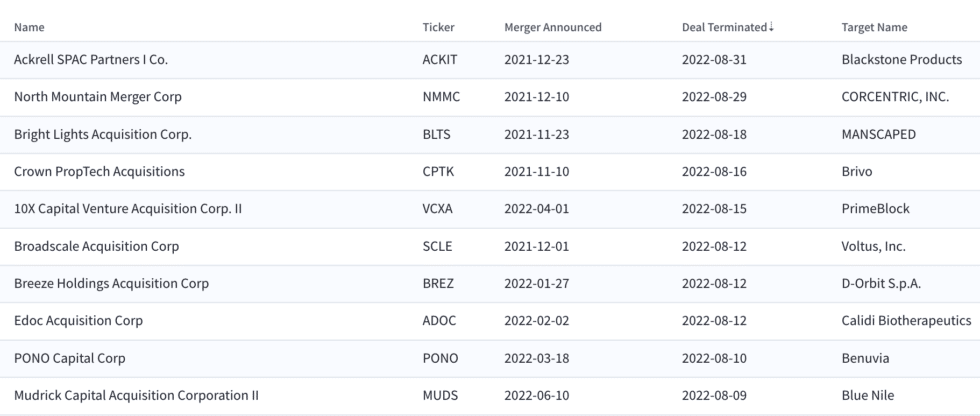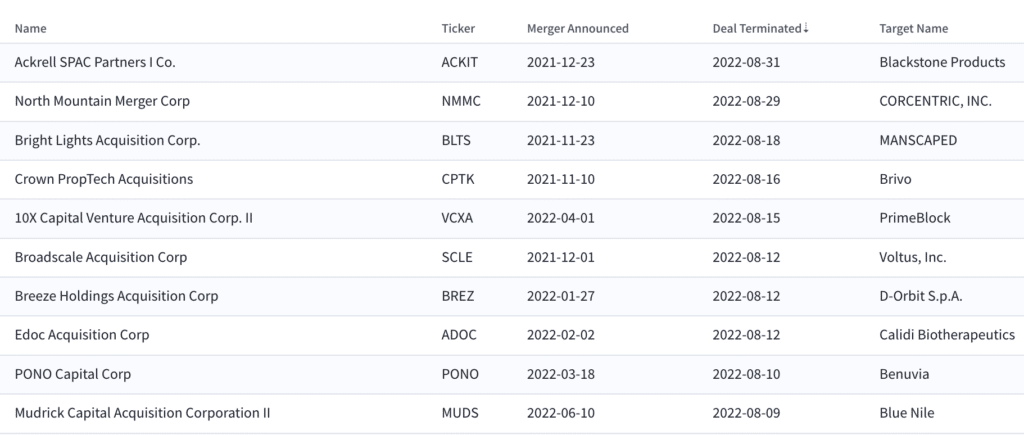 Cancelled deals and sponsors not paying up for extensions have escalated the pace of liquidations, of which another 10 SPACs have announced liquidations since the start of August.
Elsewhere in SPACs
Warrior Technologies Acquisition (WARR) chose to forego its extension vote and instead liquidated
Former SPAC target SeatGeek raised $260M at a discounted valuation from where it was struck to go public via RedBall Acquisition (RBAC). RBAC ultimately liquidated following the termination of their merger agreement
Aesther Healthcare Acquisition Corp. (AEHA) struck a deal to take biotech Ocean Biomedical public in a deal valued at $345M. The DA comes less than 2 months after AEHA terminated its previous deal with United Gear & Assembly. Ocean is more along the lines of its healthcare mandate.
CF Acquisition Corp. VIII (CFFE) confirmed a 9/27 vote date for a 6month extension from September out to March. Will deposit the lesser of $0.33 per share and $1,210,000 to the trust.
Upcoming SPAC Events
Today's SPAC Movers
Biggest SPAC Gainers
7.26% ~ $ 10.93 | NLIT – Northern Lights Acquisition Corp. (Announced)
3.47% ~ $ 11.33 | CFVI – CF Acquisition Corp. VI (Announced)
2.44% ~ $ 10.50 | CLAQ – cleantech Acquisition Corp. (Announced)
1.45% ~ $ 10.14 | WNNR – Andretti Acquisition Corp. (Pre-Deal)
.80% ~ $ 10.04 | HORI – Emerging Markets Horizon Corp. (Pre-Deal)
.78% ~ $ 10.07 | PGSS – Pegasus Digital Mobility Acquisition Corp. (Pre-Deal)
.71% ~ $ 9.97 | LGTO – LEGATO MERGER CORP. II (Announced)
.62% ~ $ 9.79 | SEDA – SDCL EDGE Acquisition Corp (Pre-Deal)
.60% ~ $ 10.07 | MPRA – Mercato Partners Acquisition Corp (Pre-Deal)
.59% ~ $ 10.14 | AXAC – AXIOS Sustainable Growth Acquisition Corp (Pre-Deal)
.58% ~ $ 10.35 | MPAC – Model Performance Acquisition Corp (Announced)
.51% ~ $ 9.89 | CSLM – Consilium Acquisition Corp I, Ltd. (Pre-Deal)
.51% ~ $ 9.94 | HHLA – HH&L Acquisition Co. (Pre-Deal)
.50% ~ $ 10.00 | VMGA – VMG Consumer Acquisition Corp. (Pre-Deal)
.50% ~ $ 10.05 | ALOR – ALSP Orchid Acquisition Corp I (Pre-Deal)
.50% ~ $ 10.08 | SHUA – SHUAA Partners Acquisition Corp I (Pre-Deal)
.50% ~ $ 10.08 | CITE – Cartica Acquisition Corp (Pre-Deal)
.48% ~ $ 10.43 | THCA – Tuscan Holdings Corp. II (Announced)
.48% ~ $ 10.47 | RAM – Aries I Acquisition Corp (Announced)
.41% ~ $ 9.87 | EMLD – FTAC Emerald Acquisition Corp. (Pre-Deal)
Biggest SPAC Losers
-11.85% ~ $ 7.74 | SLCR – Silver Crest Acquisition Corporation (Announced)
-4.70% ~ $ 9.73 | VTAQ – Ventoux CCM Acquisition Corp. (Announced)
-.98% ~ $ 10.11 | PCX – Parsec Capital Acquisitions Corp. (Pre-Deal)
-.85% ~ $ 24.38 | DWAC – Digital World Acquisition Corp. (Announced)
-.81% ~ $ 9.80 | RCAC – Revelstone Capital Acquisition Corp. (Pre-Deal)
-.51% ~ $ 9.72 | GFOR – Graf Acquisition Corp. IV (Pre-Deal)
-.41% ~ $ 9.71 | CPAA – Conyers Park III Acquisition Corp. (Pre-Deal)
-.41% ~ $ 9.71 | CDAQ – Compass Digital Acquisition Corp. (Pre-Deal)
-.41% ~ $ 9.81 | DTOC – Digital Transformation Opportunities Corp. (Pre-Deal)
-.41% ~ $ 9.82 | EOCW – Elliott Opportunity II Corp. (Pre-Deal)
-.40% ~ $ 9.86 | EBAC – European Biotech Acquisition Corp. (Pre-Deal)
-.40% ~ $ 9.95 | WAVS – Western Acquisition Ventures Corp. (Pre-Deal)
-.39% ~ $ 9.96 | GLLI – Globalink Investment Inc. (Announced)
-.39% ~ $ 9.77 | MTAL – Metals Acquisition Corp (Pre-Deal)
-.34% ~ $ 10.13 | PCCT – Perception Capital Corp. II (Pre-Deal)
-.31% ~ $ 9.68 | APMI – AxonPrime Infrastructure Acquisition Corp (Pre-Deal)