For the second week in a row (and August, mind you) a bit of a return to Merger Monday to kick the week off with 3 new SPAC definitive agreements announced.
Social Leverage Acquisition Corp. I (SLAC), led by StockTwit's Howard Lindzon, announced a $1.25B deal for W3BCLOUD. In an obvious Web3 play, the company provides the underlying physical infrastructure needed to support Web3.
Galata Acquisition Corp. (GLTA) is taking the largest Turkish mobility company, Marti, public in a deal valued at $532M EV. And, lastly Energem Corp (ENCP) is taking graphite producer Graphjet Technology in a deal that values the company at $1.5B.
Active Monday for new deals, and 5 votes are scheduled for this week.
Elsewhere in SPACs
Riverview Acquisition Corp. (RVAC) set a 8/25 vote date for its Westrock Coffee deal.
Americas Technology Acquisition Corp. (ATA) announced it filed its preliminary S-1 for its Rally deal.
Upcoming SPAC Calendar
Full calendar and SPAC database access here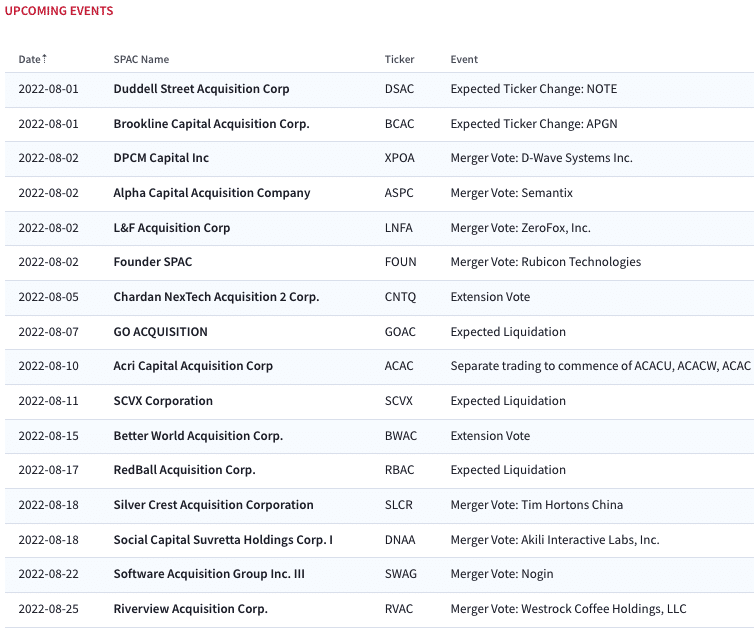 Today's SPAC Market Movers
Biggest SPAC Gainers
4.05% ~ $ 10.67 | LNFA – L&F Acquisition Corp (Announced)
.70% ~ $ 10.04 | RVAC – Riverview Acquisition Corp. (Announced)
.61% ~ $ 9.91 | VBOC – Viscogliosi Brothers Acquisition Corp (Pre-Deal)
.51% ~ $ 9.83 | POND – Angel Pond Holdings Corp (Announced)
.51% ~ $ 9.87 | OHPA – Orion Acquisition Corp. (Pre-Deal)
.50% ~ $ 9.98 | GWII – Good Works II Acquisition Corp. (Pre-Deal)
.50% ~ $ 10.02 | BYNO – byNordic Acquisition Corporation (Pre-Deal)
.47% ~ $ 10.08 | LIBY – Liberty Resources Acquisition Corp. (Pre-Deal)
.41% ~ $ 9.83 | AMCI – AMCI Acquisition Corp. II (Announced)
.40% ~ $ 9.92 | MCAC – Monterey Capital Acquisition Corp (Pre-Deal)
.40% ~ $ 9.98 | BWAQ – Blue World Acquisition Corp (Pre-Deal)
.40% ~ $ 10.00 | CPAQ – Counter Press Acquisition Corp (Pre-Deal)
.40% ~ $ 10.02 | KINZ – KINS Technology Group Inc. (Pre-Deal)
.39% ~ $ 10.40 | ATA – AMERICAS TECHNOLOGY ACQUISITION CORP. (Announced)
.31% ~ $ 9.72 | TRTL – TortoiseEcofin Acquisition Corp. III (Pre-Deal)
.31% ~ $ 9.76 | JAQC – Jupiter Acquisition Corporation (Pre-Deal)
.31% ~ $ 9.82 | HPLT – Home Plate Acquisition Corp (Pre-Deal)
.31% ~ $ 9.85 | LDHA – LDH Growth Corp I (Pre-Deal)
.30% ~ $ 9.88 | CLIN – Clean Earth Acquisitions Corp. (Pre-Deal)
.30% ~ $ 9.92 | NFNT – Infinite Acquisition Corp. (Pre-Deal)
Biggest SPAC Losers
-5.84% ~ $ 9.83 | GAQ – Generation Asia I Acquisition Ltd (Pre-Deal)
-5.64% ~ $ 10.20 | ASPC – Alpha Capital Acquisition Company (Announced)
-2.92% ~ $ 10.30 | NLIT – Northern Lights Acquisition Corp. (Announced)
-1.46% ~ $ 10.10 | NOVV – Nova Vision Acquisition Corp (Pre-Deal)
-1.29% ~ $ 9.95 | AFAR – Aura Fat Projects Acquisition Corp (Pre-Deal)
-.97% ~ $ 10.20 | AEHA – Aesther Healthcare Acquisition Corp. (Pre-Deal)
-.40% ~ $ 9.84 | LVRA – Levere Holdings Corp (Pre-Deal)
-.40% ~ $ 9.94 | HZON – Horizon Acquisition Corporation II (Pre-Deal)
-.39% ~ $ 10.14 | VTAQ – Ventoux CCM Acquisition Corp. (Announced)
-.31% ~ $ 9.79 | IACC – ION Acquisition Corp 3 Ltd. (Pre-Deal)
-.30% ~ $ 9.81 | AUS – Austerlitz Acquisition Corporation I (Pre-Deal)
-.30% ~ $ 9.82 | HIII – Hudson Executive Investment Corp. III (Pre-Deal)
-.30% ~ $ 9.83 | EBAC – European Biotech Acquisition Corp. (Pre-Deal)
-.30% ~ $ 9.83 | SCOB – ScION Tech Growth II (Pre-Deal)
-.30% ~ $ 9.88 | PNTM – Pontem Corp (Pre-Deal)
-.30% ~ $ 9.89 | ITQ – Itiquira Acquisition Corp. (Pre-Deal)
-.30% ~ $ 10.03 | INKA – KludeIn I Acquisition Corp (Announced)
-.30% ~ $ 10.05 | ACAQ – Athena Consumer Acquisition Corp. (Announced)
-.26% ~ $ 9.77 | DUNE – Dune Acquisition Corporation (Announced)
-.25% ~ $ 9.82 | LGV – Longview Acquisition Corp. II (Pre-Deal)