Soundhound gets squeezed. And the rest of the day's news in SPACs.
————————————————-
Free Investor Resources from Boardroom Alpha
—————————————————-
** Podcast: Know Who Drives Return
** Daily SPAC Newsletter
** Full SPAC Listing
SOUN gets squeezed
Soundhound (SOUN) shareholders redeemed 12.8M shares. Shares experienced a low-float squeeze today, trading up 15% to close at $12.62.
NuScale trades today
Uranium bulls celebrated the debut of NuScale Power Corp. (SMR), which makes Advanced Small Modular Reactors or SMRs. Shares closed up 5% to $10.55.
DUNE board recommends voting against Tradezero merger
Dune Acquisition Corporation (DUNE) issued a press release today recommending shareholders vote against its merger with Tradezero. The SPAC plans to call a special meeting to vote on the merger "as promptly as practicable."
SPAC IPO: A SPAC II Acquisition Corp. (ASCBU) — New Economy focus
A SPAC II Acquisition Corp. (ASCBU) priced a $185M offering. Cash in trust $10.175. The SPAC will target the fintech/ proptech sectors with an ESG focus. A SPAC II is led by Independent Chairman Malcolm F. MacLean IV, and CEO and CFO Claudius Tsang.
Deal Cancellation: GBRG / AgiiPlus
Goldenbridge Acquisition Limited (GBRG) calls off deal with AgiiPlus. The SPAC will look for a new target.
Elsewhere in SPACs
Upcoming Events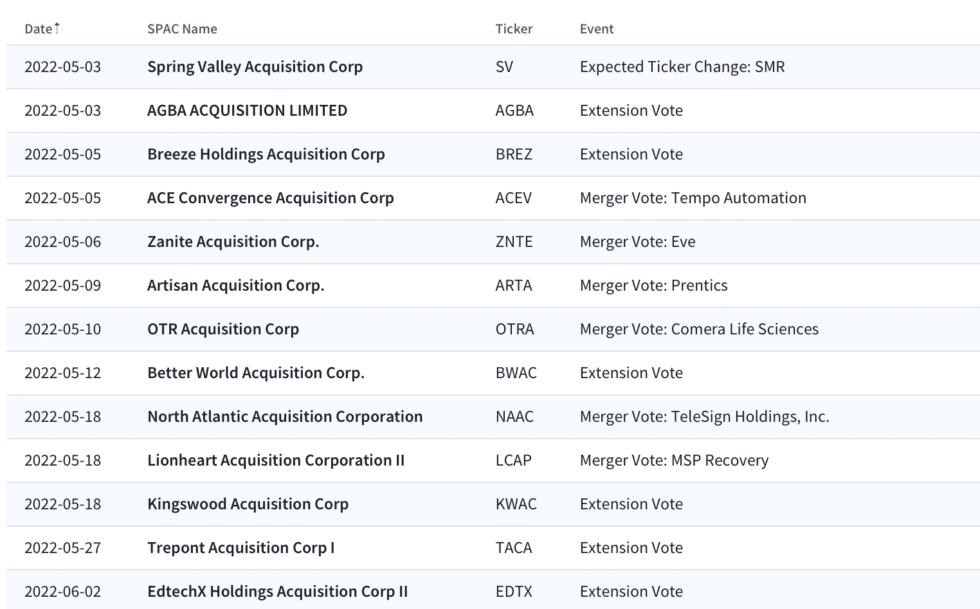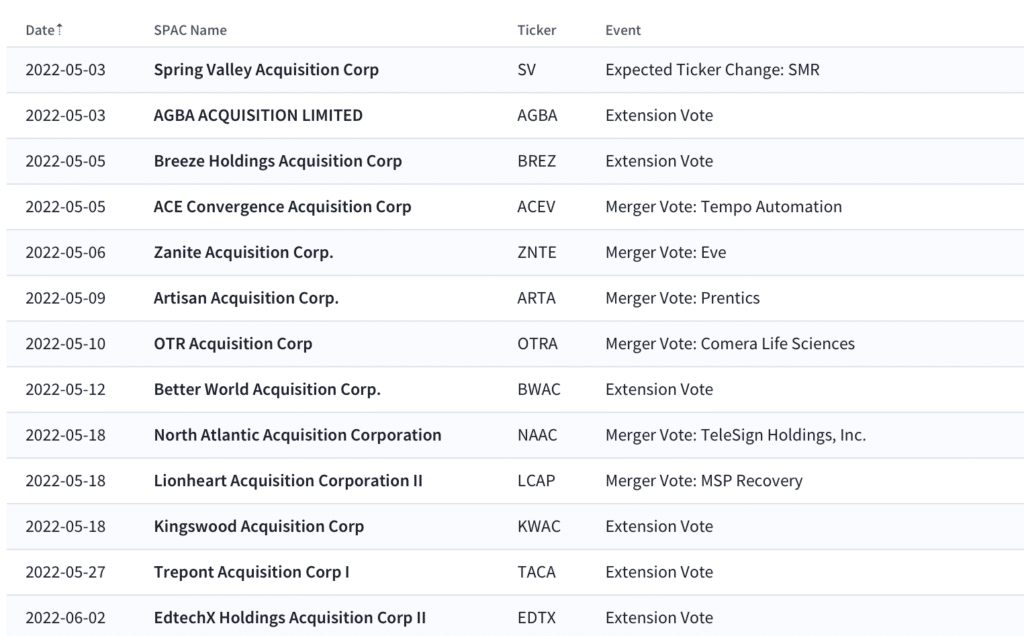 BA Podcast: Innoviz (INVZ) CEO Omer Keilaf on LiDAR, Trust, and Commercial Production
Yesterday, deSPAC LiDAR maker Innoviz (INVZ) announced a six-figure contract win with an undisclosed vehicle manufacture across its multiple brands. Good news for the EV and related technology ecosystem has been harder to find, with even bellwether Tesla (TSLA) stock down 24% YTD. We hope to hear more about this relationship during Innoviz's upcoming earnings call on May 11. Until then, listen to our recent conversation with INVZ CEO Omer Keilaf. And check out our detailed overview of the Innoviz story here.
More from Boardroom Alpha
For ongoing tracking, analytics, and data on SPACs checkout Boardroom Alpha's SPAC Data and Analytics service.