3 merger votes today. The usual extensions. And the rest of the day's news in SPACs.
————————————————-
Free Investor Resources from Boardroom Alpha
—————————————————-
** Podcast: Know Who Drives Return
** Daily SPAC Newsletter
** Full SPAC Listing
OACB / Alvotech Approved
Oaktree Acquisition Corp. II (OACB) approves merger with Icelandic biotech Alvotech Holdings S.A. (ALVO). Expected close on or about June 15, 2022.
DWIN Extends
Delwinds Insurance Acquisition Corp. (DWIN) 9M shares redeemed (~45%). SPAC adds $0.035 / month deposit until 9/15. To merge with FOXO Technologies. We chatted with FOXO CEO Jon Sabes back in April. See the podcast here.
GACQ Extends
Global Consumer Acquisition Corp. (GACQ) gets first of two extensions to 9/11/2022. SPAC adds $0.10 to trust, ~$10.15 NAV.
VCKA Extends
Vickers Vantage Corp. I (VCKA) files for another extension to August (vote 6/30), and up to 5 more months without a vote to January. Adds $0.033 / month. DA with Scilex.
Symbotic Trades Tomorrow
AI-enabled robotics specialist Symbotic deSPACs tomorrow as SYM.
Elsewhere in SPACs
Other merger votes today
Globis Acquisition Corp. GLAQ / Forafric Agro Holdings
Dynamics Special Purpose Corp. DYNS / Senti Bio
Boardroom Alpha SPAC Market Review for May
Time is running out as SPACs scramble to finance deals at almost any cost. Expect more deSPAC duds as sponsors push low-quality companies at onerous valuations — for the simple purpose of protecting at-risk capital. Full report here.
SPAC Calendar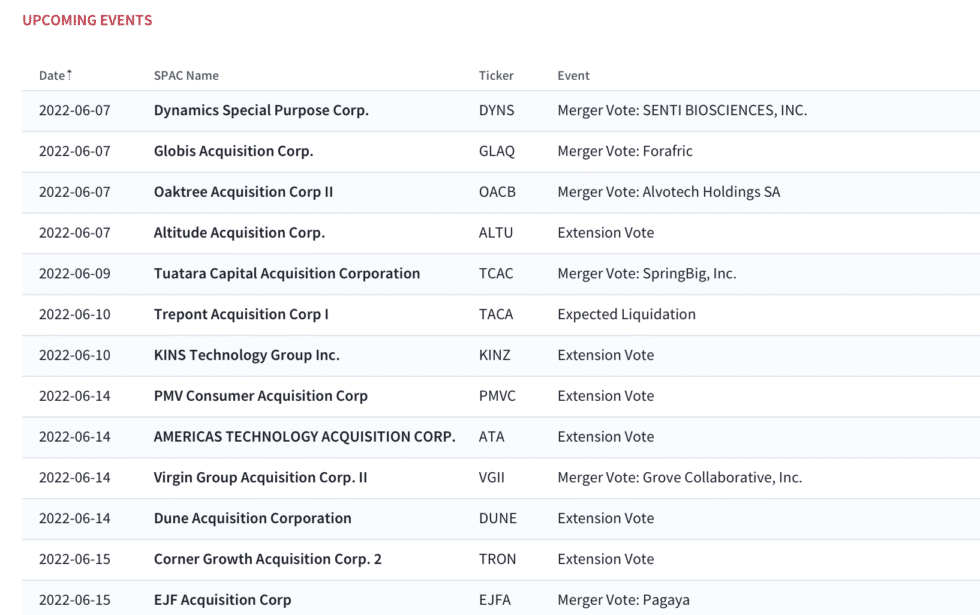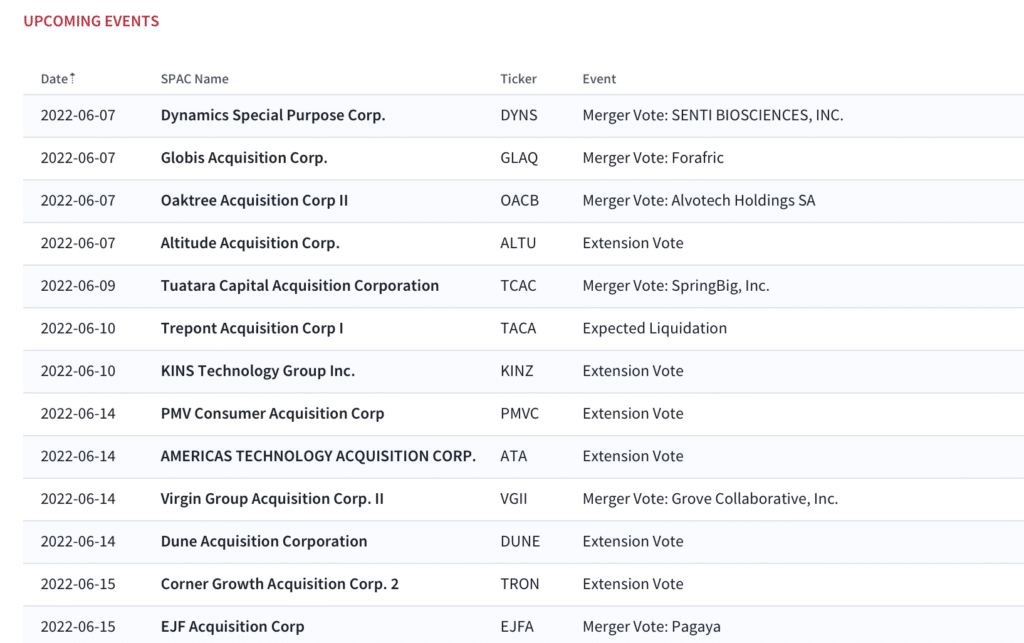 More from Boardroom Alpha
For ongoing tracking, analytics, and data on SPACs checkout Boardroom Alpha's SPAC Data and Analytics service.