FOXO CEO Jon Sabes explains how epigenetic biomarkers can tell us more about health and wellness than ever before
Boardroom Alpha sat down with Jon Sabes, CEO of FOXO Technologies. FOXO is an interesting SPAC on our radar, having announced in February an agreement to merge with sponsor Delwinds Insurance Acquisition Corp. (DWIN) in a deal that values the company at an enterprise value of $369 million. The transaction is expected to be completed in Q2.
FOXO / DWIN Transaction Summary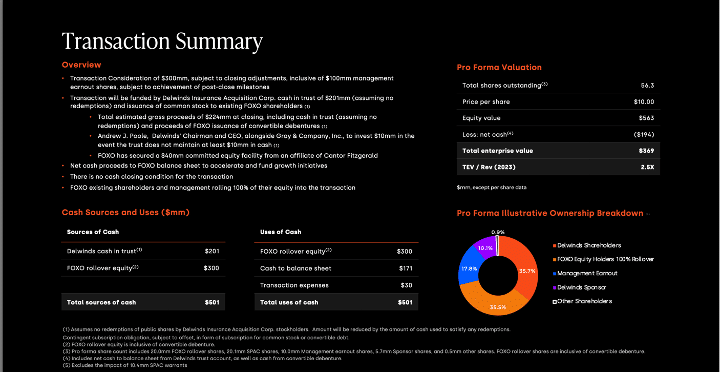 Simply put, FOXO is infusing molecular biotechnology into the life insurance industry. The company is leveraging advanced AI / data analytics technologies to change the paradigm for underwriting life insurance. If any industry is ripe for technological change it's this one. Most insurance companies were formed decades ago and still pretty much rely on legacy statistical models for the calculations behind their products.
DWIN: Familiar pre-SPAC merger stock action


In particular, FOXO strives to change one of the biggest sticking points for life insurance companies– which is the lengthy timeline and invasive specimen testing associated with the underwriting process. FOXO is commercializing unique, proprietary saliva-based epigenetic biomarkers with a plan to create a simpler, smoother, non-invasive underwriting process for the global life insurance industry.
The tech is complicated, but Sabes walks us through how epigenetic biomarkers work– by using chemical modifications, called DNA methylation– that alter gene expression from external stimuli such as lifestyle and environment. FOXO applies advanced machine learning technology to identify these patterns of DNA methylation at over 800,000 sites along the epigenome that correlate to measures of health and wellness.
Knowing very well that longevity science is fundamental to the life insurance industry, FOXO has also created what the company calls the FOXO Longevity Report– an insight into rates of biological aging based on the 'epigenetic clock' developed by Dr. Steve Horvath at UCLA. After all, the first question anyone is asked when applying for life insurance is 'how old are you?' In addition to the 'epigenetic clock', the FOXO Longevity Report includes proprietary epigenetic-based wellness measures to inform and support consumer health and longevity.
FOXO: Revenue and EBITDA Projections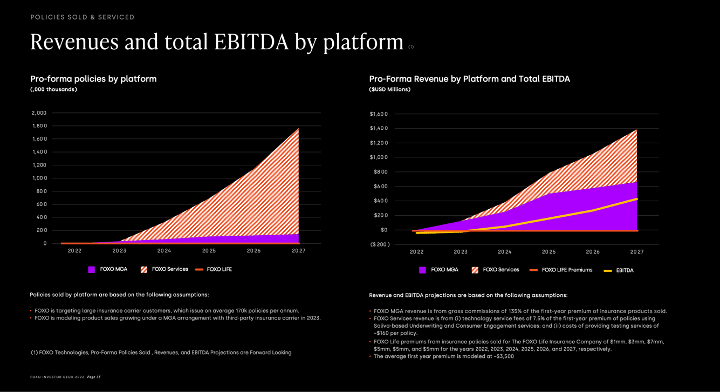 FOXO has a two-pronged business strategy which includes a B2C component (selling life insurance products to consumers) and a B2B component (selling saliva-based underwriting as a service). The company plans to launch its own line of life insurance products, where people can apply online for coverage up to $1 million, under its FOXO Life brand. Last year, the company acquired Memorial Life Insurance Co. of America, which has been renamed FOXO Life.
We're going to the very essence and the core of the industry. Most everything I've seen, in my view has been sort of on the periphery– it's been digitizing and online and this and that. It's marginal work. We're going to the absolute heart of the engine, so to speak, [with a] better value proposition for consumers and life insurance with molecular biotechnology. And we think there's a way to solve the biggest pain point in the industry, which is the customer underwriting journey, which takes 52 days, on average. Insurance agents lose 30% of their sales in the process. No wonder no one wants to sell life insurance anymore. It's horrible."
Jon Sabes, CEO, FOXO Technologies
Our take: technology will play an outsized role in changing the paradigm for underwriting life insurance from a fairly static model to one that evolves with the health of the policyholder. FOXO has the potential to build a better mousetrap, so to speak, for the way insurance companies gather intelligence and make more informed, predictive decisions. As with any disruptive technology, timing on the growth trajectory is always the big question. But with DWIN shares trading below $10, the risk/reward looks attractive here.
Listen to the podcast for more.
For important legal information related to FOXO's SPAC announcement, please see the following SEC disclosure at bit.ly/social-disclaimer.