Serial SPAC'er, aka "The SPAC King", Chamath Palihapitiya saw his SPAC, SOCIAL CAPITAL SUVRETTA HOLDINGS CORP I (NASDAQ: DNAA), officially close its deal with Akili Interactive Labs, Inc. today. It expects to trade as AKLI on the Nasdaq starting August 22, 2022. Like most SPACs, Chamath's saw high redemptions. In this case over 99% of shares. SPAC redemptions, which is a sign of true belief in the deal and post-close financing, remain the issue for the SPAC market. Until redemptions subside, there can't be any change in the broader market.
DNAA did have an exciting trading today with a spike happening given the low float.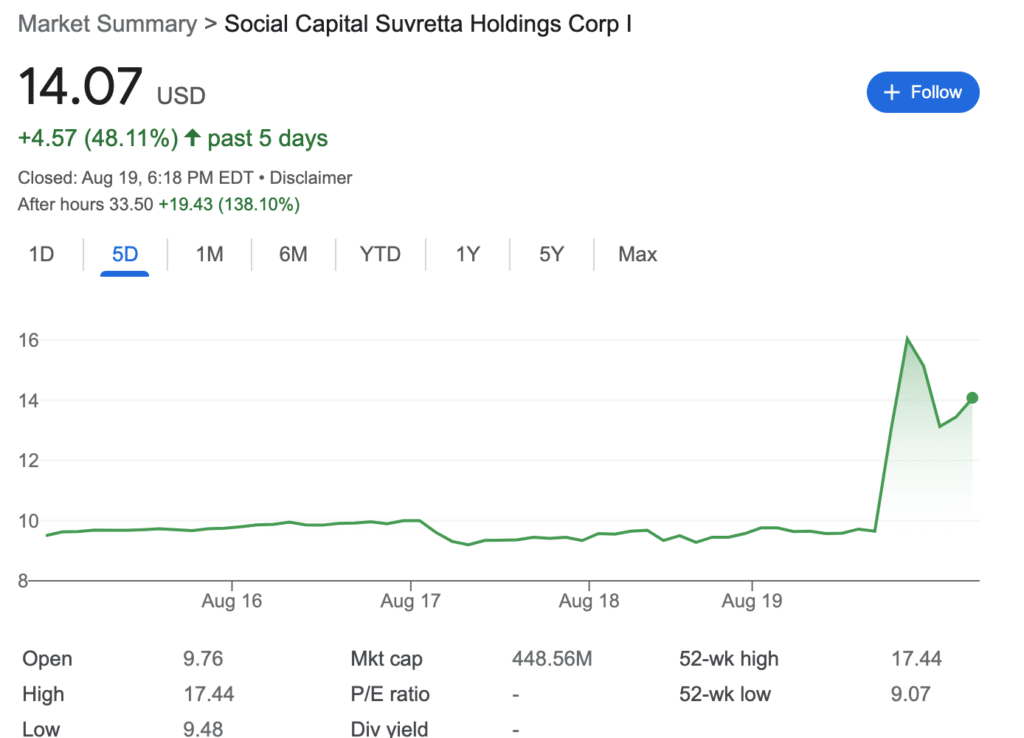 As for Chamath, his sponsor track record isn't looking much better than others at this point. True believers may continue to "trust the process", but as of this moment it's hard to argue that he's been able to deliver for SPAC shareholders any better than any other sponsors.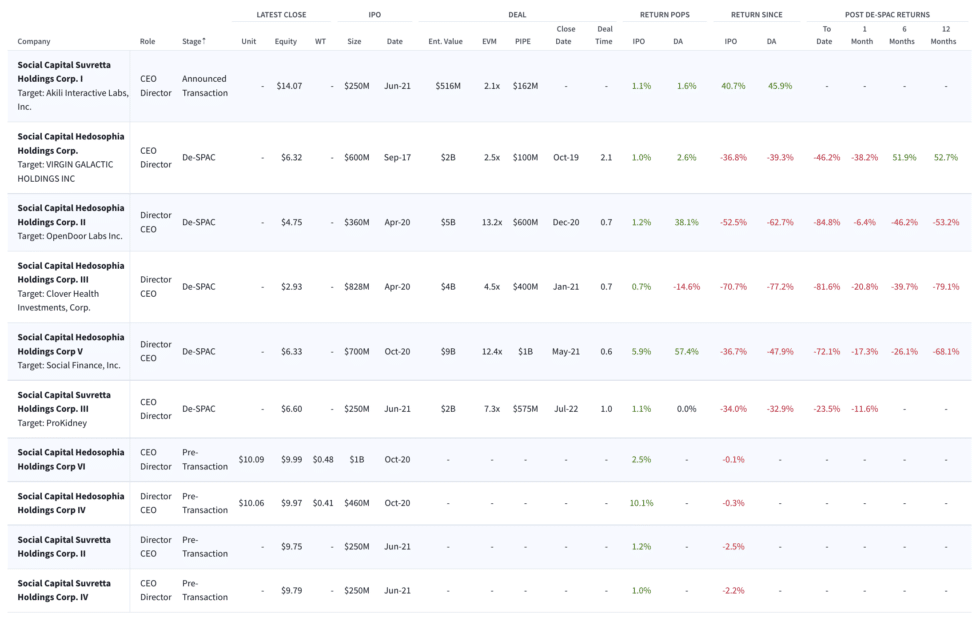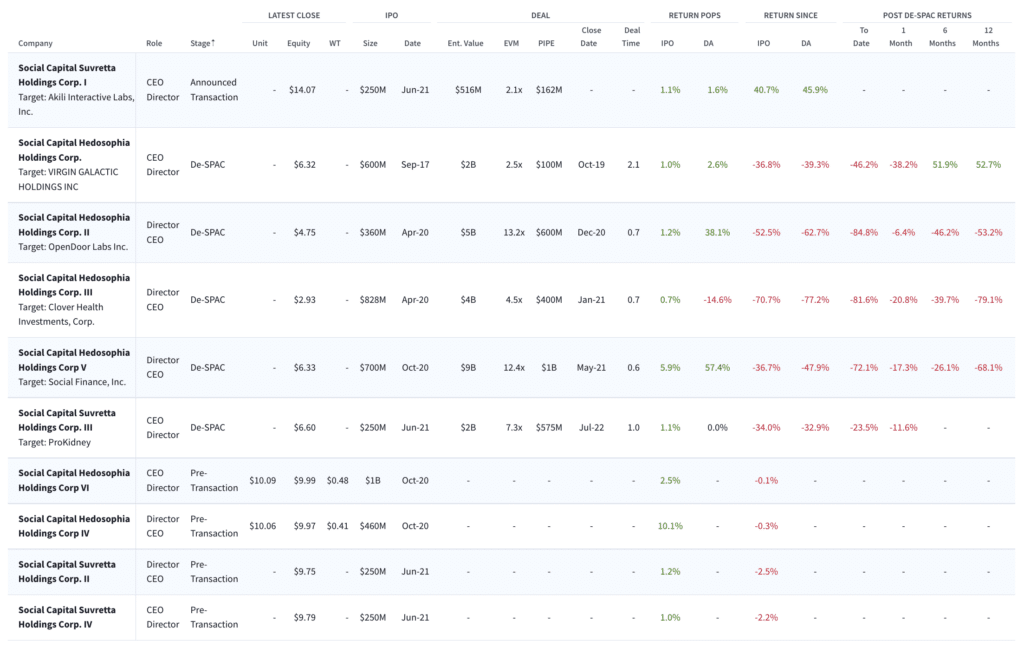 Elsewhere in SPACs
GigInternational1, Inc. (NASDAQ:GIW) announced stockholders approved up to 6 extensions, each 1 month, through Feb 21, 2023. For the first extension they've deposited $200,000 into trust.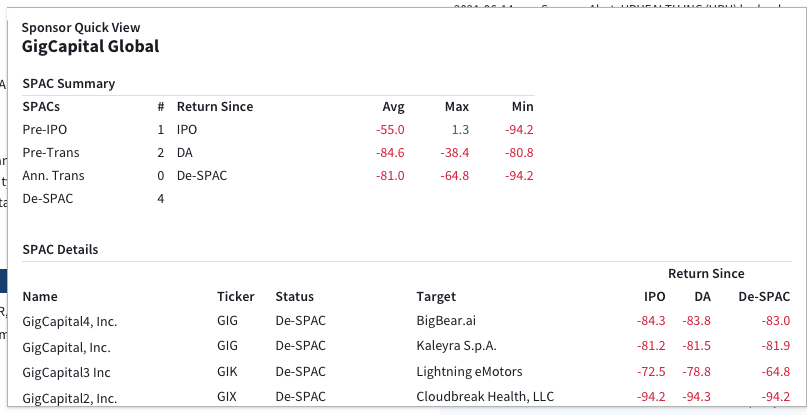 Another SPAC accounting trip up had Tristar Acquisition I Corp (NYSE: TRIS) filing a notice that they will revise their previous financial statements. In this instance, it's minor and related to account for NYSE listing fees. See yesterday's update for BSAW's non-reliance notice.
Greencity Acquisition Corporation (NASDAQ: GRCY) received a notice from Nasdaq that it doesn't have enough shareholders (300+) to remain listed. They have 45 calendar days to get in compliance to remain listed.
Today's SPAC Movers
Biggest SPAC Gainers
47.02% ~ $ 14.07 | DNAA – Social Capital Suvretta Holdings Corp. I (Announced)
1.30% ~ $ 10.15 | ERES – East Resources Acquisition Company (Pre-Deal)
.60% ~ $ 10.06 | FRBN – Forbion European Acquisition Corp. (Pre-Deal)
.44% ~ $ 10.29 | CNTQ – Chardan NexTech Acquisition 2 Corp. (Announced)
.40% ~ $ 9.97 | COOL – Corner Growth Acquisition Corp. (Pre-Deal)
.40% ~ $ 9.98 | MCAF – Mountain Crest Acquisition Corp. IV (Announced)
.40% ~ $ 10.03 | RCFA – RCF Acquisition Corp. (Pre-Deal)
.39% ~ $ 10.42 | ACBA – Ace Global Business Acquisition Limited (Pre-Deal)
.36% ~ $ 9.79 | DNAD – Social Capital Suvretta Holdings Corp. IV (Pre-Deal)
.35% ~ $ 10.05 | TLGY – TLGY Acquisition Corp (Pre-Deal)
.30% ~ $ 9.87 | CSLM – Consilium Acquisition Corp I, Ltd. (Pre-Deal)
.30% ~ $ 9.87 | TMAC – The Music Acquisition Corporation (Pre-Deal)
.30% ~ $ 9.88 | ASAX – Astrea Acquisition Corp. (Pre-Deal)
.30% ~ $ 9.89 | VTIQ – VectoIQ Acquisition Corp. II (Pre-Deal)
.30% ~ $ 9.90 | PV – Primavera Capital Acquisition Corporation (Announced)
.30% ~ $ 9.91 | IIII – INSU Acquisition Corp. III (Pre-Deal)
.30% ~ $ 9.92 | SAMA – Schultze Special Purpose Acquisition Corp. II (Pre-Deal)
.30% ~ $ 9.94 | HPX – HPX Corp (Announced)
.30% ~ $ 9.95 | ASCB – A SPAC II Acquisition Corp. (Pre-Deal)
.30% ~ $ 10.00 | CREC – Crescera Capital Acquisition Corp. (Pre-Deal)
Biggest SPAC Losers
-5.87% ~ $ 9.30 | NLIT – Northern Lights Acquisition Corp. (Announced)
-1.58% ~ $ 29.96 | DWAC – Digital World Acquisition Corp. (Announced)
-1.55% ~ $ 10.14 | SWAG – Software Acquisition Group Inc. III (Announced)
-1.19% ~ $ 9.93 | SLCR – Silver Crest Acquisition Corporation (Announced)
-1.10% ~ $ 9.92 | SKGR – SK Growth Opportunities Corp (Pre-Deal)
-1.00% ~ $ 9.86 | PEGR – Project Energy Reimagined Acquisition Corp. (Pre-Deal)
-.69% ~ $ 10.02 | SHAP – Spree Acquisition Corp. 1 Ltd (Pre-Deal)
-.60% ~ $ 10.01 | OLIT – OmniLit Acquisition Corp. (Pre-Deal)
-.51% ~ $ 9.83 | POND – Angel Pond Holdings Corp (Announced)
-.50% ~ $ 9.90 | INTE – Integral Acquisition Corp 1 (Pre-Deal)
-.50% ~ $ 9.93 | JUN – Juniper II Corp. (Pre-Deal)
-.50% ~ $ 9.95 | GENQ – Genesis Unicorn Capital Corp. (Pre-Deal)
-.49% ~ $ 10.11 | CFVI – CF Acquisition Corp. VI (Announced)
-.48% ~ $ 10.47 | RAM – Aries I Acquisition Corp (Announced)
-.40% ~ $ 9.86 | TRIS – Tristar Acquisition I Corp. (Pre-Deal)
-.40% ~ $ 9.96 | AEAE – AltEnergy Acquisition Corp (Pre-Deal)
-.40% ~ $ 9.99 | LSPR – Larkspur Health Acquisition Corp. (Announced)
-.39% ~ $ 10.21 | VTAQ – Ventoux CCM Acquisition Corp. (Announced)
-.35% ~ $ 9.97 | SGHL – Signal Hill Acquisition Corp. (Pre-Deal)
-.31% ~ $ 10.08 | JMAC – Maxpro Capital Acquisition Corp. (Pre-Deal)