Blaming "market conditions", Bright Lights Acquisition Corp (NASDAQ: BLTS) and MANSCAPED announced that they have mutually agreed to terminate their pending SPAC deal. BLTS is also receiving $1M over the course of 3 payments from Manscaped as part of the termination.
Earlier in the morning, LIV Capital Acquisition II (LIVB) announced a deal with Mexican fintec Covalto. The deal is valued at $547M. This is LIV Capital's second SPAC. Their first deSPAC'd with AgileThought.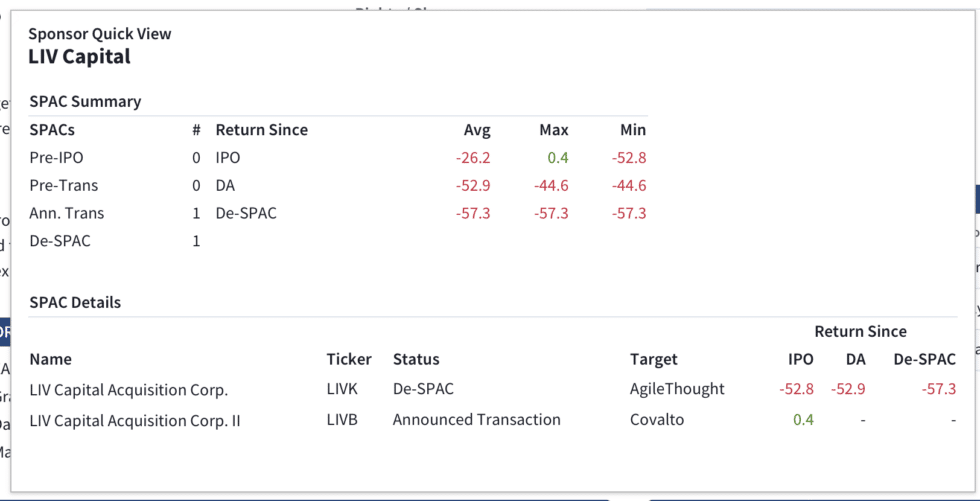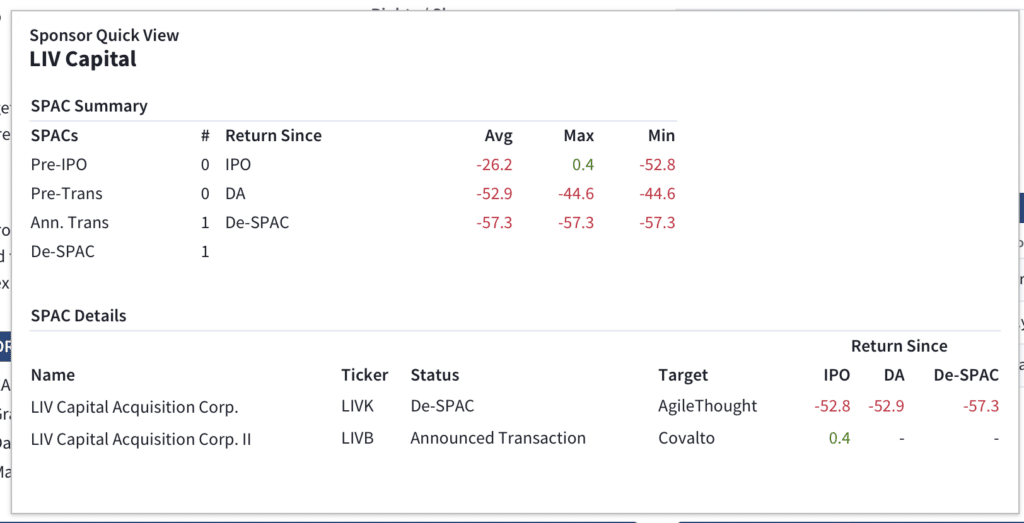 Elsewhere in SPACs
Aries I Acquisition (RAM) announced an extension deadline from August 21, 2022 to September 21, 2022. This is the first of up to 12 one-month extensions. Aries deposited an aggregate of $80,362.03 into trust. Aries has a pending deal with InfiniteWorld.
Westrock Coffee and Riverview (RVAC) announced they intend to close on August 26th. They also released their latest financials.
Black Spade Acquisition (BSAQ) filed a notice that it made previous errors in accounting for the expenses related to the initial business combination and therefore their previously filed K's and Q's shouldn't be relied up.
Market Activity Summary
After no SPAC IPOs in July we've had a few in August, but it's low $$ stuff. Redemption rates remain very elevated which is a big contributor to post-close financing angst and issues. And, both extensions and terminations are becoming a daily occurrence.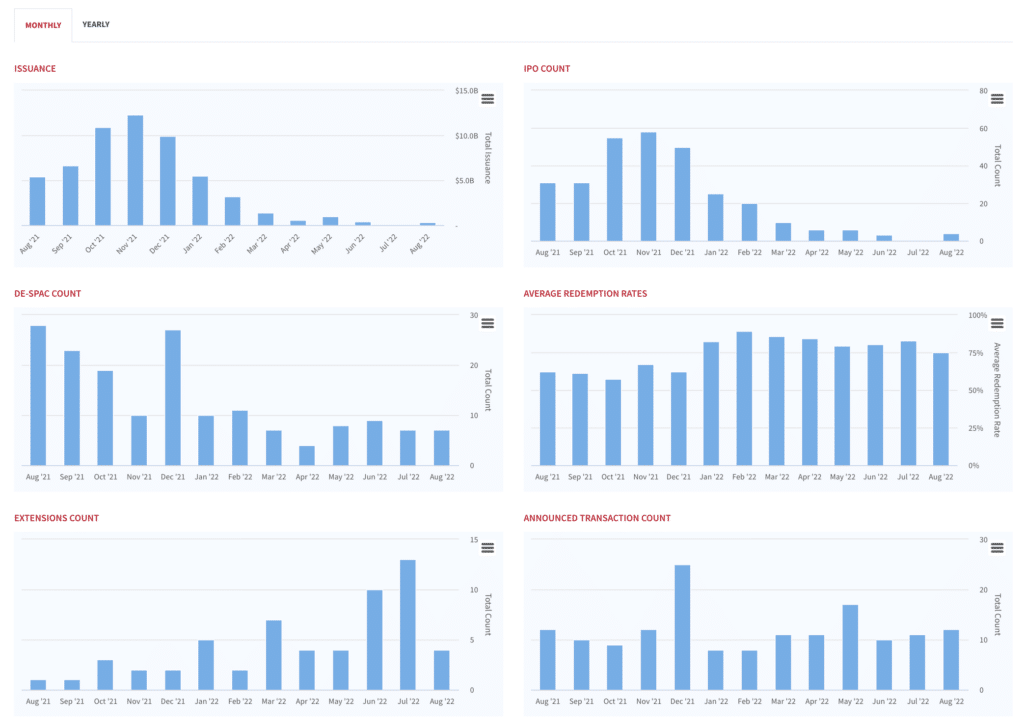 Today's SPAC Movers
Biggest SPAC Gainers
5.10% ~ $ 10.30 | SWAG – Software Acquisition Group Inc. III (Announced)
3.61% ~ $ 10.05 | SLCR – Silver Crest Acquisition Corporation (Announced)
2.50% ~ $ 9.57 | DNAA – Social Capital Suvretta Holdings Corp. I (Announced)
1.74% ~ $ 9.96 | PEGR – Project Energy Reimagined Acquisition Corp. (Pre-Deal)
1.01% ~ $ 9.97 | ARYD – ARYA Sciences Acquisition Corp IV (Pre-Deal)
.61% ~ $ 9.91 | ATAQ – Altimar Acquisition Corp. III (Pre-Deal)
.59% ~ $ 10.16 | AMAO – American Acquisition Opportunity Inc (Announced)
.57% ~ $ 10.52 | RAM – Aries I Acquisition Corp (Announced)
.55% ~ $ 10.10 | TETE – Technology Telecommunication Acquisition Corp (Pre-Deal)
.49% ~ $ 10.25 | VTAQ – Ventoux CCM Acquisition Corp. (Announced)
.41% ~ $ 9.89 | BYTS – BYTE Acquisition Corp. (Pre-Deal)
.40% ~ $ 9.98 | MCAF – Mountain Crest Acquisition Corp. IV (Announced)
.40% ~ $ 9.99 | MEKA – MELI Kaszek Pioneer Corp (Pre-Deal)
.40% ~ $ 10.02 | TEKK – Tekkorp Digital Acquisition Corp (Pre-Deal)
.31% ~ $ 9.98 | BLSA – BCLS Acquisition Corp. (Pre-Deal)
.31% ~ $ 9.74 | IPAX – Inflection Point Acquisition Corp. (Pre-Deal)
.31% ~ $ 9.81 | BRIV – B. Riley Principal 250 Merger Corp. (Pre-Deal)
.31% ~ $ 9.82 | XPAX – XPAC Acquisition Corp (Announced)
.30% ~ $ 9.89 | VTIQ – VectoIQ Acquisition Corp. II (Pre-Deal)
.30% ~ $ 9.94 | HPX – HPX Corp (Announced)
Biggest SPAC Losers
-3.61% ~ $ 9.88 | NLIT – Northern Lights Acquisition Corp. (Announced)
-1.05% ~ $ 10.35 | BWAC – Better World Acquisition Corp. (Pre-Deal)
-.61% ~ $ 9.70 | DALS – DA32 Life Science Tech Acquisition Corp. (Pre-Deal)
-.61% ~ $ 9.82 | NHIC – NewHold Investment Corp. II (Pre-Deal)
-.51% ~ $ 9.83 | POND – Angel Pond Holdings Corp (Announced)
-.50% ~ $ 9.95 | ARTE – Artemis Strategic Investment Corporation (Announced)
-.49% ~ $ 10.24 | CNTQ – Chardan NexTech Acquisition 2 Corp. (Announced)
-.41% ~ $ 9.75 | HCNE – Jaws Hurricane Acquisition Corporation (Pre-Deal)
-.41% ~ $ 9.75 | DNAD – Social Capital Suvretta Holdings Corp. IV (Pre-Deal)
-.41% ~ $ 9.76 | AUS – Austerlitz Acquisition Corporation I (Pre-Deal)
-.40% ~ $ 9.87 | PV – Primavera Capital Acquisition Corporation (Announced)
-.39% ~ $ 10.09 | VSAC – VISION SENSING ACQUISITION CORP. (Pre-Deal)
-.31% ~ $ 9.72 | ACRO – Acropolis Infrastructure Acquisition Corp. (Pre-Deal)
-.30% ~ $ 9.81 | PTOC – Pine Technology Acquisition Corp. (Pre-Deal)
-.30% ~ $ 9.84 | TMAC – The Music Acquisition Corporation (Pre-Deal)
-.30% ~ $ 9.84 | BLNG – Belong Acquisition Corp. (Pre-Deal)
-.30% ~ $ 9.86 | ANAC – Arctos NorthStar Acquisition Corp. (Pre-Deal)
-.30% ~ $ 9.89 | SAMA – Schultze Special Purpose Acquisition Corp. II (Pre-Deal)
-.30% ~ $ 9.91 | MCAG – Mountain Crest Acquisition Corp. V (Pre-Deal)
-.30% ~ $ 10.00 | FGMC – FG Merger Corp. (Pre-Deal)