The Branson-backed sustainable consumer goods company reports soft Q1 results ahead of 6.14 merger vote
————————————————-
Free Investor Resources from Boardroom Alpha
—————————————————-
** Podcast: Know Who Drives Return
** Daily SPAC Newsletter
** Full SPAC Listing
Grove Collaborative Announces Q1 Earnings Results
Grove Collaborative announced disappointing Q1 earnings results, with revenues and margins showing sequential and YoY declines. The sustainable consumer goods company has a DA with Richard Branson-backed Virgin Group Acquisition Corp. II (VGII). Grove's Q1 revenue of $90.5 million declined 11% year-over-year. EBITDA margin deteriorated considerably — (43.8)% versus (30.7)% in the first quarter of 2021Q4 2021.
The company issued revised 2022, 2033 and 2024 guidance. Notably, 2022 revenue guidance calls for a YoY revenue decline of 21% at the midpoint (Grove's 2021 revenues were $383.7 million).
2022E – Net revenue of $300 to $310 million; adjusted EBITDA margin of -29% to -32%
2023E – Net revenue of $300 to $310 million; adjusted EBITDA margin of -13% to -16%
2024E – Net revenue of $330 to $360 million; adjusted EBITDA margin of greater than 0%
Despite bold plans to launch multiple sustainable brands spanning the personal care, paper and beauty categories, Grove laid off approximately 17% of its workforce in March. The transaction, which is expected to close in Q2, values Grove at $1.5 billion. Merger vote is coming up on 6.14. VGI already announced a $50M backstop back in April.
BSGA Extends Deadline
Blue Safari Group Acquisition Corp. (BSGA) uses first of 2 extensions, adding $0.10 and extending until September 14, 2022. The SPAC has a DA with crypto mining datacenter provider Bitdeer.
Boardroom Alpha SPAC Market Review for May
Time is running out as SPACs scramble to finance deals at almost any cost. Expect more deSPAC duds as sponsors push low-quality companies at onerous valuations — for the simple purpose of protecting at-risk capital. Full report here.
SPAC Calendar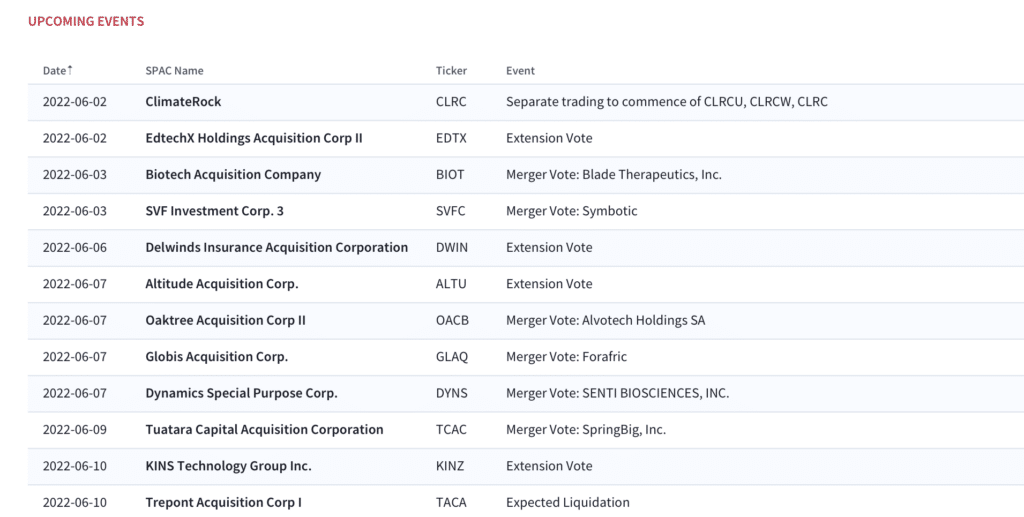 More from Boardroom Alpha
For ongoing tracking, analytics, and data on SPACs checkout Boardroom Alpha's SPAC Data and Analytics service.