Garrett Smallwood, CEO of Wag! on how the company is capitalizing on increased demand for pet care
No doubt about it: as the S&P500 edges closer to bear market territory, it's been a rough couple of weeks. The impact of inflation on consumer sentiment is also now readily apparent in the mostly poor Q1 earrings results among big box retailers. But, there's one area of consumer spending that could be a pocket of strength emerging from the pandemic: pet care. To dive into the details, Boardroom Alpha sat down with Garrett Smallwood, CEO of pet services provider Wag Labs.
SPAC IPO expected Q2. Wag Labs announced a DA in February with CHW Acquisition Corp (CHWA). This is the first deal for the consumer-focussed SPAC, led by Co-CEO and Director Jonah Raskas, Brand Manager at GlaxoSmithKline (GSK), and Co-CEO and Director Mark Grundman, founder of small business investing firm MJG Partners. The transaction, which is expected to close in Q2, values Wag! at a pro forma enterprise and equity value of approximately $350 million. The company expects to raise about $175 million and list on the Nasdaq under the symbol "PET".
CHWA: SPAC Summary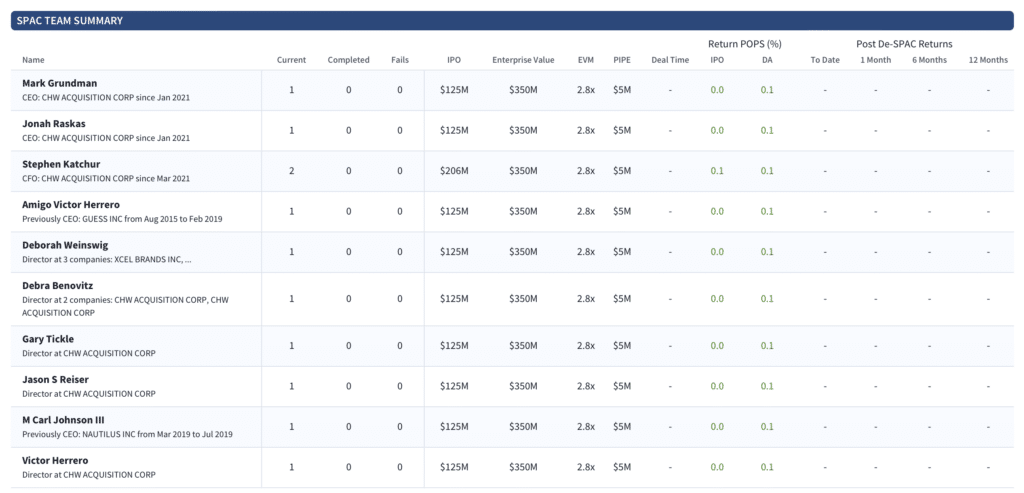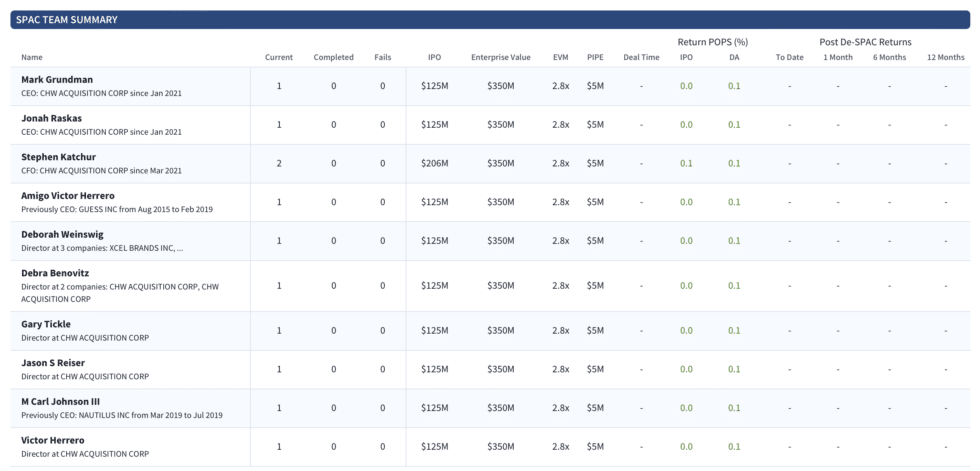 deSPAC count is almost zero. Despite the market bloodbath of late, SPACs are still plowing ahead and announcing deals. That said, only two deSPACs have made it out this month and performance has been underwhelming. On a more positive note, redemptions are also trending lower (~64% currently, down from 74% in April), but this could also be attributable to the alternative financing we're seeing lately to close deals. For more background on the SPAC market, see our monthly report for April.
deSPAC count and redemption rates


One-stop shop for dog walking and pet care services. Wag! is one-stop-shop for premium pet services, including dog walking, drop-in visits, boarding, in-home pet sitting, in person and digital training, insurance comparison tools, wellness and health. The company has over 400,000 approved pet caregivers nationwide, has completed over 11 million services through the platform, and generated over $300 million total bookings to date. Notably, Wag! has moved into the pet wellness segment, including pet insurance and online vet chat.
One of the few businesses with improving post-pandemic financials. One of the biggest secular drivers for the business is the massive number of pet adoptions which took place during the pandemic. Now, over 23M new pet parents are returning to work and looking for daily dog walks. The company pegs the U.S. pet wellness and services industry as a $44 billion TAM opportunity. Over time, Wag! expects to move into value-added services including pet food and treats. In a nod to Millennials' increasing attachment to their pets, Wag! accepts Dogecoin for purchases.
Subscription business model. Wag!'s offering is anchored by its monthly or annual subscription service, Wag! Premium, which accounts for 40% of its active users currently.
Wag! From dog walking to value-added services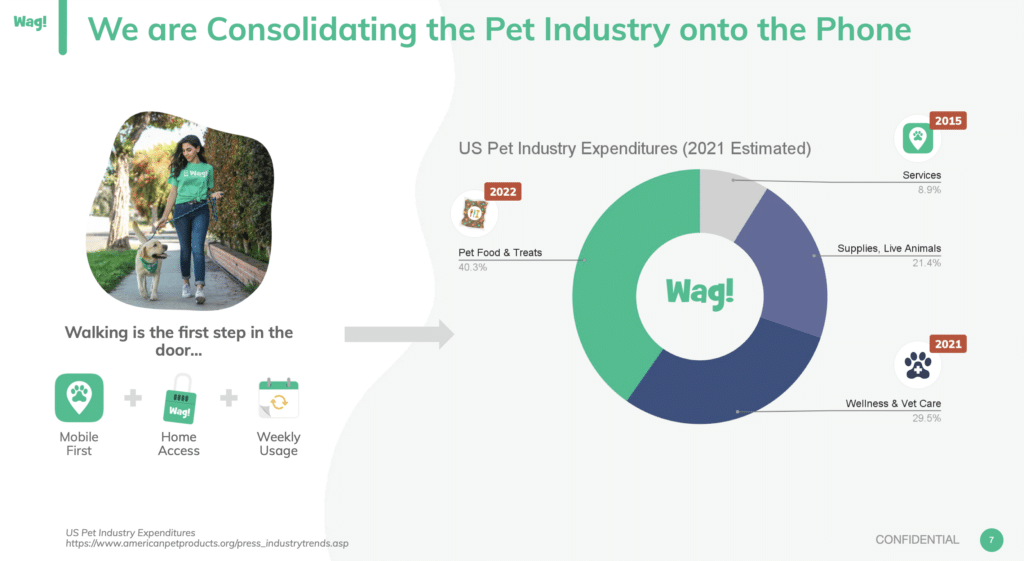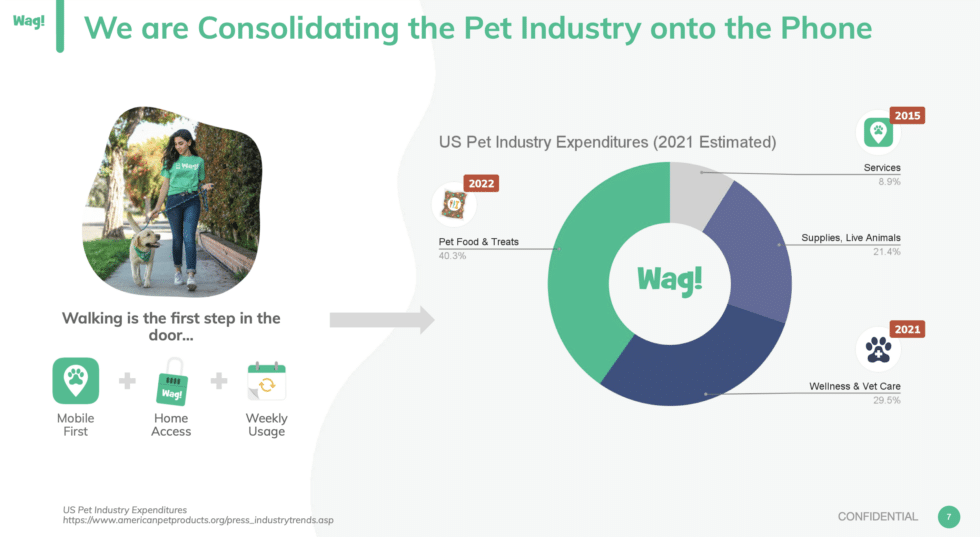 Financial Model. Projecting revenue CAGR of >70% from 2021-2023, with projected revenue growing to over $70M. Modeling positive adjusted EBITDA in Q2 of 2024. Long-term adjusted EBITDA margin of over 10%.
FY22 Outlook: Wag Labs expects Gross Bookings of $93.4 million, revenue of $41.8 million, and adjusted EBITDA of $(15.6) million.
FY23 Outlook: The company expects Gross Bookings of $163.5 million, revenue of $71.0 million, and adjusted EBITDA of $(10.7) million.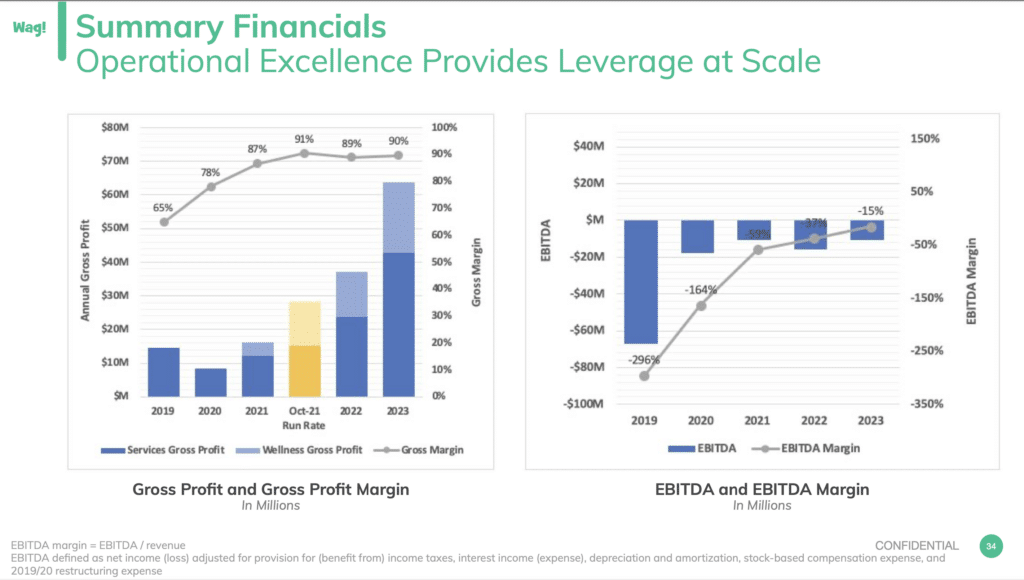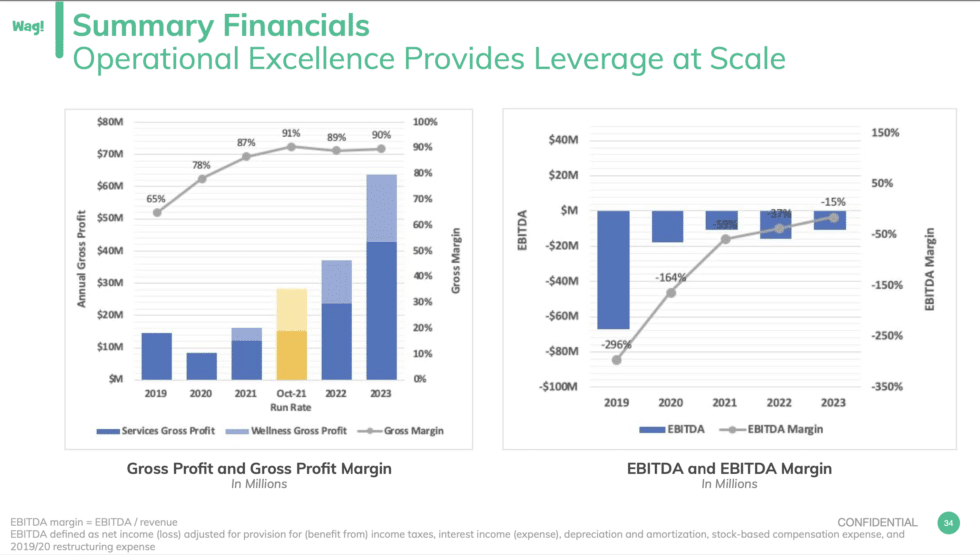 E-commerce comparables. Transaction terms imply a multiple of 4.9x EV-to-sales for the business, which may be aspirational given current market conditions. Public pet care comparables are scarce. Pet sitting service provider Rover (ROVR), which deSPACed in August 2021, currently trades at an EV-to-sales multiple of 3.4x– well below WAG!'s implied multiple, albeit the company is focussed on a slightly different care segment (boarding and sitting) and lacks a wellness services strategy. Generally speaking, e-commerce valuations have come down considerably. Airbnb (ABNB), the bellwether of this group, now trades at 7.5x EV to sales.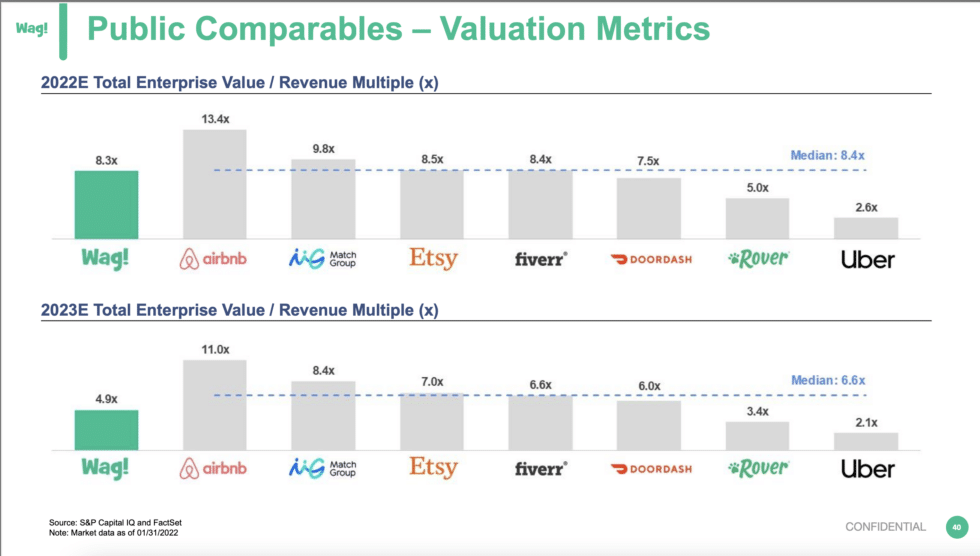 Listen to the podcast for more.
Get in Touch
Your comments and feedback are always welcome. Let's continue the discussion. Email me at joanna@boardroomalpha.com.
More from Boardroom Alpha
Check out our latest podcasts here.