Two med-related SPAC deals. Convert and PIPE action. And the rest of the day's news in SPACs.
————————————————-
Free Investor Resources from Boardroom Alpha
—————————————————-
** Podcast: Know Who Drives Return
** Daily SPAC Newsletter
** Full SPAC Listing
SPAC Deal: DKDCA + OneMedNet
Data Knights Acquisition Corp.(DKDCA) announced a DA with OneMedNet. The transaction values OneMedNet, the 'leading curator of regulatory-grade Imaging Real Word Data (RWD), at an enterprise value of approximately $317 million. No PIPE. Expected completion in the second half of 2022.
SPAC Deal: XPAX + SuperBac
Data Knights Acquisition Corp.(XPAX) announced a DA with SuperBAC, a Brazil-based biotech. The transaction values SuperBAC at a post-money enterprise value of approximately $500 million. Expected completion in the second half of 2022. Slide deck here.
Convert for BOAS / Selina Hotels
BOA Acquisition Corp. (BOAS) announced that Selina Hospitality PLC has entered into agreements for a $147.5 million of 6% senior unsecured convertible notes due 2026. This additional financing is expected to close concurrently with the SPAC merger with BOAS and allow Selina to realize its multi-year business plan. Selina is a lifestyle and experiential hospitality brand targeting Millennial and Gen Z travelers.
Upsized PIPE for ITHX / Mondee
ITHAX Acquisition Corp (ITHX) / announces upsized PIPE for Mondee to $70M up from $50M, from "two leading financial investors."
Elsewhere in SPACs
EdtechX Holdings Acquisition Corp. II (EDTX) files for an extension from June to December. SPAC has ~$10.15 in trust. Doesn't appear to be adding additional cash to trust.
Altitude Acquisition Corp. (ALTU) is gearing up for an extension vote. Current deadline of 6/11. Signed an LOI on 3/1.
Upcoming Merger and Extension Votes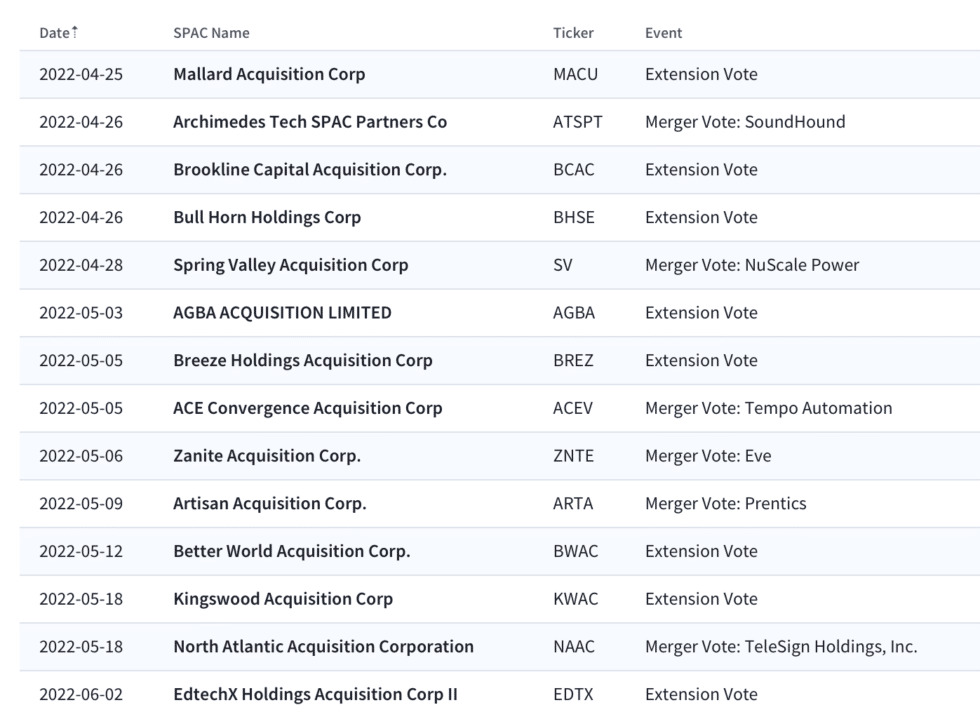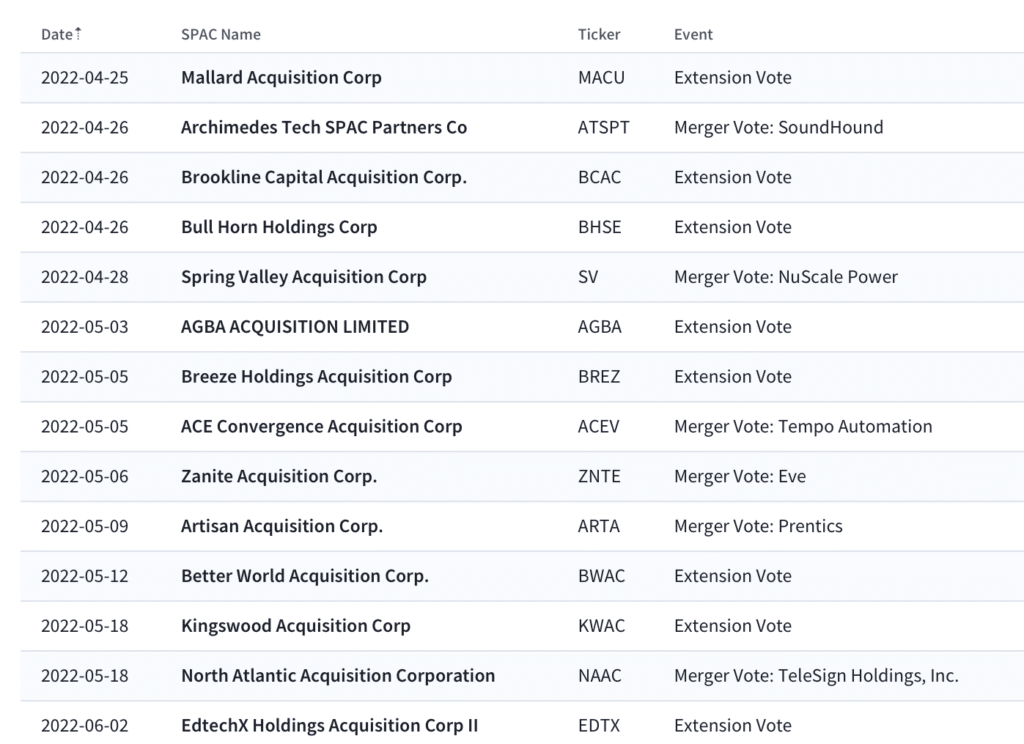 More from Boardroom Alpha
For ongoing tracking, analytics, and data on SPACs checkout Boardroom Alpha's SPAC Data and Analytics service.