Health Sciences Acquisitions Corporation 2 (HSAQ) kicks off the week with a SPAC Deal
Health Sciences Acquisitions Corporation 2 (HSAQ) struck a deal with Orchestra BioMed to take the company public in a DeSPAC transaction. The deal values the company on a $158M enterprise value. As for financing, there is a $50M share backstop, $20M forward purchase agreement, alongside a $110M series D private financing. Shares didn't move much, and HSAQ does not have warrants.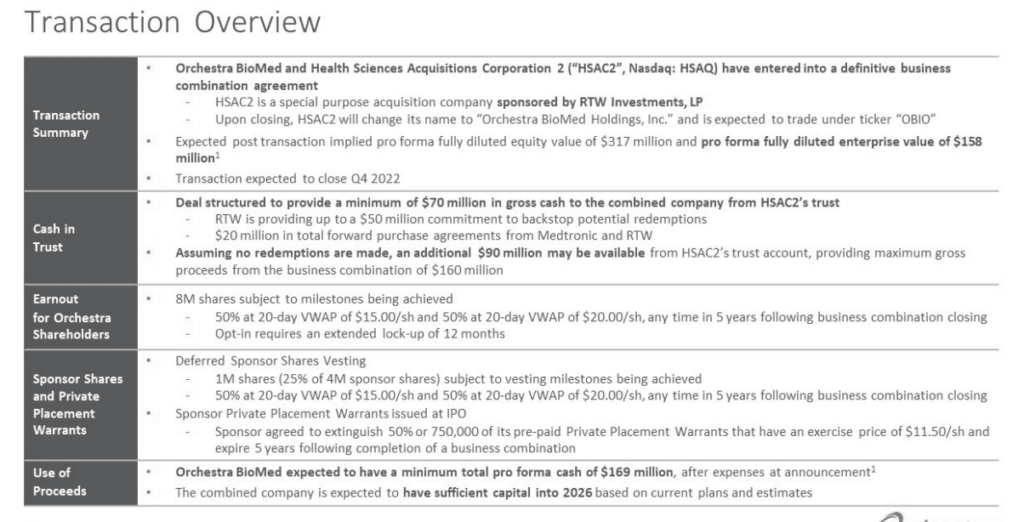 Short week with the holiday, though we still may see some action with several SPAC votes on tap for the week. ICYMI we released our June 2022 SPAC market review. A looming maturity wall for SPACs is inching closer. As for today's news, read below.
Elsewhere in SPACs
Duddell Street Acquisition Corp (DSAC) set its merger date for FiscalNote for July 27
Nocturne Acquisition Corp. (MBTC) confirmed that it used its second available extension to push its deadline to October-5th. The company deposited $0.10 into its trust account to do so.
Social Capital Suvretta Holdings Cop. III (DNAC) is set to vote tomorrow on its ProKidney Deal
FinTech Acquisition Corp. V (FTCV) and eToro officially terminated their merger agreement
E.Merge Technology Acquisition Corp (ETAC) gets its extension to 11/4 and will add $0.035 per share per month until November. ~45% of shares redeemed.
Today's Price Action
Biggest Gainers
3.92% ~ $ 10.61 | NLIT – Northern Lights Acquisition Corp. (Announced)
.57% ~ $ 10.52 | BRLI – Brilliant Acquisition Corporation (Announced)
.51% ~ $ 9.82 | EVOJ – Evo Acquisition Corp. (Pre-Deal)
.51% ~ $ 9.87 | CPTK – Crown PropTech Acquisitions (Announced)
.50% ~ $ 10.04 | AFAC – Arena Fortify Acquisition Corp. (Pre-Deal)
.50% ~ $ 10.10 | AMAO – American Acquisition Opportunity Inc (Announced)
.44% ~ $ 9.88 | NHIC – NewHold Investment Corp. II (Pre-Deal)
.41% ~ $ 9.71 | AFTR – AfterNext HealthTech Acquisition Corp. (Pre-Deal)
.41% ~ $ 9.75 | ZT – Zimmer Energy Transition Acquisition Corp. (Pre-Deal)
.41% ~ $ 9.81 | KAII – Kismet Acquisition Two Corp. (Pre-Deal)
.41% ~ $ 9.81 | MTAL – Metals Acquisition Corp (Pre-Deal)
.41% ~ $ 9.82 | APGB – Apollo Strategic Growth Capital II (Pre-Deal)
.41% ~ $ 9.83 | OHPA – Orion Acquisition Corp. (Pre-Deal)
.40% ~ $ 9.95 | DRAY – Macondray Capital Acquisition Corp. I (Pre-Deal)
.40% ~ $ 9.96 | DSAC – Duddell Street Acquisition Corp (Announced)
.40% ~ $ 10.01 | WEL – Integrated Wellness Acquisition Corp (Pre-Deal)
.35% ~ $ 9.93 | PACI – PROOF Acquisition Corp I (Pre-Deal)
.31% ~ $ 9.74 | GFOR – Graf Acquisition Corp. IV (Pre-Deal)
.31% ~ $ 9.77 | SKYA – Skydeck Acquisition Corp. (Pre-Deal)
.31% ~ $ 9.80 | THCP – Thunder Bridge Capital Partners IV, Inc. (Announced)
Biggest Losers
-14.36% ~ $ 8.41 | DNAC – Social Capital Suvretta Holdings Corp. III (Announced)
-1.39% ~ $ 9.95 | IVCA – Investcorp India Acquisition Corp. (Pre-Deal)
-1.26% ~ $ 10.16 | REVE – Alpine Acquisition Corp. (Announced)
-1.19% ~ $ 10.00 | CBRG – Chain Bridge I (Pre-Deal)
-1.06% ~ $ 9.82 | DUNE – Dune Acquisition Corporation (Announced)
-.91% ~ $ 9.78 | IPVI – InterPrivate IV InfraTech Partners Inc. (Pre-Deal)
-.74% ~ $ 24.02 | DWAC – Digital World Acquisition Corp. (Announced)
-.69% ~ $ 10.03 | IFIN – InFinT Acquisition Corporation (Pre-Deal)
-.69% ~ $ 10.06 | PLAO – Patria Acquisition Corp. (Pre-Deal)
-.55% ~ $ 9.89 | MEKA – MELI Kaszek Pioneer Corp (Pre-Deal)
-.51% ~ $ 9.70 | CLBR – Colombier Acquisition Corp. (Pre-Deal)
-.51% ~ $ 9.78 | MDH – MDH Acquisition Corp. (Pre-Deal)
-.51% ~ $ 9.78 | BYTS – BYTE Acquisition Corp. (Pre-Deal)
-.51% ~ $ 9.80 | GBBK – Global Blockchain Acquisition Corp. (Pre-Deal)
-.50% ~ $ 9.98 | WNNR – Andretti Acquisition Corp. (Pre-Deal)
-.50% ~ $ 9.99 | HCMA – HCM Acquisition Corp (Pre-Deal)
-.50% ~ $ 10.00 | GEEX – Games & Esports Experience Acquisition Corp. (Pre-Deal)
-.50% ~ $ 10.01 | TRON – Corner Growth Acquisition Corp. 2 (Pre-Deal)
-.49% ~ $ 10.09 | MEOA – Minority Equality Opportunities Acquisition Inc. (Pre-Deal)
-.49% ~ $ 9.82 | CLIN – Clean Earth Acquisitions Corp. (Pre-Deal)