Spring Valley Acquisition Corp. II (SVII) priced a $200M SPAC IPO, in another sign that some seasoned SPAC sponsors aren't abandoning the product after all. This comes after dMY priced a new vehicle at the end of last month, reinforcing hope that serial SPAC sponsors will stick with the product.
Also of note, Citigroup was a joint bookrunner on this IPO, the first major bank to be involved in a SPAC IPO in some time. In the last several months most SPAC IPOs have been led by EF Hutton.
Spring Valley's first deSPAC, NuScale Power, is among the highest performing deSPACs, closing up another ~5% today to close at $11.19. You'll recall the that the majority of DeSPACs are languishing well and far below the typical $10 issue price of the SPAC vehicle. Can Spring Valley II strike another winner?
In addition two new DAs hit the tape:
Innovative International Acquisition Corp. (IOAC) is taking ride sharing co Zoomcar public in a $456M deal. Warrants doubled from 4c to 8c
Good Works II Acquisition Co. (GWII) announced a pact with Direct Biologics
Elsewhere in SPACs
Hunt Companies Acquisition Corp. I (HTAQ) will liquidate 11/1 at $10.16 a share
Famed SPAC sponsors Gores withdrew its planned IPO for Gores Holdings X (GTEN)
Pine Island Acquisition Corp. (PIPP) will liquidate 10/28 at $10.04 per share
OceanTech Acquisitions I Corp. (OTEC) and Captura Biopharma called off their SPAC deal after announcing the pact in August
Future Health ESG Corp. (FHLT) terminated its $100M PIPE and $20M FPA
SPAC Calendar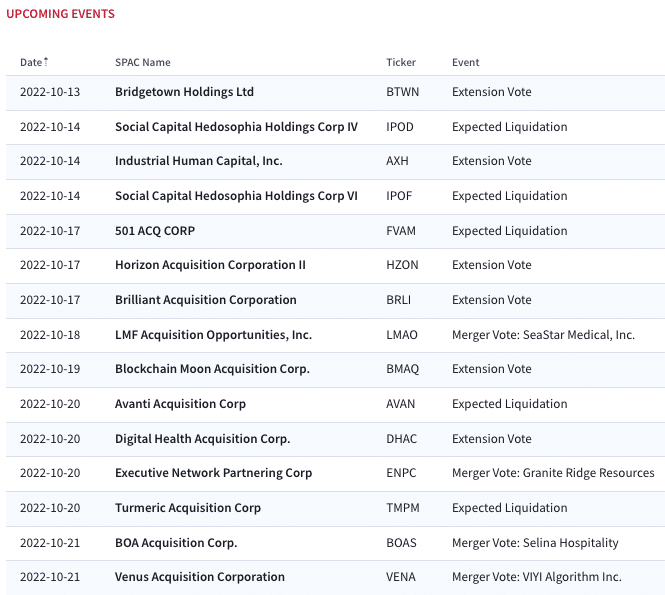 Today's Movers
Biggest Gainers
14.66% ~ $ 18.30 | DWAC – Digital World Acquisition Corp. (Announced)
1.01% ~ $ 9.98 | FVIV – Fortress Value Acquisition Corp. IV (Pre-Deal)
.71% ~ $ 9.98 | FVT – Fortress Value Acquisition Corp. III (Pre-Deal)
.58% ~ $ 10.47 | ATA – AMERICAS TECHNOLOGY ACQUISITION CORP. (Announced)
.53% ~ $ 10.07 | MOBV – Mobiv Acquisition Corp (Pre-Deal)
.51% ~ $ 9.90 | KVSC – Khosla Ventures Acquisition Co. III (Pre-Deal)
.51% ~ $ 9.93 | RFAC – RF Acquisition Corp. (Pre-Deal)
.51% ~ $ 9.94 | KAHC – KKR Acquisition Holdings I Corp (Pre-Deal)
.50% ~ $ 10.07 | FTII – Future Tech II Acquisition Corp. (Pre-Deal)
.41% ~ $ 9.87 | KSI – Kadem Sustainable Impact Corporation (Pre-Deal)
.41% ~ $ 9.90 | KVSA – Khosla Ventures Acquisition Co (Pre-Deal)
.40% ~ $ 9.94 | ABGI – ABG Acquisition Corp. I (Pre-Deal)
.40% ~ $ 9.96 | DISA – Disruptive Acquisition Corp I (Pre-Deal)
.40% ~ $ 9.97 | FRON – Frontier Acquisition Corp. (Pre-Deal)
.40% ~ $ 9.98 | VAQC – Vector Acquisition Corporation II (Pre-Deal)
.40% ~ $ 10.06 | OLIT – OmniLit Acquisition Corp. (Pre-Deal)
.39% ~ $ 10.20 | VMCA – Valuence Merger Corp. I (Pre-Deal)
.39% ~ $ 10.39 | VCKA – Vickers Vantage Corp. I (Announced)
.38% ~ $ 10.46 | MBTC – Nocturne Acquisition Corporation (Pre-Deal)
.35% ~ $ 10.02 | JGGC – Jaguar Global Growth Corp I (Pre-Deal)
Biggest Losers
-12.62% ~ $ 9.00 | LMAO – LMF Acquisition Opportunities, Inc. (Announced)
-2.63% ~ $ 10.01 | GWII – Good Works II Acquisition Corp. (Announced)
-.80% ~ $ 9.91 | KYCH – Keyarch Acquisition Corp (Pre-Deal)
-.70% ~ $ 9.92 | BTWN – Bridgetown Holdings Ltd (Pre-Deal)
-.61% ~ $ 9.82 | GAQ – Generation Asia I Acquisition Ltd (Pre-Deal)
-.60% ~ $ 10.00 | STET – ST Energy Transition I Ltd. (Pre-Deal)
-.59% ~ $ 10.06 | TGR – Kimbell Tiger Acquisition Corp (Pre-Deal)
-.53% ~ $ 10.05 | TLGY – TLGY Acquisition Corp (Pre-Deal)
-.51% ~ $ 9.78 | OSI – Osiris Acquisition Corp. (Pre-Deal)
-.50% ~ $ 9.97 | VMGA – VMG Consumer Acquisition Corp. (Pre-Deal)
-.50% ~ $ 9.99 | CNDB – Concord Acquisition Corp III (Pre-Deal)
-.50% ~ $ 10.05 | SCUA – Sculptor Acquisition Corp I (Pre-Deal)
-.40% ~ $ 9.96 | SVFB – SVF Investment Corp. 2 (Pre-Deal)
-.40% ~ $ 10.03 | RENE – Cartesian Growth Corp II (Pre-Deal)
-.40% ~ $ 10.04 | LIBY – Liberty Resources Acquisition Corp. (Announced)
-.40% ~ $ 10.05 | HAIA – Healthcare AI Acquisition Corp. (Pre-Deal)
-.40% ~ $ 10.08 | SHAP – Spree Acquisition Corp. 1 Ltd (Pre-Deal)
-.39% ~ $ 10.21 | AMAO – American Acquisition Opportunity Inc (Announced)
-.31% ~ $ 9.75 | DUNE – Dune Acquisition Corporation (Announced)
-.30% ~ $ 9.86 | MEKA – MELI Kaszek Pioneer Corp (Pre-Deal)