Stop if you've heard this before, but the state of the SPAC market remains largely unchanged over the course of the last few months. While August didn't bring about any major breakthroughs, it was a slightly more active month than we saw in July. Then again, as is typical in other corners of Wall Street, we could be gearing up for a much more active September.
Where do things stand? Still a massive glut of SPACs searching for deals and waiting to close, setting up for a flurry of extension votes and ultimate liquidations. By the numbers:
567 SPACs looking for deals, 112 announced deals that are waiting to close
Over 300 SPACs are set to mature over the next 6 months
Average pre-deal common is trading at $9.93 and average pre-deal warrant is just $0.12
SPAC Merger Activity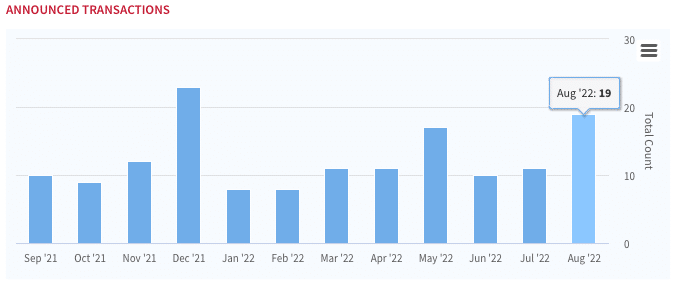 August started off with a flurry of announced deals and wound up being the most active month for new DAs since December of 2021, right before things started to get real ugly for SPACs. Overall 19 new DAs is a positive sign for the market – traditional IPOs are shut right now and many companies want access to the public markets. Deal valuations are on the smaller size than during the SPAC heyday (just two > $1B this month) and we're seeing a larger amount of deals in the energy space.
August SPAC Deal Announcements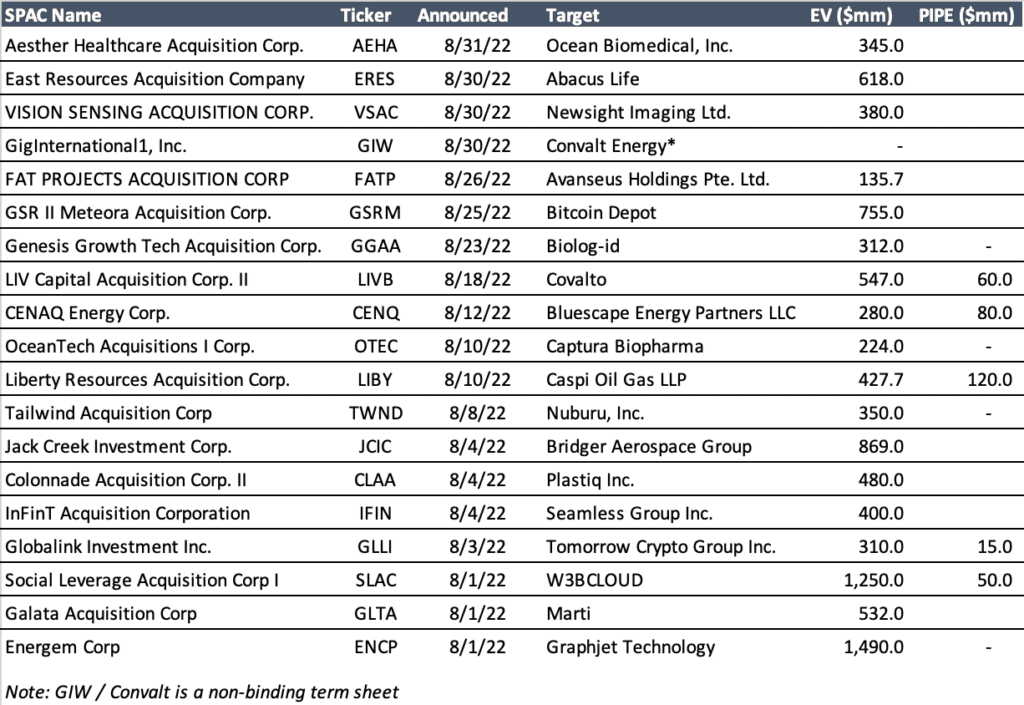 Accompanying the DAs were also another slew of terminations, 10 of them in fact. A couple of them were contentious: Blackstone refused to pay $200k to extend Ackrell SPAC Partners (ACKIT) life and ACKIT was ultimately forced to terminate the deal and liquidate, and Brivo / Crown PropTech Acquisitions (CPTK) have a potential court battle in the making.
Terminated SPAC Deals in August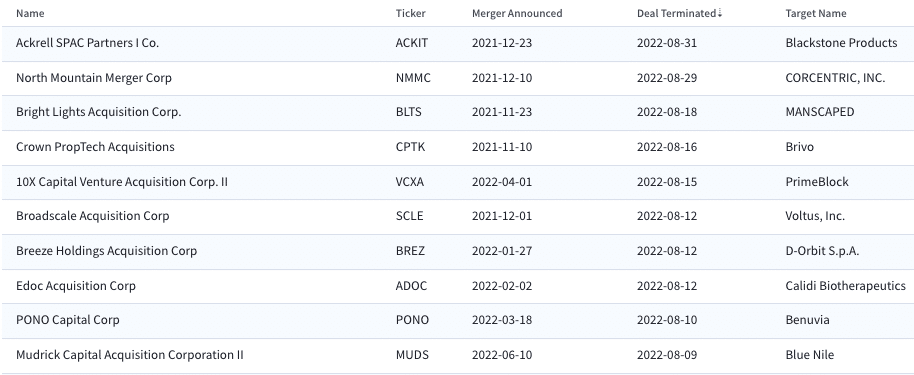 Kicking the Can Down the Road
Although 19 new DAs is welcome and higher than recent months, it's still quite obvious that it is way below the needed pace. The latest phenomena to take over SPACs is a proliferation of extension votes, SPACs looking to buy (well in some cases for free) more time to complete a business combination. There are already 16 SPACs lined up to have an extension vote in September and 3 have already finalized plans for an October vote date.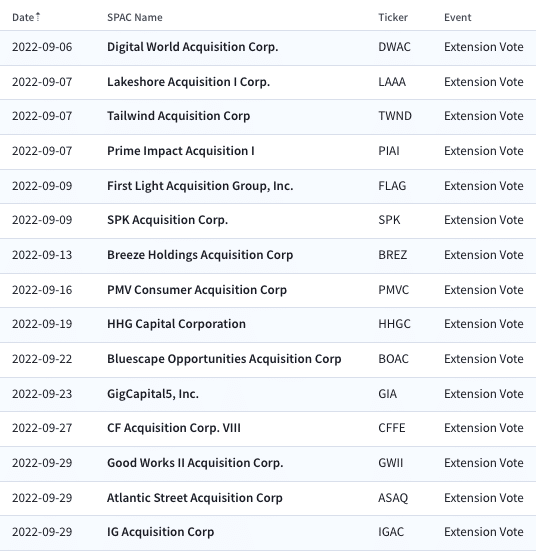 That being said, not all SPACs want to stay in the game, and many are throwing in the towel. 7 SPACs officially liquidated this month and another 3 have confirmed that they will liquidate in September. This pace is hugely accelerated vs. last year, and only looks to pick up – particularly with the huge maturity wall that is approaching.
SPAC IPOs – Signs of Life
While July brought the complete goose egg (not a single IPO) there was a flutter of life in August, with 4 new issues hitting the tape. IPO issuance YoY remains significantly down relative to 2021 which, of course, was by far and away the largest in the history of SPACs.


The 4 new issues totaled just $358M and 3/4 were underwritten by EF Hutton, as most of the major banks have taken a step back from SPACs amidst the market turmoil and uncertainty from the SEC.
So, where's the value?
Disclaimer (and not investing advice), that SPAC warrants can be an extremely risky play. Should a SPAC liquidate, there are no redemption benefits for warrants and they will expire worthless. On the other hand, warrants are down about 80% overall this year and present a massive upside at current levels. Buying SPAC units (which typically have warrants attached) or warrants overall can provide meaningful upside:
Units: will get the benefit of rising rates and and interest associated with the trust account, plus the upside potential of warrants and redemption backstop on your commons
Warrants outright: big risk/reward proposition
If you believe that "fair value" of a warrant for a company that successfully DeSPACs is ~$1 then the current warrant levels should have you very excited. Cheap warrants represent the ultimate risk, could be a 5-10x trade or expire worthless. The average pre-deal warrant is trading at a measly $0.12 vs. ~$0.75 just a year ago. If you can snag the warrants for SPACs that will ultimately close you stand to make a nice return however, many will end up worthless.