Conservative video site Rumble (RUM) has completed its SPAC merger with CF Acquisition Corp. VI (CFVI) and will trade as a standalone company on Monday. Often linked to the Trump SPAC DWAC (Truth Social is their target), Rumble managed the lowest level of SPAC redemptions we've seen in some time, clocking in at just 0.1% of the trust. It's a win for Rumble, and let's see if it has any effect on what happens with DWAC.
CFVI stock closed up 3.6% today ahead of Monday's ticker change, vastly outpacing the broader market.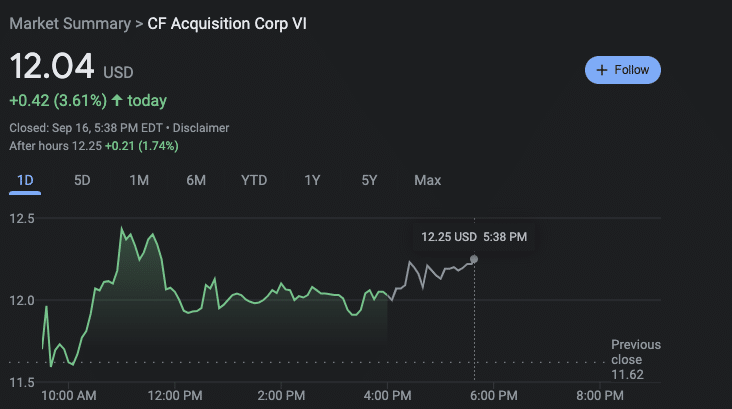 DWAC fell another 2% today, and shares are hovering around $23.
Elsewhere in SPACs
Inflection Point Acquisition Corp. (IPAX) struck a deal with space exploration company Intuitive Machines at an $815M valuation
PMV Consumer Acquisition (PMVC) postponed its planned extension vote date today till 9/21
Recharge Acquisition (RCHG) announced it will liquidate on Oct. 5th at $10.12 share after failing to find a merger target
SPAC Calendar
Looking ahead to next week.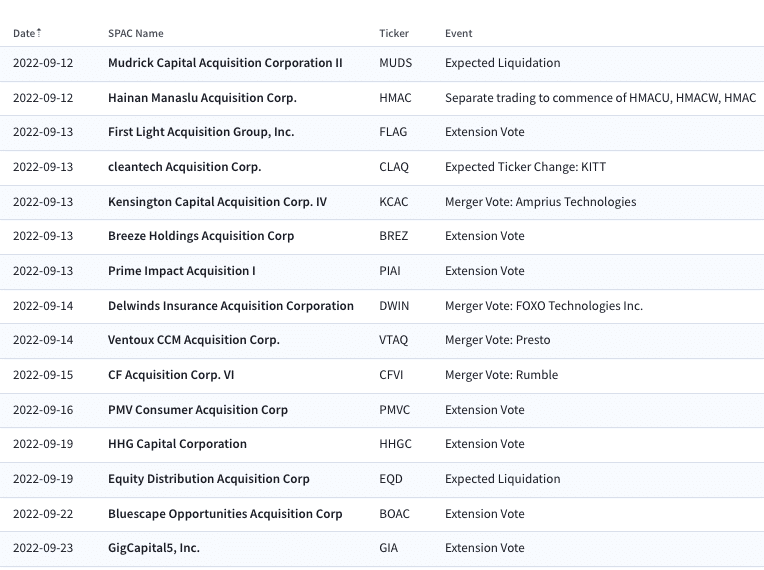 Today's Movers
Biggest Gainers
4.42% ~ $ 10.15 | IMPX – AEA-Bridges Impact Corp (Announced)
2.51% ~ $ 10.62 | BREZ – Breeze Holdings Acquisition Corp (Pre-Deal)
2.09% ~ $ 8.78 | CRHC – Cohn Robbins Holdings Corp. (Announced)
1.08% ~ $ 9.85 | IPAX – Inflection Point Acquisition Corp. (Announced)
.51% ~ $ 9.93 | ROCL – Roth CH Acquisition V Co. (Pre-Deal)
.51% ~ $ 9.95 | FACT – Freedom Acquisition I Corp (Pre-Deal)
.50% ~ $ 10.01 | BNIX – Bannix Acquisition Corp. (Pre-Deal)
.40% ~ $ 9.92 | GSQD – G Squared Ascend I Inc. (Announced)
.35% ~ $ 10.09 | MURF – Murphy Canyon Acquisition Corp. (Pre-Deal)
.31% ~ $ 9.79 | AFTR – AfterNext HealthTech Acquisition Corp. (Pre-Deal)
.30% ~ $ 9.91 | RFAC – RF Acquisition Corp. (Pre-Deal)
.30% ~ $ 9.94 | DUET – DUET Acquisition Corp. (Announced)
.30% ~ $ 9.95 | LGTO – LEGATO MERGER CORP. II (Announced)
.30% ~ $ 10.05 | BIOS – BioPlus Acquisition Corp. (Pre-Deal)
.30% ~ $ 10.08 | WNNR – Andretti Acquisition Corp. (Pre-Deal)
.30% ~ $ 10.09 | LAAA – Lakeshore Acquisition I Corp. (Announced)
.30% ~ $ 10.16 | SPCM – Sound Point Acquisition Corp I, Ltd (Pre-Deal)
.30% ~ $ 10.18 | SPK – SPK Acquisition Corp. (Announced)
.30% ~ $ 10.19 | HHGC – HHG Capital Corporation (Pre-Deal)
.30% ~ $ 10.19 | PLAO – Patria Acquisition Corp. (Pre-Deal)
Biggest Losers
-22.71% ~ $ 4.56 | VTAQ – Ventoux CCM Acquisition Corp. (Announced)
-3.42% ~ $ 8.75 | SLCR – Silver Crest Acquisition Corporation (Announced)
-2.38% ~ $ 23.43 | DWAC – Digital World Acquisition Corp. (Announced)
-1.10% ~ $ 9.93 | FLAG – First Light Acquisition Group, Inc. (Pre-Deal)
-.86% ~ $ 10.33 | RAM – Aries I Acquisition Corp (Announced)
-.81% ~ $ 9.78 | ARYE – ARYA Sciences Acquisition Corp V (Pre-Deal)
-.50% ~ $ 9.89 | RWOD – Redwoods Acquisition Corp. (Pre-Deal)
-.50% ~ $ 9.92 | PNAC – Prime Number Acquisition I Corp. (Pre-Deal)
-.50% ~ $ 9.95 | ARTE – Artemis Strategic Investment Corporation (Announced)
-.50% ~ $ 10.03 | FGMC – FG Merger Corp. (Pre-Deal)
-.49% ~ $ 10.06 | DSAQ – Direct Selling Acquisition Corp. (Pre-Deal)
-.48% ~ $ 10.00 | AHRN – Ahren Acquisition Corp. (Pre-Deal)
-.41% ~ $ 9.76 | OSI – Osiris Acquisition Corp. (Pre-Deal)
-.40% ~ $ 9.89 | IVCP – Swiftmerge Acquisition Corp. (Pre-Deal)
-.31% ~ $ 9.71 | THCP – Thunder Bridge Capital Partners IV, Inc. (Announced)
-.31% ~ $ 9.77 | XPAX – XPAC Acquisition Corp (Announced)
-.31% ~ $ 9.80 | TETC – Tech and Energy Transition Corporation (Pre-Deal)
-.30% ~ $ 9.90 | LDHA – LDH Growth Corp I (Pre-Deal)
-.30% ~ $ 9.91 | LCW – Learn CW Investment Corp (Pre-Deal)
-.30% ~ $ 9.97 | BYNO – byNordic Acquisition Corporation (Pre-Deal)