Everyone's favorite SPAC, Digital World Acquisition Corp. (DWAC) (sorry Chamath), is back in the news over the last several days owing to potential financial trouble at its target, Trump Media & Technology Group (TMTG) and its flagship app TRUTH Social. Trump has been denying that there is financial trouble and DWAC and TMTG are both facing court battles related to the merger.
Although it once traded as high as $175, DWAC shares have slowly been creeping back to its NAV, and shares fell again today, nearly 8% to $25.3, a far fall. While it's still, by far, the SPAC trading at the greatest premium to NAV, shareholders seem less certain of the deal closing than they have over the past year.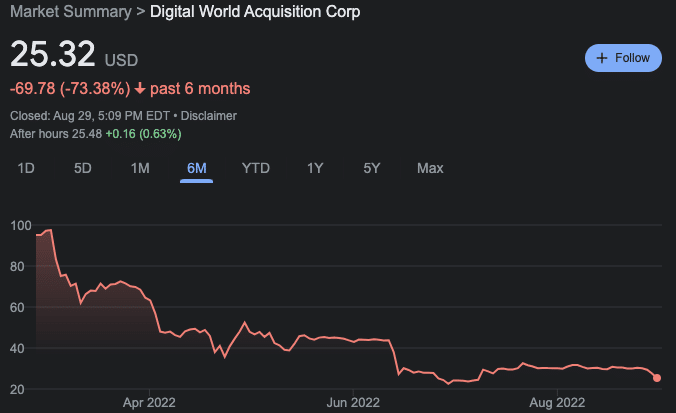 A milestone comes next week, September 6, as DWAC shareholders are set to vote on a 1-year extension of its deadline to complete a business combination. This would replace the existing 2 3-month extensions that DWAC currently has the option of implementing.
Elsewhere in SPACs
Alpine Acquisition Corporation (REVE) confirmed its using its first of two extensions to extend until December. It will add $0.10 to trust to bring NAV to ~$10.31
Ahead of its vote next week on Allwyn, Cohn Robbins Holding Corp. (CRHC) is working hard to get the deal over the finish line, this time announcing a $260M share backstop and further forfeiting of sponsor shares
ProSomnus secured $30M in convertible financing to help support its merger with Lakeshore Acquisition I Corp. (LAAA)
Tailwind Acquisition Corp. (TWND) target company NUBURU announced the closing of a $5M convertible TWND shareholders are set to vote next week on a 4-month and 2 subsequent 1 month extensions
North Mountain Merger Corp. (NMMC) and Corcentric mutually decided to terminate its merger agreement. NMMC's deadline is approaching in September
Upcoming SPAC Events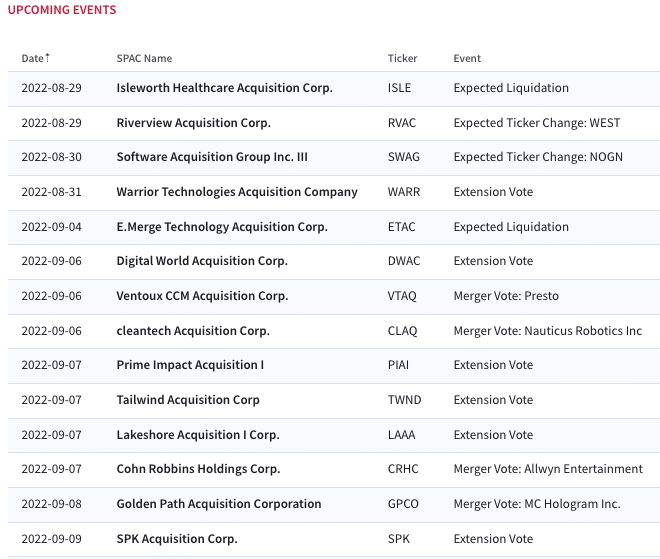 Today's SPAC Movers
Biggest SPAC Gainers
16.96% ~ $ 11.79 | CFVI – CF Acquisition Corp. VI (Announced)
1.60% ~ $ 10.15 | SLCR – Silver Crest Acquisition Corporation (Announced)
.82% ~ $ 9.88 | DUNE – Dune Acquisition Corporation (Announced)
.76% ~ $ 9.93 | KYCH – Keyarch Acquisition Corp (Pre-Deal)
.68% ~ $ 10.36 | NLIT – Northern Lights Acquisition Corp. (Announced)
.62% ~ $ 9.79 | SEDA – SDCL EDGE Acquisition Corp (Pre-Deal)
.60% ~ $ 10.07 | MPRA – Mercato Partners Acquisition Corp (Pre-Deal)
.51% ~ $ 9.90 | FTPA – FTAC Parnassus Acquisition Corp. (Pre-Deal)
.50% ~ $ 10.00 | VMGA – VMG Consumer Acquisition Corp. (Pre-Deal)
.50% ~ $ 10.00 | ITAQ – Industrial Tech Acquisitions II, Inc. (Pre-Deal)
.40% ~ $ 10.01 | NPAB – New Providence Acquisition Corp. II (Pre-Deal)
.40% ~ $ 10.03 | SHAP – Spree Acquisition Corp. 1 Ltd (Pre-Deal)
.40% ~ $ 10.04 | AIB – AIB Acquisition Corp (Pre-Deal)
.31% ~ $ 9.79 | WAVC – Waverley Capital Acquisition Corp. 1 (Pre-Deal)
.31% ~ $ 9.80 | ARYE – ARYA Sciences Acquisition Corp V (Pre-Deal)
.31% ~ $ 9.80 | ASZ – Austerlitz Acquisition Corporation II (Pre-Deal)
.30% ~ $ 9.89 | VTIQ – VectoIQ Acquisition Corp. II (Pre-Deal)
.30% ~ $ 9.91 | COVA – Crescent Cove Acquisition Corp. (Announced)
.30% ~ $ 9.93 | OMEG – Omega Alpha SPAC (Pre-Deal)
.30% ~ $ 9.98 | SAGA – Sagaliam Acquisition Corp (Pre-Deal)
Biggest SPAC Losers
-7.99% ~ $ 25.32 | DWAC – Digital World Acquisition Corp. (Announced)
-2.68% ~ $ 10.17 | FOXW – FoxWayne Enterprises Acquisition Corp. (Pre-Deal)
-1.31% ~ $ 9.82 | TCOA – Trajectory Alpha Acquisition Corp. (Pre-Deal)
-1.23% ~ $ 10.45 | RAM – Aries I Acquisition Corp (Announced)
-.80% ~ $ 9.97 | BWAQ – Blue World Acquisition Corp (Pre-Deal)
-.79% ~ $ 10.04 | VSAC – VISION SENSING ACQUISITION CORP. (Pre-Deal)
-.65% ~ $ 9.96 | MEAC – Mercury Ecommerce Acquisition Corp (Pre-Deal)
-.60% ~ $ 9.87 | GIIX – GORES HOLDINGS VIII, INC. (Announced)
-.60% ~ $ 9.92 | MEKA – MELI Kaszek Pioneer Corp (Pre-Deal)
-.60% ~ $ 9.99 | LVAC – LAVA Medtech Acquisition Corp. (Pre-Deal)
-.59% ~ $ 10.06 | DECA – Denali Capital Acquisition Corp. (Pre-Deal)
-.51% ~ $ 9.69 | JAQC – Jupiter Acquisition Corporation (Pre-Deal)
-.50% ~ $ 9.90 | NFNT – Infinite Acquisition Corp. (Pre-Deal)
-.48% ~ $ 10.06 | CENQ – CENAQ Energy Corp. (Announced)
-.45% ~ $ 9.95 | DRAY – Macondray Capital Acquisition Corp. I (Pre-Deal)
-.41% ~ $ 9.71 | CPAA – Conyers Park III Acquisition Corp. (Pre-Deal)
-.41% ~ $ 9.75 | BSAQ – Black Spade Acquisition Co (Pre-Deal)
-.41% ~ $ 9.78 | NBST – Newbury Street Acquisition Corporation (Pre-Deal)
-.40% ~ $ 9.96 | LGTO – LEGATO MERGER CORP. II (Announced)
-.40% ~ $ 10.00 | RENE – Cartesian Growth Corp II (Pre-Deal)