DWAC Set For Extension Vote Next Week
The so-called "Trump SPAC" Digital World Acquisition Corp. (DWAC) is holding an extension vote on September 6th. TRUTH Social CEO Devin Nunes has been urging shareholders to vote, and the company is pushing out press releases to the same effect.
There is a lot of chatter that the SPAC will liquidate if this vote doesn't pass. Hold on, as DWAC's sponsors already have an option to extend the SPAC's life by 6 months, by purchasing more units.
Here is what you need to know:
Digital World Acquisition Corp. (DWAC) is holding a special meeting of shareholders on September 6th
Shareholders are voting to permit DWAC to extend it's current September 8, 2022 deadline to complete a business combination for 12 months (4 3-month extensions)
If enacted, DWAC would have until September 8, 2023 to complete its business combination
However, if the vote doesn't pass or DWAC cancels the meeting, the sponsor still has 2 3-month extension options that give DWAC until March 8, 2023 to complete a business combination
Yes, but, DWAC's sponsor would have to deposit $2,875,000 (or $0.10 share) into the company's trust account to fund each extension or a total of $5,750,000 for 6 months of time
They would be purchasing units at $10, but it is at-risk capital and not recoverable in the event of a further deal termination or liquidation
Obviously DWAC doesn't want to pay $5,750,000 for the extra time, and as such is holding the current meeting to avoid that and getting to extend 12 months for no cost

While it's clear that DWAC may be struggling to get enough votes to pass (likely due to the high concentration of retail holding the name), don't be surprised if the sponsor bites the bullet and pays up for the extension rather than letting the SPAC liquidate. With DWAC shares ~$23, a $10 liquidation would likely cause pain for the majority of stockholders.
Elsewhere in SPACs
Kensington Capital Acquisition IV (KCAC) set a Sept. 13 vote date on its merger with Amprius
GigCapital5 (GIA) filed a preliminary prospectus for a 6mo extension vote, Sept. 23
SPAC Calendar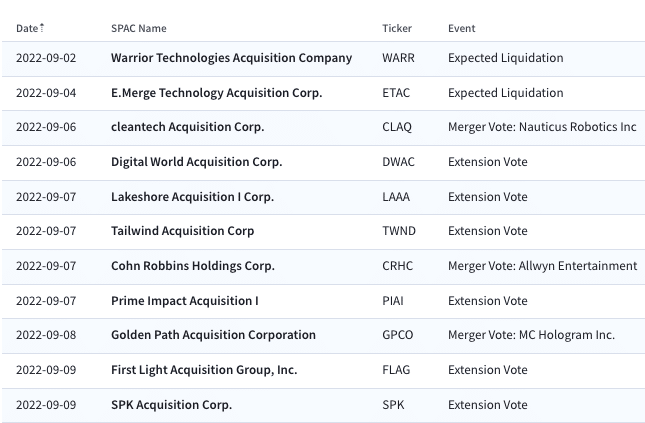 Today's Movers
Biggest Gainers
5.46% ~ $ 10.62 | VMCA – Valuence Merger Corp. I (Pre-Deal)
4.73% ~ $ 10.19 | VTAQ – Ventoux CCM Acquisition Corp. (Announced)
2.39% ~ $ 7.93 | SLCR – Silver Crest Acquisition Corporation (Announced)
1.62% ~ $ 10.02 | EBAC – European Biotech Acquisition Corp. (Pre-Deal)
1.39% ~ $ 10.23 | ONYX – Onyx Acquisition Co. I (Pre-Deal)
.81% ~ $ 10.01 | HPX – HPX Corp (Announced)
.80% ~ $ 10.04 | HORI – Emerging Markets Horizon Corp. (Pre-Deal)
.80% ~ $ 10.09 | PRLH – Pearl Holdings Acquisition Corp (Pre-Deal)
.80% ~ $ 10.10 | ADRT – Ault Disruptive Technologies Corp (Pre-Deal)
.80% ~ $ 10.11 | DECA – Denali Capital Acquisition Corp. (Pre-Deal)
.79% ~ $ 10.18 | ESAC – ESGEN Acquisition Corp (Pre-Deal)
.71% ~ $ 9.95 | PLMI – Plum Acquisition Corp. I (Pre-Deal)
.62% ~ $ 9.79 | SEDA – SDCL EDGE Acquisition Corp (Pre-Deal)
.61% ~ $ 9.88 | IACC – ION Acquisition Corp 3 Ltd. (Pre-Deal)
.60% ~ $ 10.00 | JGGC – Jaguar Global Growth Corp I (Pre-Deal)
.51% ~ $ 9.76 | CDAQ – Compass Digital Acquisition Corp. (Pre-Deal)
.51% ~ $ 9.85 | BLEU – bleuacacia ltd (Pre-Deal)
.50% ~ $ 10.00 | SUAC – ShoulderUP Technology Acquisition Corp. (Pre-Deal)
.50% ~ $ 10.03 | TGAA – Target Global Acquisition I Corp. (Pre-Deal)
.44% ~ $ 10.25 | GBRG – Goldenbridge Acquisition Limited (Announced)
Biggest Losers
-3.20% ~ $ 9.68 | CRHC – Cohn Robbins Holdings Corp. (Announced)
-3.12% ~ $ 23.62 | DWAC – Digital World Acquisition Corp. (Announced)
-2.92% ~ $ 10.19 | CLAQ – cleantech Acquisition Corp. (Announced)
-1.15% ~ $ 9.87 | BLSA – BCLS Acquisition Corp. (Pre-Deal)
-1.04% ~ $ 10.03 | WNNR – Andretti Acquisition Corp. (Pre-Deal)
-.97% ~ $ 11.22 | CFVI – CF Acquisition Corp. VI (Announced)
-.59% ~ $ 10.05 | HHGC – HHG Capital Corporation (Pre-Deal)
-.51% ~ $ 9.72 | GFOR – Graf Acquisition Corp. IV (Pre-Deal)
-.51% ~ $ 9.78 | BACA – Berenson Acquisition Corp. I (Pre-Deal)
-.50% ~ $ 9.91 | CIIG – CIIG Capital Partners II, Inc. (Pre-Deal)
-.49% ~ $ 10.17 | REVE – Alpine Acquisition Corp. (Announced)
-.45% ~ $ 9.90 | SHQA – Shelter Acquisition Corporation I (Pre-Deal)
-.41% ~ $ 9.70 | DALS – DA32 Life Science Tech Acquisition Corp. (Pre-Deal)
-.41% ~ $ 9.71 | CPAA – Conyers Park III Acquisition Corp. (Pre-Deal)
-.41% ~ $ 9.72 | ZT – Zimmer Energy Transition Acquisition Corp. (Pre-Deal)
-.41% ~ $ 9.79 | FLME – Flame Acquisition Corp. (Pre-Deal)
-.41% ~ $ 9.83 | EMLD – FTAC Emerald Acquisition Corp. (Pre-Deal)
-.40% ~ $ 9.99 | LVAC – LAVA Medtech Acquisition Corp. (Pre-Deal)
-.40% ~ $ 10.03 | CHEA – Chenghe Acquisition Co. (Pre-Deal)
-.40% ~ $ 10.05 | WRAC – Williams Rowland Acquisition Corp. (Pre-Deal)