"Trump SPAC" Digital World Acquisition Corp. (DWAC) shares were sinking all day as it looked increasingly clear that it hadn't successfully garnered enough votes for its proposed free 12-month extension to complete its business combination. DWAC promptly adjourned the meeting and will now have two more days to rally the retail troops to submit votes on the extension.
Its shares (and warrants) ebbed a bit of its losses as the sponsor made it clear that they do indeed intend to pay $2,875,000 to get another 3 months if the vote does not pass.
Ultimately DWAC will try again to get enough votes by 9/8 (its deadline date) or else look for the sponsor to buy another 3 months. DWAC's warrants have cratered since its looking more risky that the DWAC merger eventually closes.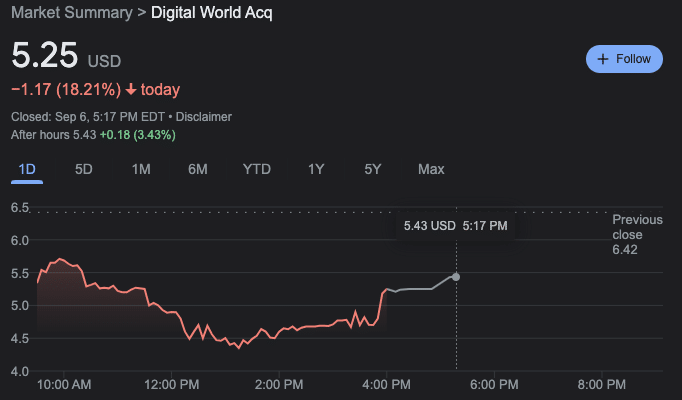 Elsewhere in SPACs
Fresh off an extension, Minority Equality Opportunities Acquisition Corp. (MEOA) announced a new DA with a hispanic-owned software company Digerati Technologies at a $145M EV
Perceptive Advisors, the team behind the ARYA Sciences family of SPACs, was fined $1.5M by the SEC for improper disclosures. ARYD and ARYE are two Perceptive SPACs that are still searching for deals.
Blue Safari Group Acquisition (BSGA) used its second and final extension to December, adding $0.10 to trust. They have a pending DA with Bitdeer.
CleanTech Acquisition Corp. (CLAQ) shareholders approved its Nauticus deal and 361k additional shares were redeemed leaving ~$14M in trust. CLAQ shareholders also have rights that will convert to common upon consummation of the business combination
Lux Health Tech Acquisition Corp. (LUXA) disclosed, quite vaguely, that it has signed an LOI on a perspective target for a business combination
Gores Holdings VIII (GIIX) reduced its valuation of Footprint by $600M from $1.6B to $1.0B and announced a new equity facility
SPAC Calendar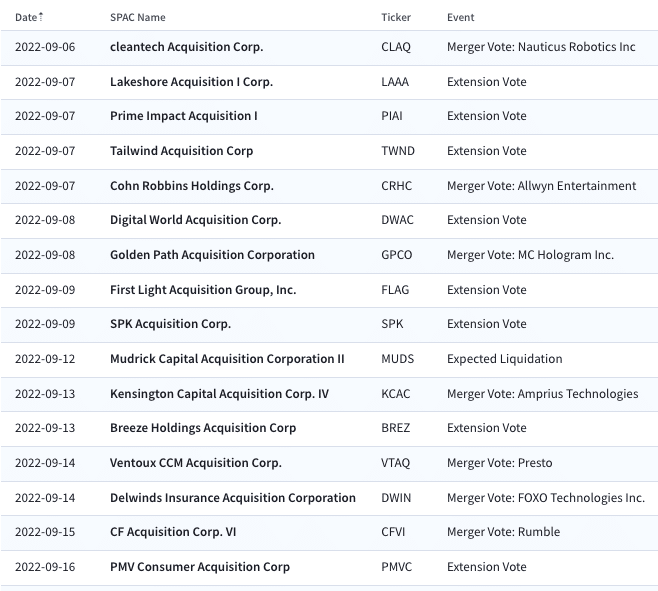 Today's Movers
Biggest Gainers
13.62% ~ $ 13.35 | CFVI – CF Acquisition Corp. VI (Announced)
.80% ~ $ 10.03 | PORT – Southport Acquisition Corporation (Pre-Deal)
.80% ~ $ 10.04 | HORI – Emerging Markets Horizon Corp. (Pre-Deal)
.70% ~ $ 10.05 | WQGA – World Quantum Growth Acquisition Corp (Pre-Deal)
.50% ~ $ 10.00 | JYAC – Jiya Acquisition Corp. (Pre-Deal)
.50% ~ $ 10.05 | SVNA – 7 Acquisition Corp (Pre-Deal)
.50% ~ $ 10.07 | HNRA – HNR Acquisition Corp (Pre-Deal)
.41% ~ $ 9.74 | DALS – DA32 Life Science Tech Acquisition Corp. (Pre-Deal)
.41% ~ $ 9.74 | IPAX – Inflection Point Acquisition Corp. (Pre-Deal)
.41% ~ $ 9.87 | EMLD – FTAC Emerald Acquisition Corp. (Pre-Deal)
.40% ~ $ 9.95 | CIIG – CIIG Capital Partners II, Inc. (Pre-Deal)
.40% ~ $ 9.99 | NFNT – Infinite Acquisition Corp. (Pre-Deal)
.40% ~ $ 10.00 | MTVC – Motive Capital Corp II (Pre-Deal)
.40% ~ $ 10.05 | DPCS – DP Cap Acquisition Corp I (Pre-Deal)
.40% ~ $ 10.10 | PPHP – PHP Ventures Acquisition Corp. (Pre-Deal)
.40% ~ $ 10.15 | GOGN – GoGreen Investments Corp (Pre-Deal)
.33% ~ $ 9.93 | INTE – Integral Acquisition Corp 1 (Pre-Deal)
.31% ~ $ 9.76 | NFYS – Enphys Acquisition Corp. (Pre-Deal)
.31% ~ $ 9.77 | CLBR – Colombier Acquisition Corp. (Pre-Deal)
.31% ~ $ 9.83 | FRXB – Forest Road Acquisition Corp. II (Pre-Deal)
Biggest Losers
-11.44% ~ $ 22.13 | DWAC – Digital World Acquisition Corp. (Announced)
-10.93% ~ $ 9.45 | CLAQ – cleantech Acquisition Corp. (Announced)
-6.24% ~ $ 10.22 | NLIT – Northern Lights Acquisition Corp. (Announced)
-4.29% ~ $ 10.04 | ASCA – ASPAC I Acquisition Corp. (Pre-Deal)
-3.16% ~ $ 8.58 | CRHC – Cohn Robbins Holdings Corp. (Announced)
-2.79% ~ $ 10.11 | DWIN – Delwinds Insurance Acquisition Corporation (Announced)
-1.26% ~ $ 10.22 | GPCO – Golden Path Acquisition Corporation (Announced)
-.98% ~ $ 10.10 | ACDI – Ascendant Digital Acquisition Corp. III (Pre-Deal)
-.90% ~ $ 9.92 | HPX – HPX Corp (Announced)
-.79% ~ $ 10.03 | TRON – Corner Growth Acquisition Corp. 2 (Pre-Deal)
-.70% ~ $ 9.93 | VMGA – VMG Consumer Acquisition Corp. (Pre-Deal)
-.63% ~ $ 7.91 | SLCR – Silver Crest Acquisition Corporation (Announced)
-.59% ~ $ 10.04 | ADRT – Ault Disruptive Technologies Corp (Pre-Deal)
-.58% ~ $ 10.29 | MPAC – Model Performance Acquisition Corp (Announced)
-.57% ~ $ 10.50 | RAM – Aries I Acquisition Corp (Announced)
-.51% ~ $ 9.85 | CLIM – Climate Real Impact Solutions II Acquisition Corporation (Pre-Deal)
-.50% ~ $ 9.89 | LCAA – L Catterton Asia Acquisition Corp (Pre-Deal)
-.49% ~ $ 10.14 | FRLA – Fortune Rise Acquisition Corp (Pre-Deal)
-.46% ~ $ 9.84 | OHPA – Orion Acquisition Corp. (Pre-Deal)
-.40% ~ $ 9.93 | DUET – DUET Acquisition Corp. (Announced)