Markets may have been open today, but with the SEC being closed (Indigenous Peoples' Day), filing activity was at a halt in the SPAC market. That didn't stop CFFE from announcing a deal (XELA European business) and Digital World Acquisition (DWAC) continuing its saga of trying to beg shareholders to approve its extension.
DWAC was set to vote today (again) on an extension for its Trump Media and Technology deal, and had to adjourn AGAIN, this time out till November 3. With a record date back in August, it's continuously proving quite difficult for the sponsors to garner enough votes. DWAC common and warrants continue to dive as time goes on, and the warrants closed at just $3.42 after trading near $30 earlier this year.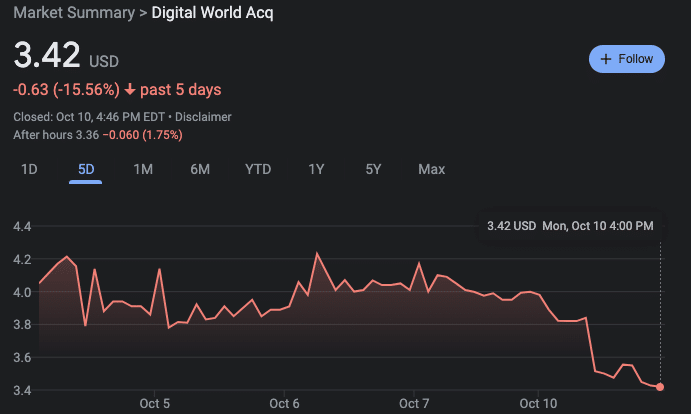 That being said, DWAC remains the highest premium pre-close SPAC out there, yet markets are starting to doubt now more than ever whether or not the deal will ultimately close.
We recap the day's news in SPACs below.
Elsewhere in SPACs
CF Acquisition Corp. VIII (CFFE) struck a deal to take the European business of Exela Technologies (XELA) public in a $220M EV deal
Add Orion Acquisition Corp (OHPA) to the list of SPACs looking to liquidate early in 2022, as it filed a preliminary proxy setting the stage for an early liquidation vote
Tumeric Acquisition Corp (TMPM) will liquidate on 10/20 at ~$10.05 per share after failing to find a deal
Sarissa Capital Acquisition Corp. will liquidate on 10/31, also ~$10.05 per share
Mana Capital Acquisition Co. (MAAQ) will vote on its Cardio Diagnostics deal on 10/25
SPAC Calendar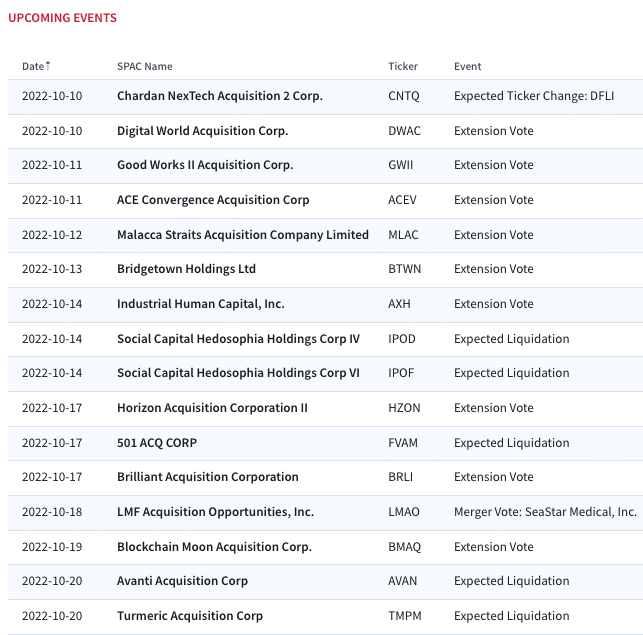 Today's Movers
Biggest Gainers
1.40% ~ $ 10.20 | AIB – AIB Acquisition Corp (Pre-Deal)
.81% ~ $ 9.96 | OHPA – Orion Acquisition Corp. (Pre-Deal)
.80% ~ $ 10.11 | AVAC – Avalon Acquisition Inc. (Announced)
.68% ~ $ 10.29 | AMAO – American Acquisition Opportunity Inc (Announced)
.61% ~ $ 9.91 | LOKM – Live Oak Mobility Acquisition Corp. (Pre-Deal)
.51% ~ $ 10.35 | ACEV – ACE Convergence Acquisition Corp (Announced)
.50% ~ $ 10.10 | GWII – Good Works II Acquisition Corp. (Pre-Deal)
.49% ~ $ 10.32 | MLAC – Malacca Straits Acquisition Company Limited (Announced)
.40% ~ $ 9.94 | DHCA – DHC Acquisition Corp (Announced)
.40% ~ $ 9.95 | ENER – Accretion Acquisition Corp. (Pre-Deal)
.40% ~ $ 10.03 | PPYA – Papaya Growth Opportunity Corp. I (Pre-Deal)
.40% ~ $ 10.06 | MOBV – Mobiv Acquisition Corp (Pre-Deal)
.38% ~ $ 10.64 | GRCY – Greencity Acquisition Corp (Pre-Deal)
.35% ~ $ 9.99 | NDAC – NightDragon Acquisition Corp (Pre-Deal)
.31% ~ $ 9.75 | LOCC – Live Oak Crestview Climate Acquisition Corp. (Pre-Deal)
.31% ~ $ 9.84 | IPVF – InterPrivate III Financial Partners Inc. (Announced)
.31% ~ $ 9.84 | IPAX – Inflection Point Acquisition Corp. (Announced)
.31% ~ $ 9.85 | PFTA – Portage Fintech Acquisition Corp. (Pre-Deal)
.31% ~ $ 9.86 | TSPQ – TCW Special Purpose Acquisition Corp (Pre-Deal)
.30% ~ $ 9.89 | PMGM – Priveterra Acquisition Corp. (Pre-Deal)
Biggest Losers
-7.56% ~ $ 16.01 | DWAC – Digital World Acquisition Corp. (Announced)
-2.36% ~ $ 10.62 | HHGC – HHG Capital Corporation (Pre-Deal)
-1.10% ~ $ 9.87 | CORS – Corsair Partnering Corporation (Pre-Deal)
-.98% ~ $ 10.12 | SHAP – Spree Acquisition Corp. 1 Ltd (Pre-Deal)
-.78% ~ $ 10.15 | EDTX – EdtechX Holdings Acquisition Corp II (Announced)
-.71% ~ $ 9.85 | XPDB – Power Digital Infrastructure Acquisition II Corp. (Pre-Deal)
-.70% ~ $ 9.90 | ROCL – Roth CH Acquisition V Co. (Pre-Deal)
-.59% ~ $ 10.10 | TGR – Kimbell Tiger Acquisition Corp (Pre-Deal)
-.51% ~ $ 9.83 | FZT – FAST Acquisition Corp. II (Announced)
-.45% ~ $ 9.97 | BYNO – byNordic Acquisition Corporation (Pre-Deal)
-.41% ~ $ 9.73 | DALS – DA32 Life Science Tech Acquisition Corp. (Pre-Deal)
-.40% ~ $ 9.88 | CPAR – Catalyst Partners Acquisition Corp. (Pre-Deal)
-.40% ~ $ 9.90 | MEKA – MELI Kaszek Pioneer Corp (Pre-Deal)
-.40% ~ $ 9.90 | SEDA – SDCL EDGE Acquisition Corp (Pre-Deal)
-.40% ~ $ 9.95 | PRPC – CC Neuberger Principal Holdings III (Pre-Deal)
-.40% ~ $ 9.99 | NPAB – New Providence Acquisition Corp. II (Pre-Deal)
-.40% ~ $ 10.04 | PRLH – Pearl Holdings Acquisition Corp (Pre-Deal)
-.40% ~ $ 10.06 | LGVC – LAMF Global Ventures Corp. I (Pre-Deal)
-.30% ~ $ 9.81 | PANA – Panacea Acquisition Corp. II (Pre-Deal)
-.30% ~ $ 9.82 | FWAC – Fifth Wall Acquisition Corp. III (Pre-Deal)