The once self-described SPAC king may be no longer, as Chamath Palihapitiya has decided to close up shop on two of his SPACs rather than extend their lives. Chamath announced today that both Social Capital Hedosophia Holdings Corp. IV (IPOD) and Social Capital Hedosophia Holdings Corp. VI (IPOF) would liquidate and return cash to shareholders without finding a target. IPOD will be returning ~$460M and $1.2B for IPOD.
Common shareholders will all receive ~$10.01 for their shares, or slightly higher than what they were sold for. However, IPOD and IPOF were among the highest speculated SPACs during the retail boom, trading as high as ~$18 purely as a play to back Chamath's ability to bring a good deal to market. Of course, market conditions have deteriorated rapidly over the last year and almost all SPACs and DeSPACs (we can cut the guy a break) have fallen on hard times.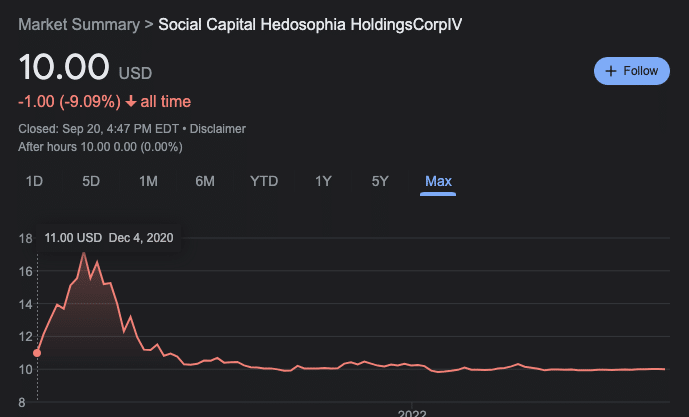 Chamath did file preliminary proxies for extensions, but clearly have decided the correct route, given current conditions, would be to shutter its doors. Chamath is not totally out of the game as two of his biotech focused SPACs, DNAD and DNAB, are still looking for targets. Warrant holders will be left with nothing.
Chamath's DeSPACs in the IPO Line of SPACs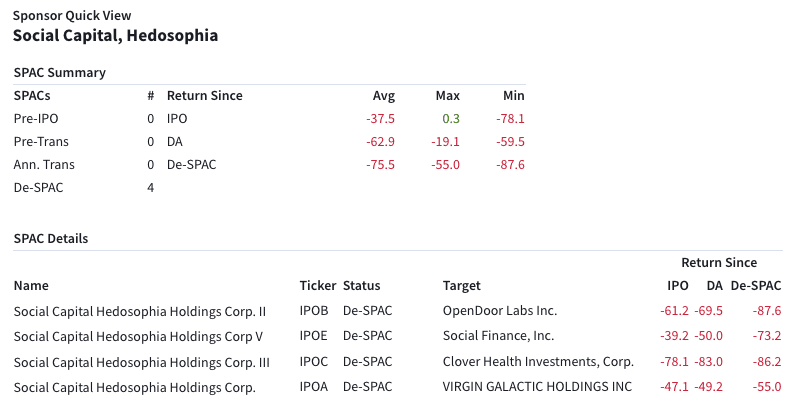 Elsewhere in SPACs
North Mountain Merger Corp. (NMMC) will liquidate 9/30 at $10.00 per share
FoxWayne Enterprises Acquisition Corp. (FOXW) struck a deal with streaming co. Clover Inc. at a $157M valuation in its second bid to close a SPAC transaction
5:01 Acquisition Corp (FVAM) will liquidate at $10.00 per share on 10/17
Digital World Acquisition Corp. (DWAC) shares plummeted -17% today as today was the $1B PIPE deadline
SPAC Calendar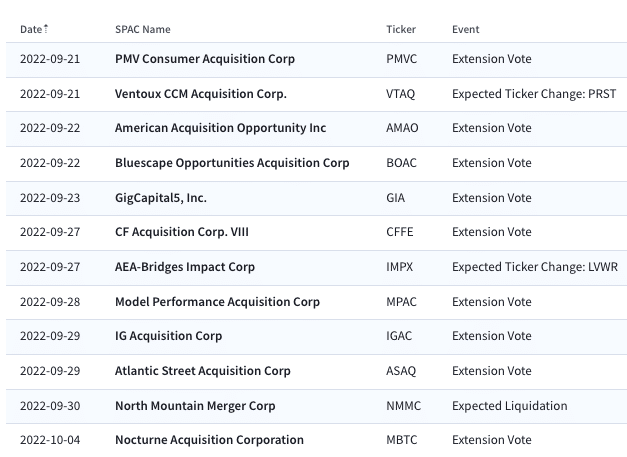 Today's Movers
Biggest Gainers
4.09% ~ $ 9.17 | CRHC – Cohn Robbins Holdings Corp. (Announced)
1.37% ~ $ 10.33 | HHGC – HHG Capital Corporation (Pre-Deal)
.70% ~ $ 10.14 | IMAQ – International Media Acquisition Corp. (Pre-Deal)
.61% ~ $ 9.82 | SLVR – SILVERspac Inc (Pre-Deal)
.55% ~ $ 10.03 | JGGC – Jaguar Global Growth Corp I (Pre-Deal)
.52% ~ $ 9.70 | JAQC – Jupiter Acquisition Corporation (Pre-Deal)
.51% ~ $ 9.90 | RONI – Rice Acquisition Corp. II (Pre-Deal)
.51% ~ $ 9.94 | VBOC – Viscogliosi Brothers Acquisition Corp (Pre-Deal)
.50% ~ $ 10.10 | CENQ – CENAQ Energy Corp. (Announced)
.50% ~ $ 10.15 | GEEX – Games & Esports Experience Acquisition Corp. (Pre-Deal)
.41% ~ $ 9.83 | HWKZ – Hawks Acquisition Corp (Pre-Deal)
.41% ~ $ 9.84 | LOKM – Live Oak Mobility Acquisition Corp. (Pre-Deal)
.40% ~ $ 10.01 | LSPR – Larkspur Health Acquisition Corp. (Announced)
.40% ~ $ 10.03 | NUBI – Nubia Brand International Corp. (Pre-Deal)
.31% ~ $ 9.72 | SCRM – Screaming Eagle Acquisition Corp. (Pre-Deal)
.31% ~ $ 9.73 | PSPC – Post Holdings Partnering Corporation (Pre-Deal)
.31% ~ $ 9.78 | GFOR – Graf Acquisition Corp. IV (Pre-Deal)
.31% ~ $ 9.81 | TRTL – TortoiseEcofin Acquisition Corp. III (Pre-Deal)
.31% ~ $ 9.82 | GLHA – Glass Houses Acquisition Corp. (Pre-Deal)
.30% ~ $ 9.89 | ROCL – Roth CH Acquisition V Co. (Pre-Deal)
Biggest Losers
-16.92% ~ $ 18.61 | DWAC – Digital World Acquisition Corp. (Announced)
-13.33% ~ $ 6.11 | VTAQ – Ventoux CCM Acquisition Corp. (Announced)
-1.82% ~ $ 9.70 | IMPX – AEA-Bridges Impact Corp (Announced)
-.71% ~ $ 9.83 | FWAC – Fifth Wall Acquisition Corp. III (Pre-Deal)
-.69% ~ $ 10.03 | MURF – Murphy Canyon Acquisition Corp. (Pre-Deal)
-.60% ~ $ 10.00 | ITAQ – Industrial Tech Acquisitions II, Inc. (Pre-Deal)
-.49% ~ $ 10.06 | DSAQ – Direct Selling Acquisition Corp. (Pre-Deal)
-.49% ~ $ 10.11 | FOXW – FoxWayne Enterprises Acquisition Corp. (Announced)
-.41% ~ $ 9.81 | IPAX – Inflection Point Acquisition Corp. (Announced)
-.41% ~ $ 9.81 | GFGD – Growth for Good Acquisition Corp (Pre-Deal)
-.41% ~ $ 9.82 | EMLD – FTAC Emerald Acquisition Corp. (Pre-Deal)
-.40% ~ $ 10.00 | LVAC – LAVA Medtech Acquisition Corp. (Pre-Deal)
-.40% ~ $ 10.07 | HCMA – HCM Acquisition Corp (Pre-Deal)
-.39% ~ $ 10.16 | GACQ – Global Consumer Acquisition Corp. (Announced)
-.35% ~ $ 9.86 | GIIX – GORES HOLDINGS VIII, INC. (Announced)
-.31% ~ $ 9.70 | LOCC – Live Oak Crestview Climate Acquisition Corp. (Pre-Deal)
-.30% ~ $ 9.88 | CLIN – Clean Earth Acquisitions Corp. (Pre-Deal)
-.30% ~ $ 9.89 | ISAA – Iron Spark I Inc. (Announced)
-.30% ~ $ 9.90 | RKTA – Rocket Internet Growth Opportunities Corp. (Pre-Deal)
-.30% ~ $ 9.93 | BOAC – Bluescape Opportunities Acquisition Corp (Pre-Deal)