DNAC is the latest in a string of SPACs that appears to be having more trouble than expected in getting across the finish line.
Chamath Palihapitiya's Social Capital Suvretta Holdings Corp. III (DNAC) was set to vote on its merger with ProKidney but instead adjourned to a later date yet to be named. The delay will give the SPAC and company more time to meet its closing conditions.
There was one new definitive agreement today as HPX Corp. (HPX) announced a $581M transaction for Brazilian Environmental and Industrial Solutions Provider Ambipar Response. The deal includes $168M in way of guaranteed proceeds by way of PIPE commitments and share backstops.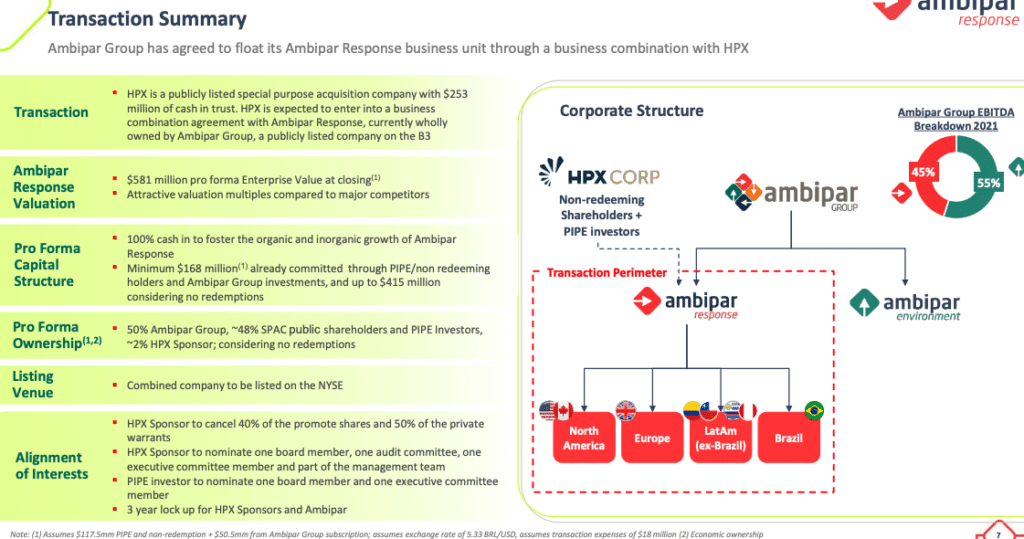 Recent SPAC Market Activity Remains Muted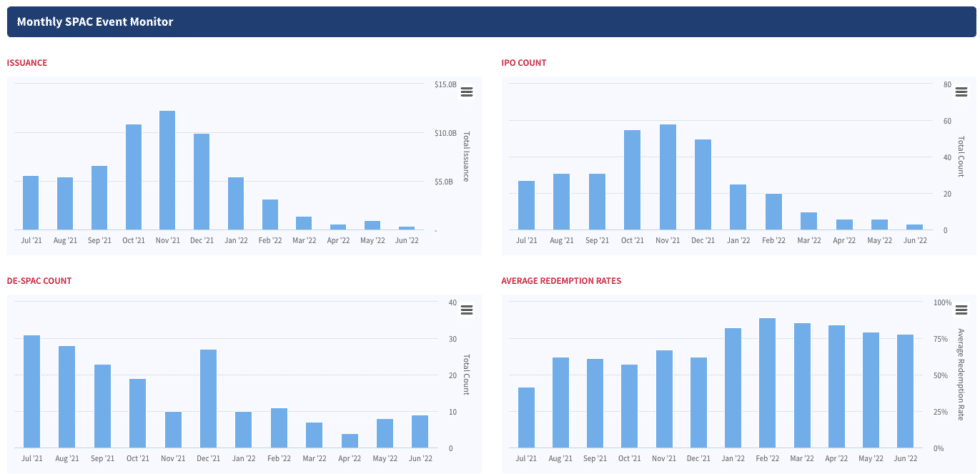 Elsewhere in SPACs
GOBI Acquisition Corp. (GOBI) set its vote for July 22 to accelerate liquidation by changing the business combination deadline to July 22
Ace Global Business Acquisition Limited (ACBA) confirms the addition of $455k ($0.099 per share) to trust to extend its deadline date out till October 8
Founder SPAC (FOUN) set its merger vote date for August 2, it has a pending business combination with Rubicon Technologies
Upcoming SPAC Calendar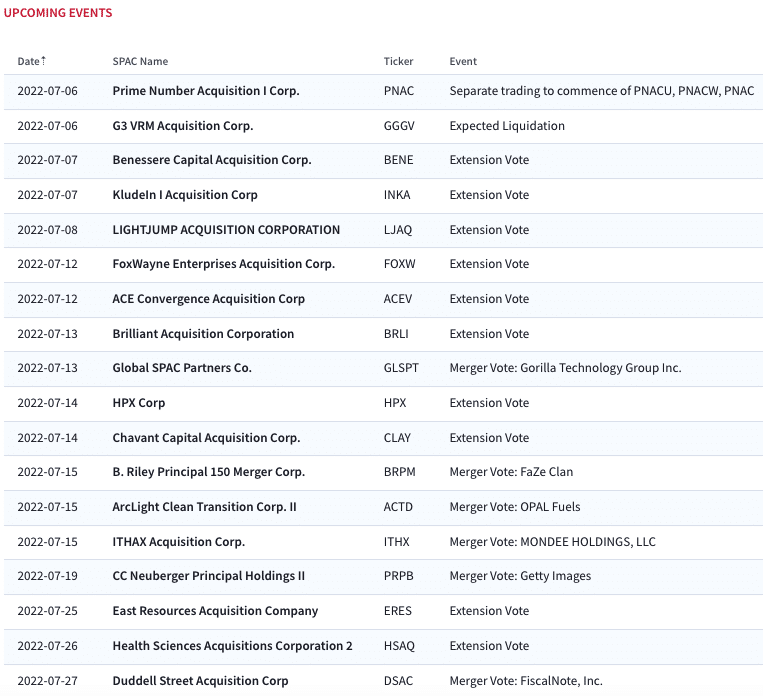 Today's Price Action
Biggest Gainers
5.11% ~ $ 8.84 | DNAC – Social Capital Suvretta Holdings Corp. III (Announced)
1.57% ~ $ 10.05 | MEAC – Mercury Ecommerce Acquisition Corp (Pre-Deal)
.62% ~ $ 9.79 | LITT – Logistics Innovation Technologies Corp. (Pre-Deal)
.61% ~ $ 9.82 | GLHA – Glass Houses Acquisition Corp. (Pre-Deal)
.60% ~ $ 10.01 | IVCA – Investcorp India Acquisition Corp. (Pre-Deal)
.59% ~ $ 9.91 | MTVC – Motive Capital Corp II (Pre-Deal)
.55% ~ $ 10.06 | ACAQ – Athena Consumer Acquisition Corp. (Pre-Deal)
.51% ~ $ 9.83 | IPVI – InterPrivate IV InfraTech Partners Inc. (Pre-Deal)
.50% ~ $ 9.97 | SMAP – Sportsmap Tech Acquisition Corp. (Pre-Deal)
.50% ~ $ 10.04 | AFAC – Arena Fortify Acquisition Corp. (Pre-Deal)
.46% ~ $ 9.84 | RCAC – Revelstone Capital Acquisition Corp. (Pre-Deal)
.45% ~ $ 10.11 | PLAO – Patria Acquisition Corp. (Pre-Deal)
.41% ~ $ 9.75 | ZT – Zimmer Energy Transition Acquisition Corp. (Pre-Deal)
.41% ~ $ 9.82 | ACQR – Independence Holdings Corp (Pre-Deal)
.41% ~ $ 9.85 | IXAQ – IX Acquisition Corp. (Pre-Deal)
.40% ~ $ 9.95 | DRAY – Macondray Capital Acquisition Corp. I (Pre-Deal)
.40% ~ $ 9.96 | BRKH – BurTech Acquisition Corp. (Pre-Deal)
.40% ~ $ 9.99 | RVAC – Riverview Acquisition Corp. (Announced)
.40% ~ $ 10.04 | UPTD – TradeUP Acquisition Corp (Pre-Deal)
.35% ~ $ 9.92 | ASPC – Alpha Capital Acquisition Company (Announced)
Biggest Losers
-3.49% ~ $ 10.24 | NLIT – Northern Lights Acquisition Corp. (Announced)
-1.25% ~ $ 23.72 | DWAC – Digital World Acquisition Corp. (Announced)
-1.19% ~ $ 10.00 | CBRG – Chain Bridge I (Pre-Deal)
-1.00% ~ $ 9.90 | CFFS – CF Acquisition Corp. VII (Pre-Deal)
-.86% ~ $ 9.79 | NHIC – NewHold Investment Corp. II (Pre-Deal)
-.60% ~ $ 9.95 | CFVI – CF Acquisition Corp. VI (Announced)
-.57% ~ $ 10.46 | BRLI – Brilliant Acquisition Corporation (Announced)
-.50% ~ $ 9.99 | HCMA – HCM Acquisition Corp (Pre-Deal)
-.49% ~ $ 10.09 | MEOA – Minority Equality Opportunities Acquisition Inc. (Pre-Deal)
-.41% ~ $ 9.65 | SLVR – SILVERspac Inc (Pre-Deal)
-.41% ~ $ 9.78 | KYCH – Keyarch Acquisition Corp (Pre-Deal)
-.35% ~ $ 9.83 | BIOT – Biotech Acquisition Company (Pre-Deal)
-.31% ~ $ 9.66 | HWEL – Healthwell Acquisition Corp. I (Pre-Deal)
-.31% ~ $ 9.71 | SMIH – Summit Healthcare Acquisition Corp. (Pre-Deal)
-.31% ~ $ 9.73 | XPAX – XPAC Acquisition Corp (Announced)
-.31% ~ $ 9.77 | THCP – Thunder Bridge Capital Partners IV, Inc. (Announced)
-.31% ~ $ 9.80 | OHPA – Orion Acquisition Corp. (Pre-Deal)
-.31% ~ $ 9.80 | ZWRK – Z-Work Acquisition Corp. (Pre-Deal)
-.30% ~ $ 9.82 | GSQD – G Squared Ascend I Inc. (Announced)
-.30% ~ $ 9.83 | RFAC – RF Acquisition Corp. (Pre-Deal)