It's been no secret that De-SPACs have gotten hammered (albeit along with the broader market). However these depressed valuations has led to much speculation that beaten down DeSPACs may eventually become attractive targets for PE or strategics.
Today Cano Health (CANO), who DeSPAC'ed in June 2021 via a Sternlicht SPAC, surged on rumors that both Humana (HUM) and CVS (CVS) were potentially in serious talks to scoop up the healthcare provider. CANO shares rocketed +32% to close at $8.34. Cano Health, which went public at a ~$4.4B EV, is trading at around a $4B market cap. Keep an eye out for more of these situations down the line.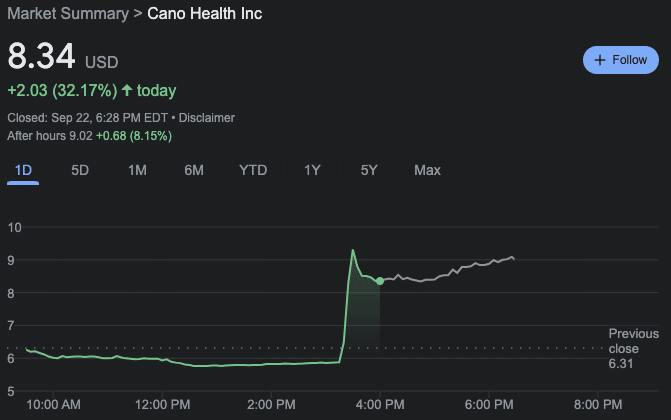 Elsewhere in SPACs
IG Acquisition Corp (IGAC) announced a $400M EV deal with online gambling operator PlayUp Limited
HHGC, AMAO, and BOAC all approved their extension votes and released info on their redemption numbers
Mana Capital Acquisition Corp. (MAAQ) used the 2nd of their 12 1-month extensions to give themselves until October to complete a deal.
SPAC Calendar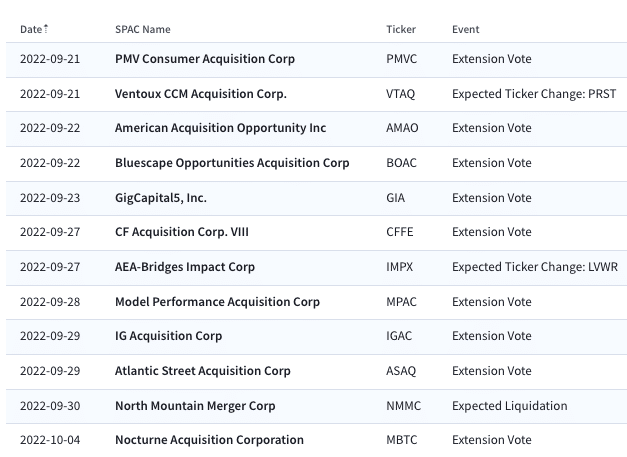 Today's Movers
Biggest Gainers
3.26% ~ $ 9.18 | SLCR – Silver Crest Acquisition Corporation (Announced)
.70% ~ $ 10.05 | NPAB – New Providence Acquisition Corp. II (Pre-Deal)
.69% ~ $ 10.23 | GACQ – Global Consumer Acquisition Corp. (Announced)
.67% ~ $ 10.19 | PLAO – Patria Acquisition Corp. (Pre-Deal)
.51% ~ $ 9.88 | TCOA – Trajectory Alpha Acquisition Corp. (Pre-Deal)
.50% ~ $ 10.01 | FIAC – Focus Impact Acquisition Corp. (Pre-Deal)
.50% ~ $ 10.05 | HNRA – HNR Acquisition Corp (Pre-Deal)
.50% ~ $ 10.09 | MURF – Murphy Canyon Acquisition Corp. (Pre-Deal)
.50% ~ $ 10.12 | CHEA – Chenghe Acquisition Co. (Pre-Deal)
.40% ~ $ 10.02 | LAX – 8i Acquisition 2 Corp. (Announced)
.40% ~ $ 10.06 | MPRA – Mercato Partners Acquisition Corp (Pre-Deal)
.40% ~ $ 10.10 | VSAC – VISION SENSING ACQUISITION CORP. (Announced)
.39% ~ $ 10.22 | REVE – Alpine Acquisition Corp. (Announced)
.39% ~ $ 10.23 | CLOE – Clover Leaf Capital Corp. (Pre-Deal)
.35% ~ $ 9.99 | JUN – Juniper II Corp. (Pre-Deal)
.31% ~ $ 9.77 | CORS – Corsair Partnering Corporation (Pre-Deal)
.31% ~ $ 9.82 | HPLT – Home Plate Acquisition Corp (Pre-Deal)
.30% ~ $ 9.88 | SDAC – Sustainable Development Acquisition I Corp. (Pre-Deal)
.30% ~ $ 9.91 | ENER – Accretion Acquisition Corp. (Pre-Deal)
.30% ~ $ 9.92 | BNNR – Banner Acquisition Corp. (Pre-Deal)
Biggest Losers
-11.05% ~ $ 7.89 | IMPX – AEA-Bridges Impact Corp (Announced)
-5.85% ~ $ 9.65 | NLIT – Northern Lights Acquisition Corp. (Announced)
-5.47% ~ $ 16.92 | DWAC – Digital World Acquisition Corp. (Announced)
-1.11% ~ $ 9.81 | FTPA – FTAC Parnassus Acquisition Corp. (Pre-Deal)
-.79% ~ $ 10.02 | BOAC – Bluescape Opportunities Acquisition Corp (Pre-Deal)
-.71% ~ $ 9.83 | NHIC – NewHold Investment Corp. II (Pre-Deal)
-.70% ~ $ 9.92 | CIIG – CIIG Capital Partners II, Inc. (Pre-Deal)
-.62% ~ $ 9.66 | LOCC – Live Oak Crestview Climate Acquisition Corp. (Pre-Deal)
-.60% ~ $ 10.00 | ITAQ – Industrial Tech Acquisitions II, Inc. (Pre-Deal)
-.50% ~ $ 9.90 | DUET – DUET Acquisition Corp. (Announced)
-.41% ~ $ 9.83 | RCAC – Revelstone Capital Acquisition Corp. (Pre-Deal)
-.40% ~ $ 9.99 | KINZ – KINS Technology Group Inc. (Pre-Deal)
-.40% ~ $ 10.02 | RACY – Relativity Acquisition Corp (Pre-Deal)
-.40% ~ $ 10.05 | VHNA – Vahanna Tech Edge Acquisition I Corp. (Pre-Deal)
-.40% ~ $ 10.06 | ERES – East Resources Acquisition Company (Announced)
-.30% ~ $ 9.81 | IPVI – InterPrivate IV InfraTech Partners Inc. (Pre-Deal)
-.30% ~ $ 9.83 | LOKM – Live Oak Mobility Acquisition Corp. (Pre-Deal)
-.30% ~ $ 9.85 | LMACA – Liberty Media Acquisition Corporation (Pre-Deal)
-.30% ~ $ 9.92 | GSRM – GSR II Meteora Acquisition Corp. (Announced)
-.30% ~ $ 9.95 | NAAC – North Atlantic Acquisition Corporation (Pre-Deal)