Monday started off with a bang, as three SPACs announced DAs to complement a very late Friday night deal dump announcement. Another welcome sign of some hints of life in SPAC mergers. The new pacts include:
That's 7 new deals to come so far in September, a welcome start to the fall season. Let's see how many push thru to DeSPAC.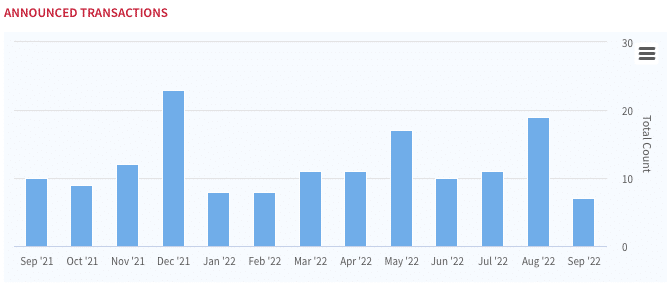 Elsewhere in SPACs
SPAC veterans Niccolo de Masi and Harry You of dMY filed for a new $75M SPAC, dMY Squared Technology Group, Inc. First new S-1 from a meaningful sponsor we have seen in some time.
GigCapital5, Inc. (GIA) finalized a 9/23 date to vote on amending its existing 6 1 month deadline extensions
Aesther Healthcare Acquisition Corp. (AEHA) confirmed it used the 1st of its 2 3-month extension options out until December. Added 10c to trust to bring NAV ~$10.31.
SPAC Calendar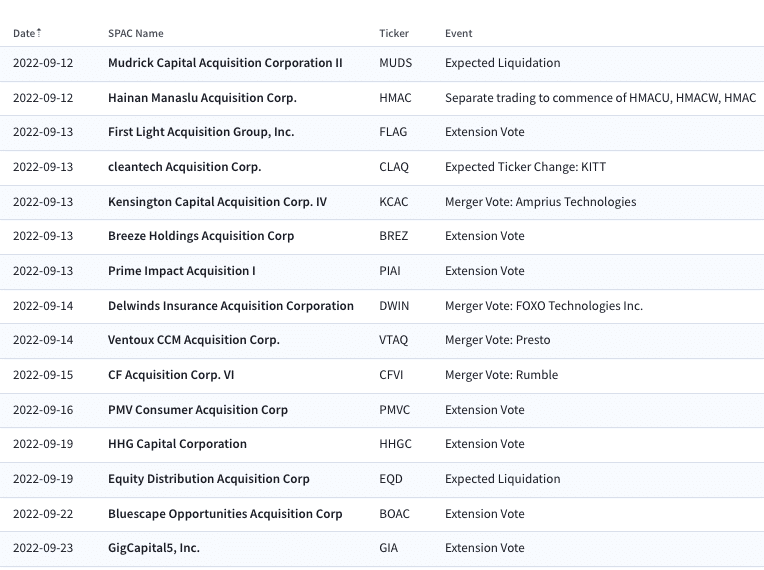 Today's Movers
Biggest Gainers
4.29% ~ $ 10.55 | FLAG – First Light Acquisition Group, Inc. (Pre-Deal)
4.11% ~ $ 7.10 | GPCO – Golden Path Acquisition Corporation (Announced)
4.08% ~ $ 9.69 | DWIN – Delwinds Insurance Acquisition Corporation (Announced)
3.87% ~ $ 8.33 | SLCR – Silver Crest Acquisition Corporation (Announced)
1.52% ~ $ 9.99 | AMCI – AMCI Acquisition Corp. II (Announced)
.75% ~ $ 10.71 | RAM – Aries I Acquisition Corp (Announced)
.71% ~ $ 9.87 | SEDA – SDCL EDGE Acquisition Corp (Pre-Deal)
.62% ~ $ 9.76 | NFYS – Enphys Acquisition Corp. (Pre-Deal)
.51% ~ $ 9.85 | FTPA – FTAC Parnassus Acquisition Corp. (Pre-Deal)
.51% ~ $ 9.85 | LHAA – Lerer Hippeau Acquisition Corp (Pre-Deal)
.50% ~ $ 9.96 | HPX – HPX Corp (Announced)
.50% ~ $ 12.04 | CFVI – CF Acquisition Corp. VI (Announced)
.43% ~ $ 10.07 | EVGR – Evergreen Corp (Pre-Deal)
.42% ~ $ 24.10 | DWAC – Digital World Acquisition Corp. (Announced)
.40% ~ $ 9.93 | ROCL – Roth CH Acquisition V Co. (Pre-Deal)
.40% ~ $ 9.95 | CIIG – CIIG Capital Partners II, Inc. (Pre-Deal)
.40% ~ $ 9.99 | SKGR – SK Growth Opportunities Corp (Pre-Deal)
.40% ~ $ 10.00 | ARTE – Artemis Strategic Investment Corporation (Announced)
.35% ~ $ 9.98 | PNAC – Prime Number Acquisition I Corp. (Pre-Deal)
.30% ~ $ 9.87 | HIII – Hudson Executive Investment Corp. III (Pre-Deal)
Biggest Losers
-7.86% ~ $ 8.65 | VTAQ – Ventoux CCM Acquisition Corp. (Announced)
-1.89% ~ $ 8.29 | CRHC – Cohn Robbins Holdings Corp. (Announced)
-1.45% ~ $ 10.20 | SPK – SPK Acquisition Corp. (Announced)
-1.42% ~ $ 9.72 | RONI – Rice Acquisition Corp. II (Pre-Deal)
-1.28% ~ $ 9.96 | PRLH – Pearl Holdings Acquisition Corp (Pre-Deal)
-.78% ~ $ 10.23 | NLIT – Northern Lights Acquisition Corp. (Announced)
-.60% ~ $ 9.87 | ACAX – Alset Capital Acquisition Corp. (Announced)
-.59% ~ $ 10.05 | DECA – Denali Capital Acquisition Corp. (Pre-Deal)
-.51% ~ $ 9.85 | SAMA – Schultze Special Purpose Acquisition Corp. II (Pre-Deal)
-.50% ~ $ 9.92 | MSSA – Metal Sky Acquisition Corp (Pre-Deal)
-.50% ~ $ 10.02 | WNNR – Andretti Acquisition Corp. (Pre-Deal)
-.50% ~ $ 10.03 | ALSA – Alpha Star Acquisition Corp (Pre-Deal)
-.41% ~ $ 9.71 | LOCC – Live Oak Crestview Climate Acquisition Corp. (Pre-Deal)
-.40% ~ $ 9.88 | BHAC – Crixus BH3 Acquisition Corp. (Pre-Deal)
-.40% ~ $ 9.88 | CSLM – Consilium Acquisition Corp I, Ltd. (Pre-Deal)
-.40% ~ $ 9.95 | MEKA – MELI Kaszek Pioneer Corp (Pre-Deal)
-.40% ~ $ 9.96 | PACI – PROOF Acquisition Corp I (Pre-Deal)
-.40% ~ $ 9.97 | HORI – Emerging Markets Horizon Corp. (Pre-Deal)
-.39% ~ $ 10.09 | FEXD – Fintech Ecosystem Development Corp. (Announced)
-.39% ~ $ 10.10 | IMAQ – International Media Acquisition Corp. (Pre-Deal)