A hot* Tuesday morning in SPAC land as two companies hit the tape with new DAs.
Breeze Holdings Acquisition Corp. (BREZ) is taking its second stab at a SPAC target in announcing a $1.2B EV deal for ammunition manufacturing company TV Ammo. The combined company will be renamed True Velocity upon completion
Welsbach Technology Metals Acquisition Corp. (WTMA) is taking WaveTech Group Inc. public at a $228M valuation.
Announced deal M&A has actually been quite elevated relative to the last 6-8 months with nearly 30 deals announced in October. Quality assessments aside, certain sponsors are still going to gun for SPAC targets rather than throwing in the towel.
Keep an eye out for our October SPAC review! Name of the game? 30 SPACs are tapping out early and gunning to get their end dates into 2022, and avoid some tax.
SPAC Calendar
After a wave of DeSPAC trades brought back the low-float mania last week, there aren't as many merger votes on the immediate horizon. Yet there are a handful mixed in against the multitude of extension votes.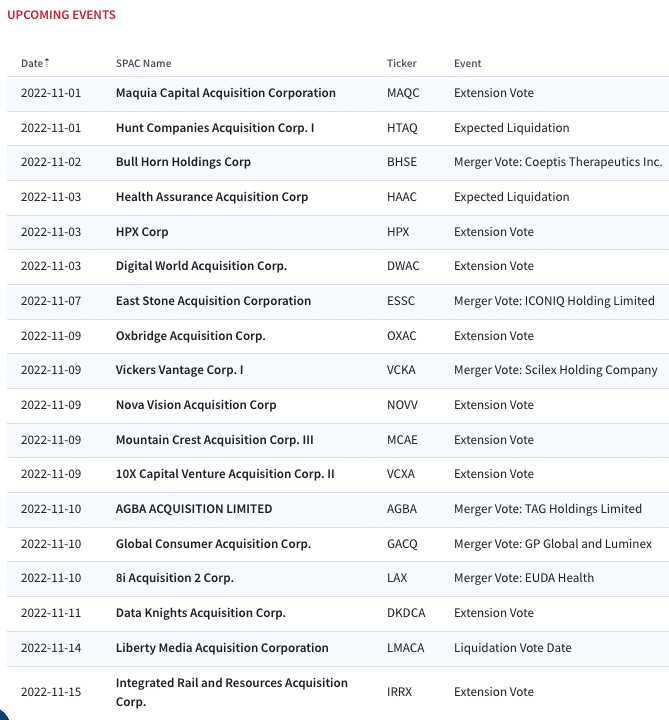 Yesterday's Movers
Biggest Gainers
14.46% ~ $ 11.40 | IGNY – Ignyte Acquisition Corp. (Announced)
13.08% ~ $ 10.29 | VENA – Venus Acquisition Corporation (Announced)
2.12% ~ $ 6.75 | AHPA – Avista Public Acquisition Corp. II (Announced)
1.71% ~ $ 10.12 | LGTO – LEGATO MERGER CORP. II (Announced)
.84% ~ $ 10.21 | KNSW – KnightSwan Acquisiton Corp (Pre-Deal)
.81% ~ $ 10.00 | DNZ – D and Z Media Acquisition Corp. (Pre-Deal)
.81% ~ $ 10.00 | SSAA – Science Strategic Acquisition Corp. Alpha (Pre-Deal)
.81% ~ $ 10.00 | OEPW – One Equity Partners Open Water I Corp. (Pre-Deal)
.74% ~ $ 10.23 | IMAQ – International Media Acquisition Corp. (Announced)
.71% ~ $ 9.99 | VBOC – Viscogliosi Brothers Acquisition Corp (Pre-Deal)
.70% ~ $ 10.00 | CLRM – Clarim Acquisition Corp. (Pre-Deal)
.70% ~ $ 10.11 | SHAP – Spree Acquisition Corp. 1 Ltd (Announced)
.66% ~ $ 10.67 | GRCY – Greencity Acquisition Corp (Pre-Deal)
.61% ~ $ 9.88 | IPVF – InterPrivate III Financial Partners Inc. (Announced)
.60% ~ $ 10.00 | VTIQ – VectoIQ Acquisition Corp. II (Pre-Deal)
.60% ~ $ 10.07 | BRD – Beard Energy Transition Acquisition Corp. (Pre-Deal)
.51% ~ $ 9.94 | DNAD – Social Capital Suvretta Holdings Corp. IV (Pre-Deal)
.50% ~ $ 9.98 | RCAC – Revelstone Capital Acquisition Corp. (Pre-Deal)
.50% ~ $ 10.01 | FSSI – Fortistar Sustainable Solutions Corp. (Pre-Deal)
.50% ~ $ 10.06 | ASCB – A SPAC II Acquisition Corp. (Pre-Deal)
Biggest Losers
-2.05% ~ $ 16.72 | DWAC – Digital World Acquisition Corp. (Announced)
-1.69% ~ $ 9.88 | HPX – HPX Corp (Announced)
-.94% ~ $ 10.50 | HHGC – HHG Capital Corporation (Pre-Deal)
-.90% ~ $ 9.88 | EUCR – Eucrates Biomedical Acquisition Corp (Pre-Deal)
-.88% ~ $ 10.16 | GSD – Global System Dynamics, Inc. (Pre-Deal)
-.87% ~ $ 10.20 | AXH – Industrial Human Capital, Inc. (Pre-Deal)
-.61% ~ $ 9.73 | JAQC – Jupiter Acquisition Corporation (Pre-Deal)
-.61% ~ $ 9.79 | NFYS – Enphys Acquisition Corp. (Pre-Deal)
-.60% ~ $ 9.87 | APGB – Apollo Strategic Growth Capital II (Pre-Deal)
-.55% ~ $ 10.88 | CLOE – Clover Leaf Capital Corp. (Pre-Deal)
-.51% ~ $ 9.75 | CNDA – Concord Acquisition Corp II (Pre-Deal)
-.40% ~ $ 9.85 | YTPG – TPG Pace Beneficial II Corp. (Pre-Deal)
-.40% ~ $ 10.00 | BYNO – byNordic Acquisition Corporation (Pre-Deal)
-.40% ~ $ 10.02 | PACI – PROOF Acquisition Corp I (Pre-Deal)
-.40% ~ $ 10.02 | PGRW – Progress Acquisition Corp. (Pre-Deal)
-.40% ~ $ 10.05 | PPYA – Papaya Growth Opportunity Corp. I (Pre-Deal)
-.40% ~ $ 10.06 | PRLH – Pearl Holdings Acquisition Corp (Pre-Deal)
-.39% ~ $ 10.12 | IVCA – Investcorp India Acquisition Corp. (Pre-Deal)
-.39% ~ $ 10.15 | BMAQ – Blockchain Moon Acquisition Corp. (Announced)
-.39% ~ $ 10.19 | CITE – Cartica Acquisition Corp (Pre-Deal)