RBAC amended its S-4 for its merger with ticketing tech provider SeatGeek. Redemption update at GLSPT. And the rest of the day's news in SPACs.
————————————————-
Free Investor Resources from Boardroom Alpha
—————————————————-
** Podcast: Know Who Drives Return
** Daily SPAC Newsletter
** Full SPAC Listing
RBAC Amended S-4 for Merger with SeatGeek
RedBall Acquisition Corp. (RBAC) amended its S-4 for its merger with SeatGeek. Still no date set. Notably, this is one of the older DAs from Oct-2021. See our podcast here.
GLSPT Redemption Update
Global SPAC Partners Co. (GLSPT) shareholders redeemed 3.8M shares. 12.9M public shares remaining. An addition 3 cents added for a total of $10.13 in trust.
Deal termination for CHPM and Accelus
CHP Merger Corp. (CHPM) and Accelus mutually agree to terminate their merger agreement. Accelus is developing MIS (minimally invasive surgery) implant solutions and robotic targeting and navigation technology.
Elsewhere in SPACs
Latest podcast: Boardroom Alpha talks to Steve Croskrey, CEO of Danimer Scientific (DNMR) on the latest in bioplastics technology. Danimer deSPAC'd from sponsor Live Oak Acquisition Corp. in December 2020. Watch and read our overview on the story here.
Upcoming Merger and Extension Votes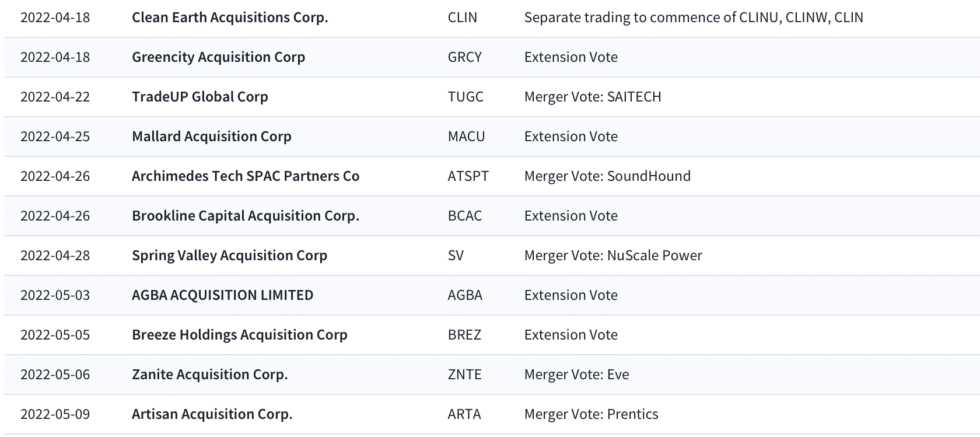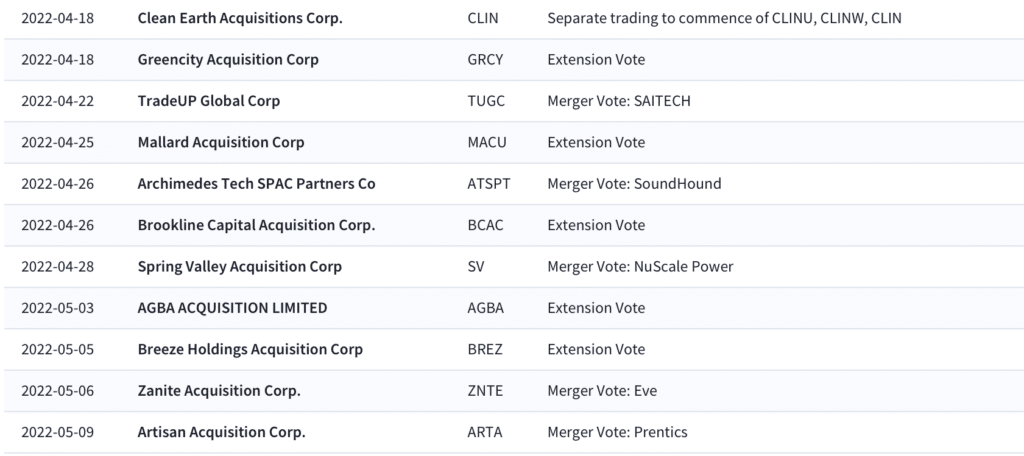 More from Boardroom Alpha
For ongoing tracking, analytics, and data on SPACs checkout Boardroom Alpha's SPAC Data and Analytics service.