A combination of terminations and extensions as deal pressure intensifies.
————————————————-
Free Investor Resources from Boardroom Alpha
—————————————————-
** Podcast: Know Who Drives Return
** Daily SPAC Newsletter
** Full SPAC Listing
SPAC Deal: ATA – Rally
Americas Technology Acquisition Corp. (ATA) announces a DA with Rally, an "intercity transportation technology platform that harnesses the private bus industry to solve the challenges of middle-mile travelers." The transaction values Rally at an enterprise value of $208M. Trust size $115M. No PIPE.
Seatgeek and Forbes deals terminated
RedBall Acquisition Corp.(RBAC) terminated its DA with ticket platform Seatgeek, citing "unfavorable market conditions"
Magnum Opus Acquisition Corp. (OPA) terminated its DA with digital publisher Forbes
ETAC extension vote
E.merge Technology Acquisition Corp. (ETAC) sets an extension vote for 6/28; 3 months (from August to November). SPAC adds $0.035 / month or ~$0.105 total. Current NAV $10.00.
NAAC postpones vote
North Atlantic Acquisition Corporation (NAAC) postpones vote. The SPAC's primary focus is on the consumer, industrials and TMT sectors.  
INKA files for extension
KludeIn I Acquisition Corp. (INKA) files PRE14 for a 6-month extension from July to Jan. SPAC adds 3.3c / month and has a pending DA with data intelligence specialist Near.
Boardroom Alpha SPAC market review for May
Time is running out as SPACs scramble to finance deals at almost any cost. Expect more deSPAC duds as sponsors push low-quality companies at onerous valuations — for the simple purpose of protecting at-risk capital. Full report here.
Elsewhere in SPACs
SPAC votes this week
SPAC Calendar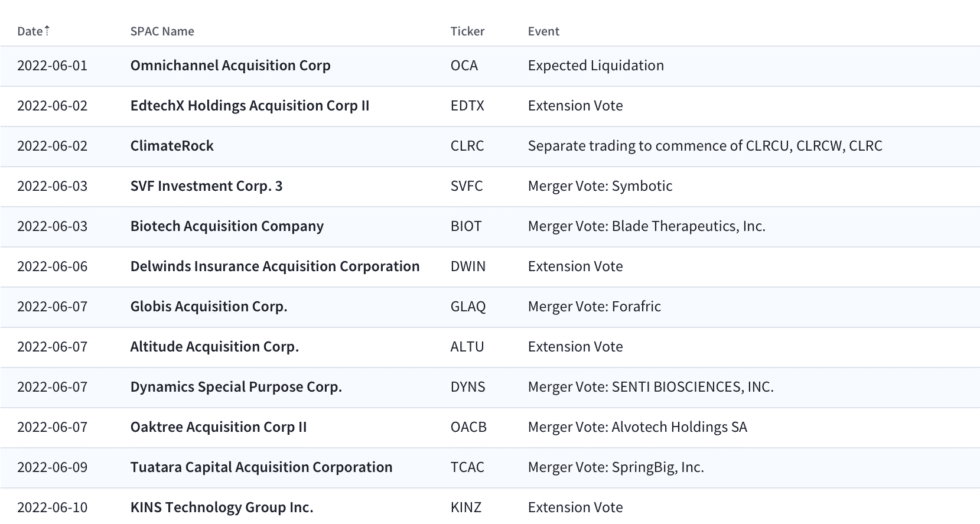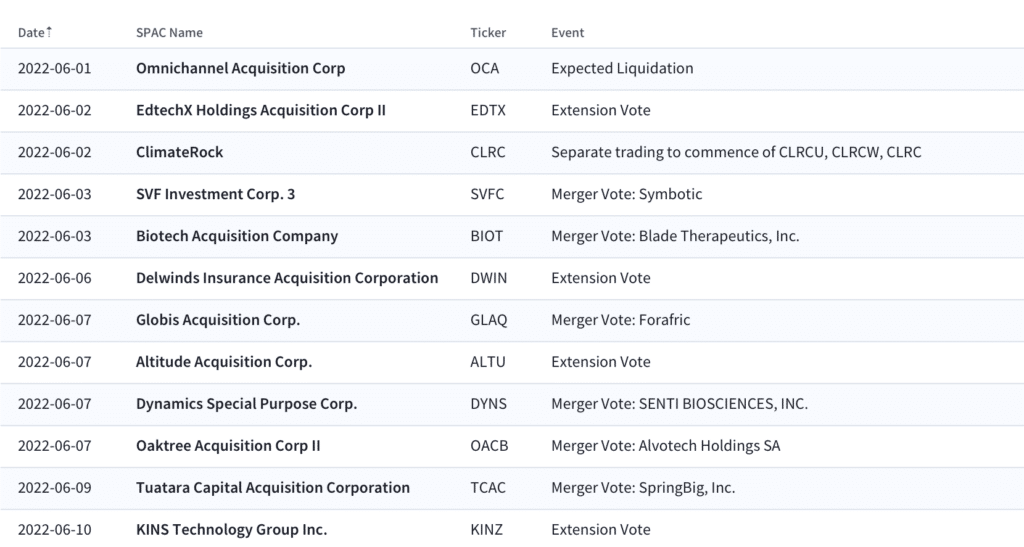 More from Boardroom Alpha
For ongoing tracking, analytics, and data on SPACs checkout Boardroom Alpha's SPAC Data and Analytics service.