Ajay Kochhar, President, CEO and co-founder of Li-Cycle joins the pod to discuss the need for lithium ion battery recycling and how EVs will help propel them forward in a true sustainability play.
Ajay Kochhar is the co-founder, President, and CEO of lithium ion battery recycling company Li-Cycle (LICY). An engineering expert in the field, Ajay and his co-founder Tim Johnston set out to solve the problem of battery recycling as the proliferation of lithium ion has exploded (in large part thanks to EVs).
Li-Cycle has been a standalone public company for just over one year now having completed its DeSPAC transaction in August of 2021. We talk to Ajay about the business, path to profitability (look out for 2024), EVs, and life as a public company CEO.
While many DeSPACs have surely gotten beaten down, LICY stock price has held its own at ~$7, and has several positive headwinds at its back:
Real, commercial business with strong strategic partners (Koch, LG Chem, Glencore) and a healthy cash position
Fewer "pure-play" players as competition, proprietary technology
Growing market (EV) and looks to scale massively
Have a listen to Ajay below, interesting space to watch in the near term.
See their June Investor Presentation here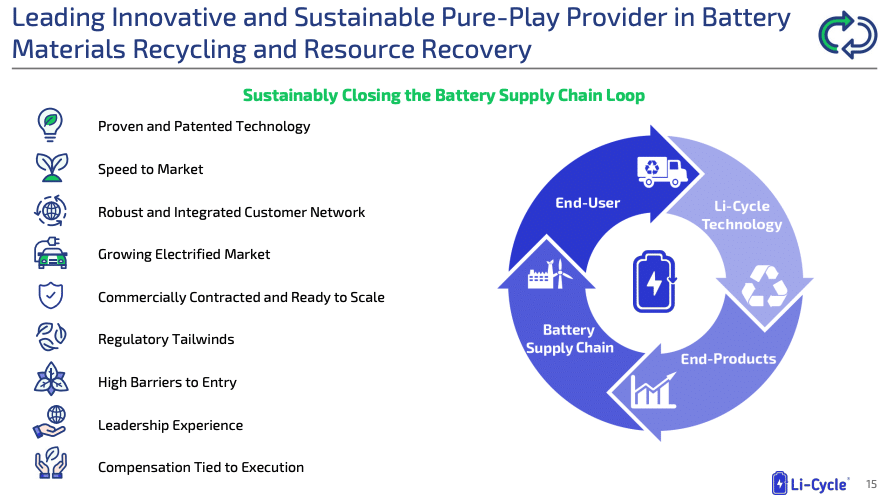 Topics Discussed
Ajay background and intro to Li-Cycle
Is it just EVs? What are the breakdowns of units / areas
How big can the recycling space grow?
Supply chain and importance of domestication
Customer relationships and revenue model
Competitive landscape and expansion
Reflections on life as a public company and DeSPAC
About Ajay Kochhar
Ajay Kochhar is the President and CEO, co-founder of Li-Cycle. Before founding Li-Cycle, Mr. Kochhar gained extensive technology and project development experience through progressive roles with Hatch's industrial cleantech and advisory practices. While working in that space, he garnered in-depth engineering and project management experience through clean technology development in the lithium, cobalt, nickel, copper, gold, lead, zinc, molybdenum, and rare earth metals industries. His technical expertise spans the entire project lifecycle, from conceptual and pre-feasibility study to construction and commissioning. Mr. Kochhar is a graduate of the University of Toronto and holds a Bachelor of Applied Science (BASc) in Chemical Engineering.